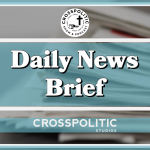 This is Garrison Hardie with your CrossPolitic Daily Newsbrief for Thursday, January 12th, 2022. We've got a lot of news to get to folks, so let's get right to it.
https://www.foxnews.com/politics/democrats-vote-against-bill-requiring-medical-care-babies-born-alive-abortion-attempt
210 Democrats vote against bill requiring medical care for babies born alive after abortion attempt
Nearly every House Democrat on Wednesday voted against legislation that would require immediate medical attention for babies who are born alive after an attempt was made to abort them.
The House passed the Born-Alive Abortion Survivors Protection Act, which says any infant born alive after an attempted abortion is a "legal person for all purposes under the laws of the United States." Doctors would be required to care for those infants as a "reasonably diligent and conscientious health care practitioner would render to any other child born alive."
The bill passed 220-210, and all 210 of the "no" votes came from Democrats. Only one Democrat voted for the bill — Rep. Henry Cuellar of Texas — and one other Democrat, Rep. Vicente Gonzalez of Texas, voted "present."
Following that level of care, doctors would be required admit those infants to a hospital for further care. Any violation of this standard would result in fines and imprisonment for up to five years, or both.
Republicans argued on the floor that comments from Virginia's former Democratic Gov. Ralph Northam are an example of why the law needs to be clarified to protect newborn infants who survive abortions. Northam was talking about third-trimester abortions and appeared to indicate support for delivering babies that might still be alive before taking their life outside the womb.
"We all know in 2019, then-Gov. Northam of the state of Virginia stated this: 'The infant would be delivered, the infant would be kept comfortable, the infant would be resuscitated if that's what the mother and the family desired, and then a discussion would ensue between the physicians and the mother,'" said Rep. Jim Jordan, R-Ohio.
"The cavalier attitude he displayed towards human life is just wrong," Jordan said. "It is simple. Infants born alive following an abortion are kids, are children. All newborns deserve the same level of care."
Nonetheless, Democrats overwhelmingly rejected the bill. Some, like Rep. Jerry Nadler, D-N.Y., argued that the bill would set up new requirements that would "directly interfere with the doctors' medical judgment and dictate a medical standard of care that may not be appropriate in all circumstances."
He and other Democrats said the requirement to eventually take infants who survive abortion to a hospital may not be in the best interest of the family.
Some Democrats said the bill is unnecessary because it is already illegal to kill newborn infants, but Republicans accused Democrats of opposing the legislation to further their radical agenda of abortion on demand.
https://hotair.com/ed-morrissey/2023/01/11/breaking-faa-grounds-all-outbound-domestic-flights-as-system-crashes-n523027
FAA grounds all outbound domestic flights as system crashes; Update: FAA lifts ground stop
As of this writing, the FAA has grounded all outbound domestic flights until at least 9 am ET. It may take longer than that to restore service to its NOTAM system, the on-line platform that all commercial and military pilots must consult before taking off.
The disruption began hours earlier, and the FAA has apparently struggled to overcome it. Savannah Guthrie calls it a "sweeping outage," and it will almost certainly impact flights for hours even after the FAA restores it:
https://twitter.com/i/status/1613145694923096065 – Play Video
The FAA lifted the national ground stop a few minutes ago, but it's not clear whether the NOTAM system has been fully restored or they're using work-arounds. They reopened two airports without out NOTAM due to "air congestion" prior to ending the ground stop:
Well over 500 flights got cancelled this morning and over three thousand delayed. The snarl in air travel today will be massive. Stay tuned.
https://www.theepochtimes.com/mexican-president-praises-biden-for-not-building-border-wall-even-when-conservatives-dont-like-it_4977673.html?utm_source=partner&utm_campaign=BonginoReport
Mexican President Praises Biden for Not Building Border Wall Even When 'Conservatives Don't Like It'
Mexican President Andres Manuel Lopez Obrador has praised President Joe Biden for taking a stand against the U.S. border wall, and criticized conservatives during the North American Leaders' Summit on Tuesday. It comes as the United States sees a surge in illegal immigration across the southern border.
"You, President Biden, you are the first president of the United States in a very long time that has not built not even one meter of wall. And that—we thank you for that, sir, although some might not like it—although the conservatives don't like it," Lopez Obrador said in a joint press conference.
He thanked Biden for maintaining a "relationship of cooperation" with Mexico and for not subjecting Mexicans who "live and work in a very honest fashion" in the United States to harassment. "They're not suffering raids as it unfortunately used to happen in the past," the Mexican president added.
Lopez Obrador asked Biden to insist that Congress "regularize the migration situations" of millions of Mexicans who have been living in the United States.
On Jan. 21, 2021, a day after becoming president, Biden issued an executive order that halted construction of the border wall, commenting that a massive wall spanning the entire southern border is "not a serious policy solution" and a "waste of money."
Between 2017 and 2020, 450 miles of the wall were authorized and built under the Trump administration.
In July last year, the Department of Homeland Security announced that the remaining funds, which were allocated for the construction of the wall along the Mexico–U.S. border, would be spent on "environmental remediation and mitigation" as well as for installing cameras, lighting, and detection technology in places where barriers are already built.
Under the Biden administration, illegal immigrants entering via the southern border have surged. During fiscal year 2020, there were 458,088 apprehensions. This rose to 1.73 million in fiscal year 2021, a jump of 278 percent, data from U.S. Customs and Border Protection (CBP) show.
During fiscal year 2022, apprehensions rose to 2.3 million. In the first two months of fiscal year 2023, apprehensions exceeded the total apprehensions of fiscal year 2020. According to Steven Kopits with Princeton Policy Advisors, the rise in border crossers is set to continue its upward trend this year as well.
Kopits had earlier predicted around 2 million apprehensions for 2021 and 2.3 million for 2022, which is close to the actual numbers. For 2023, Kopits is predicting apprehensions to hit 2.6 million, another record in terms of annual illegal immigration.
If Kopits's projections are true, it would mean that 6.9 million illegal aliens would have been apprehended between 2021 and 2023 under the Biden administration.
Club Membership Plug:
Let's stop and take a moment to talk about Fight Laugh Feast Club membership. By joining the Fight Laugh Feast Army, not only will you be aiding in our fight to take down secular & legacy media; but you'll also get access to content placed in our Club Portal, such as past shows, all of our conference talks, and EXCLUSIVE content for club members that you won't be able to find anywhere else. Lastly, you'll also get discounts for our conferences… so if you've got $10 bucks a month to kick over our way, you can sign up now at fightlaughfeast.com.
https://www.foxnews.com/us/pro-life-pregnancy-center-hires-private-investigators-look-attack-blasts-fbi-wheres-the-manhunt?intcmp=tw_fnc
Pro-life pregnancy center hires private investigators to look into attack, blasts FBI: 'Where's the manhunt?'
A network of pro-life pregnancy centers in New York hired private investigators to probe a firebomb attack against a facility last June after what they describe as an inadequate response from federal law enforcement.
"They've been responsive, but what they've done we don't know," Tom Brejcha, president and chief counsel of the Thomas More Society, told Fox News Digital of the FBI.
CompassCare, which has multiple pro-life pregnancy centers in upstate New York, announced last week that it was joining forces with the society, a nonprofit law firm, to hire private investigators to find those behind the incident at their Buffalo office last summer.
Vandals reportedly smashed windows and lit fires in the building's reception room and nurses' office, then defaced the building with "Jane was here" graffiti, an apparent reference to the radical pro-abortion group Jane's Revenge.
The pro-life pregnancy center was able to rebuild quickly, but the individuals responsible have not been apprehended.
Brejcha, who told Fox News Digital that his own home was targeted last July by "40 to 50 masked, black-clad thugs," said the investigation has expanded to include all 78 of the attacks against pro-life facilities in the wake of Roe v. Wade being overturned last year.
"Along with CompassCare and others, we're looking to investigate connections here," the lawyer explained. "We have security video of attackers. We have license plates. We're pursuing the kind of investigation that lawyers pursue when they're looking to achieve justice on behalf of their clients, civil and criminal. So we're not sitting on our hands just writing letters to the editor about it."
Brejcha said they hope to reveal "some of the folks that are behind this," and he is optimistic that they will succeed.
https://thepostmillennial.com/biological-males-blocked-from-competing-in-womens-school-sports-in-west-virginia-federal-court?utm_campaign=64487
Biological males blocked from competing in women's school sports in West Virginia: federal court
A federal judge in West Virginia has upheld a state law preventing male athletes who identify as female from participating in female school sports.
In a ruling on January 5, Judge Joseph R. Goodwin of the Southern District of West Virginia said that HB 3293, the Save Women's Sports Bill, was "constitutionally permissible." The bill defines "girl" and "women" as biologically female for the purpose of secondary school sports and Goodwin found that this was "substantially related to its important interest in providing equal athletic opportunities for females."
The law was first introduced in March 2021 but was challenged by the American Civil Liberties Union (ACLU). The ACLU represented trans-identified male middle school student Becky Pepper-Jackson who was barred from the girls' cross-country team. This, the ACLU argued, was a violation of Pepper-Jackson's rights under the 14th Amendment's Equal Protection Clause and Title IX, the federal state statute that prohibits sex-based discrimination, reports Fox News.
At the time, Goodwin ruled in favor of the ACLU and blocked the law at the preliminary stage, ruling that Pepper-Jackson was being excluded from school sports on the basis of sex making it a Title IX violation.
While Goodwin acknowledged in his new decision that the law was seeking to "prevent transgender girls from playing on girls' sports teams," he highlighted the biological differences between males and females that give males a significant sporting advantage.
"While some females may be able to outperform some males, it is generally accepted that, on average, males outperform females athletically because of inherent physical differences between the sexes. This is not an overbroad generalization, but rather a general principle that realistically reflects the average physical differences between the sexes," said the judge.
Goodwin also noted that while Pepper-Jackson had taken puberty blockers, not all transgender athletes do. Some only socially transition, while others take blockers and hormones at a later stage in puberty. Goodwin stated that "there is much debate over whether and to what extent hormone therapies after puberty can reduce a transgender girl's athletic advantage over cisgender girls."
"The fact is, however, that a transgender girl is biologically male and, barring medical intervention, would undergo male puberty like other biological males. And biological males generally outperform females athletically. The state is permitted to legislate sports rules on this basis because sex, and the physical characteristics that flow from it, are substantially related to athletic performance and fairness in sports," Goodwin ruled.
The West Virginia ACLU had filed the lawsuit alleging that banning girls from participating in school sports because they are transgender is unconstitutional.
In a 2019 speech, developmental biologist Dr. Emma Hilton demonstrated just how wide the gap between the athletic performance of biological males and females is.
"So big is the gap, there are 9000 males between 100m world record holders Usain Bolt and FloJo. So early does the gap emerge, the current female 100m Olympic champion, Elaine Thompson, is slower than the 14-year-old schoolboy record holder," said Hilton.
Redballoon
Not so long ago, the American dream was alive and well. Employees who worked hard were rewarded, and employers looked for people who could do the job, not for people who had the right political views. RedBalloon.work is a job site designed to get us back to what made American businesses successful: free speech, hard work, and having fun. If you are a free speech employer who wants to hire employees who focus on their work and not identity politics, then post a job on RedBalloon. If you are an employee who is being censored at work or is being forced to comply with the current zeitgeist, post your resume on RedBalloon and look for a new job. redballoon.work, the job site where free speech is still alive!
www.redballoon.work
https://www.outkick.com/peyton-hillis-is-reportedly-still-in-critical-condition/
PEYTON HILLIS IS REPORTEDLY STILL IN CRITICAL CONDITION
Doctors have given an update on the condition of former NFL running back Peyton Hillis.
Last week, Hillis was rushed to the hospital after a swimming incident at a Florida beach. He reportedly rescued his two children who were in danger of drowning in the ocean. Both children were reportedly uninjured in the incident
WREG Memphis reporter Otis Kirk reported that he had been told that Hillis is "battling and definitely needs as many prayers as he can get." He also reported that the former Razorback's kidneys and lungs were the primary reasons why he was still in the hospital. WREG's report mentioned that Hillis' kidneys are now the main concern.
Kirk did not reveal who gave him this information or their relationship with Hillis.
He played both high school and college football in the state, before embarking on an NFL career that took him to Cleveland, Denver, New York, and Kansas City.
While at Arkansas, Hillis was one part of a running back triumvirate comprised of himself, Darren McFadden, and Felix Jones.
The report on Hillis' condition comes just as a prayer vigil was being held in his native Arkansas.
Hillis volunteers as an assistant for his son's football team. Bryant Davis, who is coach and head of the program, was at the vigil and spoke to KSFM-TV. He talked about the importance of community support.
"One of the great things about being a body of believers is relationship and community, and it's about being not only here to pray for people, but it's also here, Bryant said. "It's also to be here to support them through times like this."