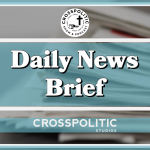 Good Thursday this is the Chocolate Knox with your Crosspolitic Daily News Brief for Thursday January 13th 2022
Omicron came in like a Wrecking Ball
US inflation soared 7% in past year, the most since 1982
https://www.usnews.com/news/business/articles/2022-01-12/us-consumer-prices-soared-7-in-past-year-most-since-1982
Idaho Family Policy Center DNB:
I wanted to let you all know about Idaho Family Policy Center. IFPC is currently the only explicitly Christian policy organization in Idaho politics. Toby Sumpter and Israel Waitman serve on the board, and the president is Blaine Conzatti, a member of our sister CREC church, Kings Congregation down in Meridian. Blaine and IFPC have been leading the efforts to defund Planned Parenthood, end abortion in Idaho, and protect children from the transgender agenda. Basically, Blaine is a really strategic voice in Idaho politics, and he represents many of our biblical and constitutional concerns in Boise. IFPC is a brand new ministry and as such is in significant need of donations to help fund it. I know we all have many commitments to other good ministries, but if you are particularly concerned about Idaho politics, this is one way you can have a very direct impact. Go to www.idahofamily.orgto learn more and make a donation.
You can put this next article into the What is it going to take to get you take your kids out of Government schools Folder…
Frequent Boosters Spur Warning on Immune Response
https://www.bloomberg.com/news/articles/2022-01-11/repeat-booster-shots-risk-overloading-immune-system-ema-says#:~:text=European%20Union%20regulators%20warned%20that,to%20the%20European%20Medicines%20Agency.