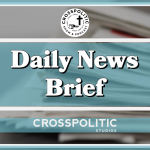 CLUB PORTAL CONTENT – Martin Luther King Jr. – A Wrongfully Religious Saint For The Right & The Left 0:10-2:31
That was our backstage show featuring Chad Jackson of Uncle Tom 2
And This is Garrison Hardie with your CrossPolitic Daily Newsbrief for Thursday, January 19th, 2023. Ladies and gentleman, now is the time to sign up for a club membership at fightlaughfeast.com! This year, CrossPolitic will be dropping EXCLUSIVE content into our club portal, that you won't be able to find ANYWHERE else. Some of this content will include a Bible study series with Pastor Toby, a special with New Saint Andrew's President, Ben Merkle, our backstage content, and probably stuff that Gabe hasn't told myself Toby or Knox about! So again, head on over to fightlaughfeast.com to get signed up today! That's fightlaughfeast.com.
https://www.cnbc.com/2023/01/18/holiday-2022-sales-fall-short-of-expectations.html
Holiday sales fall short of expectations, set stage for tougher 2023 for retailers
Holiday sales came in below industry expectations, as shoppers felt pinched by inflation and rising interest rates, according to data from the National Retail Federation.
Sales during November and December grew 5.3% year over year to $936.3 billion, below the major trade group's prediction for growth of between 6% and 8% over the year prior. In early November, NRF had projected spending of between $942.6 billion and $960.4 billion.
The retail sales number excludes spending at automobile dealers, gasoline stations and restaurants, and is based on data from the U.S. Census Bureau. It covers the period from Nov. 1 to Dec. 31.
The holiday sales gains include the impact of inflation, which drives up total sales. The consumer price index, which measures the cost of a broad mix of goods and services, was up 6.5% in December compared with a year ago, according to the Labor Department.
For retailers, the shopping season's results reflect the challenges ahead. As Americans continue to pay higher prices for groceries, housing and more month after month, they are racking up credit card balances, spending down savings and having fewer dollars for discretionary spending.
Plus, retailers are following years of extraordinary spending. During the Covid pandemic, Americans fought boredom and used stimulus checks by buying loungewear, throw pillows, kitchen supplies, home theater systems and more.
That translated to sharp year-over-year jumps in retail sales in the past two holiday seasons — a 14.1% gain in 2021 and 8.3% gain in 2020. On average, holidays sales have grown by 4.9% annually over the past decade, according to NRF.
NRF Chief Executive Matt Shay said those upward leaps were unsustainable, especially as people return to commuting, going out to dinner and booking vacations again. Plus, he said, Americans are paying higher prices across the board, from pricier rents to more expensive groceries.
Sales rose in most major retail categories during the holiday season. Online and nonstore sales saw the biggest year-over-year gains, jumping 9.5% during the holiday season. Sales at grocery and beverage stores, which have had significant price increases, rose 7.8% versus the year-ago period.
Demand in some categories noticeably weakened. Sales at furniture and home furnishings stores declined 1.1% and sales at electronics and appliances stores dropped 5.7% year over year.
https://www.dailyfetched.com/climate-group-turns-on-world-economic-forum-after-hundreds-of-private-jets-fly-into-davos/
Climate Group Turns on World Economic Forum after Hundreds of Private Jets Fly into Davos
Greenpeace torched the World Economic Forum attendees for traveling to Davos, Switzerland, in a scathing rebuke of the Klaus Schwab run event.
According to a newly released analysis commissioned by Greenpeace found, approximately 1,040 private jets flew in and out of airports servicing Davos during last year's World Economic Forum conference.
Of those jets, most were embarking on short-haul flights of less than 500 miles that "could have easily been train or car trips."
One plane carried its passengers a mere 13 miles to attend the event.
The analysis, conducted by Dutch environmental consulting firm CE Delft, also revealed that the number of arrivals and departures out of Davos airports included neighboring countries such as Germany, France, and Italy.
The research concluded that private jet travel in the WEF "Great Reset' event in 2021 produced carbon emissions equivalent to those caused in one week by 350,000 cars.
Private jet emissions linked to Davos quadrupled during the week of the event compared to weeks before and after the meeting.
The WEF's theme for 2023 is "Cooperation in a Fragmented World," which involves "how we can tackle the numerous and interlinked challenges the world is facing and find solutions through public-private cooperation," the organization's press release said.
Klaus Schwab said in his opening remarks that "investing into a greener and therefore more sustainable economy" is one of the main objectives of the conference attendees.
European Commission President Ursula von der Leyen also confirmed during her remarks that policymakers would endeavor to "reach net zero" carbon emissions.
Member states of the European Union which rely on fossil fuel production to combat climate change, were forced to scramble for new power supplies after the Nord Stream pipeline attack and Russia's severing reserves.
https://townhall.com/tipsheet/juliorosas/2023/01/17/wef-danger-of-disinformation-panel-hate-speech-laws-on-the-way-to-the-us-n2618383
Speaking of the World Economic Forum
WEF 'Danger of Disinformation' Panel: Hate Speech Laws Coming to the US
One participant in the World Economic Forum's panel on "The Clear and Present Danger of Disinformation" at their annual meeting in Davos on Tuesday had a chilling prediction for hate speech laws in the United States.
The panel, hosted by former CNN host Brian Stelter, also featured Rep. Seth Moulton (D-MA) and Arthur Gregg Sulzberger, the chairman of The New York Times Company.
European Commission Vice President for Values and Transparency Věra Jourová, who is from the Czech Republic, said there are reasons why many parts in Europe have strong speech code laws and the United States could soon have them too.
"Illegal hate speech, which you will have soon also in the U.S., I think that we have a strong reason why we have this in the criminal law," Jourová said. "We need to the platforms to simply work with the language and to identify such cases."
Sulzberger said overall disinformation is "the most existential" challenge and whatever problems with reporting stories inaccurately, the New York Times has made corrections.
https://twitter.com/i/status/1615371127106441219 – Play Video
Now this…
https://hotair.com/jazz-shaw/2023/01/17/taliban-reportedly-buying-blue-checks-on-twitter-n524292
Taliban reportedly buying blue checks on Twitter
If you thought things on Twitter were getting a bit weird since Elon Musk took over, buckle up. The strangeness continues this week. There has been quite a debate taking place over Musk's decision to revamp the "verification" system and sell checkmarks of various colors to anyone who requests one and is willing to fork over a small monthly payment. Plenty of people have been taking advantage of that offer, gaining some amplification of their tweets and other user options not available to the hoi polloi. So perhaps we shouldn't have been all that surprised to learn that high-ranking officials from the Taliban have gotten in on the action, but it still certainly sounds disturbing at first glance. (BBC)
The Taliban have started using Twitter's paid-for verification feature, meaning some now have blue ticks on their accounts.
Previously, the blue tick indicated "active, notable, and authentic accounts of public interest" verified by Twitter, and could not be purchased. But now, users can buy them through the new Twitter Blue service.
At least two Taliban officials and four prominent supporters in Afghanistan are currently using the checkmarks.
One of the terrorist officials who now has a blue check is Hedayatullah Hedayat, the head of the Taliban's department for "access to information." He is definitely on Twitter with more than 180,000 followers and he tweets regularly. But I don't see a checkmark of any color by his name.
Gravity Jack Conference:
It's Less than two weeks to go for the Christians In Web3 Summit 2023!
This is definitely going to be a historic gathering with KGEB TV, Patmos, Kingdom Warriors, Public SQ, Christian Vision, Heaven's Entrepreneurs, and 30+ more organizations represented at the event. CrossPolitic is one of them by the way…
The event is hosted by Forum12 in partnership with Oral Roberts University, and they're bringing together top leaders in Web3, AR/VR, Metaverses, Ministry, Tech, and Business space to further the Kingdom and unite as many Christians together to build solutions and not live in fear with that's happening in the world!
With experiences like, networking, musical performances, roundtable discussions, panels, pitch night, and workshops, you won't want to miss this opportunity to connect with other Christians in Web3 and learn about the latest technologies being used to share the Gospel and empower believers.
The event will take place both in-person at Oral Roberts University in Tulsa, OK and online through Gather.Town & streaming experiences.Visit forum12.com/web3-summit/ for more information! That's forum12.com/web3-summit
Over to China…
https://financialpost.com/pmn/business-pmn/chinas-first-population-drop-in-six-decades-sounds-alarm-on-demographic-crisis
China's population fell last year for the first time in six decades, a historic turn that is expected to mark the start of a long period of decline in its citizen numbers with profound implications for its economy and the world.
The country's National Bureau of Statistics reported a drop of roughly 850,000 people for a population of 1.41175 billion in 2022, marking the first decline since 1961, the last year of China's Great Famine.
That possibly makes India the world's most populous nation. U.N. experts predicted last year India would have a population of 1.412 billion in 2022 though they did not expect the South Asian nation to overtake China until this year.
India, however, only collects population figures every 10 years and its latest census, originally scheduled for 2021, has been delayed due to the pandemic.
Long-term, U.N. experts see China's population shrinking by 109 million by 2050, more than triple the decline of their previous forecast in 2019.
That's caused domestic demographers to lament that China will get old before it gets rich, slowing the economy as revenues drop and government debt increases due to soaring health and welfare costs.
the country's shrinking labor force and downturn in manufacturing heft would further exacerbate high prices and high inflation in the United States and Europe.
China's birth rate last year was just 6.77 births per 1,000 people, down from a rate of 7.52 births in 2021 and marking the lowest birth rate on record.
The number of Chinese women of childbearing age, which the government defines as aged 25 to 35, fell by about 4 million, Kang said.
The death rate, the highest since 1974 during the Cultural Revolution, was 7.37 deaths per 1,000 people, which compares with a rate of 7.18 deaths in 2021.
Much of the demographic downturn is the result of China's one-child policy imposed between 1980 and 2015 as well as sky-high education costs that have put many Chinese off having more than one child or even having any at all.
The one-child policy and a traditional preference for boys have also created a deep gender imbalance. The latest data shows China with around 722 million males compared to 690 million females. The imbalance, which is more pronounced in rural areas, has led to fewer families being formed in recent years.