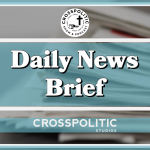 This is Toby Sumpter with your CrossPolitic Daily News Brief for Thursday, January 21, 2021.
Today you will hear about Kamala's inauguration, what the Catholic bishops said, Trump's last acts, some sporting news, and a new study on marijuana. 
Remember: If you have a news story you think we might need to cover, please send articles and links to News@CrossPolitic.com 
Two National Events: Fight Laugh Feast Rally in Rapid City, South Dakota, April 29, 30, May 1 & the Fight Laugh Feast Conference in Nashville, TN, October 1-3. Why a rally in South Dakota in April? Because we want to stand with Kristi Noem – the only Governor in the Union to not overstep her authority. And we also want to encourage you wherever you are. Many churches are not meeting, many Christians feel all alone. But you're not alone. So the theme of the Rally in South Dakota is Love God, Sing Psalms, Defy Tyrants. Gather with likeminded Christians who love freedom, confess Jesus Christ is Lord, and be equipped to stand firm in these insane days. Go to flfnetwork dot com forward slash rally. 
Yesterday President Biden and VP Harris Were Sworn In:
https://twitter.com/VP/status/1351955494978646018?s=20
https://www.foxnews.com/politics/biden-doj-obama-era-slush-fund-payouts-liberal-groups
President-elect Joe Biden is calling for the Justice Department to look into reinstating a controversial Obama-era practice that allowed prosecutors to make settlement agreements that resulted in defendants paying outside groups instead of victims or the government.
The Trump administration had put an end to these payments following a 2017 memo from then-Attorney General Jeff Sessions which was reflected in the Justice Department's manual.
"When the federal government settles a case against a corporate wrongdoer, any settlement funds should go first to the victims and then to the American people — not to bankroll third-party special interest groups or the political friends of whoever is in power," Sessions said in 2017.
A Republican-backed bill known as the "Stop Settlement Slush Funds Act of 2017" would have made the practice illegal. 
"Congress must permanently end the abuses Obama's Justice Department exploited to use settlements to funnel money to their liberal friends," then-Rep. Bob Goodlatte, R-Va., who sponsored the bill in the House, said in 2017.
Goodlatte's bill never became law, but the Sessions-era DOJ policy did become an official agency rule that officially went into effect in December 2020.
Meanwhile, the Catholic Bishops Weighed In…
https://www.usccb.org/news/2021/usccb-presidents-statement-inauguration-joseph-r-biden-jr-46th-president-united-states
"…as pastors, the nation's bishops are given the duty of proclaiming the Gospel in all its truth and power, in season and out of season, even when that teaching is inconvenient or when the Gospel's truths run contrary to the directions of the wider society and culture. So, I must point out that our new President has pledged to pursue certain policies that would advance moral evils and threaten human life and dignity, most seriously in the areas of abortion, contraception, marriage, and gender. Of deep concern is the liberty of the Church and the freedom of believers to live according to their consciences.
For the nation's bishops, the continued injustice of abortion remains the "preeminent priority." Preeminent does not mean "only." We have deep concerns about many threats to human life and dignity in our society. But as Pope Francis teaches, we cannot stay silent when nearly a million unborn lives are being cast aside in our country year after year through abortion.
Abortion is a direct attack on life that also wounds the woman and undermines the family. It is not only a private matter, it raises troubling and fundamental questions of fraternity, solidarity, and inclusion in the human community. It is also a matter of social justice. We cannot ignore the reality that abortion rates are much higher among the poor and minorities, and that the procedure is regularly used to eliminate children who would be born with disabilities."
Unfortunately the statement ended entrusting all of this to "the tender heart of the Blessed Virgin Mary," who is no doubt rolling her eyes in heaven at the thought of her being entrusted with all of this, but nevertheless, I'm grateful the bishops are trying, if somewhat weakly, to hold the new president accountable to the faith he claims to profess. 
Share Plug
Is CrossPolitic a blessing to you? Is it like a bracing shot of your favorite Torani syrup? Is it like your favorite cactus that you just want to cuddle – but you're just not sure it's safe? Is CrossPolitic like your crazy uncle that's usually right, but hasn't showered since Y2K? Welcome to what we call rowdy Christian media. One of the most significant ways you can help us (and we need a LOT of help!) is by sharing this news brief or your favorite show with someone you think would appreciate it. Tell someone about the Fight Laugh Feast App. And last of all, become a Fight Laugh Feast Club Member. We want to grow the Fight Laugh Feast Network into a full blown News and Entertainment Network, coming at you with truth, goodness, and beauty (and Torani syrup) 24/7. Thanks to all of you who have already shared our content and become club members. 
Trump's Final Acts
https://www.foxnews.com/politics/trump-pardons-steve-bannon-lil-wayne-dozens-of-others-also-commutes-sentences
In the waning hours of Trump's presidency, he issued 73 pardons and 70 prison sentences were commuted early Wednesday. Among those were former White House adviser Steve Bannon, rappers 'Lil Wayne and Kodak Black, and former Detroit Mayor Kwame Kilpatrick, who was serving a nearly 30 year sentence on corruption charges. 
In Sports…
https://twitter.com/espn/status/1336366365997998083?s=20
Don't dance with him, run him over… woop! Dadgummit. Sheesh. Can't play with 12 greg!
Colts QB Philip Rivers is retiring from the NFL after 17 seasons. 
The man whose good-natured hollering was as renowned as his highly unorthodox and highly effective throws is hanging up his helmet to put on a different hat. 
Philip Rivers, who came to San Diego in a draft-day trade in 2004 and played quarterback for the Chargers all but his final season in the NFL, announced his retirement Wednesday.
"It's just time," Rivers told the Union-Tribune late Tuesday night from his home in Indianapolis, where earlier this month he completed his only season with the Colts. "It's just right."
Rivers, who wore No. 17 throughout his 17 seasons, played in 244 regular season games, starting the final 240 of those without interruption. That streak is the second longest ever by an NFL quarterback behind Brett Favre's 297.
In Other Sporting news…
The Blue Jays have reached an agreement with Outfielder George Springer for a 6 year 150 Million contract.
ESPN Stats reports that a 10th Super Bowl trip is at stake for Tom Brady, who is seeking to become the 1st player in NFL history to play in 10 championship games.
There are 23 players in the NBA/MLB/NHL history have played in 10 championship rounds. But only Lebron James has done this in the last 30 years. 
Study Links Marijuana Use to (SHOCK) Rise in Self Harm, Suicide
 https://disrn.com/news/new-study-links-marijuana-abuse-by-youth-to-self-harm-suicide-attempts-and-deathA new study shows that heavy use of marijuana by teens and young adults with mood disorders is linked to an increased risk of self-harm, suicide attempts, and even death.
According to the study, unintentional overdoses, suicide, and homicide were the three most frequent causes of death.
"The perception is that marijuana is safe to use, but we need to educate parents and kids that there are risks involved, particularly with heavy and high potency cannabis use," said Cynthia Fontanella, study author and assistant professor in the department of psychiatry and behavioral healthat the Ohio State University's College of Medicine 
Fontanella added that doctors need to "intervene to identify and treat" cannabis use disorder and children with mood disorders.
Cannabis, or marijuana, use disorder happens when there becomes a dependence on the use of weed. The National Institute on Drug Abuse advises that "people who begin using marijuana before the age of 18 are four to seven times more likely to develop a marijuana use disorder than adults."
Studies show a strong association between overuse of weed and suicide attempts and death in adults. Earlier studies revealed that children with mood disorders are highly likely to use and abuse marijuana. Fontanella believes children turn to weed because they do not like the side effects of their prescribed medications.
"Mood stabilizers and psychotic medications can cause weight gain, say up to 30 or 40 pounds … stiffness of their neck or eyes … and it can cause sedation," said Fontanella. "So, they may not use their medication and may self-medicate with cannabis to treat the mood disorders."
On the other hand, the use of weed is thought to potentially contribute to the development of mood disorders.We live in a world looking every except Christ for peace and joy. But as the world gets darker and more confused, Christians should only get brighter with gospel light. Despite the shrieks and cancel culture, remember that Christ cannot be cancelled. Pontius Pilate and the Jews tried that 2,000 years ago, and wicked rulers have tried many times since, and Christianity always comes back from dead, stronger and more vibrant, because we follow Jesus, who knows the way out of every grave. That's true for us, for our nation, for our languishing churches, and for our neighbors. 
So determine to laugh with more abandon, today and in the coming days – notice the little things, the little funny things, the things your kids say, the funny things that happen – laugh and receive them all as gifts, give more generously than before, smile more quickly (without a mask), sing louder around your dinner tables and every Sunday in worship, read your Bible a little longer and memorize passages that you can rattle off in the car or while waiting somewhere in line, kiss your wife like you mean it and hold her just a little longer, wrestle and tickle the kids – make them laugh hard, and read a good story. Our God reigns, and Jesus is still in heaven reigning until all of His enemies are put beneath His feet. Some of those enemies are a little more obvious to us today, but they were there along and completely obvious to Christ. And in His sovereign wisdom this is the path to victory. It's this way, and so we follow gladly.

This is Toby Sumpter with Crosspolitic News. You can find this and all of our shows at Crosspolitic.com or on our app, which you can download at your favorite app store, just search "Fight Laugh Feast". Support Rowdy Christian media, and become a Fight Laugh Feast Club Member and get your very own Fight Laugh Feast t-shirt and access to all the talks at our first annual Fight Laugh Feast Conference as well as many exclusive behind the scenes interviews as well as our very own Worldview Shotgun Series. We still have a few Fight Laugh Feast tumblers left for club members at 25$ a month or more. Go to FightLaughFeast.com. Have a great day.