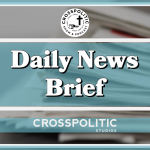 This is Toby Sumpter with your CrossPolitic Daily News Brief for Thursday, January 28, 2021.
Today you will hear about the office of the former president, Sarah Huckabee Sanders, Ontario Hair Salon getting creative to stay open, a doctor's assessment of COVID 19, the dangers of masks, and new psalm of the day. 
Remember: If you have a news story you think we might need to cover, please send articles and links to [email protected]
Two National Events: Fight Laugh Feast Rally in Rapid City, South Dakota, April 29, 30, May 1 & the Fight Laugh Feast Conference in Nashville, TN, October 14-16. Why a rally in South Dakota in April? Because we want to stand with Kristi Noem – the only Governor in the Union to not overstep her authority. And we also want to encourage you wherever you are. Many churches are not meeting, many Christians feel all alone. But you're not alone. So the theme of the Rally in South Dakota is Love God, Sing Psalms, Defy Tyrants. Gather with likeminded Christians who love freedom, confess Jesus Christ is Lord, and be equipped to stand firm in these insane days. Go to FLFNetwork.com/Rally. 
President Trump Has Opened The Office of the Former President
https://www.bloomberg.com/news/articles/2021-01-25/trump-opens-office-to-carry-on-agenda-of-his-administration
Former President Donald Trump has opened an office to "advance the interests of the United States and to carry on the agenda" of his administration, according to a statement released Monday night.
The letterhead on the statement indicated that the office will operate out of Palm Beach, where Trump moved after leaving the White House last week. According to the statement, the "office will be responsible for managing President Trump's correspondence, public statements, appearances, and official activities to advance the interests of the United States and to carry on the agenda of the Trump administration through advocacy, organizing, and public activism."
Later, in a statement released by the Save America leadership political action committee he formed after the election, Trump endorsed his former press secretary, Sarah Huckabee Sanders, for governor of Arkansas. She announced that she was running on Monday.
Sarah Hackabee Sanders Announces Gubernatorial Campaign
https://www.youtube.com/watch?v=haX-edmb3Gg
Ontario Barbershop Reopens… As a Production Studio
https://toronto.ctvnews.ca/mobile/ontario-barbershop-reopens-despite-provincial-lockdown-using-loophole-1.5276668?fbclid=IwAR3qNVAitfOiDN38QGWdzzKKMIZNPeE3l5_yKTLV4vAjglhwfM2uL34-yxY
Chrome Artistic Barber in St. Catharines is cutting hair again after they said they revamped their salon to become a production and film studio. 
Owner Alicia Hirter set up cameras, lights and microphones in her shop and said people who come in for haircuts are now auditioning for a part in a future TV show or podcast. 
Under Ontario's provincial lockdown laws, which came into effect on Dec. 26, film and television productions are allowed to continue operating.
"We're not offering haircut appointments, we're offering full auditions," Hirter told CTV News Toronto on Thursday. 
Hirter said when guests arrive for their appointment, they must sign a talent release form and undergo a COVID-19 screening test. Guests are also required to wash their hands when arriving. 
She said that clients are not required to wear masks while receiving their haircut because the government rules say performers are exempt.
Hirter said she needed to keep her business, which she has operated for 18 years, open because she could not survive another extended closure.
"I'm a single mom, I'm not about to move into low income property with my son," she said. "As a business owner and a mother, I had to make my own call … I'm not a criminal." 
She said she's also furious that big-box stores in the province are allowed to continue operating when her business should have closed.
"You're telling me Walmart can sell bananas that 17 people have touched but I'm not allowed to operate? It's morally wrong. You can't expect us to shut down."
She said she doesn't consider the move to stay open a "dirty loophole" and added it "took a lot of preparation and money to get this started."
In an e-mail to CTV News Toronto, Director of Planning and Building Services for St. Catharine's Tami Kitay said an investigation has been launched into Chrome Artistic Barbering. 
Hirter said that while her business has not been shut down, city officials have told her she could soon face charges.
"I will continue to operate," she said. "I will take the fines." 
Also, Keep Pastor Reaume & Trinity Bible Chapel in Ontario in Your Prayers
CrossPolitic has heard from members of the church that the elders have been held in contempt of court for resuming in person, indoor worship services. Pray for wisdom and courage for those faithful men.
I would again encourage Christians to think creatively. On the one hand, churches should just refuse to cower to these wicked decrees. On the other hand, the joy of the Lord is our strength. I've suggested previously that Churches might team up with gyms or restaurants or other stores, or maybe Trinity Bible Chapel should start doing auditions after the service for potential podcasts. Christians should be willing to pivot if there's a play to be made for the advancement of the gospel. 
Former President of the Association of American Physicians and Surgeons (AAPS) Dr. Lee Merrit Explains the COVID Situation and the Fact that We Have Good Treatments
https://thenewamerican.com/bio-warfare-weaponization-of-medicine-amid-covid/
Dr. Merrit goes on to explain why she believes that COVID-19 may be a first attempt at biological warfare or a first botched attempt. 
Share Plug
Is CrossPolitic a blessing to you? One of the most significant ways you can help us (and we need a LOT of help!) is by sharing this news brief or your favorite show with someone you think would appreciate it. Tell someone about the Fight Laugh Feast App. And last of all, become a Fight Laugh Feast Club Member. We are building a platform that Lord-willing cannot be cancelled by big media. And your support is helping to make that possible. Thanks to all of you who have already shared our content and become club members. 
Nine Dangers of Masks
https://www.lewrockwell.com/2021/01/no_author/twenty-reasons-mandatory-face-masks-are-unsafe-ineffective-and-immoral/
Cavities:

New York dentists are reporting that half their patients are suffering decaying teeth, receding gum lines and seriously sour breath from wearing masks. "We're seeing inflammation in people's gums that have been healthy forever, and cavities in people who have never had them before," Dr. Rob Ramondi told 

FOX News

.
Facial Deformities:

Masking children triggers mouth breathing which as been shown to cause "long, narrow faces, narrow mouths, high palatal vaults, dental malocclusion, gummy smiles, and many other unattractive facial features," according to the 

Journal of General Dentistry

.
Acne Vulgaris:

Moisture and germs collecting in the mask cause "facial skin lesions, irritant dermatitis… or worsening acne" (according to 

Public Health Ontario

) which stresses the immune system, can lead to permanent scarring and has been linked to depression and suicidal thoughts (according to the 

Journal of Dermatologic Clinics

). Children also develop impetigo, a bacterial infection that produces red sores and can lead to kidney damage (according to the 

Mayo Clinic

).

Increased Risk of COVID-19:

"Mask use by the general public could be associated with a theoretical elevated risk of COVID-19 through… self-contamination," states Public Health Ontario in 

Wearing Masks in Public and COVID-19

. "By wearing a mask, the exhaled viruses will not be able to escape and will concentrate in the nasal passages, enter the olfactory nerves and travel into the brain," theorizes nationally recognized board-certified neurosurgeon, Dr. Russell Blaylock, MD (in an article at 

The Centre for Research on Globalization

).
Bacterial Pneumonia:

At an 

Oklahoma Press Conference

, Dr. James Meehan, MD testified: "Reports coming from my colleagues all over the world are suggesting that the bacterial pneumonias are on the rise" as a result of moisture collecting in face masks.
Immune Suppressing:

Masks are often worn by criminals trying to hide their identity while perpetuating an offence (theft, violence, rape, murder, etc.). They produce subconscious anxiety and fear. Fear and anxiety activate the fight-or-flight nervous system which down-regulates the immune system, as shown in a study by the 

American Psychological Association

.
Germophobia:

Masks create an irrational fear of germs and a false sense of protection from disease, leading to antisocial (or even hostile) behaviour towards those not wearing a mask. (See the paper in the 

Journal of Obsessive-Compulsive and Related Disorders

titled "COVID-19, obsessive-compulsive disorder and invisible life forms that threaten the self").
Medical Doctor Warns that "Bacterial Pneumonias Are on the Rise" from Mask Wearing
Toxic:

Many (if not most) masks and face coverings (including cloth) are made with toxic and carcinogenic chemicals including fire retardant, fibreglass, lead, NFE, phthalates, polyfluorinated chemicals and formaldehyde that will outgas and be inhaled by the wearer. (See "5 main hazardous chemicals in clothing from China named" by 

Fashion United

).
Psychologically Harmful:

"I believe the real threat right now is what we're doing to sabotage the mental, emotional and physical health of… our children, whose development is dependent on social interactions, physical contact and facial expressions," writes Dr. Joseph Mercola of 

Mercola.com

. "Between mask wearing and social distancing, I fear the impact on children in particular may be long-term, if not permanent."
A Correction…
One helpful listener wrote me to correct a detail in Tuesday's News Brief. I incorrectly claimed that Nicki Minaj was blasting during one of our Psalm Sing protests, but that was Cardi B's Wop. But in my defense, it's hard to tell all the trash apart.
Psalm of the Day: Psalm 134
https://www.christkirk.com/wp-content/uploads/2016/08/Psalm134.mp3
Behold, Bless the Lord
All you servants of the Lord
Who by night stand in the house of the Lord.
Lift up your hands in the sanctuary
And bless the Lord!
The Lord who made heaven and earth
Bless You from Zion.
Whose blessing do you labor under? If you are trying to get the blessing of pagans, the blessing of the stock market, the blessing of political rulers – that's a greasy pole that you'll never make it up. And who cares about their blessing anyway. But if you look to the Lord who made heaven and earth in and through Jesus Christ, there is plenty of blessing for you there: blessing on your labors, blessing on your marriage, blessing on your children, blessing for your church and nation. You can find audio recording and sheet music for this psalm at Christkirk. Com/music-library/

This is Toby Sumpter with Crosspolitic News. You can find this and all of our shows at Crosspolitic.com or on our app, which you can download at your favorite app store, just search "Fight Laugh Feast". Support Rowdy Christian media, and become a Fight Laugh Feast Club Member and get your very own Fight Laugh Feast t-shirt and access to all the talks at our first annual Fight Laugh Feast Conference as well as many exclusive behind the scenes interviews as well as our very own Worldview Shotgun Series. We still have a few Fight Laugh Feast tumblers left for club members at 25$ a month or more. Go to FightLaughFeast.com. Have a great day.