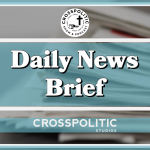 Good Thursday this is the Chocolate Knox with your CrossPolitic Daily News Brief for Thursday, July 1, 2021
If you are a fight laugh feast club member I hope to see you at our 4th of July Club Member Liberty Bash! We are so grateful to our club members, and can't think of a better way to celebrate America, than a joyous, raucous, party with our club members at Waterboy's farm.
Unfortunately, space is limited, so sign up ASAP. Ok pay attention, here is how you register: Go to www.FightLaughFeast.com and login into the club portal and you will find the 4th of July event. Click on it and follow the registration steps from there. If you have forgotten your password, just go through the fast and easy password reset process. If you get stuck, email us at contact@FightLaughFeast.com.
The event is free, though we would gladly accept donations to cover some costs.
So, Here is the good news…
Conservative ministers will not be compelled to conduct a same-sex marriage ceremony against their conscience in the Methodist Church
BUT if the want to leave the Methodist church they can go but not with their Church property…
So Why would conservative memebers of the Methodist church want to leave? Well
The Methodist Church just approved same-sex marriage
https://www.christiantoday.com/article/evangelicals.ready.to.walk.as.methodist.church.approves.same.sex.marriages/137030.htm
The Conference voted overwhelmingly in favour of a resolution to permit gay wedding ceremonies in its churches and chapels.
Resolution 59/8 was passed on Wednesday by 254 votes in favour, and 46 against.
It consents in principle to the marriage of same-sex couples on Methodist premises throughout the Connexion and by Methodist ministers, probationers or members.
The resolution is based on the recommendations in God in Love Unites Us, the divisive 2019 report that first proposed gay marriage ceremonies and recognition for co-habiting partners.
Earlier in the proceedings, Conference also voted to affirm cohabiting couples.
Conference rejected a separate proposal that further work be done – as recommended by the Church's Faith and Order Committee – before a final vote.
A spokesman for the Methodist Church clarified that the vote does not change official Church doctrine on marriage and that guidance will be coming out shortly for Methodist churches.
He added that the first gay marriages are now expected to take place in the autumn.
With the rest of liberalism knocking at the door of our institutions I think it's Important At this point to plug an old book… let me first tho read to you from the back sleeve of the book…
We don't have to be caught with our feet in the sand of how this left drift works and even at times catches good men of guard.
Bill Cosby to be released from prison after conviction vacated
https://abcnews.go.com/US/bill-cosby-released-prison-conviction-vacated/story?id=78582000
The 83-year-old Cosby walked out of the State Correctional Institution Phoenix in Montgomery County, Pennsylvania, Wednesday afternoon
Cosby was sentenced in September 2018 to three to 10 years in state prison for allegedly drugging and sexually assaulting former Temple University employee Andrea Constand in 2004. Cosby has served a little less than two years of his sentence.
In a ruling released Wednesday, the state Supreme Court concluded that Cosby's prosecution should never have occurred due to a deal the comedian cut with former Montgomery County prosecutor Bruce Castor, who agreed not to criminally prosecute Cosby if he agreed to give a deposition in a civil case brought against him by Constand.
During that deposition, Cosby made incriminating statements that Castor's successor, Kevin R. Steele, used to charge Cosby in 2015.
Castor is the same lawyer who went on to represent former President Donald Trump during the ex-president's second impeachment trial earlier this year.
"The discretion vested in our Commonwealth's prosecutors, however vast, does not mean that its exercise is free of the constraints of due process," the Pennsylvania Supreme Court justices wrote in their 79-page decision.
"When an unconditional charging decision is made publicly and with the intent to induce action and reliance by the defendant, and when the defendant does so to his detriment (and in some instances upon the advice of counsel), denying the defendant the benefit of that decision is an affront to fundamental fairness, particularly when it results in a criminal prosecution that was foregone for more than a decade," the justices wrote.
The decision went on to say Cosby was the victim of an unconstitutional "coercive bait-and-switch."
In ohio
Ohio Democrats furiously pound their desks and yell as Rep. Jena Powell proposes an amendment to add a bill banning biological males from female sports teams to the "Name, Image, Likeness Bill."
Disgraceful behavior from Rep. Michael Skindell at the Ohio House yesterday as Rep. Jena Powell tried to speak.
Clip:
What are we now in kindergarten again?
Hey did you hear the joke about aa dude winning miss Navada?
No, Well, it's not a joke…A dude just won Miss Navada.
How is this not blackface for women?!
Next, can white girls have black girl magic? Or nah?😳
If a black person came out and said "I feel white on the inside" the WHOLE culture would call that self hate and insanity. Well, what is this?
I don't even like pagents. But people, should you at least have to be a woman to win a pageant named Miss Navada? What leve is man splaying is this?
And here's the thing… I would at least have respect for my liberal friends if they were like naw, no dudes. We Pomo but we have limits…but no.
Ok, I am going to try my best to make it out of this next story without gloating at all…
'Latest New York mayoral count voided after 'test' ballots included in tally
You know NY had an mayoral election recentley and The New York City Board of Elections accidentally included results from a mock trial of the city's new ranked-choice voting system in unofficial primary returns released Tuesday — a snafu that threw the election process into chaos.
Tallies released Tuesday afternoon indicated that Kathryn Garcia had come within 2.2 points of leading Democratic candidate Eric Adams after ranked-choice tabulations were processed. But, shortly after the results were released, reporters and campaign staffers noticed there were roughly 135,000 more votes counted than those reported on election night.
Three hours after releasing the numbers, the Board of Elections issued a statement acknowledging a "discrepancy" and subsequently took down the totals from their website.
After 10 p.m. Tuesday, the board finally came clean with a statement: The "test" ballots were never cleared out of the tabulation system and thus added the additional votes into the total, skewing the numbers. The board said that it has removed all of the erroneous ballots from the count and will re-run the results — though when the new rankings will be ready was still unclear.
"The Board apologizes for the error and has taken immediate [action] to ensure the most accurate up to date results are reported," the statement said.
The error drew harsh recriminations from city leaders already wary of ranked-choice voting, including Adams, the Brooklyn borough president who had already begun to question the process.
The board said it would re-run the results Wednesday, but the delay has already dealt a significant setback to the process. Absentee ballots, which could prove decisive in the final outcome, won't be counted until next week. And campaigns that end up on the losing end of the final tally are likely to file a flurry of legal challenges based on the board's prosecution of the election so far. The worst-case scenario — a manual recount of the votes — could delay a final outcome for months.
The City Council's Black, Latino and Asian Caucus said in its own statement Tuesday that the board's mistake confirmed its worst fears about the rollout of the new system by an error-prone BOE, in one of the most consequential city elections in decades.
"Our members warned the public for months that the City was ill-prepared to execute elections under the new Ranked-Choice Voting system, and the concerns they raised continue to be borne out by the facts," the group said. "Despite its year-long dithering in implementing Ranked-Choice, BOE still had several months and four separate RCV special elections for City Council this past winter and spring to ensure quality control by the time of the June primary, but has failed here to produce timely and accurate results."
In an odd quirk of election law, candidates must file any legal challenges to the process by Friday even though the full results may not be known for weeks, according to attorney Jerry Goldfeder. That means that if the Adams camp or any other campaign believes it will eventually want to contest the results, they will need to head to court within days to reserve their right to sue.
"It's crazy," Goldfeder said. "And it needs to be reformed."
Plug: Fight Laugh Feast Conference in Lebanon, TN, just outside of Nashville.
We have been taught to stay out of the bedroom and leave people's sexual preferences alone. But the truth is that sex affects everything, and because the church has only spoken about sex in the areas the world has given her permission too, we now can lose our jobs, our livelyhoods, our way of life. Because the church has not unashamedly preached the gospel into our perverted and sexualized culture, as a result we have given the definition of marriage over to the world, men "can" claim the status of women and you have to go along with it, and cancel culture now lurks at everyone corner. Join us in Nashville (Lebanon) as we gather to sing, fellowship, and grow in God's word. We will have tried and true, cancel free speakers, including Pastor Wilson, Voddie Baucham, Pastor Toby, Doug TenNapel, David Bahnsen, and then on Saturday we will have an Academy full of 9 workshops with over 20 speakers arming you to go out into the world to take dominion with your gifts and abilities. So sign up now at https://flfnetwork.com/coming-soon/. Seating is limited!
Closing
This is the Chocolate Knox with Crosspolitic News Brief Support Rowdy Christian media by joining our club at fightlaughfeast.com, downloading our App, and head to our annual Fight Laugh Feast Conference next fall. With your partnership, together we will fight outdated and compromised media, engage news and politics with the gospel, and replace lies and darkness with truth and light. Go to fightlaughfeast.com to take all these actions. Have a great day. Lord bless