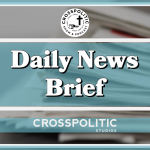 Happy Friday Jr. everyone, this is Garrison Hardie stepping in for ya boy, the Chocolate Knox, for Thursday, July 14th, 2022. Before we take a dive into the news, lets talk about our conference!
FLF Conference Plug:
Folks, our upcoming Fight Laugh Feast Conference is just about 3-months away from happening in Knoxville TN, October 6-8! Don't miss beer & psalms, our amazing lineup of speakers which includes George Gilder, Jared Longshore, Pastor Wilson, Dr. Ben Merkle, Pastor Toby, and we can't say yet…also dont miss our awesome vendors, meeting new friends, and stuff for the kids too…like jumpy castles and accidental infant baptisms! Also, did you know, you can save money, by signing up for a Club Membership. So, go to FightLaughFeast.com and sign up for a club membership and then register for the conference with that club discount. We can't wait to fellowship, sing Psalms, and celebrate God's goodness in Knoxville October 6-8.
Now as we talk about heading into our conference in October, that's heading into the winter time right? Reformation Day, Thanksgiving, Christmas… to me, that's just really the best time of year. Getting to spend time with your family, the weather is getting colder, (as a ginger that's great), and we get to celebrate the birth of our savior, Jesus Christ. Well, not if our government has any say over it!!!
https://unherd.com/thepost/brace-for-winter-lockdowns/
Brace for winter lockdowns
This is from Unherd.com. Many of those who opposed lockdowns for the pandemic, predicted that the policy — if normalised — could one day be taken advantage of by opportunistic political forces to deal with almost any crisis. It was, as Lord Sumption once suggested, a potential pathway to authoritarianism. "If we confer despotic powers on government to deal with perils, which are an ordinary feature of human existence, we will end up doing it most or all of the time," he wrote in November 2021.
Well, we are now facing just such a crisis. And there is a not insignificant chance that lockdowns might be revived, not just as a knee-jerk reaction to cope with a prevailing health crisis, but also, troublingly, an economic one.
The monkeypox health scare may have failed to get traction, but as Covid cases begin to rise again, the slow beat of pro-lockdown messaging is beginning to circle again in the mainstream media.
For now, the public remains far from receptive. But this could change as soon as energy shortages and supply chain issues begin to bite this winter, which they surely will. The public has already been primed to believe that lockdowns were great for generating energy savings. We saw the evidence of that with our own eyes. Traffic jams disappeared. Oil prices went negative. Air pollution reversed.
In the face of late Soviet-style chaos on the streets, unconstrained inflation, not enough electricity to heat the homes of the vulnerable, the prospect of order emanating from the "temporary" suspension of a market economy might seem appealing.
It's even easy to predict the messaging that might feel compelling: 'Stay Home. Don't queue. Save Energy.' Or, 'Bread and energy is cheap if you stay home!'
But here is why we must not fall for this line of logic. Planned economies are what got us into this mess to begin with. Covid, the war in Ukraine and sanctions against Russia may have all added accelerants to the fire, but the smoulders were burning ever since the 2008 global financial crisis nearly brought down the system. It's just that the consequences of papering over the flaws in the system rather than properly addressing them only became visible in late 2021.
It took 70 years for the communist system to fall apart under the weight of its own capital misallocation. We've managed to achieve it in about 14 years. At the heart of the problem is the poorly thought-out subsidisation of negative-sum business models propelled by excessive cheap money in the system.
In the communist period, this sort of misdirection was the fault of state bureaucrats who had no idea about what people really wanted. This time it's been driven by deep-pocketed Western venture capitalists who became convinced that outsized rents from monopoly interests could compensate for short-term non-profitability.
That's not to say the market economy is perfect or free of its own negative externalities. It definitely needs political guidance and a moral backbone to stay on course. But locking people down is not the answer. This only addresses the symptoms, not the cause.
Our best path out of this mess is to keep the system as free as possible so that the people themselves can innovate their way out of trouble. Necessity, as they say, is the mother of invention. Allowing human ingenuity to thrive in a free system is our best chance to solve our economic woes.
Wow… terrifying stuff. This is what CrossPolitic has been arguing for all along by the way, and maybe that's a reason why we've been banned from Youtube time after time… also, this is another good reason to come to our conference by the way! Our topic seems pretty in line with the story no?
https://www.mirror.co.uk/news/world-news/who-chief-urges-bring-back-27470930
WHO chief urges 'bring back face masks' as Covid pandemic 'nowhere near over'
The World Health Organisation is urging governments to reinstate Covid measures like masking and ventilation as its leader speaks of concerns over an "increasing trend of deaths".
As the British government, along with many others of wealthy countries, have all but abandoned coronavirus restrictions, the WHO director-general Dr Tedros Adhanom Ghebreyesus has said the pandemic is "nowhere near over".
It comes as new ONS figures have today showed that more than 200,000 people in the UK have had Covid-19 recorded on their death certificate since the pandemic began.
Infections and hospital admissions are once again on the rise, driven by the coronavirus subvariant Omicron BA.2. Experts have warned that new variants can re-infect even those with some form of antibody immunity, in a matter of weeks.
Amid a spike in Covid transmission and increasing hospitalisations, Dr Ghebreyesus urged governments to "deploy tried and tested measures like masking, improved ventilation and test and treat protocols".
"I am concerned that cases of Covid-19 continue to rise – putting further pressure on stretched health systems and health workers," he said.
One of the more concerning variants and subvariants being tracked by the WHO was BA.2.75, nicknamed the centaurus.
Scientists believe the Covid strain, which was first discovered in May in India, may be able to spread rapidly and infect people regardless of immunity from vaccines and antibodies.
Governments were now facing several "interlinked" challenges around their response to coronavirus, Dr Ghebreyesus said, including the Omicron sub-variants and reduced testing and sequencing.
He went on to explain that there was a disconnect in Covid-19 risk perception between scientific communities, political leaders and the general public.
Another challenge was communicating risk and building community trust in health tools, as well as public health social measures like masking, distancing and ventilation, he said.
The pandemic was "nowhere near over", he said, adding that we were in a better position than at the beginning of the pandemic to push back.
While progress had been made in the form of tools preventing hospitalisations and deaths, these should not be taken for granted.
Dr Ghebreyesus urged governments to regularly review and adjust their Covid-19 response plans based on changing situations.
The idea of restrictions being brought back in the UK was raised on Tuesday if an increase in cases worsens the backlog facing the NHS.
The WHO's warning came just days after a SAGE advisor blasted the Tories for failing to take the urgent action needed to stop huge numbers of hospitalisations and unnecessary deaths.
Britain could grind to a standstill as Covid-19 cases surge – but the government's policy is to 'shut your eyes and let it rip,' Susan Michie has warned.
Moving on, and back to our bad economy,
https://www.yahoo.com/now/rents-us-rise-fastest-pace-161957394.html
Rents in US Rise at Fastest Pace Since 1986, Buoying Inflation
(Bloomberg) — Rents rose in the US last month at the fastest pace since 1986, helping to propel overall inflation to a fresh four-decade high.
An index measuring rent of a primary residence was 0.8% higher in June than the month before, an acceleration from the 0.6% increase recorded in May, according to the Labor Department's report on consumer prices published Wednesday. In the 12 months through June, rents were up 5.8%
Those costs are soaring across the country as would-be homebuyers get priced out by the fastest-rising mortgage rates in decades and slide back into the overcrowded rental market. But rent growth may be peaking as affordability concerns mount, and a surge in construction of new units is poised to start adding to the available inventory.
The Labor Department measure tends to lag behind other estimates, so it is likely that rent increases will contribute to rising inflation in the consumer price index through the rest of this year, according to Mark Zandi, chief economist of Moody's Analytics.
"The big increase in CPI rents is catch-up with the consistent double-digit growth in market rents," Zandi said. "The good news is that market rents appear to be topping out, as renters are not able to afford the higher rents and are balking. More rental supply is also coming, although this will take a year or two to have a meaningful impact on market rents."
Nearly 836,000 multifamily units are under construction, the most since 1973, according to Jay Parsons, chief economist at RealPage. But most new construction targets higher-income tenants and not the lower end, where supply shortages are most extreme, he said.
Rents, along with a category known as owners' equivalent rent that often moves in tandem, account for more than 30% of the consumer price index, giving them outsize weight in overall inflation trends. Given the close ties between rents and wages, the accelerating pace of increases will keep Federal Reserve officials on an aggressive tightening path.
Average hourly earnings for production and nonsupervisory workers rose 6.4% in the 12 months through June and have generally outpaced rents since the pandemic began — a reversal of the trend that prevailed throughout much of the economic expansion of the 2010s. But the gap has narrowed in recent months as increases in earnings have moderated and rental inflation has accelerated.
You know, our economy may be weak, but you don't want your children's education to be weak either do you? That's why you need to talk to our sponsors, Classical Conversations.
Classical Conversations supports homeschooling parents by cultivating the love of learning through a Christian worldview in fellowship with other families. We provide a classical Christ-centered curriculum, local like-minded communities across the United States and in several countries, and we train parents who are striving to be great classical educators in the home. For more information and to get connected, please visit our website at ClassicalConversations.com. Again that's ClassicalConversations.com.
Before we go, it's time for the topic that I love… sports!
https://www.yahoo.com/news/lebron-james-says-brittney-griner-175538850.html
LeBron James says Brittney Griner should question returning to United States
NBA star LeBron James questioned if WNBA star Brittney Griner should return to the United States whenever she is released from her incarceration in Russia.
The Los Angeles Lakers star made the comment about the Phoenix Mercury star in a trailer for his show, The Shop, which is scheduled to air on Friday on Uninterrupted's YouTube channel.
"Now, how can she feel like America has her back?" James said. "I would be feeling like, 'Do I even want to go back to America?'"
James later took to Twitter to clarify his comments.
"My comments on 'The Shop' regarding Brittney Griner wasn't knocking our beautiful country," he tweeted. "I was simply saying how she's probably feeling emotionally along with so many other emotions, thoughts, etc inside that cage she's been in for over 100+ days! Long story short #BringHerHome"
This isn't the first time James has commented on Griner's situation.
In June, he demanded action from Joe Biden and Kamala Harris to bring Griner back to the United States, although now he apparently wonders if she should come back to the U.S.
"We need to come together and help do whatever we possibly can to bring BG home quickly and safely!!" James posted on Twitter. "Our voice as athletes is stronger together."
Griner has been detained since Feb. 17 after vaping cartridges containing oil derived from cannabis were allegedly found in her luggage while going through an airport outside of Moscow.
Interestingly, Phoenix Mercury coach Vanessa Nygaard recently wondered if Griner's situation in Russia would be resolved already if it were James, not Griner that was detained.
"If it was LeBron, he'd be home, right?" Nygaard asked. "It's a statement about the value of women. It's a statement about the value of a black person. It's a statement about the value of a gay person. All of those things. We know it, and so that's what hurts a little more."
Wait a minute, wait a minute… what is a woman? Is Nygaard a biologist? Here's the deal, I don't want Griner to rot in a Russain jail, despite her hateful and uneducated view of America, or the fact that she's rejecting God's natural law for marriage, or the fact that she thinks she could beat DeMarcus Cousins in a game of 1-on-1… you get the idea. Keeping image bearers of God in cages is wrong and wicked, and we need to get back to a Biblical form of justice… so here's hoping she's out soon.
This has been your CrossPolitic Daily News Brief. If you liked the show, hit that share button for me would ya? If you want to sign up for our conference, a magazine subscription, or become a club member… you can do all of that at fightlaughfeast.com! And as always, if you'd like to become a corporate partner of CrossPolitic, let's talk. Email me, at [email protected]. For CrossPolitic News, I'm Garrison Hardie. Have a great day, and Lord bless.