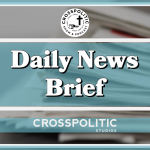 Happy Thursday everyone, this is Garrison Hardie with your CrossPolitic Daily News Brief for Thursday, July 28th, 2022.
Whoopi Goldberg has made another whoopsie, and is back in the news, after comments she made about Turning Point USA, on this show called The View.
https://www.youtube.com/shorts/WhXg3GTn5OM – Play Video
Well, when she said those things… Turning Point USA wasn't exactly pleased with those comments, and as a result, TPUSA founder Charlie Kirk said the group was considering legal action against the show.
https://thepostmillennial.com/breaking-the-view-apologizes-for-wrongly-linking-neo-nazi-protestors-to-turning-point-usa?utm_campaign=64487
The View apologizes for wrongly linking neo-Nazi protestors to Turning Point USA
That prompted this response from the view: https://rumble.com/v1dt5k9-july-27-2022.html – Play Video
After TPUSA called out "The View" on Twitter for making openly and provably false statements, conservative politicians, commentators, and supporters defended the organization and got the hashtag #SUETHEVIEW trending.
Human Events Daily host and Turning Point USA contributor Jack Posobiec called "The View's" actions "textbook" defamation.
"I was standing outside when this incident happened," he added. "TPUSA attendees confronted the agitators."
Tim Pool talked about this on his show: https://twitter.com/i/status/1552105148180217858 – Play Video
https://thepostmillennial.com/biological-male-swimmer-lia-thomas-loses-bid-for-woman-of-the-year-to-female-fencer?utm_campaign=64487
Biological male swimmer Lia Thomas loses bid for 'Woman of the Year' to female fencer
The NCAA has announced a biological woman as their choice to represent the Ivy League to compete for the "Woman of the Year" title over Lia Thomas, the transgender athlete who made headlines after leaving men's swimming to compete against women.
Columbia University fencer, Sylvie Binder, will be the Ivy League's pick. The award is meant to honor women student-athletes who have "distinguished themselves in their community, in athletics and in academics throughout their college career." Binder, a senior from Armonk, New York, won the NCAA Fencing Championship in 2019.
Binder was selected over Thomas, whose eligibility was hotly contested as Thomas is biological male who identifies as a woman and began transition in 2019. Thomas swam for the men's swim team representing the University of Pennsylvania for three seasons before transitioning to compete against female swimmers, breaking records and winning championships in the women's division.
Riley Gaines, an SEC champion swimmer who competed against Thomas at the NCAA Championships, said the male nomination as "Woman of the Year" was "another slap in the face to women," adding that the NCAA has now "made this award worthless."
The University of Pennsylvania nominated both Thomas and tennis player Iuliia Bryzgalova for NCAA Woman of the Year in July. The NCAA website states that a school may nominate two individuals for the award if one of the two nominees is a "student-athlete of color or international student-athlete."
The announcement on Monday narrowed down the 577 students nominated to 151 female athletes. The Woman of the Year Selection Committee is set to select 10 nominees from each division and the top 30 will be announced in October, with the winner announced in January at the NCAA Convention in San Antonio.
Moving on… Hey California! That's a place that exists… California Democrats Move to Make State a 'Sanctuary' for Child Sex Change Surgery
https://neonnettle.com/news/19709-california-democrats-move-to-make-state-a-sanctuary-for-child-sex-change-surgery
"Woke" lawmakers have introduced a bill to create a safe haven for doctors to perform operations on kids to remove or alter their genitals.The bill was introduced by Democratic California State Sen. Scott Wiener.As Neon Nettle has previously reported, Wiener successfully campaigned to legalize "gay sex" with minors in the state.
Weiner's latest bill would block courts from enforcing out-of-state court orders revoking custody for parents who allowed their children to get illegal sex changes.The measure would also weaken parental rights of those who aren't supportive of sex changes for their kids, giving "woke" teachers and other officials more powers to put children through life-changing transgender treatments without the need for family approval or knowledge.
The proposal comes as several states move to restrict "gender-affirming care," for children, which includes socially transitioning, puberty-blocking drugs, cross-sex hormones, and surgeries.
Texas is treating these procedures as a form of child abuse under existing state laws, Alabama has banned the procedures for minors and Republican Florida Gov. Ron DeSantis is making an administration-wide push to ban child sex-change procedures.Wiener characterized the bill as an effort to grant legal protections to transgender minors and their parents, noting that the bill blocks California courts from enforcing out-of-state subpoenas for parents who break state laws banning child sex-change treatments.
The legislation also makes the enforcement of out-of-state arrest warrants for violations of child sex-change bans the lowest law enforcement priority.
A spokeswoman for parental rights group Family Watch International told the Daily Caller News Foundation how the law might work in practice.
If a mother in Texas believes her daughter is actually a boy and seeks a double mastectomy for her, her doctor may alert the authorities that the child is at risk for permanently disfiguring surgery, she explained.If the mother flees to California with the child to get the surgery, California would currently be required to comply with court orders from Texas to have the child returned to the state, according to the spokeswoman. Wiener's bill would block California courts from complying with Texas's child custody orders when it comes to parents giving their children sex changes, she explained.
My goodness that is wicked… California is just going to be heaping judgement on itself and our nation by these disgusting practices. Folks, especially those in California, come join us in Knoxville this Fall!
FLF Conference Plug:
Folks, our upcoming Fight Laugh Feast Conference is 70 days away from happening in Knoxville TN, October 6-8! Don't miss beer & psalms, our amazing lineup of speakers which includes George Gilder, Jared Longshore, Pastor Wilson, Dr. Ben Merkle, Pastor Toby, and we can't say yet…also dont miss our awesome vendors, meeting new friends, and stuff for the kids too…like jumpy castles and accidental infant baptisms! Also, did you know, you can save money, by signing up for a Club Membership. So, go to FightLaughFeast.com and sign up for a club membership and then register for the conference with that club discount. We can't wait to fellowship, sing Psalms, and celebrate God's goodness in Knoxville October 6-8.
Let's shift our eyes over seas now…
https://dailycaller.com/2022/07/27/us-military-prep-war-pelosi-taiwan/
US Military To Prep For War If Pelosi Goes To Taiwan: REPORT
The U.S. military is readying for possible conflict in the Pacific ahead of House Speaker Nancy Pelosi's possible trip to Taiwan in August, according to The Associated Press.
The Pentagon will escalate troop movements and security measures in the Pacific if Pelosi follows through with her planned Taiwan visit. China likely would not attack Pelosi's plane directly, officials familiar with the matter told the AP, but senior officials worry that her presence could inflame existing tensions between the U.S. and China over Taiwan.
Officials declined to provide specifics but said measures could include fighter jets, ships and surveillance equipment to create redundant shields around Pelosi. China threatened to impose a no-fly zone over Taiwan if Pelosi visits and has dispatched warplanes into Taiwan's claimed air defense identification zone, CNN reported, as a possible countermeasure.
Pelosi would be the highest-ranking elected official to visit Taiwan in a quarter century, according to the AP. While enhanced security is typical of any high-level official visit to a foreign country, the precautions would go beyond those taken for trips to less risky destinations.
Tensions between the U.S. and China have escalated in recent months over conflict related to Taiwan, an independently-governed country that China perceives as part of the mainland.
Milley said Sunday that the number of dangerous interceptions between U.S. and Chinese forces in the South Pacific has escalated in 2022, and China has used unusually strong language opposing the U.S. ahead of Pelosi's possible visit, Financial Times reported Saturday, citing six people with direct knowledge of the warnings.
China confirmed prior threats of possible military action should House Speaker Nancy Pelosi follow through on Monday.
"If the US side insists on making the visit, the Chinese side will take firm and strong measures to safeguard our sovereignty and territorial integrity," Chinese Ministry of Foreign Affairs spokesperson Zhao Lijian said.
Boniface Woodworking LLC:
Boniface Woodworking exists for those who enjoy shopping with integrity; who want to buy handmade wooden furniture, gifts, and heirloom items that will last for generations. From dining tables and church pulpits to cigar humidors and everything in between; quality pieces that you can give your children's children, tie them to their roots, and transcend the basic function of whatever they are!
So, start voting with your dollars, and stop buying cheap crap from people who hate you! Visit www.bonifacewoodworking.com to see our gallery, learn our story, and submit your order for heirloom quality wood items.
Nba Draft Sound Effect– Play Video
Ladies and gentleman, we have a trade to announce!
https://www.usatoday.com/story/sports/wnba/2022/07/27/brittney-griner-u-s-offer-russia-prisoner-swap-paul-whelan/10166157002/
The United States will send Viktor Bout, a Russian arms dealer nicknamed "The Merchant of Death," for the prisoner swap. In exchange, Russia will send over Brittney Griner and Paul Whelan… Their deal sounds cooler.
Secretary of State Antony Blinken said Wednesday that the United States made a "substantial" proposal to Russia to bring home wrongfully detained WNBA star Brittney Griner and Paul Whelan, who is also serving a prison sentence in Russia.
CNN reported that the U.S. offered Viktor Bout, a Russian arms dealer nicknamed "The Merchant of Death," for the prisoner swap. A prisoner swap freed former U.S. Marine Trevor Reed from a Russian penal colony in April.
Blinken added he would engage with Russia's Foreign Minister Sergey Lavrov. It was the first public acknowledgement of a deal that could involve a prisoner swap or addressing the sanctions placed on the country after it invaded Ukraine.
"My hope would be that in speaking to Foreign Minister Lavrov, I can advance the efforts to bring them home," Blinken said.
Blinken said President Joe Biden has been directly involved in the negotiations and he signed off on the offer to Moscow.
This has been your CrossPolitic Daily News Brief. If you liked the show, there's a share button on your screen. Do it! Do it now! If you want to sign up as a club member, register for our conference, or sign up as a magazine subscriber, you can do all of that at fightlaughfeast.com. And as always, if you want to become a corporate partner for CrossPolitic, let's talk. Email me at garrison@fightlaughfeast.com.
For CrossPolitic News, I'm Garrison Hardie. Have a great day, and Lord bless.