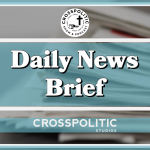 This is Garrison Hardie with your CrossPolitic Daily News Brief for Thursday, July 6th, 2023.
Story Real Estate:
Home. It's where you build your legacy. Where traditions are started, seeds are planted, meals are shared, and stories are told. Home is where you prepare to go out into the world. Finding the home that's perfect for your family is a big job.
Story Real Estate is Moscow's top real estate team. They give people real estate advice all over the country. Family homes, investments, land, new construction, or commercial— they know real estate.
If you've thought about a move to Moscow or anywhere in the country, reach out to get connected with a Story Real Estate agent. Wherever you're going, they can help guide you Home. Visit storyrealestate.com.
https://thepostmillennial.com/potential-prisoner-swap-deal-in-the-works-for-wall-street-journal-writer-detained-in-russia-report?utm_campaign=64487
Potential prisoner swap deal in the works for Wall Street Journal writer detained in Russia
Russian and American officials are reportedly discussing a prisoner swap that could include detained Wall Street Journal reporter Evan Gershkovich, however, no further details have been released by either side.
Gershkovich has been held in Moscow's Lefortovo pre-trial detention centre for months after being arrested and charged with "espionage." Previous attempts to free him via the Russian legal system have come up fruitless.
According to the Washington Post, Kremlin spokesperson Dmitry Peskov explained on Tuesday that officials "don't want [the details] discussed in public," adding that prisoner swap negotiations "must be carried out and continue in complete silence."
The Russian government has appeared willing to swap US-held prisoners for Gershkovich, however, Deputy Foreign Minister said earlier this year that talks would only begin after the journalist's trial had ended.
Gershkovich and the US have tried to hasten proceedings, but it has been to no avail. Last week, a Russian court determined that he had to remain in pre-trial detention at Lefortovo until August 30.
On Monday, US Ambassador to Russia, Lynne Tracy, met with Gershkovich and noted that he "is in good health and remains resilient despite the circumstances." She expressed hope that the Russian government would "provide regular consular access."
As the Wall Street Journal reports, White House officials stated on Tuesday, "While we unfortunately do not have a breakthrough to share, we continue to pursue every avenue to secure the release of Evan Gershkovich."
The US government, including Ambassador Tracy, has maintained Gershkovich's innocence and slammed the Russian government over his treatment.
"The accusations against Gershkovich are unfounded," she said, "and we call on the Russian authorities to release the journalist immediately."
The Wall Street Journal also stood with Gershkovich, stating,"Evan is a member of the free press who right up until he was arrested was engaged in news-gathering. Any suggestions otherwise are false."
The first US journalist to be detained in Russia on charges of spying since the Cold War, Gershkovich could face up to 20 years in prison if found guilty.
Now this! Another whoopsie from the government!
https://justthenews.com/accountability/waste-fraud-and-abuse/usda-says-it-overpaid-10-food-stamp-benefits-2022-program
USDA says it overpaid 10% of food stamp benefits in 2022 as program doubled from 2019
Largely due to unintentional mistakes" by the government or households, the U.S. Department of Agriculture said it overpaid Supplemental Nutrition Assistance Program benefits in 10% of cases, The Washington Times reports.
The government either wrongly determined households were eligible for the program better known as food stamps or overestimated how much they were due, while 2% were deemed underpayments. The total rate of under- and overpayments was lower before the COVID-19 pandemic: 7.4% in 2019 and 6.8% in 2018.
States varied widely in how accurate their payments were, with Alaska the worst at overpayment with 57% and South Dakota the best at under 3%.
The program has also doubled since 2019, reaching $113.9 billion from $55.6 billion. It now covers 41 million Americans with an average payment of $230 per month.
The Government Accountability Office also released figures Friday of overpayment across the federal government in fiscal 2022, $247 billion, while cautioning the figure is an estimate because the government cannot "determine the full extent to which improper payments occur."
Now to Los Angeles we go…
https://thepostmillennial.com/los-angeles-homeless-population-spikes-to-more-than-46000?utm_campaign=64487
Los Angeles County homeless population spikes to over 75,000
Homelessness has increased by ten percent in the city of Los Angeles, and it has increased in Los Angeles County by nine percent.
According to the 2023 Greater Los Angeles homeless count results conducted by the Los Angeles Homeless Services Authority (LAHSA), Los Angeles County's homeless population increased to approximately 75,518, an increase from 69,144 in 2022. In the City of Angels, the number of homeless people increased to approximately 46,260 people, an increase from 41,980 people in 2022.
Earlier this year, it was revealed that California holds half of all "unsheltered people" in the US.
Dr. Va Lecia Adams Kellum, chief executive officer of the Los Angeles Homeless Services Authority, said, "The homeless count results tell us what we already know, that we have a crisis on our streets, and it's getting worse."
Los Angeles County Board of Supervisors Chair Janice Hahn called the results "disappointing," writing in a statement, "It is frustrating to have more people fall into homelessness even as we are investing hundreds of millions of taxpayer dollars and resources into efforts to bring people inside. I appreciate the cities that have stepped up and supported solutions, but these numbers prove that solutions-oriented cities are too few and far between."
Los Angeles officials challenged the accuracy of the 2022 LAHSA count that reported finding zero homeless people in Venice Beach, an area known for its massive homeless problem. As a result, the county used a new counting app and hired a demographer and two data scientists.
Though Democratic Mayor Karen Bass has claimed at least 14,000 homeless people have been moved into interim or permanent housing under her administration, it was revealed earlier this year that the city was spending over $800,000 per housing unit.
The Los Angeles Homeless Services Authority made a point of emphasizing that Los Angeles is not the only major US city to see an increase in its homeless population, noting that Chicago saw a 57 percent increase and Portland saw a 20 percent hike. According to the agency, in California, Kern County saw a 22 percent increase, San Bernardino County a 26 percent increase, San Diego County a 22 percent increase, and Riverside County a 12 percent increase.
Earlier this month, San Diego and Portland approved homeless camping bans.
Moving on… Do you guys remember that Children's hospital in Boston that was exposed for performing gender mutilation & sterilazation on kids?
https://townhall.com/tipsheet/miacathell/2023/07/04/boston-childrens-hospital-dethroned-n2624870
Children's Hospital Caught Trans-ing Kids No Longer No. 1 for Pediatric Care
For the first time in a decade, Boston's Children's Hospital—which was exposed last year for its experimental genital mutilation, sterilization, and chemical castration of minors identifying as "transgender"—is no longer the no. 1 pediatric medical center in America.
Since 2014, Boston Children's Hospital has claimed the top spot on U.S. News and World Report's honor roll rating the best pediatric-care facilities in the nation. But, the consumer-ranking giant's 2023 – 2024 list published on June 21 has dethroned the Beantown-based institution, the leading recipient of pediatric-research funding from the National Institutes of Health (NIH).
In the latest rankings, Cincinnati Children's Hospital Medical Center took the crown, with Boston Children's Hospital bumped to second place.
U.S. News and World Report collected data from almost 200 medical centers through an annual survey that examines a myriad of criteria, such as patient safety, clinical outcomes, and surgical success. Each hospital's score was derived from a nationwide polling of 15,000-plus pediatric specialists, who were asked "where they would send the sickest children in their specialty."
Among its LGBTQ-centered departments, Boston Children's Hospital is home to the Gender Multispecialty Service (GeMS) clinic, the "first pediatric and adolescent transgender health program" in the U.S. Serving more than 1,000 families to date, GeMS has expanded to "treat" patients as young as three-years-old. The hospital's Center for Gender Surgery offers surgical mutilation to gender-dysphoric teenagers, including vaginoplasties for 17-year-old boys (Boston Children's Hospital has since quietly changed the age minimum); metoidioplasties and phalloplasties; and chest reconstruction and breast augmentation for 15-year-old kids.
Now, the age range has been raised to 18-years-old in the hospital's official guidance. Removal of the testicles is often performed at the same time as a vaginoplasty, which requires a lifetime of dilation,, and can leave the patient sterile.
Boston Children's Hospital, whose tagline is: "Until every child is well," was caught promoting "gender-affirming hysterectomies" for "trans youth" in a now-scrubbed video, which was part of a 90-part series that positively frames the medical butchery without addressing the irreversible damage that it does to the human body. Other topics highlighted in the series include "Why is hair removal necessary before phalloplasty?" and "Fertility preservation: What transgender patients should know."
Salvaged by Libs of TikTok, an archived version of the 33-second hysterectomy footage shows a smiling Dr. Frances Grimstad of Boston Children's Hospital Division of Gynecology happily describing, as upbeat background music played, the medically unnecessary operation that can render (otherwise) physically healthy patients infertile by removing female reproductive organs.
Another since-deleted video posted to the hospital's YouTube channel showed a psychologist claiming that "a good portion" of children she sees at Boston Children's Hospital GeMS clinic know they're transgender "from the womb."
https://twitter.com/i/status/1649007304774123521 – Play Video
In a Journal of the American Medical Association article that Boston Children's Hospital GeMS co-director Dr. Oren Ganor authored on "Streamlining Interstate Access to Gender-Affirming Surgeries," the plastic and reconstructive surgeon called for a drastic increase in "clinician capacity" for children to be subjected to "sex-change" surgeries. Ganor also urged a ramping up of "training efforts" at medical school residency programs to instruct future physicians on performing "transgender" procedures.
The local NPR news station WBUR reported in 2018 that Ganor wrote in an email that Boston Children's Hospital is "slightly flexible" when it comes to the age acceptance of biological males seeking genital surgery "because of the difficulty young women can experience accessing gendered spaces—like dorms and bathrooms—if they still have male genitalia." The hospital's policy had not yet been finalized, Ganor said, "because of the issue around consent for sterilization (which is part of the procedure)."
Now, in entertainment news…
https://boundingintocomics.com/2023/07/03/after-the-walt-disney-company-canned-chief-diversity-officer-latondra-newton-warner-bros-discovery-and-netflix-lose-their-diversity-heads/
After The Walt Disney Company Canned Chief Diversity Officer Latondra Newton, Warner Bros. Discovery And Netflix Lose Their Diversity Heads
At the end of June it was revealed that The Walt Disney Company's Chief Diversity Officer Latondra Newton was no longer with the company. Now Warner Bros. Discovery and Netflix's have also seen their diversity heads leave their respective companies.
Variety announced Newton had left The Walt Disney Company after they obtained an internal company memo on June 20th from the company's HR chief Sonia Coleman.
Coleman wrote in the memo, "I'm writing to share the news that Latondra Newton has decided to leave The Walt Disney Company to pursue other endeavors."
Coleman went on to reveal that Julie Merges would take on Newton's role on an interim basis as the company looked for a new DEI leader, "Latondra's direct reports will report to Julie Merges on an interim basis until a new DEI leader is identified. I want to thank Julie for leading this team along with her Talent Acquisition organization."
"Additionally, Shelby Curry and the DEI Internal Communications team will continue reporting to Carrie Brown in her role leading internal communications & engagement for the company," Coleman wrote.
Following Newton's exit, TheWrap reported that Netflix's head of inclusion strategy Vernā Myers was stepping down from her position at the company in September. While she is exiting the company as head of inclusion strategy she will still advise the company albeit the report notes she will be focusing primarily on her consulting company, The Vernā Myers Company.
Unlike The Walt Disney Company, Netflix appears to have a replacement for Myers already lined up in Wade Davis. Davis is currently the Vice President of Inclusion Strategy and worked under Myers for four years.
In a statement Myers said, "It's hard to step away from the company and this role because of how much I love Netflix and the people here. I'm so excited for the talented Wade Davis who will be taking the lead of the I-and-D work along with our incredible inclusion strategy team and I can't wait to see the continued progress we all will make together."
At the end of June, Los Angeles Times reported that Warner Bros. Discovery axed its diversity leader Karen Horne, who was the company's Vice President for Diversity, Equity, and Inclusion in North America.
According to the outlet's sources her departure from the company was announced on June 28th and the company's spokeswoman Megan Klein informed the outlet she was not let go due to Warner Bros. Discovery's "cost-cutting but rather a rethinking and reorganization of the company's diversity organization."