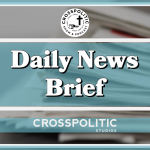 Club Membership Plug:
Let's stop and take a moment to talk about Fight Laugh Feast Club membership. By joining the Fight Laugh Feast Army, not only will you be aiding in our fight to take down secular & legacy media; but you'll also get access to content placed in our Club Portal, such as past shows, all of our conference talks, and EXCLUSIVE content for club members that you won't be able to find anywhere else. Lastly, you'll also get discounts for our conferences… so if you've got $10 bucks a month to kick over our way, you can sign up now at flfnetwork.com
Ford Us Sales increase 32 percent
https://www.wsj.com/articles/fords-u-s-sales-increase-32-in-june-outpacing-broader-industry-11657034435
Beto has a chance to oust Abbott
https://www.newsweek.com/beto-orourkes-chances-beating-abbott-5-months-election-polls-1713577
Walmart tells suppliers new fuel and pick up fees are coming
https://www.wsj.com/articles/walmart-tells-suppliers-new-fuel-and-pickup-fees-are-coming-11657056794
More companies join the great migration
https://www.theepochtimes.com/more-companies-join-the-great-migration-to-red-states_4572422.html
Bosses Offer Midyear Raises to Retain
Employees
https://www.wsj.com/articles/bosses-offer-midyear-raises-to-retain-employees-as-inflation-takes-toll-11657013401
Commodity Price Slide Raises Hopes Inflation May Ease
https://flipboard.com/article/commodity-price-slide-raises-hopes-inflation-may-ease/f-de8e433f72%2Fwsj.com
Classical Conversations
Classical Conversations supports homeschooling parents by cultivating the love of learning through a Christian worldview in fellowship with other families. We provide a classical Christ-centered curriculum, local like-minded communities across the United States and in several countries, and we train parents who are striving to be great classical educators in the home. For more information and to get connected, please visit our website at ClassicalConversations.com. Again that's ClassicalConversations.com.