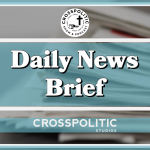 This is Toby Sumpter with your CrossPolitic Daily News Brief for Thursday, June 10, 2021.
Fourth of July Club Member Liberty Bash
Join us at our first annual 4th of July Club Member Liberty Bash! We are so grateful to our club members, and can't think of a better way to celebrate America, than a joyous, raucous, party with our club members at Waterboy's farm.
Unfortunately, space is limited, so sign up ASAP. Ok pay attention, here is how you register: Go to www.FightLaughFeast.com and login into the club portal and you will find the 4th of July event. Click on it and follow the registration steps from there. If you have forgotten your password, just go through the fast and easy password reset process. If you get stuck, email us at contact@FightLaughFeast.com.
The event is free, though we would gladly accept donations to cover some costs. Our software is a little funny, so just note that you have to put in a 0 (zero) into the price box at checkout to move forward.
Fauci Says it's Preposterous
Play Audio
Science and the Truth are Being Attacked
Play Audio: 0:16-1:06
Fauci Says Normal Healthy People Don't Need to Wear Masks
Play Audio: 0:00-1:23
Huge thanks to everyone who attended and watched the Fight Laugh Feast Rally in Rapid City, South Dakota: all the talks were archived for Fight Laugh Feast Club Members in the club portal. Become a club member today so you don't miss any of them. And if you see some of the clips from the talks floating around on social media, don't forget to share them. That's a great way to share the love and encourage other folks to join.
We're already gearing up for the next conference back in Nashville: Sep. 9-11: the Politics of Sex. I hope many of you are planning to come. Registration will be opening very soon – hopefully this week. Check the website early and often.
Dr. Peter McCullough From Texas A&M Says the Mass Covid Vaccines Are Really Fishy
0:00-3:29
14:31-15:39
Psalm of the Day: Psalm 65
Play Audio
This is Toby Sumpter with Crosspolitic News. You can find this and all of our shows at Crosspolitic.com or on our app, which you can download at your favorite app store, just search "Fight Laugh Feast". Support Rowdy Christian media, and share this show or become a Fight Laugh Feast Club Member. You always get a free Fight Laugh Feast t-shirt with a membership and remember if you didn't make it to the Fight Laugh Feast Conference or Rally, club members have access to all the talks and lots more. Join today and have a great day.