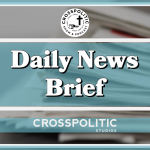 This is Garrison Hardie with your CrossPolitic Daily News Brief for Thursday, June 15th, 2023.
New Saint Andrews:
Today's culture shifts like sand, but New Saint Andrews College is established on Christ, the immovable rock. The college is a premier institution that forges evangelical leaders who don't fear or hate the world. Guided by God's word, equipped with the genius of classical liberal arts and God-honoring wisdom, with a faculty dedicated to academic rigor and to God's kingdom, New Saint Andrews College offers an education that frees people.
Logic and language, hard work and joyful courage, old books and godly professors — New Saint Andrews Colleges provides time-tested resources that can equip your student for any vocation. To find out more, visit: nsa.edu
There has been some drama at this years' Southern Baptist Convention over whether or not to disfellowship Pastor Rick Warren's Saddleback Church. Before we get to the decision, Rick Warren and Al Mohler had a mini debate on the issue…
https://twitter.com/i/status/1668999347420164100 – Play Video
And here's the result!
https://www.christianitytoday.com/news/2023/june/saddleback-sbc-women-pastors-appeal-rick-warren-southern-ba.html
Southern Baptists Reject Rick Warren's Saddleback Appeal
Nobody expected Rick Warren's appeal to be successful—not even Rick Warren. But he still stood up in front of 13,000 Southern Baptists gathered in New Orleans to make his case.
For messengers at the SBC annual meeting, employing women pastors was not an agree-to-disagree issue. A vast majority—88 percent—voted to uphold the decision made back in February to disfellowship Saddleback.
The vote concludes two years of scrutiny and criticism toward the California megachurch for ordaining female pastors from its stage, welcoming a female teaching pastor to preach on Sundays, and naming a female campus pastor. This was the only chance to appeal.
After the vote, Warren said he wasn't counting the appeal to succeed. Instead, "I wanted to push the conversation that's been stagnant for years."
"I wanted to speak up for millions of Southern Baptist women … I believe their spiritual gifts, their leadership gifts and talents, are being wasted," said Warren, who considered himself well-positioned to make the case given his prominence, "tender heart, and thick skin."
But the messengers were largely unified against the appeal. As Warren offered up arguments for Saddleback, Southern Baptists online and at events ahead of the meeting countered with their own defense of the SBC's historic stance and their own complementarian convictions.
The messengers also voted to uphold decisions to disfellowship Fern Creek Baptist, another church removed for having a female pastor, and Freedom Church, which was found to have mishandled abuse allegations.
At the direction of SBC president Bart Barber, the messengers were largely silent as the results of the appeals were announced on Wednesday morning. A small smattering of applause broke out from the back of the giant hall when the Saddleback results were read.
This year was the first time Southern Baptists have removed churches over female pastors, declaring Saddleback and four others "no longer in friendly cooperation" with the convention.
https://notthebee.com/article/paul-ryan-calls-on-gop-to-stop-focusing-on-the-culture-war-calling-it-polarizing
Paul Ryan calls on GOP to stop focusing on the culture war, calling it "polarizing."
Guys, pack it in! Paul Ryan thinks you're being too divisive.
https://twitter.com/i/status/1668604854539804674 – Play Video
Let's see, the left wants perfectly healthy kids who have been convinced that they're in the wrong body to chop their privates off. They want abortion on demand until birth, and, heck, even after birth sometimes. They want drag queens to be able to strip and twerk in front of kids wherever they want.
And if you oppose that, according to Paul Ryan, YOU are the one who's divisive.
Yes, first let's fix the unbearably big debt crisis and China policy. Then we can leave a better America for our kids.
Oh, wait, they're all aborted and mutilated now? And America is a shell of its former self because the culture has been given over to people in the rainbow jihad?
Well, at least we got that GDP under control!
Of course, the thinks Ryan cares about are important. But if we cave on the culture war, what exactly are we fighting for?
https://thepostmillennial.com/former-philly-starbucks-manager-wins-25-6-million-after-being-fired-for-being-white?utm_campaign=64487
Former Philly Starbucks manager wins $25.6 million after being fired for being white
A former regional manager for Starbucks was awarded $25.6 million on Monday after a federal jury in New Jersey unanimously found that she had been fired because of her race. Shannon Phillips, who is white, received $25 million in punitive damages and $600,000 in compensatory damages. She is reportedly seeking further compensation for lost wages.
Phillips was terminated in 2018 in response to backlash against Starbucks after two black men, Rashon Nelson and Donte Robinson, were arrested while waiting for a business associate at one of the many Philadelphia locations she oversaw. Employees at the Center City Philadelphia cafe called the police on the pair after they asked to use the washroom but hadn't ordered anything.
Phillips claimed in her 2020 lawsuit that her firing had been racially motivated. She said she was targeted despite not having had any direct influence on the decision to call the police.
Her allegations were backed up by the testimony of Paul Sykes, the black supervisor of the employee who made the 911 call that day. Sykes argued that the fact he did not face any disciplinary action while Phillips was let go showed that Starbucks had acted in a manor that exhibited racial bias.
The coffee giant tried to claim that Phillips had been fired for being an ineffective regional manager, but they failed to convince even a single member of the jury.
The Starbucks employee in 2018 had called 911 claiming Nelson and Robinson were "trespassing" after they violated company policy by asking to use the washroom, which they said was only for paying customers.
Cops showed up, and hauled the pair out of the cafe as onlookers recorded the interaction on their phones. The men were released from custody hours later after the district attorney found that they hadn't committed any crimes.
The incident sparked backlash against Starbucks, and Phillips alleged that she had been used as a scapegoat by the company to show that they were not racist. Nonetheless, protests persisted, and Starbucks eventually shut down hundreds of locations across the country for one day so that staff could undergo racial bias training.
Nelson and Robinson settled with Starbucks for an undisclosed amount.
Now finally, it's time for my favorite topic sports!
https://fox8.com/sports/denver-nuggets-win-first-nba-title-beat-miami-heat-in-five-games/
Denver Nuggets win first NBA title, beat Miami Heat in five games
The Denver Nuggets have won their first NBA championship in team history, beating the Miami Heat in Game 5 on Monday.
The Nuggets edged out the Heat, 94-89, in Denver, overcoming dreadful shooting and a late flurry from Miami's Jimmy Butler.
Center Nikola Jokic, had 28 points and 16 rebounds for the Nuggets, who missed 20 of their first 22 3-point attempts and seven of their first 13 free throws but figured out how to close out the series on their home floor.
Jokic, who finished as the runner-up to Joel Embiid in the MVP race, was named to the All-NBA Second Team. He nearly averaged a triple-double over the season with 24.5 points, 11.8 rebounds and 9.8 assists per game over the 69 games he played.
Butler scored eight straight points to help the Heat take an 87-86 lead with 2:45 left after trailing by seven. He made two more free throws with 1:58 remaining to help Miami regain a one-point lead. Then, Bruce Brown got an offensive rebound and tip-in to give the Nuggets the lead for good.
Butler finished with 21 points for the Heat.
The Nuggets finished the regular season with 53 wins and 29 losses, the best record in the Western Conference and fourth-best overall for the NBA. They were one of 11 teams to have never won a championship.
This is the first NBA championship for the Nuggets, who joined the league from the American Basketball Association in 1976 along with the New York (now Brooklyn) Nets, Indiana Pacers and San Antonio Spurs.