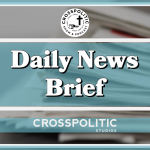 This is Toby Sumpter with your CrossPolitic Daily News Brief for Thursday, June 17, 2021.
Plug:
Fight Laugh Feast University is offering two new online classes starting this July! Get the whole family involved and participate in live online classes via Zoom. Hangout with fellow friends of the network, and learn together with the whole family. We have two classes beginning in July: The first class is with Comedian John Branyan called: Life is Hardy Har Hard: A Comedy Workshop for Christians and Jesse Sumpter: Education is Warfare: How to Start a School
So go to https://flfnetwork.com/flf-edu/ to find out more and to sign up now. Classes are limited to only 25 spots!
A reminder: if you see news stories and links that you think we should cover on the daily news brief, please send them to news @ crosspolitic.com and don't forget to check deft wire dot com where we are constantly posting all our stories.
SBC Votes to Recognize Abortion as a Sin and a Crime that Needs to be Completely Abolished
When the Resolutions Committee declined to present the resolution to the full assembly, Bill Ascol made a motion to ask the whole assembly by 2/3 majority to ask to discuss and vote on the resolution anyway:
0:00-0:34, 2:09-2:22
An amendment was offered, inserting the word "alone" into the resolution, making the resolution read that Southern Baptists will not pursue an incremental approach to ending abortion "alone…" That amendment was accepted by the assembly and the resolution passed:
https://www.facebook.com/jeff.durbin.7/videos/10223578679567146
20:22-20:46
While I assume many of my abolitionist brothers will be disappointed in the outcome, the language of the resolution creates a wonderful tension it seems to me. Everything else in the resolution was left intact: condemning any and all exceptions for abortions, calling for the nullification of Roe v. Wade, the criminalization of abortion, all with a heavy emphasis on the need for immediacy. While some disingenuous pro-lifers will no doubt use the word "alone" as a loop hole for preventing abolition bills, the whole resolution is a fire-breathing statement in every other way. I think this was a victory for the cause of ending abortion.
Fourth of July Club Member Liberty Bash
Join us at our first annual 4th of July Club Member Liberty Bash! We are so grateful to our club members, and can't think of a better way to celebrate America, than a joyous, raucous, party with our club members at Waterboy's farm.
Unfortunately, space is limited, so sign up ASAP. Ok pay attention, here is how you register: Go to www.FightLaughFeast.com and login into the club portal and you will find the 4th of July event. Click on it and follow the registration steps from there. If you have forgotten your password, just go through the fast and easy password reset process. If you get stuck, email us at [email protected].
The event is free, though we would gladly accept donations to cover some costs. Our software is a little funny, so just note that you have to put in a 0 (zero) into the price box at checkout to move forward.
Giant Buddhist goddess in Japan gets face mask to pray for end of COVID-19
https://www.msn.com/en-us/news/world/giant-buddhist-goddess-in-japan-gets-face-mask-to-pray-for-end-of-covid-19/ar-AAL6buF?ocid=uxbndlbing
Workers scaled a giant statue of a Buddhist goddess in Japan on Tuesday to place a custom-made mask on her face, an act meant to be a prayer for the end of the coronavirus pandemic.
It took four workers three hours to carry the massive mask on ropes up the 57 m-high (187 ft) white statue of the Buddhist goddess Kannon – the Goddess of Mercy – at the Houkokuji Aizu Betsuin temple in Fukushima Prefecture.
They then unfurled the mask made with pink net fabric, measuring 4.1 m by 5.3 m and weighing 35 kg (77 pounds), across the lower half of the statue's face.
The statue, built 33 years ago, is hollow with a spiral staircase that can be climbed to the height of the goddess' shoulder. People visit the statue, which is holding a baby, to pray for the safe delivery of babies and to ask for blessings for their newborns.
Temple manager Takaomi Horigane said workers came up with the idea for the face mask in discussions on the restoration of the statue after it was damaged in an earthquake in February.
Horigane said they plan to keep the mask on the statue until the COVID-19 situation is under control in Japan.
Which, I supposed won't be until Japan bows the need to King Jesus and some wise ruler orders the destruction of the idols.
Also, rest assured that the mask on this statue is doing as much good as all masks, so there's that.
Continue Praying For Pastor Tim Stephens in Canada
It was his 14th Anniversary yesterday and his wife posted these faithful words:
It's our anniversary today. 14 wonderful years. Truly! Tim is a faithful and loving husband, daily leading and guiding our children and me. Daily sacrificing himself, his time and energy for the good of others. Next to salvation, it is the greatest blessing of my life to be married to a man who loves Christ and takes his words seriously. Tim loves us, because Christ loved him first.
One thing that has come up, both in my own mind and in some of the questions I've received, is how Tim's actions serve to shepherd his family and church. Some have argued that he is actually being unfaithful, since he is now prevented from being with any of us. I've wrestled with this. How is this taking care of us? How is this shepherding us? This, of course, is not a situation we would wish upon anyone. But what it shows to me, my children, and our church family is that Christ is worthy of our full devotion. The throne in Tim's heart doesn't belong to us. It belongs to Jesus. And on a regular day, that would mean that he daily lays down his life for us, since that what God calls him to. But today, it means we're apart for a time. And that's what we need most. We need to be exhorted to dethrone the idols in our own hearts (health, wealth, security, family, reputation, entertainment, politics… so many idols) to make way for the true king. We need to understand that compromising obedience to Christ (aka disobedience!) for anything else shows where our heart and allegiance truly are. Tim is caring for us by giving us what we need most – to see Christ as worthy of our all – in the little things, and the big things. And it is God who works this in us, to his glory alone.
So today we rejoice in our suffering. I thank the Lord for a husband that loves Christ above all else. I pray that God restores him to us soon. But if not. (Daniel 3:18)
If anyone comes to me and does not hate his own father and mother and wife and children and brothers and sisters, yes, and even his own life, he cannot be my disciple. (Luke 14:26)
Worthy is the Lamb who was slain, to receive power and wealth and wisdom and might and honor and glory and blessing! (Revelation 5:12)
In another post she writes:
If you would like to send mail to Tim, he can receive mail at:
Tim Stephens
c/o Calgary Remand Centre
12200 85 St NW
Calgary, AB T3R 1J3
They are pretty strict about what can be received. All incoming mail is searched and the letter can't contain:
-perfumes or liquids
-contraband
Letters sent must be:
-written in normal blue or black ink
-sealed in a basic white envelope
-clearly addressed
-unmarked by stickers, crayon, paint, or marker
Note the tips in the second photo!
He does have access to a bible, but it's not his favourite ESV. So please feel free to send him Scripture
Thank you so much for your desire to bless and encourage him this way.
Presbyterian Pastor Also Facing 6 years in prison and 600K in fines:
"On Facebook, Pastor Steve Richardson writes: I just left the police station with 4 more charges. That brings the total to 6. Max of 6 yrs in prison and $600,000 in fines… for gathering God's people for worship. Duty is ours events are God's."
The Rev. Steve Richardson, pastor of Faith Presbyterian Church, of the Associate Presbyterian Church [ARP], in Tillsonburg, Ontario, Canada.
President Biden Has Sharp Exchange with a Reporter on His Putin Summit
Play Audio
When asked about that exchange later in Geneva, Biden elaborated on what he meant:
Play Audio
Psalm of the Day: Psalm 8
https://open.spotify.com/track/6OSEHR3gSPQ46fI9fmoLX5?si=1e7b506348324e46
Play Audio: 0:00-0:33
Out of the mouths of babes and infants God has ordained strength because of our enemies.
This is Toby Sumpter with Crosspolitic News. You can find this and all of our shows at Crosspolitic.com or on our app, which you can download at your favorite app store, just search "Fight Laugh Feast". Support Rowdy Christian media, and share this show or become a Fight Laugh Feast Club Member. You always get a free Fight Laugh Feast t-shirt with a membership and remember if you didn't make it to the Fight Laugh Feast Conference or Rally, club members have access to all the talks and lots more. Join today and have a great day.