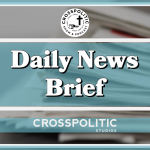 This is Garrison Hardie with your CrossPolitic Daily News Brief for Thursday, June 1st, 2023.
https://www.theepochtimes.com/chick-fil-a-faces-growing-backlash-over-diversity-equity-and-inclusion-efforts_5300643.html?utm_source=partner&utm_campaign=BonginoReport
Chick-fil-A Faces Growing Backlash Over 'Diversity, Equity, and Inclusion' Efforts
Some conservatives have suggested a boycott of Chick-fil-A after the fast-food chain was discovered to have a vice president of "diversity, equity, [and] inclusion," or DEI.
In a previously issued Chick-fil-A news release, the company said that Erick McReynolds serves as its vice president of DEI, saying: "Chick-fil-A restaurants have long been recognized as a place where people know they will be treated well. Modeling care for others starts in the restaurant, and we are committed to ensuring mutual respect, understanding, and dignity everywhere we do business."
DEI is a set of principles that large corporations, government agencies, and schools have increasingly incorporated into their work environments, often mandating employees receive such training. However, these principles are rooted in Marxism, according to prominent critics including Christopher Rufo and James Lindsay, that are essentially vehicles for "left-wing racialist ideology and partisan political activism."
"They are designed to replace the system of academic merit with a system of race-based preferences and discrimination—which, in many cases, explicitly violates federal civil rights law," wrote Rufo for his Substack page earlier this year.
The Chick-fil-A announcement was highlighted this week by several prominent conservative accounts. According to McReynolds's LinkedIn page, he was hired as Chick-fil-A's vice president for "Diversity, Equity [and] Inclusion" in late 2021.
The chicken-based fast-food chain has been generally well respected among conservatives due to the company's religious values and its prior support for religious groups. In the McReynolds DEI announcement, Chick-fil-A makes reference to its corporate purpose, which is "to glorify God by being a faithful steward of all that is entrusted to us" and "to have a positive influence on all who come into contact with Chick-fil-A."
In recent weeks, a number of companies have faced backlash for embracing what critics say are left-wing values or a pro-LGBT agenda. Since early April, Bud Light has seen a significant backlash after it produced a beer can with transgender activist and influencer Dylan Mulvaney's face and as Mulvaney suggested a partnership with the brand.
Sales of Bud Light have dropped significantly year-over-year, with consumers opting to drink brands like Coors or Miller in its place, according to data released by industry analysts. Data published by Bump Williams Consulting and Nielsen IQ shows that by the week ending May 20, Bud Light sales declined 29.5 percent year-over-year, while revenue is down 25.7 percent.
The CEO of Anheuser-Busch has, on multiple occasions, said that Bud Light did not partner with Mulvaney, a man who identifies as a woman, and that only "one can" with Mulvaney's face was produced. Local distributors in some areas also released advertisements saying as much in a bid to lure back customers, while Bud Light has marketed several deals to move cases of beer.
Another major boycott was directed at Target after the company released a line of LGBT clothing for children—including onesies for infants—for its "pride collection," according to its website. Other companies, like Kohl's and PetSmart, have similarly been criticized for selling similar products.
Last week, Target said in a news release that it would be moving its "pride" merchandise to other areas of the store. The company, meanwhile, has seen its stock drop considerably since mid-May, falling another 3.5 percentage points on Tuesday.
https://www.dailywire.com/news/9-teenagers-arrested-over-brutal-assault-of-3-u-s-marines
9 Teenagers Arrested Over Brutal Assault Of 3 U.S. Marines
Sheriff's deputies in San Clemente, California, arrested nine teenagers over the brutal assault of three U.S. Marines last Saturday.
San Clemente Mayor Chris Duncan announced that Orange County Sheriff's Department had charged the teenagers, five of whom were accused of assault with a deadly weapon and the other four with misdemeanor assault and battery.
"They think they have the people they are looking for," Duncan stated. "Not to say that there might not be a few others out there. They feel pretty confident that they have the main perpetrators. … They had some videotape that wasn't readily available to the public that had a lot better images of the individuals involved."
"In today's age, you're going to get caught — people are going to record it," Duncan continued. "I hope this serves as a learning lesson for young folks in the community not to let themselves get out of control when something like this happens."
As many as 40 young people were involved when the three U.S. Marines near a California beach Saturday night were attacked in a horrific moment caught on now-viral video.
The Marines were enjoying time off from their service at Camp Pendleton in Oceanside at approximately 10 p.m. along the beach in San Clemente. One of the Marines, Hunter Antonino, said a piece of debris hit him in the face, prompting him to ask the group to stop lighting fireworks.
"They were lighting off fireworks, they were being belligerent and obnoxious and annoying other people, so I went up to them and told them to stop," he recalled. Antonio said the group then followed the Marines as they returned to the pier, whereupon Antonio and another Marine informed the group that they were Marines so the group would leave them alone.
Instead, the group savagely attacked the Marines. One individual punched a Marine in the back, prompting the Marine to turn and charge at him, sparking the melee. Video shows two of the Marines lying in the fetal position on the ground as the group kicked them and hurled racial epithets at them. The Marines were kicked in the head and upper body.
Although the Marines were injured, they refused to go to a hospital, according to Orange County Sheriff's deputies. Antonio thought he may have suffered a concussion.
https://www.washingtonexaminer.com/policy/healthcare/anti-abortion-protesters-beaten-baltimore-planned-parenthood
Two anti-abortion protesters beaten outside Planned Parenthood in Baltimore
Two senior citizen anti-abortion protesters were attacked outside of a Planned Parenthood clinic in North Baltimore on Friday morning, sending one to the University of Maryland Medical Center.
"Please pray for my dear friend, Mark Crosby," President of the Baltimore County Right to Life organization Jay Walton said on Facebook Friday. "He was viciously attacked yesterday, May 26, 2023 while he was praying in front of Planned Parenthood in Baltimore City. He and another prolifer were attacked from behind and the thug ran away."
Mark Crosby and Dick Shafer have been confirmed as the victims in Friday's attack. Both men are over the age of 70, according to police reports.
WMAR reported that surveillance video shows the suspect tackling Shafer, disturbing a large flower planter outside of the abortion facility. When Crosby came to Shafer's aid, the assailant shoved Crosby to the ground, and the person was seen punching and kicking him in the face.
Baltimore anti-abortion advocate John Roswell told LifeSiteNews that while Shafer is recovering well, Crosby "is bleeding from some unidentified area behind his eye and the bone eye orbit is completely shattered."
Walton said on Monday morning that Crosby, who had been released from the hospital, had to be transported back to the emergency room due to further complications.
Roswell told LifeSiteNews that a Planned Parenthood escort, who guides abortion patients into the organization's facilities, was present at the scene and engaged with the assailant prior to the attack. In his experience, Roswell said that escorts are usually present in the rare cases that pro-abortion rights activists engage in violent altercations with anti-abortion advocates.
Investigators told local news outlets WBAL and WMAR that they are searching for the suspect.
https://www.theblaze.com/news/tony-holford-us-canada-border-explosives-sign
Police open fire on driver at US-Canada border; truck had 'sign' indicating 'explosive device on- board'
Police opened fire on a truck driver on Memorial Day as the driver aproached the U.S.-Canadian border with a sign indicating he had an explosive device on board.
The motorist, 42-year-old Tony Holford of Providence, Rhode Island, faces charges of aggravated reckless conduct, a class B crime; terrorizing, a Class D crime, and failure to stop, a class E crime, the Maine State Police Major Crimes Unit said in a press release.
At 10:39 a.m. Monday, Maine State Police Trooper Denver Roy attempted to stop a vehicle heading north on Interstate 95 in Houlton, Maine. The driver did not stop, instead continuing north.
Trooper Roy "observed a sign indicating that the operator had an explosive device on-board," the MSP wrote. It is not clear what sort of sign was displayed.
When the vehicle eventually stopped between the U.S. and Canadian ports of entry, troopers commanded him to get out of the vehicle.
When the vehicle's operator reportedly maneuvered the truck toward the Canadian port of entry, Corporal Eric Paquette shot at him.
Holford, who was uninjured, surrendered to Main State Police troopers and was taken to the Aroostook County Jail after being medically cleared.
MSP say the scene is contained and there is no ongoing danger to the public.
Authorities in Canada and the United States are collaborating on an investigation into the incident.
The Maine State Police Bomb Squad and crime scene technicians advised motorists to use alternative points of entry as they processed the scene. The Woodstock, New Brunswick, border crossing was reopened Monday night, according to a tweet posted by the Canada Border Services Agency's Atlantic Region.
The Office of the Maine Attorney General and the Maine State Police will work together "in the coming days to continue the investigation and the events that led up to the officer-involved shooting."
https://justthenews.com/politics-policy/education/virginia-eliminates-degree-requirements-most-state-jobs
Virginia eliminates degree requirements for most state jobs
Virginia Republican Gov. Glenn Youngkin on Tuesday announced a change in state hiring practices that would eliminate requirements or preferences that applicants for most state positions have a college degree.
A press release from Youngkin indicated that the change will take effect on July 1 and affect roughly 90% of state positions. The Old Dominion's myriad agencies post as many as 20,000 job listings per year.
"On day one we went to work reimagining workforce solutions in government and this key reform will expand opportunities for qualified applicants who are ready to serve Virginians," Youngkin said in a statement.
State Secretary of Labor Bryan Slater further, in the same release, indicated that the state was looking into heavily regulated private industries to streamline the professional certification processes.
The move comes as American high school graduates increasingly opt against pursuing college degrees to due affordability and return on investment concerns.
President Joe Biden has moved to lessen the financial burden of incurring debt to pay for college by offering up to $10,000 in repayment relief for most loan recipients and up to $20,000 for those who received a Pell Grant, though that plan has faced legal scrutiny and may well end up permanently blocked by the judiciary. The proposed deal to raise the debt limit facing Congress includes a measure to end a temporary freeze on student loan repayments.