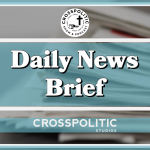 Good news!
Vice President Kamala Harris is set to visit the southern border this week, having gone more than 90 days without a trip there since being named border czar.
www.nationalreview.com /news/kamala-harris-to-finally-visit-border-months-after-being-tapped-to-handle-migrant-crisis/
Subway's tuna sandwiches found to contain no tuna fish DNA, lab tests find following lawsuit
https://www.foxbusiness.com/lifestyle/lab-tests-no-tuna-subway-sandwiches
Democrat Portland Mayor Ted Wheeler announced on Tuesday that law enforcement will not be doing much enforcing at all.
Oregon Democrat Mayor Instructs Portland Police To Stop Doing Their Job Because 'Equity'
The Trudeau government does not know what a woman is. This is not rhetorical, it is what they have directly said. A ministry known as Women and Gender Equality states that it "does not use a specific definition of 'woman.'"
https://www.conservativereview.com/trudeau-government-unable-to-define-the-term-woman-2653506671.html
CDC safety group says there's a likely link between rare heart inflammation in young people after Covid shot
https://www.cnbc.com/2021/06/23/cdc-reports-more-than-1200-cases-of-rare-heart-inflammation-after-covid-vaccine-shots.html