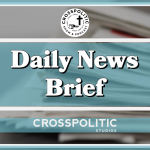 This is Garrison Hardie with your CrossPolitic Daily News Brief for Thursday, June 29th, 2023.
Samaritan Ministries
How are you paying for your health care, and how's it working out? If it's working perfectly,
great! If not, then listen closely, because I have a solution for you. A Biblical solution.
Samaritan Ministries is a community of Christians who pay one another's medical bills. Here's
how it works. When a medical need arises, you choose the provider that's right for you, and
have a say in the treatment you receive, even if it's a non-conventional approach. Your medical
bills are shared with fellow members, and your need is covered in prayer.
It's affordable, and you can join anytime, even today. Learn more at samaritan ministries dot
org slash cross politic.
https://www.cnbc.com/2023/06/27/summer-air-travel-severe-weather-faa-shortfalls-kick-off-rocky-start.html
Severe weather, FAA shortfalls kick off rocky start to summer air travel
Flight disruptions mounted Tuesday as severe storms and staffing issues kicked off a rocky start to summer.
More than 7,700 flights were delayed Tuesday and nearly 2,200 were canceled, FlightAware data showed, as thunderstorms that derailed thousands of trips over the weekend lingered in airspace that is heavily congested on a clear-weather day. That's on top of more than 8,800 U.S. delays and close to 2,250 cancellations Monday.
The Federal Aviation Administration paused flights bound for New York's LaGuardia Airport, John F. Kennedy International Airport and Newark Liberty International Airport in New Jersey. Delays were averaging three hours or longer at those airports. The FAA said that the thunderstorms were blocking arrival and departure routes.
The disruptions come ahead of the busy Fourth of July holiday travel period, when millions are expected to fly. The Transportation Security Administration said it could screen more travelers than in 2019, before the pandemic, raising competition for spare seats.
The Biden administration has pressured airlines to improve their operations after widespread flight disruptions last spring and summer, which prompted carriers to trim their overambitious schedules. But the industry struggled to recover this past weekend from a series of thunderstorms that didn't let up for days.
Thunderstorms are difficult for airlines because they can form with less warning than other major weather obstacles like winter storms or hurricanes. Rolling delays could force crews to reach federally mandated workday limits and further worsen disruptions.
About 30,000 flights have arrived late since Saturday, FlightAware data showed, with cancellation rates from Saturday through Monday up more than three times the average for the year.
Some airline executives have also blamed some of the disruptions on shortages of air traffic controllers.
United Airlines CEO Scott Kirby told staff on Monday that "the FAA frankly failed us this weekend." He said that during Saturday's storms the FAA reduced arrival rates by 40% and departures by 75% at Newark Liberty International Airport in New Jersey, one of the airline's biggest hubs.
The staffing challenges aren't new. The Covid-19 pandemic derailed hiring and training of new air traffic controllers, and the agency is now trying to catch up.
The Department of Transportation's Office of Inspector General said in a report last week that air traffic control staffing shortfalls put air traffic operations at risk. In March, the FAA and some airlines agreed to reduce flights to help ease congestion at busy New York airports because of the staffing issues.
But the problems persist at a time when airlines are readying crews and schedules for a busy summer season, fueled by sustained travel demand.
And the disruptions frustrated flight crews who were left waiting on hold for reassignments.
The Association of Flight Attendants, which represents flight attendants at United and others said in a memo to members Monday that hold times for crew scheduling were longer than three hours.
In response to the union's memo, United said it has "deployed all available resources to catch up on call volume, including increasing staffing in crew scheduling and mandatory overtime on the scheduling team."
https://www.theblaze.com/news/over-200-billion-in-covid-relief-funds-lost-to-potential-fraud-and-abuse-gov-t-watchdog-finds-significantly-higher-than-previous-estimates
Over $200 billion in COVID relief funds lost to potential fraud and abuse, gov't watchdog finds — significantly higher than previous estimates
A report released Tuesday from the Office of Inspector General of the Small Business Administration found that the federal government lost more than $200 billion in COVID relief funds to potential fraud, waste, and abuse.
The OIG's latest estimate is significantly higher than previous projections that speculated approximately $100 billion.
The relief initiatives included the Paycheck Protection and COVID-19 Economic Injury Disaster Loan programs, created to provide emergency financial relief to small businesses and those who lost their jobs due to restrictive lockdown measures.
The report estimated that at least 17% of the relief funds, which totaled approximately $1.2 trillion, were disbursed to potential fraudsters, including "more than $136 billion COVID-19 EIDLs and $64 billion in PPP funds."
Inspector General Hannibal "Mike" Ware noted that the OIG's investigation into the potentially stolen funds has, so far, resulted in 1,011 indictments, 803 arrests, and 529 convictions. Approximately $30 billion in fraudulently obtained relief funds have been seized and returned to the SBA.
Ware previously predicted during a 2021 interview with ABC News, "In terms of the monetary value, the amount of fraud in these COVID relief programs is going to be larger than any government program that came before it."
The report claimed that the extensive fraud resulted from the SBA's "weakened or removed" controls to allow swift distribution of emergency funds to those in need.
The OIG reported that the eased review process had the "allure of 'easy money'" for fraudsters who saw an opportunity to exploit the SBA's lowered barriers.
The OIG's report stated: "OIG is working on tens of thousands of investigative leads on alleged fraud, waste, and abuse of taxpayer resources. Thousands of investigations will ensue for years to come because of swift congressional action to increase the statute of limitations to 10 years for COVID-19 EIDL and PPP fraud. We continue to identify fraud schemes, and we anticipate the overall potential fraud estimate could fluctuate; therefore, we may issue periodic updates to this report."
Bailey DeVries, acting associate administrator of the SBA, expressed concern that Ware's report contained "serious flaws that significantly overestimate fraud."
DeVries stated that approximately 86% of the fraud occurred within the first nine months of the relief programs' rollouts, arguing that the agency's controls to prevent fraud improved over time.
https://nypost.com/2023/06/28/daniel-penny-pleads-not-guiltyto-manslaughter-charge/
Prosecutors reveal they have more footage of Jordan Neely's NYC subway chokehold death — as ex-Marine Daniel Penny enters not guilty plea
Prosecutors revealed Wednesday they have additional cellphone video from witnesses in Jordan Neely's subway chokehold death, as Marine Daniel Penny pleaded not guilty to manslaughter charges in the lightning-rod case.
The 24-year-old former infantry squad leader — who appeared in Manhattan Supreme Court clean-shaven and wearing a blue suit and maroon tie — was arraigned on charges of second-degree manslaughter and criminally negligent homicide during the brief, minutes-long hearing.
A stoic Penny spoke only to say "Not guilty" as more than 50 people — including his supporters, backers of Neely, 30, and many members of the media — looked on.
The Long Island native was caught on bystander video putting Neely — who witnesses said had been threatening subway riders — into a chokehold on an F train on May 1. The medical examiner's office later ruled Neely's death a homicide.
Court documents filed Wednesday show that prosecutors have at least five cellphone videos from three witnesses to the deadly encounter that they plan to introduce as evidence.
They also have videotaped statements from two other witnesses, as well as two MTA surveillance videos and police body-worn camera footage, the document states.
Additionally, prosecutors disclosed they have a videotaped statement that Penny made to cops the day of the incident — when they released him without charges.
Penny's statements to cops inside the Broadway-Lafayette Street station, as detailed in the filing, echo what he has said publicly about the incident since.
Penny described what could be seen in the shocking video of the confrontation, that Neely was "rolling, he was rolling, when he was in a choke. He was going crazy," the filing states.
Penny also told police that Neely was "acting irate, dropping things on the floor, saying he doesn't care if he goes to jail," according to the court doc.
Penny surrendered to authorities on May 12 after the Manhattan District Attorney's Office brought charges against him. He was indicted by a grand jury earlier this month and remains free on $100,000 bail.
He faces up to 19 years behind bars if convicted on both counts.
Penny has said he didn't mean to kill Neely, but that he felt he had to step in for the safety of other passengers as Neely — who had a long history of mental illness — had been throwing trash at riders and threatening them as they moved away from him.
https://www.washingtonpost.com/media/2023/06/28/national-geographic-staff-writers-laid-off/?utm_source=feedly&utm_medium=referral&utm_campaign=wp_homepage
National Geographic lays off its last remaining staff writers
Like one of the endangered species whose impending extinction it has chronicled, National Geographic magazine has been on a relentlessly downward path, struggling for vibrancy in an increasingly unforgiving ecosystem.
On Wednesday, the Washington-based magazine that has surveyed science and the natural world for 135 years reached another difficult passage when it laid off all of its last remaining staff writers.
The cutback — the latest in a series under owner Walt Disney Co. — involves some 19 editorial staffers in all, who were notified in April that these terminations were coming. Article assignments will henceforth be contracted out to freelancers or pieced together by editors. The cuts also eliminated the magazine's small audio department.
Departing staffers said Wednesday the magazine has curtailed photo contracts that enabled photographers to spend months in the field producing the publication's iconic images.
In a further cost-cutting move, copies of the famous bright-yellow-bordered print publication will no longer be sold on newsstands in the United States starting next year, the company said in an internal announcement last month.
National Geographic writer Craig Welch noted the moment in a tweet on Wednesday: "My new National Geographic just arrived, which includes my latest feature — my 16th, and my last as a senior writer. … I've been so lucky. I got to work w/incredible journalists and tell important, global stories. It's been an honor."
The magazine's current trajectory has been years in the making, set in motion primarily by the epochal decline of print and ascent of digital news and information. In the light-speed world of digital media, National Geographic has remained an almost artisanal product — a monthly magazine whose photos, graphics and articles were sometimes the result of months of research and reporting.
At its peak in the late 1980s, National Geographic reached 12 million subscribers in the United States, and millions more overseas. Many of its devotees so savored its illumination of other worlds — space, the depths of the ocean, little-seen parts of the planet — that they stacked old issues into piles that cluttered attics and basements.
It remains among the most widely read magazines in America, at a time when magazines are no longer widely read. At the end of 2022, it had just under 1.8 million subscribers, according to the authoritative Alliance for Audited Media.
National Geographic was launched by Washington's National Geographic Society, a foundation formed by 33 academics, scientists and would-be adventurers, including Alexander Graham Bell. The magazine was initially sold to the public as a perk for joining the society. It grew into a stand-alone publication slowly but steadily, reaching 1 million subscribers by the 1930s.
The magazine was eventually surpassed for profits and attention by the society's video operations, including its flagship National Geographic cable channel and Nat Geo Wild, a channel focused on animals. While they produced documentaries equal in quality to the magazine's rigorous reporting, the channels — managed by Rupert Murdoch's 21st Century Fox — also aired pseudoscientific entertainment programming about UFOs and reality series like "Sharks vs. Tunas" at odds with the society's original high-minded vision.
The magazine's place of honor continued to dim through a series of corporate reshufflings that began in 2015 when the Society agreed to form a for-profit partnership with 21st Century Fox, which took majority control in exchange for $725 million. The partnership came under the Disney banner in 2019 as part of a massive $71 billion deal between Fox and Disney.
Among those who lost their jobs in the latest layoff was Debra Adams Simmons, who only last September was promoted to vice president of diversity, equity and inclusion at National Geographic Media, the entity that oversees the magazine and website.
At the time, David Miller, executive vice president of National Geographic Media, said the magazine was "realigning key departments to help deepen engagement with our readers while also nurturing existing business models and developing new lines of revenue."
In an email to The Post on Wednesday, National Geographic spokesperson Chris Albert said staffing changes will not affect the company's plans to continue publishing a monthly magazine "but rather give us more flexibility to tell different stories and meet our audiences where they are across our many platforms."