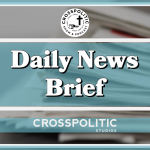 Lies, Propaganda, Story Telling, and the Serrated Edge:
This year our national conference is in Knoxville, TN October 6th-8th. The theme of this year's conference is Lies, Propaganda, Storytelling and the Serrated Edge. Satan is the father of lies, and the mother of those lies is a government who has rejected God. We have especially been lied to these last two years, and the COVIDpanic has been one of the central mechanisms that our government has used to lie to us and to grab more power. Because Christians have not been reading their bibles, we are susceptible to lies and weak in our ability to fight these lies. God has given us His word to fight Satan and his lies, and we need to recover all of God's word, its serrated edge and all. Mark your calendars for October 6th-8th, as we fight, laugh and feast with fellowship, beer and Psalms, our amazing lineup of speakers, hanging with our awesome vendors, meeting new friends, and more. TODAY IS THE LAST DAY FOR EARLY BIRD PRICING! Sign up now at flfnetwork.com/knoxville2022
SCOTUS RULING
https://www.scotusblog.com/2022/06/in-5-4-ruling-court-dramatically-expands-the-power-of-states-to-prosecute-crimes-on-reservations/amp/
Japan has a birthing problem
https://www.bloomberg.com/opinion/articles/2022-06-21/the-fertility-crisis-started-in-japan-but-it-won-t-stay-there#footnote-1
Roe making women tie tubes
https://www.thedailybeast.com/dobbs-roe-v-wade-abortion-chaos-sends-women-racing-to-get-their-tubes-tied
R. Kelly will be dropping his new song in jail
https://www.nbcnews.com/news/amp/rcna35832
Man beats pregnant woman.
https://www.bostonglobe.com/2022/06/29/metro/boston-man-accused-beating-pregnant-woman-assaulting-child-held-without-bail/
KJB gets sworn in today.
https://www.foxnews.com/politics/supreme-court-announces-ketanji-brown-jackson-swearing-in-date
Dime Payments
Dime Payments is a Christian owned processing payment business. Every business needs a payment process system, so please go to https://dimepayments.com/flf and sign your business up. Working with them supports us. They wont cancel you, like Stripe canceled President Trump. They wont cancel you, like Mailchimp canceled the Babylon Bee. Check them out. At least have a phone call and tell them that CrossPolitic sent you. Go to https://dimepayments.com/flf.