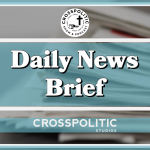 This is Garrison Hardie with your CrossPolitic Daily News Brief for Thursday, June 8th, 2023.
Club Membership Plug: (1/9)
Ladies and gentleman, it's never been a better time to become a club member at CrossPolitic. This year, CrossPolitic will be dropping exclusive content into our club portal for club members ONLY. Some of this content will include a pilot TV Show called This America, a Bible study series with Pastor Toby, a special with New Saint Andrew's President, Ben Merkle, our backstage content, and our conference talks! You can grab a club membership for 10 bucks per month… that's two cups of coffee. So again, head on over to fightlaughfeast.com to get signed up today! That's fightlaughfeast.com.
We start today's news brief in the city of Greensboro, NC. Shout out to Wade Choate for sending in this story, and by the way, if you want to send me a news story, email me at garrison@fightlaughfeast.com – or you can find me on Facebook, or our own fightlaughfeast.com website, where we have our own social media page set up.
https://greensboro.com/news/local/after-greensboro-firefighter-fired-over-straight-pride-and-other-facebook-posts-crowd-erupts-at-city/article_2a1fe822-04c6-11ee-8f48-078ab7addc66.html
After Greensboro firefighter fired over 'Straight Pride' and other Facebook posts, crowd erupts at city council meeting
The City of Greensboro has fired Capt. Dustin Jones of the Greensboro Fire Department, citing a history of social media posts criticizing transgender people and Black Lives Matter along with an unwillingness to accept training and heed warnings from his supervisors.
Jones was fired on May 12, according to the city. On Tuesday night, citizens packed the council meeting, which was punctuated by loud outbursts as some protested Jones' firing and others supported it.
North Carolina Lt. Gov. Mark Robinson, a politician known for his anti-transgender and anti-LGBTQ+ positions had weeks earlier urged "normal people" to "take a stand and absolutely flood this hall" in an interview shared on Jones' Facebook page.
Jones had gone to Facebook to protest his termination in a video in which he claimed he was fired because of a "Straight Pride" meme post made on April 16.
The image, covered with pink and white stripes, featured a white, heterosexual couple being married with the title "Straight Pride" and the caption "It's natural, it's worked for thousands of years and you can make babies."
After Jones appealed his termination by the Greensboro Fire Department, the City Manager a upheld the decision in a letter obtained by the News & Record in a records request. In his response, Jaiyeoba defended the termination, citing Jones' "misuse of social media" and "disrespectful behavior." Jaiyeoba wrote that Jones had "grown defiant" after numerous coaching sessions and warnings from supervisors.
The response letter includes other instances of posts and re-posts attributed to Jones included one that stated: "You know what's insane… A white person can paint their face black and be accused of being a racist. Yet a man can dress as a woman and be called a hero… [shrug emoji]".
All sides of the political spectrum flocked to the Greensboro City Hall to make their voices heard, and more than 40 people signed up to speak during the public comment period.
Members of Guilford For All, an organization advocating for the rights of the LGBTQ+ community, wore green shirts and packed the inside of the assembly room. Outside the building, the Communist Party of America flew Pride flags and displayed a sign that read "FASCIST FIREMAN, YOU'RE FIRED."
Jennifer Ruppe, the executive director of the Guilford Green Foundation and LGBTQ Center, addressed the room: "The true test of your commitment to creating a diverse, equitable and inclusive city is how you all show up when it's not all rainbows and parades. Because freedom of speech is not freedom of consequences."
https://thepostmillennial.com/breaking-bidens-doj-tells-trump-he-will-be-indicted-next-week-on-charges-of-gathering-transmitting-or-losing-national-defense-docs?utm_campaign=64487
Biden's DOJ tells Trump he will be indicted next week on charges of 'gathering, transmitting or losing' national defense docs
Former President Donald Trump has reportedly been notified by federal prosecutors that he is a criminal target and is likely to face imminent indictment in the classified document probe.
People familiar with the case told Just The News that the revelation comes as the Justice Department has declined to delay charges to allow an investigation into allegations of witness tampering in connection with a senior prosecutor working on the case attempting to influence a key witness by discussing federal judgeship with the lawyer representing the witness provided by Trump's legal team.
The sources said that the allegation is still pending in a secret case before Chief US District Judge James E Boasberg in Washington, DC.
A federal indictment brought by Special Counsel Jack Smith could be handed by a federal grand jury to Trump as early as next week.
Smith's prosecutorial team informed Trump's team in recent days that the charges he faces include a violation of 18 US Code Chapter 37 Section 793 which prohibits the "gathering, transmitting or losing" of national defense information. Other charges reportedly being considered are alleged false statements and obstruction of justice.
Sources told the outlet that Trump's lawyers have been preparing their defense for months based on months of legal research in anticipation of charges. The 2024 presidential candidate's lawyers are prepared to argue that Trump had Constitutional powers to declassify documents during his presidency and take them with him when his term ended.
His lawyers will reportedly rely heavily on a US District Court case out of Washington over a decade ago regarding former President Bill Clinton, which concluded that a president had the power to determine what documents from his presidency can be kept in personal possession.
A document posted to Twitter on Wednesday from the Federal Registrar has revealed that Trump declassified certain materials pertaining to the FBI's Crossfire Hurricane investigation during his last days in office.
"At my request, on December 30, 2020, the Department of Justice provided the White House with a binder of materials related to the Federal Bureau of Investigation's Crossfire Hurricane investigation. Portions of the documents in the binder have remained classified and have not been released to Congress or the public," the document states.
"I requested the documents so that a declassification review could be performed and so I could determine to what extent materials in the binder should be released in unclassified form," the document continues. "I determined that the materials in that binder should be declassified to the maximum extent possible."
The document states that FBI had objected to further declassification of the materials, and gave suggestions as to redactions that the documents needed, which Trump obliged to.
Crossfire Hurricane was the name given to the investigation into allegations of coordination between Trump and Russia that surfaced during the 2016 election. The Durham report, released in May, found that the FBI "failed to uphold their mission of strict fidelity to the law" in their launching of the investigation.
https://thepostmillennial.com/cessna-pilot-was-slumped-over-in-cockpit-before-virginia-crash-that-killed-4?utm_campaign=64487
Cessna pilot was 'slumped over' in cockpit before Virginia crash that killed 4
National Guard F-16 fighter pilots revealed that the pilot operating the Cessna plane that flew over restricted airspace in Washington D.C. on Sunday was found "slumped over" moments before the plane crashed in a remote area of Virginia, which killed four people.
United States Military officials said that the US fighter pilots attempted to get the civilian pilots attention for around 30 minutes before the plane plummeted at approximately 3 pm, Fox News reports.
"The Federal Aviation Administration confirmed that the pilot did not respond to air traffic control instruction around 1:28 p.m. EDT," North American Aerospace Defense Command (NORAD) said in a statement. "Subsequently, the NORAD pilots visually inspected the Cessna as it was still airborne and confirmed that the pilot was unresponsive. NORAD pilots described the Cessna pilot as being slumped over."
The people killed in the crash have been identified as Hamptons realtor Adina Azarian, 49, her daughter Aria Azarian, 2, Evadnie Smith, the child's nanny, and the pilot Jeff Hefner. Adina Azarian is the adopted daughter of a longtime GOP donor, John Rumpel, who owned the plane, according to Washington Post.
The fatal crash sparked a flurry on Sunday after a loud "supersonic boom" could be heard in Washington D.C. following reports of an unidentified plane flying above restricted US airspace.
According to Fox News, the US deployed six F-16 jets to intercept the plane, including two from Washington, DC, two from New Jersey and two out of South Carolina.
Rumpel, who is a pilot and runs Encore Motors of Melbourne Inc., said his family was returning to their home in East Hampton after visiting his house in North Carolina, Fox reports.
On Monday, the White House expressed its "deepest condolences" and National Security spokesman John Kirby said during a press brief regarding the US military response, "What I saw was just a classic, textbook response."
Authorities are still investigating the cause of the crash but experts say it's likely that the plane lost pressurization, causing hypoxia, a condition that occurs when someone's brain is deprived of adequate oxygen, according to Fox News.
https://www.dailyfetched.com/cnn-ceo-chris-licht-to-leave-network-after-just-16-months/
CNN CEO Chris Licht to Leave Network after Just 16 Months
On Wednesday, Licht announced he would leave CNN after meeting with Warner Bros. Discovery CEO David Zaslav.
The CEO will be replaced in the interim by a three-person leadership team, including CNN executive Amy Entelis, who worked closely with former cable news boss Jeff Zucker who left in February of 2022.
"For a number of reasons, things didn't work out, and that's unfortunate," Zaslav said.
"It's really unfortunate. And ultimately, that's on me. And I take full responsibility for that."
Zaslav said CNN is "in the process of conducting a wide search" for a new leader that could "take a while."
As The Daily Wire reported:
Licht's tenure at CNN was rough from the start. Weeks after Licht took over the reins, the cable news giant's attempt at launching a streaming service failed after a month in operation, attracting fewer than 10,000 daily users. The CNN executive also faced criticism from his employees and poor ratings performances in the news channel's primetime slots.
Familiar faces on the network, such as longtime journalist Brian Stelter and host Don Lemon, were axed under Licht's reign. The tumultuous leadership of Licht came to a boiling point when the network hosted a town hall with President Donald Trump in May. Leftist critics ripped the company for giving Trump a platform.
Politicians and media personalities from Alexandria Ocasio-Cortez to Joe Scarborough were angered by CNN's decision to host Trump on the platform that has consistently offered friendly coverage to Democrats.
Licht faced fire last week after the Atlantic published a 15,000-word profile titled "Inside the Meltdown at CNN," which angered executives at Warner Bros. Discovery.