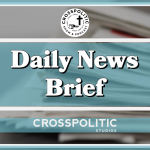 This is Toby Sumpter with your CrossPolitic Daily News Brief for Thursday, March 11, 2021.
Chocolate Knox & Water Boy on are on Spring Break this week.
Today you will hear about the CoronaPork Bill, the Supreme Court defends 1st Amendment Rights and effectively rules on the nature of damages and what makes a case moot or not, we remember children's author Norton Juster, and of course, a Psalm of the Day.
PorkaRama Bill
https://www.wsj.com/articles/house-set-to-approve-covid-19-relief-bill-11615372203?mod=hp_lead_pos5
Play audio: 0:00-0:08
The House passed the 1.9 Trillion CoronaPork Bill yesterday and sent it to President Biden's desk to sign. When it arrived, Biden reportedly asked where he was and what was for dinner.
The Bill bast 220-211 with one Democrat from Maine breaking ranks and no Republicans voting to approve it.
Less than 9 percent of the total spending bill goes directly to combatting COVID-19 or vaccine distribution.
"If this bill was about direct payments to people and putting shots in the arms and vaccines, you would have strong bipartisan support across this Congress and across this country," Rep. Jason Smith, R-Mo., said on NPR Wednesday morning.
However, the amount of money authorized to be spent by the legislation entails most taxpayers to an additional $5,700 in taxes.
According to Jordan Davidson at the Federalist: While at least $1 trillion sits unspent from the round of stimulus packages shoved through the legislature in previous months, other provisions unrelated to the pandemic were also tucked into the more than 600-page bill. It includes millions of dollars for libraries, public broadcasting, pollution mitigation, and abortion programs not subject to the Hyde Amendment, which is supposed to prevent taxpayer-funded abortions.
Supreme Court Defends 1st Amendment, Damages, Mootness
https://www.adflegal.org/blog/victory-supreme-court-rules-college-student-silenced-sharing-gospel?fbclid=IwAR2mKKjLQj3fAgh3ySr64zREe2I78dWRVONYrQfSiOlFkPtqtoUtE0C_Rmo#close
0:20-1:12, 1:50-2:45
So Chike Uzuegbunam graduated from college, but for more than four years, he has been involved in a lawsuit against his alma mater, Georgia Gwinnett College. College officials stopped him from publicly sharing his faith as he desired. They silenced him twice when he was sharing the Gospel in a public area on campus. So he reached out to Alliance Defending Freedom for help and later another student, Joseph Bradford, joined the case.
What made this ruling a little more interesting is that the college eventually abandoned it's argument and amended its speech policies to allow for speech in any outdoor area of campus—consistent with the U.S. Constitution. Because of this and the fact that Chike had already graduated, two courts dismissed the case. But the argument of ADF was that this doesn't change the fact that college officials violated Chike's right to free speech by silencing him twice and intimidated Joseph – the other former student who joined the case – into silence.
The question centered on whether or not there was any ongoing dispute to be adjudicated: if Chike had left the college and the college had changed its free speech why ADF asked the U.S. Supreme Court to hear this case.
Amy Howe had a helpful summary of the questions surrounding the case on the Scotusblog back in January right after the oral arguments were heard.
Representing the students, lawyer Kristen Waggoner told the justices that when college officials stopped Uzuegbunam and Bradford from sharing their faith, they caused "concrete injuries" for which nominal damages can provide a remedy. Those damages, regardless of the label, would put money in the students' pockets, Waggoner said, and they therefore satisfy the Constitution's requirement that federal courts are limited to resolving active disputes with real interests at stake.
Despite Waggoner's assertion, the justices spent much of the argument trying to determine for themselves what role nominal damages actually play in a lawsuit. Chief Justice John Roberts was the first to raise this issue, telling Waggoner that as a practical matter the only relief she and her clients were seeking was a "declaration that you are right," with the nominal damages – a dollar — standing in as a symbol of that vindication.
Waggoner pushed back, stressing that nominal damages represented not only a declaration that the defendant's conduct was wrong but also an award for the plaintiff's past injury. But Justice Samuel Alito echoed Roberts' question a few minutes later, asking her to explain why nominal damages vindicate an earlier violation of a constitutional right. If nominal damages provide merely a statement that there was a violation of rights, Alito observed, that sounds like an advisory opinion – which the Constitution does not allow courts to provide.
Justice Neil Gorsuch suggested to Waggoner that most lawsuits would still be able to go forward even if a request for nominal damages, standing alone, was not enough to keep a case alive. That's because everyone agrees that even small amounts of compensatory damages – which provide remuneration for a measurable loss – are enough to prevent a case from becoming moot. When Waggoner responded that victims of government misconduct might not be able to show any damages other than nominal damages, Gorsuch posited that such plaintiffs might be able to recover their bus fare, or compensation for the time that it took them to walk to the site where they were injured. We have "very imaginative lawyers with imaginative damages theories," Gorsuch quipped.
Justice Elena Kagan had similar questions for Hashim Mooppan, the counselor to the U.S. solicitor general who argued on behalf of the federal government in support of the students. [While she acknowledged]… that "We now monetize claims that are difficult to quantify all the time, in the form of claims for emotional distress, for example. But what the students really want in this case is vindication – which is not a case or controversy for purposes of the Constitution.
Andrew Pinson, the solicitor general of Georgia, also faced tough questions about the significance of nominal damages and, in particular, the difference between nominal damages and an award of compensatory damages for small amounts of money…
Alito pressed Pinson, asking whether an award of $10 in statutory damages would be large enough for the lawsuit to go forward. Pinson answered that if the award was compensation for "difficult-to-prove injuries," then it would provide the kind of relief that would allow the lawsuit to continue.
Kagan brought up the case of music superstar Taylor Swift, who was the plaintiff in what Kagan described as "the most famous nominal-damages case I know of in recent time." Swift filed a sexual assault case against a radio host seeking only a dollar, Kagan observed, because she said she didn't want his money, just a dollar to represent what she and others had experienced. There was "unquestionable" physical harm, Kagan stressed, but Swift only asked "for this one dollar to say that she had been harmed."
Pinson resisted the characterization of Swift's case as one seeking nominal damages, arguing that Swift had "alleged clear compensable injuries." If so, Kagan countered, "why isn't that the same as this?"
Suggesting that what Swift really wanted was vindication, Justice Amy Coney Barrett queried whether courts should look at the motivation for a lawsuit, so that nominal damages could "actually be compensatory for one person but not for another?" Barrett noted that under a variety of consumer-protection statutes, like the Telephone Consumer Protection Act and the Fair Debt Collection Practices Act, statutory damages are relatively low, but courts may order defendants who are found liable to pay the plaintiff's attorney's fees. Those statutes deter wrongdoers in the regulated industries and allow consumers to vindicate their rights. If Congress reduced the available damages for violations of those statutes to a dollar, would it call into question whether lawsuits brought under those laws are constitutional? When Pinson appeared to agree that those lawsuits would still be constitutional, Barrett shot back, "So you concede the damages for receiving a couple annoying texts but not for having your First Amendment rights violated?"
Justice Brett Kavanaugh (as well as Justice Sonia Sotomayor) focused on the federal government's suggestion that, when a plaintiff is only seeking nominal damages for conduct that occurred in the past, the defendant can end the litigation by accepting the entry of an award of nominal damages, without a ruling on the merits of the claims against it. Such a move might minimize the practical effect of a Supreme Court ruling in favor of the students, because their lawsuits might not move forward anyway. What is really at stake in these sorts of cases, Kavanaugh proposed, is not the award of nominal damages but concern about an award of attorney's fees. If a plaintiff filed a lawsuit and the defendant changed the policy being challenged, Kavanaugh noted, the plaintiff wouldn't be entitled to attorney's fees if the lawsuit only sought injunctive relief – that is, an order barring the defendant from acting in the future.
Mooppan noted that defendants might not want to pay even a dollar in nominal damages because they might not want to admit to wrongdoing, but he also emphasized (in response to a question from Justice Clarence Thomas) that the fees in a case involving only nominal damages would likely be minimal.
Pinson contended that the situation might be more complicated than the defendant simply paying a dollar or so of nominal damages in order to end a lawsuit. A default judgment, he argued, is treated as a conclusive resolution of the case. Moreover, he added, in a case like this one, involving public officials who have been sued in their individual capacities, it might not be fair to require them to accept liability to avoid drawn-out litigation.
In one of her questions for Mooppan, Barrett reminded her colleagues that the potential implications of their ruling extend beyond the First Amendment. In last term's challenge to New York City's ban on the transport of guns outside the city, the justices ruled that the case was moot because the city had changed its policy. If the challengers had sought nominal damages, she asked, would the decision have come out the other way?
Yes, Mooppan responded, because it would have been a live claim. When the justices sent the New York case back to the lower court last year, Alito – in a dissent joined in part by Thomas and Gorsuch – wrote that "a claim for nominal damages precludes mootness."
On Monday, March 8, 2021, the Court ruled 8-1 against Georgia Gwinnett College in favor of Chike and Jacob, apparently agreeing with that minority opinion. John Roberts was the one dissenting vote, noting that he believed the case was in fact moot because the college had reversed its early policy. One imagines that Roberts was trying to be consistent with that earlier ruling, but Roberts has consistently performed with the consistency of a very small circle, which is consistent, but it's the sort of logic that Chesterton said tends toward utter madness.
Rally Plug
Have you registered for the Fight Laugh Feast Rally in Rapid City, South Dakota, April 29, 30, May 1? Gov. Kristi Noem was the only Governor in the Union not to overstep her authority. We want to support her and we want to encourage you wherever you are. Many churches are not meeting, many Christians feel alone. But you're not alone. So the theme of the Rally in South Dakota is Love God, Sing Psalms, Defy Tyrants. Come hear talks from Pastor Doug Wilson, Ben Merkle, Steve Deace, Sheriff Daryl Wheeler from Bonner County, Idaho, myself – and hot off the presses, Pastor Joe Boot will be smuggled out of the Canadian tundra and will also be speaking at the Rally. Gather with likeminded Christians who love freedom, confess Jesus Christ is Lord over all, and be equipped to stand firm in these insane days. Go to FLFNetwork.com/Rally and register today. Remember if you're a Fight Laugh Feast Club Member, you get a $100 off your registration. 
Remember: If you have a news story you think we might need to cover, please send articles and links to News@CrossPolitic.com and DeftWire.com 
Recall Gov. Newsom Has Announced that there will be an Election to remove Him
https://blog.electkevinkiley.com/its-on-2/?fbclid=IwAR0umQBi98pCs92yzH2cR0qkHWGNeTGmbbfXeFsTyVxC1IQksk2U1q5PhRE
Legislator Kevin Kiley announced on this website: With 1.95 million signatures in hand, the Recall campaign has announced an election to remove Gavin Newsom from office is now assured. Still, we're aiming for 2 million by the March 17 deadline.
Children's Author Norton Jester Has Died
https://www.theguardian.com/books/2021/mar/09/norton-juster-author-of-the-phantom-tollbooth-dies-aged-91?fbclid=IwAR3hzud7edJ2TxxD6Ff1VYZTqmSbInbsXeDoNfYyn0LIHqypt-9Jt3eGpSo
Norton Juster, best selling author, best known for writing The Phantom TollBooth, died this last Monday following complications from a recent stroke. He was 91.
CNN interview in 2012:
0:21-0:50, 0:54-1:45, 2:21-2:46, 0:00-0:13
RIP, Norton Juster, and go read Phantom Tollbooth sometime.
Psalm of the Day: Psalm 121
https://www.christkirk.com/wp-content/uploads/2016/06/14-Psalm-121-I-To-The-Hills-Will-L.mp3
Play Audio 0:00-0:28
You can listen to the whole setting at the link in the notes.
I to the hills will lift my eyes, from whence comes my help. My help cometh from the Lord, who made heaven and earth. He will not let your foot be moved: He that keeps you, slumbers not, nor sleeps. Are you safe in Christ, He doesn't sleep on the job. You may not always remember Him, but He is always watching over you.
This is Toby Sumpter with Crosspolitic News. You can find this and all of our shows at Crosspolitic.com or on our app, which you can download at your favorite app store, just search "Fight Laugh Feast". Support Rowdy Christian media, and share this show or become a Fight Laugh Feast Club Member. Remember to sign up for the Fight Laugh Feast Rally. Go to FLFNetwork.com/Rally Have a great day.