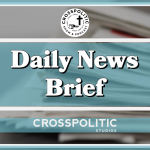 This is Garrison Hardie with your CrossPolitic Daily News Brief for Thursday, March 16th, 2023.
Before we get to the news… CBS NCAA March Madness Theme (2021)– Play 0:00-0:11
March Madness is upon us today! Today is also the last day you can sign up and fill out a bracket! Go fill out your March Madness Brackets in our Fight Laugh Feasters bracket group. Here's the deal. You don't have to know a darn thing about basketball. That's why they call it March Madness. So if you'd like to compete, you can find our group on social media, or here in the show notes. It's ESPN's tournament challenge, and our bracket group is Fight Laugh Feasters 2023. You only get one entry, so make it good! Whoever wins gets a prize from Rowdy Christian Merch!
https://fantasy.espn.com/tournament-challenge-bracket/2023/en/group?redirect=tcmen%3A%2F%2Fx-callback-url%2FshowGroup%3FgroupID%3D5538514&ex_cid=tcmen2023_clipboard&groupID=5538514&groupp=ZmlnaHRsYXVnaGZlYXN0&inviteuser=ezQ1N0NBOUYyLTc0MjAtNDFCOC1BN0I2LTE3Q0UxRjMxODYxN30%3D&invitesource=clipboard
Today we begin with world news…
https://www.cbsnews.com/news/russia-jet-us-drone-collide-black-sea/
Russian jet collides with American drone over Black Sea, U.S. military says
A Russian Su-27 fighter jet collided with an American military drone over the Black Sea on Tuesday, the U.S. said. The collision made the drone "unflyable" and officials crashed it into the sea, the Pentagon said. The White House called the Russian plane's intercept of the unmanned aircraft "reckless."
"Our MQ-9 aircraft was conducting routine operations in international airspace when it was intercepted and hit by a Russian aircraft, resulting in a crash and complete loss of the MQ-9," U.S. Air Force General James Hecker, commander of U.S. Air Forces Europe and Air Forces Africa, said in a statement.
Two Russian fighter jets were involved in the incident, U.S. European Command said. At approximately 2:03 a.m. EDT Tuesday, one of the Russian jets struck the drone's propeller.
Before the collision, the jets dumped fuel on the drone and flew in front of it "in a reckless, environmentally unsound and unprofessional manner," European Command said.
The Russian jet was likely damaged in the incident but it did land afterward, said Ryder, a Pentagon spokesman. He wouldn't say where the jet landed.
Ryder, who wouldn't say whether the drone was armed, referred to the unmanned aircraft as a MQ-9, but not a Reaper. The U.S. uses MQ-9 Reapers for both surveillance and strikes and has operated the drones in a variety of locations, including in the Middle East and Africa. Other countries, including Britain and France, also fly Reapers.
Reapers can be armed with Hellfire missiles as well as laser-guided bombs and can fly for more than 1,100 miles at altitudes of up to 50,000 feet, according to the Air Force.
The drone in Tuesday's incident was conducting an intelligence, surveillance and reconnaissance mission, Ryder said, adding that he didn't have any details to provide at the time on a possible operation to recover the drone.
"To my knowledge at this point in time, the Russians have not recovered that aircraft," Ryder said.
He also said officials were reviewing imagery from the incident to determine if any can be released.
Moscow, for its part, denied causing the drone to crash.
Speaking of Russia…
https://www.dailyfetched.com/russia-teams-up-with-china-and-iran-for-joint-military-drills-as-war-tensions-rise/
Russia Teams Up With China And Iran For Joint Military Drills as War Tensions Rise
The three U.S. adversaries are preparing to team their offensives n a series of exercises dubbed "Security Bond-2023."
The initiative will run through March 19, demonstrating their naval capacity in a coordinated effort against their enemies.
China's Defense Ministry said the exercises would "help deepen practical cooperation between the participating countries' navies … and inject positive energy into regional peace and stability," The Guardian reported.
However, the White House has not expressed any concerns that Russia, China and Iran might using the military drills to escalate conflicts with the United States.
U.S. National Security Council spokesperson John Kirby said the U.S. would continue monitoring the situation.
Tensions have been rising between the West recently due to provocative postures taken over Covid-19, the war in Ukraine and human rights abuses.
The U.S. continues to sanction Iran for its Government's use of live ammunition on peaceful protests.
Meanwhile, Russia continues to face unprecedented sanctions and economic pressure from the U.S.
The three countries stages similar military exercises in 2019 and 2022, as China has sought to strengthen its ties to nations against the U.S and expand its influence throughout the Middle East
On Friday, China brokered a deal between Iran and Saudi Arabia to end years of hostility and enter into new diplomatic relations.
https://www.foxnews.com/media/court-rules-against-employee-fired-refusing-attend-lgbtq-training-session
Court rules against employee fired for refusing to attend LGBTQ training session
A federal appellate court rejected the appeal of a former account clerk in western New York who was fired from his job for refusing to attend a mandatory LGBTQ training in 2018.
Raymond Zdunski was employed at Erie 2-Chautauqua-Cattaraugus BOCES for seven years before his termination, which he likened to "unlawful religious discrimination." He sued the organization seeking reinstatement, back pay and $10 million in damages. The Board of Cooperative Educational Services (BOCES) is a public organization that was created by the New York State Legislature in 1948 to provide shared educational programs and services to school districts within the state.
The plaintiff had argued that the LGBTQ training and makeup session were "aimed at changing his religious beliefs about gender and sexuality," and that attending the training "would have caused him to violate the religious teachings to which he adheres," according to the lawsuit. BOCES denied his request for a religious accommodation.
District Court Judge Geoffrey W. Crawford dismissed Zdunski's lawsuit in 2022, concluding that his claims were "unsupported" and agreeing with BOCES that he was fired for refusing to attend the trainings, which BOCES had maintained were intended to help prevent discrimination in the workplace.
"Plaintiff's unsupported assumption that Defendants believe him to be 'bigoted' due to his religious beliefs is insufficient to support an inference of discrimination," Crawford said in his ruling. "In sum, no facts in the record support a finding that Mr. Zdunski was terminated because of his religion; rather, the evidence in the record supports Defendants' position that his termination was due to repeatedly refusing to attend a mandatory employee training."
Zdunski's lawyer Kristina S. Heuser, meanwhile, maintained that her client's rights were violated "for no other reason than his refusal to be indoctrinated with anti-biblical teaching."
"Though the lower courts did not find in his favor, we are not deterred and will seek redress from the U.S. Supreme Court," she added, according to The Buffalo News.
"Mr. Zdunski was an account clerk," Heuser continued. "He worked on spreadsheets in a cubicle. The training was not even remotely related to the requirements of his job. The Left will stop at nothing to force their ideology upon everyone, including stripping people of their livelihood if they do not submit to their beliefs. Mr. Zdunski refused to violate his sincerely held religious beliefs by submitting to teaching that contradicts what Scripture teaches, which is his absolute right under prevailing federal law. The Court's ruling was clearly erroneous and we intend to petition the United States Supreme Court to hear Mr. Zdunski's case."
U.S. workplaces have in recent years experienced more of a push toward diversity, equity and inclusion (DEI). But a recent study found that companies are slashing DEI jobs while workers were leaving these fields at a higher rate than non-DEI positions. The study by Revelio Labs said last year companies who had layoffs cut DEI positions at a 33% rate versus a 21% cut for other roles.
https://thepostmillennial.com/breaking-james-okeefe-launches-okeefe-media-group-after-ouster-project-veritas?utm_campaign=64487
James O'Keefe launches O'Keefe Media Group after ouster from Project Veritas
James O'Keefe appeared on the Charlie Kirk Show to promote his newest project since being ousted from Project Veritas, the O'Keefe Media Group, or OMG.
O'Keefe launched the website on Wednesday and urged viewers to sign up, as did Kirk.
O'Keefe said that he's received thousands of emails asking how they can join the cause and how they can help. O'Keefe said that viewers can subscribe to the website, and they can sponsor and pay for a camera that they can use to do their own undercover reporting.
https://twitter.com/i/status/1636037876679860227 – Play Video
"It's not going to be a tiny group. It's going to be thousands that we train and equip on this website. We have stories that we're about to break, but the story today is the existence of this website."
O'Keefe said that he will host classes and seminars on journalism around the country.
https://twitter.com/i/status/1636040105172299779 – Play Video
https://townhall.com/tipsheet/madelineleesman/2023/03/14/vermont-high-school-banned-from-playing-after-forfeiting-against-trans-player-n2620576'
Girls Basketball Team That Refused to Play Against a Transgender Athlete Banned From Sporting Events
A private Christian school in Vermont that forfeited a girls' basketball game against a team with a biological male "transgender" player has been banned from participating in upcoming sporting events.
The Vermont Principals' Association, which oversees school sporting events, announced on Monday that Mid Vermont Christian School would be ineligible to participate in sporting events and other activities done through the organization.
"The VPA again reiterates its ongoing support of transgender student-athletes as not only a part of building an inclusive community for each student to grow and thrive, but also as a clear expectation by Vermont state law(s) in the Agency of Education Best Practices, and in VPA Policy regarding transgender student athletes," the announcement said.
Furthermore, the announcement included the VPA policy on "gender identity," which is when a person feels like their gender does not align with their biological sex.
"The VPA is committed to providing all students with the opportunity to participate in VPA activities in a manner consistent with their gender identity as is outlined in the Vermont Agency of Education Best Practices For Schools For Transgender And Gender Nonconforming Students," the policy said. "The prohibition against discrimination includes discrimination based on a student's actual or perceived sex and gender."
In a letter to MVCS, the VPA said that it violated the organization's 1st and 2nd policies, which are "commitment to racial, gender-fair and disability awareness" and "policy on gender identity."
Townhall covered March 3 how MVCS was scheduled to compete against Long Trail School on Feb. 21, but pulled out once it learned that the opposing team included a male-bodied athlete.
"We withdrew from the tournament because we believe playing against an opponent with a biological male jeopardizes the fairness of the game and the safety of our players," Vicky Fogg, the head of MVCS, said in a statement at the time.
"Allowing biological males to participate in women's sports sets a bad precedent for the future of women's sports in general," Fogg added.
The issue of male athletes who believe that they are transgender infiltrating women's sports has made international headlines. Last month, world-renowned surfer Bethany Hamilton, who the movie "Soul Surfer" is based on, said that she would no longer be competing in professional surfing if the World Surf League moved forward with its inclusive transgender policy.
Last month, Townhall interviewed Riley Gaines, a former swimmer at the University of Kentucky who competed against Will "Lia" Thomas, the biological male swimmer who began identifying as transgender and competing on the women's swim team at the University of Pennsylvania. At last year's NCAA championships, Gaines and Thomas tied in a race, but Thomas got to take the trophy home.
"Within the past year, in terms of progress, there has not been a clear solution to the problem [of transgender athletes] at hand. There has still been an influx of biological men competing in women's sports," Gaines, who is a spokeswoman at the Independent Women's Forum, told Townhall.
"I think the Lia Thomas situation, bringing this to the national stage, opened a door. People see an opportunity when they see this, and they're willing to take advantage of it. At the expense of, of course, female athletes," she added.
"If this continues, it's a slippery slope. It's truly only a matter of time before one transgender athlete winning a national title in the women's category becomes three and five and 10 and so on," Gaines concluded. "I think truthfully…the integrity of women's sports will be lost."