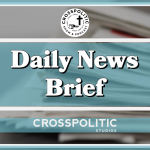 This is Garrison Hardie with your CrossPolitic Daily News Brief for Thursday, March 23rd, 2023.
Alps Precious Metals Group
THE PAST WEEK HAS BROUGHT SOME "EXCITEMENT" TO THE MARKETS.
BANK RUNS. STOCK COLLAPSES. WHAT WAS THOUGHT TO BE STABLE SUDDENLY APPEARS UNSTABLE.
AND YET, GOLD'S PRICE *WENT UP* AS THE HEADLINES BECAME MORE OMINOUS.
ALPS PRECIOUS METALS WAS ESTABLISHED BECAUSE WE BELIEVE THE BEST WAY TO PROTECT ONE'S HARD-EARNED WEALTH FROM THE SERIOUS FINANCIAL PROBLEMS THAT ARE UPON US IS BY OWNING PHYSICAL GOLD AND SILVER.
CALL JAMES HUNTER OF ALPS AT 251-377-2197, AND VISIT OUR WEBSITE AT WWW.ALPSPMG.COM TO DISCOVER HOW YOU CAN BUY PHYSICAL PRECIOUS METALS FOR YOUR INVESTMENT AND IRA PORTFOLIOS.
OWN THE ASSET GOD SPECIFICALLY MENTIONED AS "GOOD" IN THE 2ND CHAPTER OF GENESIS, AND OBTAIN A PEACE OF MIND THAT CAN BE HAD WITH FEW OTHER INVESTMENTS.
AGAIN, CALL JAMES HUNTER OF ALPS PRECIOUS METALS AT 251-377-2197, AND VISIT WWW.ALPSPMG.COM TO LEARN HOW TO OWN THE BEDROCK ASSET OF THE AGES.  
https://thepostmillennial.com/breaking-grand-jury-investigating-trump-over-hush-money-called-off-for-wednesday-delaying-possible-indictment-vote?utm_campaign=64487
Grand jury investigating Trump over 'hush money' called off for Wednesday, delaying possible indictment vote
According to two law enforcement officers, the grand jury investigating former President Donald Trump for his alleged involvement in a $130,000 payment to adult film actress Stormy Daniels on the eve of the 2016 election has been canceled for Wednesday.
The grand jury has been meeting on Mondays, Wednesdays, and Thursdays to hear evidence related to the payments made to Daniels. It is unlikely the grand jury will meet for the rest of the week, delaying the process into next week, one source said to Business Insider.
The grand jury's deliberations are secret, and prosecutors are prohibited from discussing what happens during them.
The pause in the grand jury's activity follows the unexpected testimony on Monday of Robert Costello, who was allowed to address the grand jurors at the defense's request.
Business Insider reports: "Star prosecution witness Michael Cohen had told reporters as recently as last week that he had expected to be the grand jury's final witness. Had that remained the plan, Cohen's testimony, which concluded last Wednesday, would have been quickly followed by deliberation and a vote."
Costello, who previously served as Cohen's legal advisor, said he attacked his former client's credibility during his testimony. It is not known why Alvin Bragg, the District Attorney, temporarily halted the grand jury's proceedings.
Trump commented on the grand jury's proceedings on Truth Social, claiming that Bragg is having a hard time with the grand jury. Prosecutors are prohibited from disclosing grand jury details.
Bragg's office has not yet commented on the matter.
https://www.dailywire.com/news/deadly-drug-resistant-fungus-spreading-in-hospitals-across-u-s?fbclid=IwAR0ou0XGKdkBSFMurCwvw59_oBlcsNrLTuKNvt1GkEw4_luK0NsSgBLc2I4
Deadly Drug-Resistant Fungus Spreading In Hospitals Across U.S.
A new report warns of a potentially deadly fungus — that resists drugs — spreading in hospitals around the country.
Candida auris, or C. auris, can be fatal for people who already have weakened immune systems; roughly one-third of people who contract the fungus die, as the fungus attacks through infections in the bloodstream, brain, and heart. Healthy people are not at risk of dying from the disease.
"Unfortunately, multi-drug resistant organisms such as C. auris have become more prevalent among our highest risk individuals, such as residents in long-term care facilities," Tammy Yates, spokesperson for Mississippi State Department of Health, stated.
Since November, four people have suffered "potentially associated deaths," due to the fungus in Mississippi, Yates noted.
"If [the fungi] get into a hospital, they are very difficult to control and get out," William Schaffner of Vanderbilt University Medical Center said. "They can persist, smoldering, causing infections for a considerable period of time despite the best efforts of the infection control team and everyone else in the hospital."
The fungus' existence in the U.S. was first widely reported in 2016; four people reportedly died from the disease.
The report released by the CDC contends that clinical cases in the United States soared from 476 in 2019 to 1,471 in 2021.
"We've seen increases not just in areas of ongoing transmission, but also in new areas," Dr. Meghan Lyman, who led the study, asserted,
Acknowledging the findings are "worrisome," infectious disease expert Dr. Waleed Javaid cautioned, "But we don't want people who watched 'The Last of Us' to think we're all going to die. This is an infection that occurs in extremely ill individuals who are usually sick with a lot of other issues."
The fungus can be spread not only through people but also through contact with patient rooms.
"By its nature it has an extreme ability to survive on surfaces," Javaid explained. "It can colonize walls, cables, bedding, chairs. We clean everything with bleach and UV light."
Dr. Graham Snyder, medical director of infection prevention at University of Pittsburgh Medical Center, warned that stopping the spread of the fungus was imperative, recalling how the bacteria MRSA, also drug-resistant, spread.
https://www.dailyfetched.com/biden-admin-spending-50-million-a-year-just-to-store-trumps-border-wall-materials/
Biden Admin Spending $50 Million a Year Just to Store Trump's Border Wall Materials
The administration pays private landowners to store 20,000 unused border wall sections at 20 project sites.
Other costs associated with storing the border wall materials included security cameras, electrical and stormwater materials, and overhead lights, Fox News reported.
Republican Senate Armed Forces Committee members sent a letter to assistant secretary of defense for homeland Defense and hemispheric affairs Melissa Dalton detailing the situation.
"Every day, the Department of Defense pays $130,000 to store, maintain, and secure these materials," the senators wrote.
"Since you were sworn in as the Assistant Secretary of Defense for Homeland Defense and Hemispheric Affairs a year ago, you have allowed the Department to pay over $47 million to store these panels," they said.
Dalton was asked why the Defense Department did not dispose of the unused materials.
The Defence department is required to remove such materials in coordination with the Defense Logistics Agency to reutilize, resell, or demilitarize military property.
"We assume you are well aware of this capability since the Department used the program to transfer 1,700 border wall panels to the state of Texas early in your tenure," the senators wrote.
The USACE confirmed President Biden's administration's cancelation of the border wall contracts in 2021 "left a variety of excess materials," and the "total costs to store, maintain, and secure all the materials across all sites is estimated to be approximately $130,000 per day."
"Some of these materials, including security cameras, overhead lights, and electrical and stormwater materials, are being disposed of in accordance with federal excess material disposal laws and regulations," the USACE stated.
"Overall, 61% of non-bollard panel materials and 4% of bollard panel materials have been transferred to other government agencies or disposed of through the DLA disposition process. The total value of these materials is estimated at approximately $300 million. However, the cost to the government cannot be finalized until audits are completed and negotiations with contractors are concluded."
As The Epoch Times noted:
U.S. Customs and Border Protection (CBP) has so far apprehended 2,999 Chinese nationals who illegally attempted to cross the southern border in the fiscal year 2023, a 719 percent increase over 2022.
Most of the illegal fentanyl in the United States is manufactured in Mexico by cartels and then trafficked into the United States with the support of the Chinese Communist government in Beijing.
According to a report issued by Senate Republicans in 2021, Biden's attempt to suspend or end border wall construction cost American taxpayers $3 million per day.
On March 9, Sen. Jim Risch (R-Idaho) and several Republican senators introduced a bill that would allow the Biden administration to resume construction of Trump's border wall to stop the massive influx of illegal immigrants
Secretary of Homeland Security Alejandro Mayorkas, who is largely to blame for the mess at the border, is facing impeachment charges in the Republican-controlled House over his handling of the crisis.
Rep. Andy Biggs (R-Ariz.) filed his second article of impeachment against Mayorkas in February, accusing him of exacerbating the crisis.
https://www.washingtonexaminer.com/policy/energy-environment/biden-to-create-two-new-national-monuments
Biden to limit development on 500,000 acres in Texas and Nevada with new monuments
The White House announced plans to establish two new national monuments as part of President Joe Biden's land conservation agenda, which it said would protect and conserve 514,000 acres of public land in the West.
Biden will sign a proclamation Tuesday at the White House Conservation in Action Summit establishing the Avi Kwa Ame National Monument in Nevada and the Castner Range National Monument in El Paso, Texas. The designations will restrict development in the areas, including drilling and mining and possibly the construction of renewable energy facilities.
The Avi Kwa Ame designation honors tribal nations that consider the area sacred, the White House said. Avi Kwa Ame is home to one of the world's largest Joshua tree forests.
The monument at Castner Range covers the site of a former training and testing site used by the U.S. Army during World War II and the Korean and Vietnam wars. It also contains cultural sites significant to tribal
Biden set a goal of conserving at least 30% of U.S. lands and waters by 2030 and, in October, established a new national monument encompassing Camp Hale, another former U.S. Army base, and the site of the Continental Divide in north-central Colorado.
In a separate action Tuesday, Biden will direct Commerce Secretary Gina Raimondo to consider initiating a new National Marine Sanctuary designation to protect all U.S. waters around the Pacific Remote Islands.