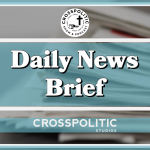 This is Garrison Hardie with your CrossPolitic Daily News Brief for Thursday, March 2nd, 2023. Happy Friday Jr. everyone!
Fight Laugh Feast Magazine
Our Fight Laugh Feast Magazine is a quarterly issue that packs a punch like a 21 year Balvenie, no ice. We don't water down our scotch, why would we water down our theology? Order a yearly subscription for yourself and then send a couple yearly subscriptions to your friends who have been drinking luke-warm evangelical cool-aid. Every quarter we promise quality food for the soul, wine for the heart, and some Red Bull for turning over tables. Our magazine will include cultural commentary, a Psalm of the quarter, recipes for feasting, laughter sprinkled through out the glossy pages, and more. Sign up today, at fightlaughfeast.com.
https://thepoliticalinsider.com/recent-study-shows-a-majority-of-americans-are-too-fat-and-dumb-to-join-the-military/
Recent Study Shows a Majority of Americans are too Fat and Dumb to Join the Military
Last year, the Pentagon had to grapple with quite a few negative headlines. The most alarming repetitive headline was that recruiting goals were not met across the board.
Of course, one might think that isn't a big deal given that we have pulled out of Afghanistan and aren't technically in an active war with anyone. That is, if you ignore the 'secret wars' in Syria and Iraq and our proxy war with Russia in Ukraine, but I digress. This news rightly rocked legislators and should concern Americans at large because of our increased tensions with China, which seems to be inevitably heading toward a future war.
However, let's say you think the prospects of us finding ourselves in a hot war, like Afghanistan or a conflict with China, are slim to null. The fact that most young Americans couldn't join the military if they wanted to should matter to every American, as it directly reflects the type of society we currently elevate.
A recent study has found that 77% of Americans between the ages of 17 and 24 are physically unqualified to join the armed services, up 6% from 2017. To put that into simpler terms, over three-quarters of Americans within the prime military recruitment ages are too fat to raise their right hand to serve.
Look at those two statistics I mentioned again. It might be bad now, but that same demographic was just as fat and unqualified six years ago.
According to 2020 numbers, 42% of American adults are considered obese, with 19% on active duty falling into that category. That number is up from 16% of obesity in the active duty force in 2015.
Ironically, some of the blame, according to experts, falls on a food insecurity program many active duty and young Americans are forced to participate in. For example, the United States Department of Agriculture found in 2015 that 40% of participants in the Supplemental Nutrition Assistance Program (SNAP) are obese.
An estimated 22,000 Active Duty and over 250,000 National Guard families receive SNAP benefits. For those of us familiar, that means a whole lot of government cheese and other processed food.
Here's Bill Maher on the obesity crisis: https://twitter.com/i/status/1555939261043511296 – Play Video
Anybody who has tried to eat healthily knows it is costly and cumbersome. For example, research from Utah State University found that if a family of four were to grocery shop based on the healthy dietary guidelines, it would cost them approximately $14,400 annually.
The recruiting dilemma facing the military, like most issues plaguing the Armed Forces, is multifaceted. Army Lt. Gen. Xavier Brunson explains, "Some of the challenges we have are obesity, we have pre-existing medical conditions, we have behavioral health problems, we have criminality, people with felonies, and we have drug use."
That's a pretty damning yet accurate depiction of America's youth. Additionally, many Americans need help to pass the education standards the Armed Forces require.
Often joked as a test you get half credit for if you can spell your name right, the Armed Forces Qualification Test (AFQT) is used to see if you are smart enough to wear the uniform and what jobs you might have a natural aptitude for. According to security analyst Irina Tsukerman, "falling intelligence and education standards" have made the military less prepared for "asymmetrical or conventional challenges."
The Navy is tossing around the idea of lowering the minimum scores for acceptance on the AFQT and increasing the age ceiling from 35 to 41.
Lowering standards might increase the number of recruits, but what about the quality? The Army is opting to keep its standards but has stood up what they call the Future Soldier's Prep Course at Fort Jackson to get recruits whose scores are too low up to snuff.
The Centers for Disease Control classifies obesity as a security threat stating that 1 in 5 kids and 2 in 5 adults are obese. With American kids graduating high school without knowing how to read or do simple math, one could argue our public education system is also a security threat.
https://www.theguardian.com/world/2023/mar/01/uk-cat-cull-was-considered-early-in-covid-crisis-ex-minister-says
UK cat cull was considered early in Covid crisis, ex-minister says
The UK government considered whether it might have to ask people to exterminate all pet cats during the early days of the Covid pandemic, a former health minister said.
It was unclear whether domestic cats could transmit coronavirus, James Bethell said.
He told Channel 4 News: "What we shouldn't forget is how little we understood about this disease. There was a moment we were very unclear about whether domestic pets could transmit the disease.
"In fact, there was an idea at one moment that we might have to ask the public to exterminate all the cats in Britain. Can you imagine what would have happened if we had wanted to do that?"
In July 2020, at the height of the Covid crisis, cat owners were warned not to kiss their pets after a female Siamese became the first known animal in the UK to catch the disease.
Margaret Hosie, a professor of comparative virology at Glasgow University who led the screening programme, advised cat owners at the time to "observe very careful hygiene".
It comes as Lord Bethell's boss at the time, Matt Hancock, the former health secretary, is facing a series of claims based on a leaked cache of more than 100,000 WhatsApp messages.
The messages provide an insight into the way the UK government operated at the start of the pandemic. They include the suggestion that Hancock rejected advice from England's chief medical officer, Prof Sir Chris Whitty, to test everyone going into care homes in England for Covid.
Hancock vehemently denies overruling clinical advice. A spokesperson called the claim "categorically untrue".
https://www.foxnews.com/politics/chicago-mayor-lightfoot-reacts-election-loss-says-she-was-treated-unfairly-because-her-race-gender
Chicago Mayor Lightfoot reacts to election loss, says she was treated unfairly because of her race, gender
Ding Dong the Witch is Dead– Play 0:08-0:15
How'd that get in there?
Ousted Chicago Mayor Lori Lightfoot explained away her Tuesday election loss as a result of her being a "Black woman in America."
Lightfoot faced eight challengers and finished Tuesday night's election in third place, failing to get enough support to continue into a runoff election. Reporters pressed her on whether she believed she was treated unfairly during the campaign process.
"I'm a Black woman in America. Of course," she responded, according to reports.
"Regardless of tonight's outcome, we fought the right fights and we put this city on a better path," Lightfoot said Tuesday night, adding that serving as Chicago's mayor was "the honor of a lifetime." She also blamed the tricksie hobbitses for her loss.
For those keeping score: Paul Vallas lead the way with 33.8% of the vote, Brandon Johnson received 20.3%, and Lightfoot received 17.1%.
With Lightfoot out of the race, Chicago Public Schools CEO and city budget director Paul Vallas will face off against Cook County Board of Commissioners member Brandon Johnson in the April 4 runoff. Neither candidate reached the 50% necessary to win the election outright on Tuesday, though Vallas came closest with 33%.
Dime Payments
Dime Payments is a Christian owned processing payment business. Every business needs a payment process system, so please go to https://dimepayments.com/flf and sign your business up. Working with them supports us. They wont cancel you, like Stripe canceled President Trump. They wont cancel you, like Mailchimp canceled the Babylon Bee. Check them out. At least have a phone call and tell them that CrossPolitic sent you. Go to https://dimepayments.com/flf.
https://www.theepochtimes.com/mississippi-bans-gender-affirming-care-for-minors_5091041.html?utm_source=partner&utm_campaign=BonginoReport&src_src=partner&src_cmp=BonginoReport
Mississippi Bans 'Gender-Affirming Care' for Minors
Mississippi has become the latest state to ban health care professionals from providing "gender-affirming care" for transgender youth in what officials say will stop the attempt to "push a sick and twisted ideology" on children.
Mississippi Gov. Tate Reeves, a Republican, signed the GOP-led House Bill 1125, also known as the "Regulate Experimental Adolescent Procedures (REAP) Act" into law on Feb. 28.
Under the legislation, which is effective immediately, individuals in the state are banned from "knowingly engaging in conduct that aids or abets" the performance or inducement of gender transition procedures for Mississippians under the age of 18.
The bill also prevents public funds or tax deductions for prohibited gender transition procedures, noting that the direct or indirect use, grant, payment, or distribution of public funds to any entity, organization, or individual that provides gender transition procedures to individuals under the age of 18 is also prohibited.
It also puts in place enforcement procedures on the Mississippi State Board of Medical Licensure. Any health care professional found to be in violation of the ban will have their license to practice medicine in the state revoked.
The measure, which also prevents Medicaid from reimbursing or providing coverage for gender transition for persons under the age of 18, allows for health care providers to be sued by their former patients, via their "parent or next friend" within 30 years.
In a separate statement on Twitter shortly before signing the law, Reeves said there are individuals in the state who are "attempting to push a sick and twisted ideology that seeks to convince our kids they're in the wrong body and the solution is to drug, sterilize, and castrate themselves."
The signing of the bill makes Mississippi the latest state to enact a ban on gender-affirming care after South Dakota Gov. Kristi Noem, also a Republican, signed a similar "Help Not Harm" bill into law last month.
Similar bans have also been passed in Alabama, Arizona, Oklahoma, South Carolina, Tennessee, Texas, and Utah, although some of them are currently being blocked by lawsuits.
Nebraska and Oklahoma are also considering similar bills and last month, Republican Florida state Sen. Blaise Ingoglia introduced a bill that would require businesses that cover the cost of gender-transition medical care for their employees to pay for any subsequent detransition care.
Supporters of such bills claim that they are intended to safeguard children. Experts have said that four out of five children grow out of gender dysphoria once they reach adolescence.
However, opponents, including a string of major medical organizations like the American Medical Association, the American Academy of Pediatrics, and the American Psychological Association, have all voiced support for gender transition care among minors, arguing that it is safe and effective.
The American Civil Liberties Union (ACLU), which works to "protect and defend individuals' rights," said in a statement on Tuesday that the new legislation "shuts the door on medical best practice and puts politics between parents, their children, and their doctors."
"This life-saving care was already difficult to access for trans youth across the state, and is now entirely out of reach," ACLU said. "Our politicians continue to fail trans youth — but we will never stop fighting back against this ongoing attack against trans rights across the nation. Trans youth shouldn't have to fight this hard to be who they are."