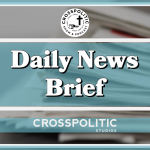 This is Garrison Hardie with your CrossPolitic Daily News Brief for Thursday, March 30th, 2023.
Alps Precious Metals Group
THE PAST WEEK HAS BROUGHT SOME "EXCITEMENT" TO THE MARKETS.
BANK RUNS. STOCK COLLAPSES. WHAT WAS THOUGHT TO BE STABLE SUDDENLY APPEARS UNSTABLE.
AND YET, GOLD'S PRICE *WENT UP* AS THE HEADLINES BECAME MORE OMINOUS.
ALPS PRECIOUS METALS WAS ESTABLISHED BECAUSE WE BELIEVE THE BEST WAY TO PROTECT ONE'S HARD-EARNED WEALTH FROM THE SERIOUS FINANCIAL PROBLEMS THAT ARE UPON US IS BY OWNING PHYSICAL GOLD AND SILVER.
CALL JAMES HUNTER OF ALPS AT 251-377-2197, AND VISIT OUR WEBSITE AT WWW.ALPSPMG.COM TO DISCOVER HOW YOU CAN BUY PHYSICAL PRECIOUS METALS FOR YOUR INVESTMENT AND IRA PORTFOLIOS.
OWN THE ASSET GOD SPECIFICALLY MENTIONED AS "GOOD" IN THE 2ND CHAPTER OF GENESIS, AND OBTAIN A PEACE OF MIND THAT CAN BE HAD WITH FEW OTHER INVESTMENTS.
AGAIN, CALL JAMES HUNTER OF ALPS PRECIOUS METALS AT 251-377-2197, AND VISIT WWW.ALPSPMG.COM TO LEARN HOW TO OWN THE BEDROCK ASSET OF THE AGES.  
https://www.foxnews.com/us/dna-half-eaten-burrito-ties-wisconsin-doctoral-student-pro-life-center-firebombing-attack
DNA from half-eaten burrito ties ex-Wisconsin doctoral student to pro-life center firebombing attack
DNA found in a half-eaten burrito helped exposed a former Wisconsin university research assistant now accused of firebombing a pro-life center last Mother's Day.
The attack on the headquarters of Wisconsin Family Action in Madison, Wisconsin, came about a week after the leak of a Supreme Court draft opinion that would later overturn Roe v. Wade.
About 10 months after a Molotov cocktail was tossed inside the office and the message, "If abortions aren't safe then you aren't either," was scrawled on the building's side, Hridindu Sankar Roychowdhury, 29, of Madison, was arrested in Boston on Tuesday and charged with one count of attempting to cause damage by means of fire or an explosive.
The Justice Department said he traveled from Madison to Portland, Maine, and he purchased a one-way ticket from Boston to Guatemala City, Guatemala, departing Tuesday morning.
Law enforcement arrested Roychowdhury at Boston Logan International Airport.
"According to the complaint, Mr. Roychowdhury used an incendiary device in violation of federal law in connection with his efforts to terrorize and intimidate a private organization," Assistant Attorney General Matthew G. Olsen of the Justice Department's National Security Division said in a statement. "I commend the commitment and professionalism of law enforcement personnel who worked exhaustively to ensure that justice is served."
"Violence is never an acceptable way for anyone to express their views or their disagreement," Assistant Director Robert R. Wells of the FBI's Counterterrorism Division said. "Today's arrest demonstrates the FBI's commitment to vigorously pursue those responsible for this dangerous attack and others across the country, and to hold them accountable for their criminal actions."
According to the complaint, on Mother's Day, Sunday, May 8, 2022, at approximately 6:06 a.m., law enforcement responded to an active fire at an office building located in Madison.
Once inside the building, police observed a mason jar under a broken window. The jar was broken, and the lid and screw top were burned black, the Justice Department said.
The police also saw a purple disposable lighter near the mason jar. On the opposite wall from the window, the police saw another mason jar with the lid on and a blue cloth tucked into the top, and the cloth was singed. The jar was about half full of a clear fluid that smelled like an accelerant, the complaint says.
Outside the building, someone spray-painted on one wall, "If abortions aren't safe then you aren't either" and, on another wall, a large "A" with a circle around it and the number "1312," according to the Justice Department. During the investigation, law enforcement collected DNA from the scene of the attack.
In March 2023, law enforcement identified Roychowdhury as a possible suspect. The affidavit said officers conducting surveillance on a protest at the Wisconsin State Capitol over the construction of an Atlanta public safety center dubbed "Cop City," observed an individual later identified as Roychowdhury.
Local police officers later observed Roychowdhury dispose of food in a public trash can, and the officers recovered the leftover food and related items, and law enforcement collected DNA from the food. The affidavit says officers recovered a paper bag filled with "a quarter portion of a partially eaten burrito wrapped in waxed paper, a soiled napkin, a crumpled napkin, a stack of napkins, the wrapper of the burrito, a crumpled food wrapper, [and] four unopened hot sauce packets."
"On March 17, 2023, law enforcement advised that a forensic biologist examined the DNA evidence recovered from the attack scene and compared it to the DNA collected from the food contents. The forensic biologist found the two samples matched and likely were the same individual," the Justice Department said.
State Rep. Barbara Dittrich, a Republican, shared screenshots to Twitter Tuesday showing that the University of Wisconsin-Madison's website listed Roychowdhury as a trainee/research assistant for the Biophysics Interdisciplinary PhD in Structural and Computational Biology and Quantitative Biosciences.
A LinkedIn profile for Roychowdhury also listed a UWMadison Doctor of Philosophy – PhD Biochemistry under education.
"This man should be charged with domestic terrorism, and the good taxpayers of this state should not be paying his salary," Dittrich tweeted.
In an update, the lawmaker said UWMadison campus "notified us after this post that Mr. Roychowdhurdy ended his affiliation with the UW System the year that this incident occurred.
If convicted, Roychowdhury faces a mandatory minimum penalty of five years and a maximum of 20 years in prison, prosecutors said.
Transition:
In world news…
https://www.breitbart.com/europe/2023/03/28/former-general-calls-for-eu-military-in-north-africa-to-defeat-russian-mercenaries/
Former General Calls for EU Military in North Africa to Defeat Russian Mercenaries
A former Italian General has called on the European Union to act militarily in Northern Africa, blaming the Russian mercenary PMC Wagner Group for the current wave of illegal immigrants.
General Carlo Jean, former commander of the Italian unit of the NATO Mobile Force and Alpine Brigade "Cadore", is the latest Italian official to blame Private Military Company Wagner — Russian mercenaries, in other words — for the surge of illegals that have arrived in Italy so far this year.
According to General Jean, local governments in African countries have become too weak in the face of ethnic and tribal groups making cash from illegal migration, preventing European nations from making effective deals with governments to halt illegal migration.
General Jean added that the solution to the problem is military force saying, "something that is against the values of which we are very proud. That is, force would be needed, a massive intervention, to field a colonial-type army in Africa to stabilize regimes and regions."
"The big problem is that Europe is not a state, it has neither military nor political capacity to do something that can only be achieved with rather harsh methods, with occupation and strengthening of the governments of North Africa and the Sahel. We should operate like Wagner," he said and added that if Europe does not act military then it should resign itself to becoming a "mestizo continent."
The statements from General Jean come just weeks after Italian Foreign Minister Antonio Tajani blamed PMC Wagner for the rise in illegal migration, which has close to tripled since last year.
"We have indications that they are very active and in contact with gangs of traffickers and militiamen interested in the smuggling of migrants," Tajani said of the Russian private military group.
Tajani was joined in his view by Defence Minister Guido Crosetto, who PMC Wagner allegedly has a $15 million bounty on, according to Italian media reports.
https://nypost.com/2023/03/29/pope-francis-hospitalized-for-lung-infection-vatican/
Pope Francis hospitalized for lung infection: Vatican
Pope Francis was hospitalized with a lung infection Wednesday after experiencing difficulty breathing in recent days and will remain in the hospital for several days of treatment, the Vatican said.
The 86-year-old pope doesn't have COVID-19, spokesman Matteo Bruni said in a statement late Wednesday.
The hospitalization was the first since Francis spent 10 days at the Gemelli hospital in July 2021 to have 33 centimeters (13 inches) of his colon removed.
It immediately raised questions about Francis' overall health, and his ability to celebrate the busy Holy Week events that are due to begin this weekend with Palm Sunday.
Bruni said Francis had been suffering breathing troubles in recent days and went to the Gemelli for tests.
"The tests showed a respiratory infection (COVID-19 infection excluded) that will require some days of medical therapy," Bruni's statement said.
Francis appeared in relatively good form during his regularly scheduled general audience earlier Wednesday, though he grimaced strongly while getting in and out of the "popemobile."
Francis had part of one lung removed when he was a young man due to a respiratory infection, and he often speaks in a whisper.
But he got through the worst phases of the COVID-19 pandemic without at least any public word of ever testing positive.
Francis had been due to celebrate Palm Sunday this weekend, kicking off the Vatican's Holy Week observances: Holy Thursday, Good Friday, the Easter Vigil and finally Easter Sunday on April 9.
He has canceled all audiences through Friday, but it wasn't clear whether he could keep the Holy Week plans.
Francis has used a wheelchair for over a year due to strained ligaments in his right knee and a small knee fracture. He has said the injury was healing and has been walking more with a cane of late.
Francis also has said he resisted having surgery for the knee problems because he didn't respond well to general anesthesia during the 2021 intestinal surgery.
He said soon after the surgery that he had recovered fully and could eat normally.
https://www.foxnews.com/politics/elon-musk-apple-co-founder-tech-experts-call-pause-giant-ai-experiments
Elon Musk, Apple co-founder, other tech experts call for pause on 'giant AI experiments': 'Dangerous race'
Elon Musk, Steve Wozniak, and a host of other tech leaders and artificial intelligence experts are urging AI labs to pause development of powerful new AI systems in an open letter citing potential risks to society.
The letter asks AI developers to "immediately pause for at least 6 months the training of AI systems more powerful than GPT-4." It was issued by the Future of Life Institute and signed by more than 1,000 people, including Musk, who argued that safety protocols need to be developed by independent overseers to guide the future of AI systems. GPT-4 is the latest deep learning model from OpenAI, which "exhibits human-level performance on various professional and academic benchmarks," according to the lab.
"Powerful AI systems should be developed only once we are confident that their effects will be positive and their risks will be manageable," the letter said.
The letter warns that at this stage, no one "can understand, predict, or reliably control" the powerful new tools developed in AI labs. The undersigned tech experts cite the risks of propaganda and lies spread through AI-generated articles that look real, and even the possibility that Ai programs can outperform workers and make jobs obsolete.
"AI labs and independent experts should use this pause to jointly develop and implement a set of shared safety protocols for advanced AI design and development that are rigorously audited and overseen by independent outside experts," the letter states.
"In parallel, AI developers must work with policymakers to dramatically accelerate development of robust AI governance systems."
The signatories, which include Stability AI CEO Emad Mostaque, researchers at Alphabet-owned DeepMind, as well as AI heavyweights Yoshua Bengio and Stuart Russell, emphasize that AI development in general should be not paused, writing that their letter is calling for "merely a stepping back from the dangerous race to ever-larger unpredictable black-box models with emergent capabilities."
According to the European Union's transparency register, the Future of Life Institute is primarily funded by the Musk Foundation, as well as London-based effective altruism group Founders Pledge, and Silicon Valley Community Foundation.
Musk, whose electric car company Tesla uses AI for its autopilot system, has previously raised concerns about the rapid development of AI.
Since its release last year, Microsoft-backed OpenAI's ChatGPT has prompted rivals to accelerate developing similar large language models, and companies to integrate generative AI models into their products.