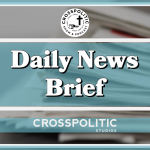 This is Toby Sumpter with your CrossPolitic Daily News Brief for Thursday, March 4, 2021.
Have you registered for the Fight Laugh Feast Rally in Rapid City, South Dakota, April 29, 30, May 1? Gov. Kristi Noem was the only Governor in the Union not to overstep her authority. We want to support her and we want to encourage you wherever you are. Many churches are not meeting, many Christians feel alone. But you're not alone. So the theme of the Rally in South Dakota is Love God, Sing Psalms, Defy Tyrants. Come hear talks from Pastor Doug Wilson, Ben Merkle, Steve Deace, Sheriff Daryl Wheeler from Bonner County, Idaho, myself "" and hot off the presses, Pastor Joe Boot will be smuggled out of the Canadian tundra and will also be speaking at the Rally. Gather with likeminded Christians who love freedom, confess Jesus Christ is Lord over all, and be equipped to stand firm in these insane days. Go to FLFNetwork.com/Rally and register today. Remember if you're a Fight Laugh Feast Club Member, you get a $100 off your registration.
Remember: If you have a news story you think we might need to cover, please send articles and links to News@CrossPolitic.com and DeftWire.com
But First a Word from President Biden
https://twitter.com/TheFirstonTV/status/1367259255699562504?s=20
And the screen goes blank with a thank you for joining us message.
Biden & Cronies Reach Monopoly Money Agreement
https://www.nbcnews.com/politics/congress/biden-senate-democrats-agree-limit-eligibility-1-400-checks-n1259463
Senate Democrats plan to give $1,400 checks to fewer people under a deal struck with President Joe Biden, according to two sources familiar with it.
Every American who filed individually and makes up to $75,000 would still get the full amount before it begins to reduce at incomes above that. But rather than zero out at $100,000 earnings, as the last Covid-19 relief bill does, the Senate bill would cut off payments at $80,000, the sources said.
For couples filing jointly, incomes up to $150,000 would still get the full amount. But rather than zero out at $200,000, the Senate bill would cut off payments at $160,000 in earnings.
For taxpayers filing as heads of households, the new plan would make the full $1,400 available for those earning under $112,500, with the payment zeroing out at $120,000.
The House bill got no Republican votes and no Republican senators are on board with it, as party leaders decry the package as a "liberal wish list."
Another Word from President Biden
https://twitter.com/TheFirstonTV/status/1367259255699562504?s=20
Border Crossers Testing Positive for COVID
https://archive.is/dRX9u#selection-1147.0-1147.572
NBC: BROWNSVILLE, Texas "" Miriam Izaguirre, a 35-year-old asylum-seeker from Honduras, crossed the Rio Grande at dawn Monday with her young son and turned herself in to the authorities.
A few hours later she was released, and the first thing she did was take a rapid test for Covid-19 at the Brownsville bus station. They told her her test came out positive.
"Right now we were tested for Covid and they separated about eight of us because we were positive," she told Noticias Telemundo Investiga. "We are waiting right now." She was waiting to catch a bus to Houston.
Other migrant families who also said they had tested positive were waiting to go to other destinations: North Carolina, Maryland and New Jersey.
The city of Brownsville administers these rapid tests at the bus station, after migrant families are released by the Border Patrol. A spokesperson for Brownsville confirmed that, since they began doing these tests Jan. 25, 108 migrants have tested positive for Covid-19, which is 6.3 percent of those who took the test.
In response to Noticias Telemundo Investiga, a spokesperson for the city said in an email that Brownsville does not have the authority to retain these migrants who plan to travel to dozens of cities throughout the country. The city assured that municipal workers recommend to those who test positive to keep quarantine as indicated by the Centers for Disease Control and Prevention. The city employees suggest to families they go to nongovernment organizations (NGOs) and nonprofits in the border area who can take them in and isolate them in order to keep quarantine.
[Just to be clear, American citizens are still limited in many cities and states, but if you're an illegal immigrant who tests positive for COVID, you're free to go.]
Another Word from President Biden
https://twitter.com/TheFirstonTV/status/1367259255699562504?s=20
Biden Hits His First Blockade
https://www.wsj.com/articles/neera-tandens-nomination-as-budget-office-head-to-be-withdrawn-11614729559?mod=article_inline
The White House is withdrawing Neera Tanden's nomination to lead the Office of Management and Budget amid opposition from Senate Republicans and a key Democrat, marking the first failed confirmation push for one of President Biden's cabinet picks.
Ms. Tanden asked that her nomination be withdrawn in a letter to Mr. Biden in which she acknowledged she had little chance of being confirmed.
"I appreciate how hard you and your team at the White House has worked to win my confirmation," she wrote. "Unfortunately, it now seems clear that there is no path forward to gain confirmation, and I do not want continued consideration of my nomination to be a distraction from your other priorities.
Mr. Biden said in a statement, "I have the utmost respect for her record of accomplishment, her experience and her counsel, and I look forward to having her serve in a role in my administration. She will bring valuable perspective and insight to our work."
White House chief of staff Ron Klain said last month that the administration hoped to find a position for Ms. Tanden that didn't require Senate confirmation if she were unable to win enough support.
The defeat came in what has been an otherwise relatively smooth confirmation process for Mr. Biden's cabinet, despite a delayed transition and the Senate spending a week on the impeachment trialof former President Donald Trump. This week, Mr. Biden's picks to run the Education Department and Commerce Department were confirmed, and most of his nominees have gotten significant bipartisan support.
Ms. Tanden, the leader of the center-left think tank the Center for American Progress, had come under criticism from some lawmakers for her past social-media comments, which included jabs at senators. She compared Sen. Mitch McConnell (R., Ky.) to Voldemort, the Harry Potter villain; referred to Sen. Susan Collins (R., Maine) as "the worst" ; and said "vampires have more heart" than Sen. Ted Cruz (R., Texas). She has also clashed with progressive activists and Sen. Bernie Sanders (I., Vt.)
Sen. Joe Manchin, a centrist West Virginia Democrat, said he would oppose Ms. Tanden's nomination, citing her social-media comments. To clear the full Senate, Ms. Tanden would have needed to win the support of at least one Republican. The Senate is divided evenly between Republicans and Democrats, and Vice President Kamala Harris can break a tie.
Several Republicans known for crossing the aisle said they would oppose her, and two Senate committees postponed votes on her nomination.
Until Tuesday night, the White House had maintained it would stand behind Ms. Tanden.
Ms. Tanden met Monday with Republican Sen. Lisa Murkowski of Alaska in an attempt to shore up her support. Ms. Murkowski declined again on Tuesday to say whether she would support Ms. Tanden.
Ms. Murkowski said Tuesday night she had never told anyone at the White House she opposed Ms. Tanden's nomination and the administration never asked. The Alaska senator said she was looking at Ms. Tanden's nomination with an open mind.
"This one was one that she had just generated her own level of controversy, even really before she got to the committee because of not only her position with CAP, but obviously the very public focused tweets," said Ms. Murkowski. "I said no, as bad as they are, I think it's important to actually talk to her."
Some Capitol Hill aides said privately that the White House didn't initially do enough to mount an aggressive campaign to defend Ms. Tanden's nomination, noting that key lawmakers didn't immediately hear from West Wing aides after Mr. Manchin announced his opposition.
[I'm just confused as to why this is what it takes to get a Biden nominee stopped from confirmation. "" A sexual deranged man in a dress gets fussing and cross examined, but a woman who makes snide comments on social media gets stopped. What?]
Another Word from President Biden
https://twitter.com/TheFirstonTV/status/1367259255699562504?s=20
A Listener Analyzes the Effects of Theft on the Texas Power Grid
https://www.excellentthought.net/what-the-bible-can-tell-us-about-the-texas-blackouts/
From Bill Peacock: "In Texas, the most lucrative form of corporate welfare for renewables from 2006 through 2019 has come through federal tax credits totaling $7.5 billion. Next is socialized transmission costs, coming in at $7.3 billion. The federal government also made cash payments to the industry following the Great Recession of about $2 billion. The next largest benefit has been local property tax abatements estimated to be about $1.1 billion. All told, the industry received $19.4 billion from citizens without their consent. In 2018, these benefits provided nearly 30 percent of the industry's income.
Until recently, much of this could not have occurred; corporate welfare was illegal in Texas. The Texas Constitution prohibited the "grant[ing of] public money or thing of value in aid of, or to any individual, association or corporation."
Then in 1987, the Legislature sent a constitutional amendment to Texans allowing the "creation of programs and the making of loans and grants of public money "¦ for the public purposes of development and diversification of the economy of the state, the elimination of unemployment or underemployment in the state." It passed with 51.7 percent of the vote.
In other words, until 1987, the Eighth Commandment was properly applied in Texas law, which recognized the immorality, graft, and corruption inherent with using government as the intermediary for taking someone's private property without their consent. Today, that is no longer the case.
As a result, we now have an industry""renewable energy""built entirely on theft. Wind and solar cannot compete on price, efficiency, or reliability against traditional forms of generation such as coal, natural gas, or nuclear. Without the billions of dollars of biblically-proscribed benefits, the renewable energy industry would not exist in Texas. Thus, if we had not removed the Eight Commandment's prohibition against corporate welfare, it is quite possible we could have kept the lights on in Texas last week.
"¦ during a 40 minute period in the early morning hours of Monday, February 15, ERCOT (the grid manager for most of Texas) ordered transmission entities to shed 10,500 megawatts of load. Meaning that customers totaling 10,500 megawatts of use had their electricity cut off. [Some estimate] that at least 20,000 megawatts of load were involuntarily without electricity during the few days of outages. Though the number could be higher.
In Texas, renewables have about 35,000 megawatts of generation capacity. However, on Monday morning, 29,7500 megawatts of wind and solar generation were offline. If only a third of this had been available, ERCOT may not have had to cut off electricity during that critical 40 minute period.
To better understand this, let's take a step back. What if Texas did not have an electric grid of which a significant portion was built on theft? What if the grid was 100 percent powered by generation built with revenue received through voluntary payments of Texas consumers?
Given that nuclear, coal, and natural gas made up more than 90 percent of generation in Texas in 2007""before renewable subsidies distorted the market, we can surmise that almost all of the 35,000 megawatts of generation capacity currently owned by renewables would instead be one of those sources. Taking into account the capacity factors in the above chart, it is safe to say that about 40 percent to 50 percent""or 14,000 to 17,500 megawatts""of that generation would have been available during the freeze. That is, we would have had at least an additional 9,000 to 12,000 megawatts available to keep the lights on. With the possibility of more.
Would this have been enough to keep the lights on? Quite possibly. But even if had not been, it more than likely would have been enough to allow for true rolling blackouts where people were without power for 30 minutes instead of two or three days. In that case, we would not have lost water. The inconvenience would have been less than we experience during a routine thunderstorm that knocks out a transformer in the neighborhood.
One Last Word from President Biden
https://twitter.com/TheFirstonTV/status/1367259255699562504?s=20
Psalm of the Day: Psalm 23
https://www.christkirk.com/wp-content/uploads/2016/06/Psalm023.mp3
A shepherd is not just an agrarian image "" but in Scripture, Shepherds are kings. That's what makes sense of the end of Psalm 23. The shepherd has a rod and staff that comforts us even in the shadow of death, even in the midst of our enemies. He anoints our heads with oil and fills our cups to overflowing, and we dwell in the House of our Lord, the King forever. Psalm 23 is a political psalm "" a psalm of encouragement and hope and courage because our King is a Good Shepherd and He will not ever lack anything under His care.
This is Toby Sumpter with Crosspolitic News. You can find this and all of our shows at Crosspolitic.com or on our app, which you can download at your favorite app store, just search "Fight Laugh Feast" . Support Rowdy Christian media, and share this show or become a Fight Laugh Feast Club Member. Remember to sign up for the Fight Laugh Feast Rally. Go to FLFNetwork.com/Rally. Have a great day.