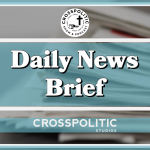 This is Garrison Hardie with your CrossPolitic Daily News Brief for Thursday, March 9th, 2023.
If you don't teach your kids the Lord's songs, the world will teach them its songs.
The brand-new Hi-Contrast Hymn Book is designed to help you teach your children the most beloved songs of the Christian faith.
Its captivating illustrations will create special moments of truth, goodness, and beauty in your home every day.
To get a copy for your family, go to www.hicontrasthymnbooks.com/FLF.
That's www. "H" "I" contrasthymnbooks.com/FLF.
https://www.cnn.com/2023/03/07/americas/mexico-matamoros-us-citizens-kidnapping-tuesday/index.html
2 Americans kidnapped in Mexico found dead and 2 found alive, officials say
Two of the four Americans kidnapped by armed gunmen in the Mexico border city of Matamoros on Friday were found dead and two were found alive on Tuesday, US and Mexican officials said.
Shaeed Woodard and Zindell Brown were found dead, a US official familiar with the ongoing investigation told CNN. Their bodies will be examined by Mexican authorities prior to their remains being turned over to the US government, the official said.
Latavia Washington McGee, a mother of six, and Eric Williams survived the ordeal, according to the official. They were taken to a Texas hospital for treatment and observation. A Mexican government official said Washington McGee was found uninjured. Williams was shot twice in one leg and once in the other, his wife, Michele Williams, told CNN Tuesday.
One person has been detained in connection to the incident, the governor said, but officials would not confirm whether the person is related to a criminal organization.
The victims were found in a "wooden house" in Matamoros and had been transferred to various places over the days "in order to create confusion and avoid rescue efforts," Villarreal said.
The discovery of the Americans' whereabouts comes days after the four were abducted at gunpoint in Matamoros in what is believed to be a case of mistaken identity.
The tight-knit group of friends traveled from South Carolina to Mexico so Washington McGee could undergo a medical procedure across the border Friday, but they never made it to the appointment, two family members told CNN.
The group crossed into Matamoros in the state of Tamaulipas, at about 9:18 a.m. Friday, Villareal said, but they got lost while trying to locate the medical clinic, according to Washington McGee's close friend, who did not want to be identified. They reached out to the doctor's office for directions on Friday but were struggling to communicate with the office because they had a poor cellphone signal.
After crossing the border, they were fired upon by unidentified gunmen, "placed in a vehicle and taken from the scene by armed men," according to the FBI.
Investigators believe the Americans were targeted by a Mexican cartel that likely mistook them for Haitian drug smugglers, the US official said. The US citizens have no concerning criminal history that has been identified by investigators, the official said.
An innocent Mexican bystander was also killed in the encounter, US Ambassador to Mexico Ken Salazar said. The woman was hit by a stray bullet almost a block and a half from where the Americans were taken, Tamaulipas Gov. Américo Villarreal said on Tuesday.
Their abduction highlights the ongoing violence that has plagued some Mexican cities during the long-running Mexican drug war as well as the growing business of "medical tourism."
Matamoros has a population of more than 500,000 people and is located just across the Rio Grande from Brownsville, Texas. The US State Department has issued a "Level 4: Do Not Travel" advisory for US citizens thinking of going to Tamaulipas, citing crime and kidnapping.
https://thepostmillennial.com/breaking-steven-crowder-moves-his-show-to-rumble-signs-massive-contract?utm_campaign=64487
Steven Crowder moves his show to Rumble, signs new contract
Steven Crowder has joined Rumble, making the announcement on Russell Brand's Stay Free.
Crowder, who recently made waves in the conservative and free speech media space after leaving The Blaze, entertaining an offer from The Daily Wire, then very publicly rejecting it, will be launching his Mug Club on Rumble on March 20.
Crowder said that in addition to his own content, the Mug Club will be adding more talent and programming. Brand asked Crowder why he decided to come to Rumble, where Brand has moved as well.
Crowder, describing himself as "a basic bitch pumpkin spice conservative," said his preference for Rumble was due to the fact that Rumble has never coming and "tried to dictate content." Crowder also said he wants to be on a platform where he can "speak truth," as opposed to being censored by YouTube.
In a Twitter clip, Crowder showed himself signing the contract at Rumble's offices. "Betting on ourselves, and Rumble is a hedge on those bets," Crowder said.
https://twitter.com/i/status/1633290721863032834 – Play Video
Donald Trump Jr. recently launched his exclusive podcast on Rumble, a free-speech alternative to YouTube that went public in late 2021.
https://www.foxnews.com/politics/federal-judge-rules-bidens-border-policies-unlawful-speedbump-illegal-migrants
Federal judge rules Biden's border policies unlawful, just a 'speedbump' for illegal migrants
A federal judge in Florida on Wednesday struck down the Biden administration's use of parole to mass release migrants into the U.S. interior, finding the practice unlawful and accusing the administration of turning the border into a "meaningless line in the sand."
Judge T. Kent Wetherell ruled in response to a lawsuit from the state of Florida, which alleged the administration's mass release of tens of thousands of migrants via humanitarian parole into Alternatives to Detention — known as "Parole + ATD" — is unlawful.
In a scathing opinion Wednesday, Wetherell stated the Biden administration had "effectively turned the Southwest Border into a meaningless line in the sand and little more than a speedbump for aliens flooding into the country."
Additionally, Wetherell ruled that the policies implemented by the Biden administration, including catch and release, had contributed to the degradation of the border as a means to keep illegal migrants out.
"Today's ruling affirms what we have known all along, President Biden is responsible for the border crisis and his unlawful immigration policies make this country less safe. A federal judge is NOW ordering Biden to follow the law, and his administration should immediately begin securing the border to protect the American people," Republican Florida Attorney General Ashley Moody said in a statement following the ruling.
The administration had been increasingly using parole — which the statute says is supposed to be used on a "case-by-case basis for urgent humanitarian reasons or significant public benefit" — to release migrants quickly into the interior to reduce overcrowding at the border as it deals with historic migrant numbers at the border. Florida contended that the government is violating statutory mandates that migrants be detained. The administration had argued that there is no "non-detention policy" and that it is using its prosecutorial discretion.
"There is nothing inherently inhumane or cruel about detaining aliens pending completion of their immigration proceedings," he said.
The judge also sided with the Sunshine State in its argument that it had standing to challenge the policy as more than 100,000 migrants have been released into the state, and it has borne significant costs in providing public services to them.
The Biden administration ended family detention of migrants in 2021, although it is reportedly considering reintroducing the practice when Title 42 ends in May. Title 42, which allows for the rapid expulsion of migrants at the southern border due to COVID-19, will end in May with the ending of the COVID-19 public health emergency.
The administration, facing more than 1.7 million migrant encounters in FY 2021 and over 2.3 million in FY 2022, had looked for ways to more quickly release migrants into the U.S. interior, as it also ended Trump-era policies like the Migrant Protection Protocols, which kept migrants in Mexico for their immigration hearings.
The administration typically released migrants with Notices to Appear that set a court date. However, the process takes much longer than the Parole + ATD, which tells migrants to check in with ICE when they get to their destination. The migrants are also enrolled into some form of ATD surveillance, typically a check-in app on an electronic device, or in some cases an ankle bracelet.
The ruling stays the order for seven days to allow for an appeal, but could potentially have massive implications if there is a surge in migrants when Title 42 ends — as administration officials have previously predicted.
The administration is also facing a looming lawsuit from GOP states over its humanitarian parole that flies in up to 30,000 migrants from Venezuela, Nicaragua, Haiti and Cuba each month. Those states have said the program breaches the statutory limits on the use of parole.
Meanwhile, it could soon face a challenge over its recently announced asylum rule. That rule, which would automatically make migrants ineligible for asylum if they have entered the U.S. illegally and have also failed to claim asylum in a previous country through which they passed, has sparked outrage from immigration activists, some of whom have threatened to take legal action if the rule is finalized.
https://dailycaller.com/2023/03/07/matt-hancock-deploy-covid-variant-leaked-messages-uk/
Former UK Health Secretary Asks When To 'Deploy The New Variant,' Messages Show
Former United Kingdom Health Minister Matt Hancock asked when to "deploy" a new COVID-19 variant in December 2020, leaked personal messages reportedly show.
The Whatsapp conversation, leaked to The Telegraph by anti-lockdown journalist Isabel Oakeshott, shows an exchange between Hancock and an aide back in December 2020 in which the ex-Health Secretary discusses plans to deploy the announcement for the new variant, the BBC reported.
"We frighten the pants of everyone with the new strain," Hancock reportedly says, to which the adviser responds, "Yep, that's what will get proper behaviour change."
"When do we deploy the new variant," the minister then asks the aide, according to the outlet.
Hancock announced the new variant in a parliament session the following day, after the messages were exchanged, according to the BBC.
In April of 2022, Hancock announced he was working on a book, titled "Pandemic Diaries," that would detail his experience as health minster during the COVID-19 outbreak. Oakeshott assisted with the book, which was published in December 2022, according to the BBC.
"There is absolutely no public interest case for this huge breach. All the materials for the book have already been made available to the Inquiry, which is the right, and only, place for everything to be considered properly and the right lessons to be learned. As we have seen, releasing them in this way gives a partial, biased account to suit an anti-lockdown agenda," Hancock said in a statement responding to the leaked messages, the BBC reported.
Former Prime Minister Boris Johnson faced criticism for breaking lockdown restrictions. Johnson and his wife, as well as current Prime Minister Rishi Sunak, all received a fine for attending a birthday party back in June 2020, the BBC reported.
Rowdy Christian Merch Plug:
If you're a fan of CrossPolitic, or the Fight Laugh Feast Network, then surely, you know we have a merch store right? Rowdy Christian Merch is your one-stop-shop for everything CrossPolitc merchandise. We've got T-Shirts, hoodies, hats, but we've also got specialty items like backpacks, mugs, coffee, even airpod cases! Visit Rowdy Christian Merch at rowdychristian.com, and buy that next gift, or a little something for yourself. Again, that's rowdychristian.com.
https://bonginoreport.com/capitol-hill/karine-jean-pierre-responds-to-tucker-carlson-claims-jan-6-worst-thing-to-happen-to-america-since-civil-war
Karine Jean-Pierre Responds to Tucker Carlson, Claims Jan 6 the Worst Thing to Happen to America Since Civil War
It's concerning to think that the left may actually believe their own hyperbole.
Addressing Tucker Carlson's new segments on the mostly peaceful January 6th protest, which is based on over 40,000 hours of footage he obtained via Kevin McCarthy, White House Press Secretary Karine Jean Pierre made it clear that she "disagrees" with his reporting, before presenting January 6th as the worst thing to happen to America since the Civil War.
https://rumble.com/v2c8i4a-kjp-claim s-january-6-worst-attack-on-democracy-since-civil-war.html – Play Video