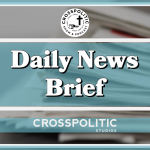 This is Garrison Hardie with your CrossPolitic Daily News Brief for Thursday, May 11th, 2023.
https://www.breitbart.com/middle-east/2023/05/09/israel-kills-three-islamic-jihad-terrorist-commanders-in-strikes-on-gaza/
Israel Kills Three Islamic Jihad Terrorist Commanders in Strikes on Gaza
Israel killed three senior commanders of the Iran-backed Islamic Jihad terrorist group in targeted airstrikes early Tuesday.
AP reports the targeted air strikes hit the top floor of an apartment building in Gaza City and a house in the southern town of Rafah.
The Palestinian Health Ministry said 20 people were wounded and ambulances were continuing to evacuate people from the targeted areas.
Israel's Home Front command ordered the closure of schools, beaches and highways in cities and towns in southern Israel, and limited public gatherings ahead of anticipated retaliatory strikes.
The military said the three men targeted in the counter-terror operation had been responsible for recent rocket fire toward Israel.
It identified them as Khalil Bahtini, the Islamic Jihad commander for northern Gaza Strip; Tareq Izzeldeen, the group's intermediary between its Gaza and West Bank members; and Jehad Ghanam, the secretary of the Islamic Jihad's military council.
Their funerals were planned for later in the day.
The bombings came days after Gazan terrorists led by Islamic Jihad fired 104 rockets toward Israel in response to the death of an alleged senior member of the group who had been on hunger strike in Israeli prison, the Times of Israel reports.
Several rockets struck during the May 2 clash, injuring three workers and damaging homes and cars.
Islamic Jihad, which is smaller than Gaza's ruling Hamas group, confirmed the three were among the dead. The Palestinian Health Ministry said that along with the three commanders, their wives, several of their children and others nearby were also killed — 13 in all.
Hamas leader Ismail Haniyeh warned that Israel will "pay the price" for the killings. "Assassinating the leaders with a treacherous operation will not bring security to the occupier, but rather more resistance," Haniyeh said in a statement.
https://www.washingtonexaminer.com/news/crime/portland-revives-police-unit-traffic-deaths-surge
Portland revives police unit as traffic deaths surge
Portland, Oregon, police will announce the reinstatement of their traffic division on Tuesday after facing one of its deadliest years for pedestrians in 2022.
After dissolving its traffic division in 2020, traffic deaths broke a 70-year record. In 2022, 63 people were killed in traffic crashes, equal to a 30-year-high record in 2021. Those deaths included 31 pedestrians who were killed, reaching historic high levels.
Police Chief Chuck Lovell blamed historically low staffing numbers and said the bureau needed to focus on 911 calls as reasons to disband the division in 2020.
Lovell and Mayor Ted Wheeler were united on the narrative that cutting out the traffic division was due to staffing decreases and funding concerns.
However, Jo Ann Hardesty, the former commissioner of the Portland Bureau of Transportation, saw this measure as a political measure to gather public sympathy.
Hardesty described the narrative around the police as pushing that their only problem is a lack of officers and money, when the issue lies much deeper than that, pointing to a rise in violence and pushing to keep the Portland community safe.
In the past, Portland has taken measures to increase pedestrian safety, including implementing a "left-turn calming" tool aimed at making intersections safer for walkers by slowing turning speeds. Starting in 2020, the initiative takes after New York City's "turning calm" project.
Lovell is expected to make an announcement Tuesday afternoon after the two-year hiatus made Portland one of the largest cities in the nation to lack a traffic division.
https://thepostmillennial.com/oregonians-blast-lawmakers-over-proposed-bill-to-legalize-homeless-camps?utm_campaign=64487
Oregonians blast lawmakers over proposed bill to legalize homeless camps
Oregon Democratic lawmakers have canceled a public hearing on a bill that would have allowed homeless people to camp in public places and sue if told to leave, following massive pushback.
Democratic lawmakers proposed the bill that would have decriminalized camping on public property and would allow homeless individuals to sue for up to $1,000 if they are "harassed" or told to relocate.
House Bill 3501, also known as the "Right to Rest Act," was sponsored by Democratic state Reps. Farrah Chaichi and Khanh Pham. It stated that "persons experiencing homelessness" will have "a privacy interest and a reasonable expectation of privacy in any property belonging to the person, regardless of whether the property is located in a public space."
The bill added that the homeless will "be permitted to use public spaces in the same manner as any other person without discrimination based on their housing status" and stated that they have a right to "move freely in public spaces without discrimination and time limitations that are based on housing status."
Over 2,000 written statements in opposition were received through the legislature's website. Fahey added that the bill had become a "significant distraction" from representatives' work.
Oregon's homeless population spiked approximately 22.5 percent from 2020 to 2022, Fox News reported. Portland Democratic Mayor Ted Wheeler's office reported a 50 percent increase in homelessness from 2019 to 2022.
According to census data, Portland lost 0.04 percent of its population after 30 years straight of growth; the general population has declined for three years in a row.
Portland resident Jacob Adams told Fox & Friends in February "I love Portland, and I love where I live," discussing a homeless encampment next to his house, where there are regular fires and drug activity, even gunshots. "I'm asking you to please do something, so the people of the city feel safe."
https://www.washingtonexaminer.com/policy/immigration/abbott-reveals-brownsville-border-wired-shut-texas
Abbott reveals Brownsville border 'wired shut' to ward off thousands of migrants
Gov. Greg Abbott (R-TX) showed how the state is seeking to temper a rush of migrants at the southern border late Monday evening, posting a video revealing barbed wiring strung across gaps along the border.
The video shows a nighttime shot of the border just two days before the expected end of the Trump-era Title 42 policy that allowed the swift expulsion of migrants on the grounds of public health. Hundreds of feet of spiraled wire can be seen along the ground, and some areas show the wire stacked to form a partition several feet tall.
"This is one thing Texas is doing to secure the border," Abbott wrote in his post sharing the video of the sprawling wire fence. "This is the area near Brownsville where migrants were crossing in large numbers a few days ago. We now have it wired shut. Other areas will surface for crossing. We will wire them shut also."
Abbott's tweet came just hours after he made his first public address over the border crisis since 34-year-old George Alvarez was arrested and charged with eight counts of manslaughter after his SUV plowed through a group of people outside Bishop Enrique San Pedro Ozanam Center, a migrant facility, on Sunday.
The collision involving Alvarez is still under investigation, and a toxicology report is pending. Police revealed Monday that Alvarez has an extensive criminal history, including multiple assault charges. A witness to the collision said the driver made anti-immigrant remarks before he was detained by members of the public, according to the Independent.
Additional security risks have reportedly continued at the Ozanam Center since the fatal crash. On Monday, a driver reportedly approached the migrant facility's gate with a gun and attempted to enter, according to a News Nation reporter. That facility has been operating over its intended capacity for almost a month and is planning to expand the number of sleeping spaces from 250 to 380 per night.
Abbott's update comes as multiple Customs and Border Protection officials are reportedly considering "safe" street releases of immigrants to communities on the U.S. side of the border if no nongovernmental organization shelters or CBP facilities have the capacity to hold them.
The Republican governor on Monday accused cartels of "working in collaboration with President Biden and the federal government to facilitate that illegal" border crossing.
Thousands of migrants are lining up near various sections of the border, stretching all the way from as far south as Brownsville to the northwestern city of El Paso. There, immigration enforcement agents announced plans to target migrants crowding the city streets, according to a CBP statement.
In addition to the number of migrants at the border, Republicans in border states have rallied against the persistent smuggling of deadly fentanyl into the country. Neatly 385 million fatal doses have been seized by border
https://www.dailywire.com/news/sam-bankman-fried-tries-to-get-most-of-the-charges-against-him-dismissed
Sam Bankman-Fried Tries To Get Most Of The Charges Against Him Dismissed
Attorneys who represent former FTX CEO Sam Bankman-Fried are attempting to dismiss 10 of the 13 charges filed against the disgraced cryptocurrency entrepreneur.
Several firms controlled by Bankman-Fried imploded at the end of last year after customers and investors learned that FTX had improperly commingled funds with sister trading company Alameda Research. Lawyers for Bankman-Fried asserted in a Monday court filing that the original indictment levied against the entrepreneur came from a "classic rush to judgment" and that the case involved "civil and regulatory issues" rather than federal crimes.
"Rather than wait for traditional civil and regulatory processes following their ordinary course to address the situation, the government jumped in with both feet," the filing asserted. "Each of the charges contained boilerplate recitals of statutory language, followed by literally one sentence purportedly describing the basis for the charge."
Bankman-Fried was detained in the Bahamas and extradited to the United States in December, nearly one month after FTX collapsed and bankruptcy procedures were initiated. Attorneys contended that officials violated the extradition treaty between the two nations since the Bahamian government issued a warrant of surrender "specifying that he be tried on seven of the eight counts" in the original indictment, even as American officials later brought additional charges without the consent of authorities in the island nation.
Bankman-Fried was initially charged in December with crimes such as conspiracy to commit wire fraud, conspiracy to commit securities fraud, and conspiracy to defraud the Federal Election Commission through campaign finance violations. Another superseding indictment unveiled in February added four new charges, including conspiracy to commit bank fraud and conspiracy to operate an unlicensed money transfer business. Bankman-Fried was also charged in March with paying bribes to one or more members of the Chinese Communist Party.
Bankman-Fried faces the charges in the Southern District of New York, which often oversees high-profile financial fraud cases. The entrepreneur, who has pleaded not guilty to all charges and currently resides with his parents in northern California, is expected to appear for trial in early October.
Lawyers for the entrepreneur meanwhile claimed that the collapse of FTX occurred in the context of broader difficulties in the cryptocurrency sector. "As with a traditional bank run, numerous customers simultaneously sought to withdraw their assets, thus feeding fears that a collapse was inevitable," the court filing said. "The market crash took down many of the major players in this sector, not just FTX."