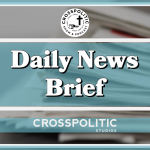 Hi, this is Garrison Hardie with your CrossPolitic Daily News Brief for Thursday, May 12th, 2022. Have you guys signed up for our CrossPolitic Liberty Tour show in Phoenix Arizona? We're a week away at this point! We'll be joined by Political Analyst, Delano Squires, who's made appearances on The Tucker Carlson Show, and Jason Whitlock, you get the idea, he knows his stuff, and Pastor and friend of the show, Pastor Jeff Durbin of Apologia Church. The show takes place May 19th, and tickets are only $20! So sign up right now at crosspolitic.com/libertytour.
So, as Pastor Toby mentioned in his News Brief yesterday, in the wake of the Supreme Court Opinions appearing to dismantle Roe V. Wade, protests erupted in Washington D.C. outside of Supreme Court justices homes… I'm sure you've seen the disturbing videos… well now the tables have turned, as Pro-abortion activists are protesting outside Nancy Pelosi's house accusing her of being 'complicit' in destroying abortion rights.
https://www.theblaze.com/news/abortion-pelosi-home-protest-abortion#toggle-gdpr
Pro-abortion activists turned their vitriol on House Speaker Nancy Pelosi (D-Calif.) and blamed her and the Democratic leadership for the expected overturn of the landmark Roe v. Wade decision.
A small group of protesters demonstrated outside Pelosi's palatial mansion in San Francisco, California, on Tuesday.
Video on social media showed a leader of the group vocalizing their fury…
https://twitter.com/i/status/1524194201948278786 – Play whole video
Boooo…. Boy those seven protesters were giving it their all there!
The protest appeared to be organized by a far-left pro-abortion group called "Ruth Sent Us" that demanded Pelosi investigate the Supreme Court justices in order to "save" abortion. They accused her of being "careless and cowardly" in her leadership and blamed her for not doing enough to prevent Brett Kavanaugh from being nominated to the Supreme Court.
The accusations against Pelosi paralleled those made against President Joe Biden by many on social media who accused him of not doing enough to protect abortion rights.
Left-wing protesters have also targeted the homes of several members of the Supreme Court for protests, including those of Chief Justice John Roberts and Justice Brett Kavanaugh.
Michigan Gov. Gretchen Whitmer, a Democrat, meanwhile called on other Democrats to pass laws and file lawsuits at the state level to protect abortion ahead of the Roe. v. Wade decision expected to be made by the Supreme Court in several months.
This is not the first time Pelosi's home has been a targeted by left-wing protesters. In Jan. 2021, protesters vandalized her home with graffiti and left a severed pig's head on her sidewalk. Well isn't that lovely? I'm sure that Nancy will spin a fine yarn about the Roe V Wade situation…
Now, I have a question for you… Did you know that more than 75% of those raised in evangelical, Presbyterian, and Reformed churches don't pursue any kind of Christian higher education? Surprising isn't it. Cornerstone Work & Worldview Institute is seeking to provide a new, exciting, and affordable option for Christians.
Their mission is to build Kingdom culture in the workplace by equipping their students in a Trinitarian worldview and vocational competencies. Their low-cost full-time program offers integrative course modules, internships, and mentoring so their students can finish debt-free with vocational preparation, a robust faith, and financial potential to build strong godly families and homes rooted in their communities and churches long-term.
Visit their website at www.cornerstonework.org to find out more about enrolling.
FDA Commissioner Claims 'Misinformation' Is Now America's Leading Cause Of Death
https://pjmedia.com/news-and-politics/robert-spencer/2022/05/10/fda-commissioner-claims-misinformation-is-now-americas-leading-cause-of-death-n1596756
According to PJ Media, The Leftist establishment is waging all-out war against the freedom of speech under the guise of combating what it claims is "misinformation" and "disinformation." Barack Obama and Hillary Clinton warned us against the supposedly rapidly spreading scourge of "disinformation," and just days later, Biden's Homeland Security Department unveiled its sinister Disinformation Governance Board, with an ill-defined and shifting scope of responsibilities. The Board, however, could be just the beginning. On Sirius XM's Doctor Radio Reports Friday, Food and Drug Administration (FDA) Commissioner Robert Califf said, "I have been telling Congress that misinformation is the leading cause of death." Well then, by all means, we must outlaw it immediately!
On CNN Saturday, Califf doubled down, again warning against "misinformation" in such apocalyptic terms that he appeared to be signaling that Biden's handlers are working on still more speech restrictions.
https://edition.cnn.com/videos/health/2022/05/07/fda-robert-califf-intv-misinformation-death-sot-vpx.cnn
As you heard there, when he was asked about treating Asked to explain why he thought "misinformation" was the leading cause of death in America today, Califf immediately retreated, admitting that he had no data to establish his claim and tacitly admitting that it was just a Leftist talking point… in short, the interview should've stopped right there… "I have no data to support this next dumb thing I'm about to say." Oh you have no data for this? Okay, end of discussion.
Who is spreading misinformation here? That noted right-wing outlet, the New York Times, reported on Feb. 28 about a new study that didn't quite agree with Califf's rosy picture of the vaccines' efficacy. As the omicron variant surged, the Times stated, "the vaccine's effectiveness against hospitalization declined to 73 percent from 85 percent in the older children. In the younger children, effectiveness dropped to 48 percent from 100 percent. But because few children were hospitalized, these estimates have wide margins of error. The numbers for protection from infection are more reliable. Vaccine effectiveness against infection in the older children decreased to 51 percent from 66 percent. But in the younger children, it dropped sharply to just 12 percent from 68 percent."
But as far as Robert Califf is concerned, if we silence such inconvenient data and only allow the FDA's line to flood the airwaves, many lives will be saved. We'll be living in an authoritarian police state that silences dissenting views, but when has the Left ever been worried about that?
Well Ohio seems to be worried about stuff like this, as a bill has been presented, that would ban Facebook, Twitter from censoring users… color me intrigued…
https://fox8.com/news/ohio-bill-would-ban-facebook-twitter-from-censoring-users/
According to Fox 8 News in Columbus, One year after YouTube removed from its site a video in which an Ohio attorney touted lies about COVID-19, eight Republicans approved a bill to counter what they called Big Tech's suppression of free speech.
In an 8-4 vote Thursday, the Civil Justice Committee approved House Bill 441 to prohibit social media platforms from censoring expression based on a user's "viewpoint" – not including speech that's already deemed illegal under federal law, like harassment or shouting "fire" in a crowded theater.
The bill joins an increasingly national discourse concerned with the uptick in social media sites deplatforming or restricting users – like the permanent suspension of former President Donald Trump's Twitter account due to what Twitter says, was an incitement of violence… Though I'm sure we've all heard by now that Elon Musk said that he would reverse the ban on Trump, calling it "unmoral". Though, with him not being saved, what does he mean by unmoral? Who says? Anyways.
"By preventing Big Tech companies from continuing to engage in viewpoint discrimination, we hope to protect the free exchange of ideas and information in Ohio," Rep. Scott Wiggam (R-Wooster) said in his testimony before the Civil Justice Committee.
While the bill does not equip the state with the power to enforce the censorship ban, it does allow individual Ohioans to file a civil suit against social media companies with more than 50 million U.S. users that block, remove or restrict them from using their site.
Or, you could take a break from social media entirely, and become a subscriber to our Fight Laugh Feast Magazine! Our Fight Laugh Feast Magazine is a quarterly issue that packs a punch like a 21 year Balvenie, no ice. We don't water down our scotch, why would we water down our theology? Order a yearly subscription for yourself and then send a couple yearly subscriptions to your friends who have been drinking luke-warm evangelical cool-aid. Every quarter we promise quality food for the soul, wine for the heart, and some Red Bull for turning over tables. Our magazine will include cultural commentary, a Psalm of the quarter, recipes for feasting, laughter sprinkled through out the glossy pages, and more. Sign up for your annual subscription at: flfnetwork.com/product/fight-laugh-feast-magazine
Anthony Fauci and Francis Collins Shared In 'Secret' NIH 'Royalties' Totaling $350M: According to a Watchdog Report
https://www.dailywire.com/news/fauci-collins-shared-in-secret-nih-royalties-totaling-350m-watchdog-report
Anthony Fauci, Francis Collins and other bigwigs at the National Institutes of Health reaped more than $350 million in secretive "royalty" payments from drug companies and other third parties over a 10-year period.
The report from OpenTheBooks.com said the royalty payments, including at least 23 to Fauci and 14 to his former boss, Collins, were paid out between 2010 and 2020. Government scientists got the payments for being credited as "co-inventors" of various treatments and pharmaceutical products, according to the report.
OpenTheBooks.com co-founder and CEO Adam Andrzejewski wrote, "Because those payments enrich the agency and its scientists, each and every royalty payment could be a potential conflict of interest and needs disclosure, NIH is a revolving door of tens of billions of dollars in government grant-making coupled with hundreds of millions of dollars in private – non-transparent – royalty payments."
The report paints an incestuous picture of the NIH doling out $30 billion a year in grants to some 56,000 recipients in Big Pharma, research institutes and other entities, with money flowing back to the secretive agency's scientists and senior management in the form of huge royalty payments. It is not yet known how much the payments to Fauci, who is the U.S. government highest-salaried employee at $456,028, totaled.
In addition to his salary and whatever royalty payments he has received, Fauci last year won a $1 million prize from the Dan David Foundation for "speaking truth to power."
Collins resigned as NIH director in December after leading the agency for 12 years. Fauci is the longtime head of NIH's National Institute for Allergies and Infectious Diseases (NIAID), and also serves as chief medical adviser to President Joe Biden.
OpenTheBooks.com made the $350 million estimate by extrapolating from documents received as part of a federal lawsuit against NIH. So far, the group has uncovered evidence of more than 22,100 royalty payments totaling nearly $134 million paid from 2009-2014 to 1,700 NIH scientists. The group is awaiting another 1,800 pages of royalty disclosures which would cover the period from 2015-2020.
Under court order, the NIH has agreed to produce 300 pages a month, but insisted on producing documents related to Fauci last – sometime in November, according to Tom Fitton, president of Judicial Watch.
Man… God is really exposing the rot of our nation, right before our eyes! This has been your CrossPolitic Daily News Brief. If you liked the show, share it far and wide, or become a club member, as we seek to build out our CrossPolitic army! And as always, if you'd like to discuss partnerships with CrossPolitic, email me at [email protected]. For CrossPolitic news, I'm Garrison Hardie. Have a great day, and Lord bless.