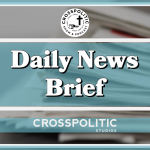 This is Garrison Hardie with your CrossPolitic Daily News Brief for Thursday, May 18th, 2023.
PUB MEMBERSHIP PLUG:
We have ourselves an exciting summer coming up here at CrossPolitic, and we want you to join us on this ride… First, we're no longer calling it the Fight Laugh Feast club… it's now called the Pub! Second, we are launching a new line of content, focused on family entertainment. Some of this content includes a new TV Show called This America, a cooking show, a hunting show, live streaming of our conferences, and our past conference talks, all bundled within our new polished Fight Laugh Feast App, dropping on June 1st. Head on over to fightlaughfeast.com, and join the Pub today… that's fightlaughfeast.com.
https://www.dailywire.com/news/house-chairman-demands-irs-chief-answer-for-alleged-hunter-biden-probe-shakeup
House Chairman Demands IRS Chief Answer For Alleged Hunter Biden Probe Shakeup
A top House Republican wants the Internal Revenue Service (IRS) to clarify what is happening with the criminal investigation into Hunter Biden after lawyers for a whistleblower within the agency claimed his team got removed from the case.
Ways and Means Chairman Jason Smith (R-MO) is requesting an "urgent briefing" from IRS Commissioner Daniel Werfel's office to address concerns about possible retaliation.
"These allegations are extremely serious. Such retaliation not only discourages whistleblowers from coming forward to Congress but can also constitute an illegal violation of statutory protections for whistleblowers," Smith wrote in a letter to Werfel on Tuesday. The letter was published by Just the News.
Lawyers for an IRS criminal supervisory special agent wrote to Congress on Monday to say their client had just been told that "he and his entire investigative team are being removed" from the Hunter Biden probe and was "informed the change was at the request of the Department of Justice."
The "move is clearly retaliatory and may also constitute obstruction of a congressional inquiry," lawyers Mark Lytle and Tristan Leavitt wrote.
The IRS agent, who has not been publicly identified, has sought to make protected whistleblower disclosures to Congress while raising concerns about lies and politics corrupting the criminal inquiry into Hunter Biden.
After Biden's lawyers met with Department of Justice officials late last month, sources told The Washington Post that potential charges for tax- and gun-related crimes may soon follow from Delaware's U.S. Attorney David Weiss. Hunter Biden has said he expects to be cleared of wrongdoing, and his father, President Joe Biden, told MSNBC this month that his son has "done nothing wrong."
The IRS and Justice Department have so far refused to respond directly to the claim that the IRS supervisor and his entire team had been pulled from the case.
The Justice Department has deferred to Weiss, whose office is so far not speaking out on the matter.
Smith requested a briefing from Werfel's office by 5 p.m. on Thursday. "Failure to provide forthcoming and transparent information regarding the actions taken against this employee by your agency will necessitate additional Committee action," he warned.
https://www.foxnews.com/politics/supreme-court-allows-illinois-assault-weapons-ban-take-effect
Supreme Court allows Illinois 'assault weapons' ban to take effect
The U.S. Supreme Court allowed Illinois' ban on "assault weapons" to take effect temporarily on Wednesday.
The ruling allows the Illinois law to remain in effect while lower courts deliberate on its constitutional status. Wednesday's ruling comes after a gun shop owner in Illinois requested an injunction against the ban.
The Illinois law bans the sale and new possession of semi-automatic "assault weapons." Those who already legally own such weapons would not have to turn them in. The law also bans the sale of large capacity magazines.
The court did not offer an explanation for its Wednesday decision, and there were no noted dissents.
The National Foundation for Gun Rights (NFGR) a legal group associated with the gun store that requested an injunction, expressed disappointment with Wednesday's ruling. The group remains committed to fighting Illinois' ban, however.
"Any action the Supreme Court would have taken at this point would only have been temporary and not on the merits of the case itself. Clearly, the Supreme Court is watching the issue closely and we look forward to appealing very soon on the merits if the 7th Circuit rules against us – as the signs currently point to," said Hannah Hill, Executive Director of the NFGR.
The U.S. Court of Appeals for the 7th Circuit is currently considering the case. The request for an injunction went to Justice Amy Coney Barrett.
Illinois passed the Protect Illinois Communities Act on Jan. 10, banning the sale, purchase, manufacture, delivery and importation of "assault weapons" and large capacity magazines, with exceptions for law enforcement, military members and certain other professionals with firearm training. The legislation specifically names the AR-15 and AK-47 rifles and requires lawful owners of semi-automatic rifles to register their ownership with state police.
The 7th Circuit has yet to issue a final ruling on the Illinois law, but its decision is likely to be appealed to the Supreme Court.
Judge Stephen Patrick McGlynn, a Trump appointee in Illinois' Southern District, had initially granted the injunction earlier in May. Appellate Judge Frank Easterbrook then reversed McGlynn's ruling, a decision that has now been supported by both the 7th Circuit and the Supreme Court.
McGlynn's ruling had argued that Illinois' law infringed on the right to self-defense and, in some cases, "completely obliterated that right by criminalizing the purchase and the sale of more than 190 'arms.'"
https://mynorthwest.com/3889164/rantz-pedophile-ish-adult-woman-identifies-15-year-old-boy-per-police-report/
'Pedophile-ish' adult woman identifies as 15-year-old boy, per police report
Police arrested a 35-year-old woman, who identifies as a 15-year-old boy, for harboring a teen runaway. Shouldn't Washington Progressives defend this woman for being mis-aged?
The police allege Amanda Dorrough was involved in a host of inappropriate behavior with juveniles, including getting naked in front of them, inappropriately touching one, and providing marijuana. One of her alleged victims characterized her as "pedophile-ish," according to a police incident report, which doesn't list the individual ages of the alleged victims.
This incident highlights the dangers of identifying as something you're not. But it also shows the left-wing hypocrisy on issues of identity.
The vice principal at Port Angeles High School reported to police that two students reported that eight of their classmates were planning to run away to Seattle with Amanda Dorrough, according to the police report. It said there had been "several recent reports of Amanda Dorrough having runaway youth in her apartment."
An officer located several teen minors at the gully behind Dorrough's apartment complex on May 4, 2023. Several of them were identified by the school as planning to run away, and Dorrough was allegedly aware that one was listed as a runaway, giving the officer probable cause to arrest her for Unlawful Harboring of a Minor. In addition to the minors, police found two empty condom packets and a bra at the gully.
"While at the Clallam County Jail, Amanda told the staff that she identifies as a teenage boy," the incident report states. "The previous week, she told [an officer] that she identifies as a teenage boy. The previous week she told [the officer] that she feels like teenagers 'understand' her better and that she 'identifies' better with teenage kids. Amanda is a 35-year-old woman."
An alleged juvenile victim, identified only as T.A., told authorities that he found Dorrough to be "pedophile-ish," according to the incident report. It says T.A. reports that Amanda told him that she liked him and when he didn't reciprocate the feeling, she got upset and "almost killed herself." He alleged she touched him inappropriately and has been completely nude in front of him.
T.A. also alleged that Dorrough provided him and other juveniles with marijuana. The Clallam County Prosecuting Attorney's Office charged her with one count of distributing a controlled substance (marijuana/cannabis) to a minor. She posted bail on May 14.
This is not the first contact police have had with an adult pretending to be a minor. Since April 11, 2023, the police said they received 11 calls concerning Dorrough's alleged conduct.
Now it's time for my new segment, the rundown…
https://www.theblaze.com/news/church-that-runs-nashville-christian-school-where-mass-killing-occurred-moves-to-block-public-release-of-trans-shooters-manifesto
Over the weekend, the Covenant Presbyterian Church and associated Covenant School filed a motion to block the public release of the manifesto of the transgender shooter who attacked the school, court documents revealed.

Monday court filings revealed that the Covenant Church requested that the court prevent the documents from being released to the public, citing privacy concerns.

The motion, filed against the Tennessee Firearms Association, and another filed against the Nashville Police Association stated that the manifesto "may include and/or relate to information owned by Covenant Church," such as "schematics of church facilities and confidential information" regarding employees.

The church claimed the manifesto's release could "impair or impede its ability to protect its interests and the privacy of its employees."
https://justthenews.com/nation/states/center-square/24-republican-governors-commit-help-texas-defend-its-border
Twenty-four Republican governors have responded to Texas Gov. Greg Abbott's call for help to secure its border with Mexico.

This is after at least more than 7 million people have been apprehended or reported evading capture by law enforcement since President Joe Biden's been in office.

Within the past few days, groups of tens of thousands of foreign nationals arrived in the Rio Grande Valley and in other areas of Texas, overwhelming Border Patrol agents, officials said. Abbott has already sent more than 10,000 Texas National Guard troops to the border as border communities continue to declare emergencies.

The governors pledging support in addition to Florida Gov. Ron DeSantis, who is deploying troops and resources in the next 24 hours, include those of Alabama, Alaska, Arkansas, Georgia, Idaho, Indiana, Iowa, Missouri, Mississippi, Montana, Nebraska, North Dakota, New Hampshire, Nevada, Ohio, Oklahoma, South Carolina, South Dakota, Tennessee, Utah, Virginia, West Virginia, and Wyoming.

They pledged their support within hours of Abbott's request for help Tuesday afternoon.
https://www.dailyfetched.com/netflix-series-which-incorrectly-featured-cleopatra-as-black-woman-gets-worst-audience-score-in-tv-history/
Netflix Series Which Incorrectly Featured Cleopatra as Black Woman Gets Worst Audience Score in TV History

As The Daily Fetched reported last month, the government of Egypt has slammed Netflix for the portrayal, accusing them of falsely rating history for politics. The secretary-general of the Supreme Council of Antiquities, Mostafa Waziri, said the Netflix show wrongly Featuring Cleopatra was a black woman represents a "falsification of Egyptian history and a blatant historical fallacy."

the show has done something I didn't think was even possible. It has not just the lowest audience score in Netflix history; it has essentially the lowest audience score possible on Rotten Tomatoes, a 1%. Not a 10%, a 1%. (Update: It just ticked up to 2%. Still an unprecedented low)
https://www.boundingintosports.com/2023/05/west-virginia-coach-bob-huggins-hit-with-massive-fine-suspension-for-anti-gay-slur/
West Virginia Coach Bob Huggins Hit With Massive Fine, Suspension For Anti-Gay Slur

While appearing on the May 8, 2023, episode of The Bill Cunningham Show, he used a homophobic slur and expressed anti-Catholic sentiments on more than one occasion.

Following the interview's airing, Bob Huggins subsequently issued an apology for what he had said, calling it "completely insensitive and abhorrent" and promised to accept any consequences.

Amidst calls for Bob Huggins to be fired, the administration in Morgantown was faced with a tough decision. The comments were easily a terminable offense, but the school chose to blow the whistle on their head coach in a different manner. And while Huggy Bear will return to the bench next year, he'll have a lot lighter wallet to sit on when he does.

Huggins has agreed to a million-dollar salary reduction, a three-game suspension, and sensitivity training. Huggins' suspension will take place during his team's first three regular-season games.
https://www.boundingintosports.com/2023/05/former-raiders-wide-receiver-henry-ruggs-pleads-guilty-to-driving-drunk-156-mph-in-fatal-crash/
Former Raiders Wide Receiver Henry Ruggs Pleads Guilty To Driving Drunk 156 MPH In Fatal Crash

Tina Tintor, 23, and her pet dog were killed in the crash. Following the accident, Ruggs registered a blood alcohol content twice Nevada's legal limit.

On May 10, the Raiders' 2020 first-round NFL draft pick will avoid trial and is expected to be sentenced Aug. 9 to three to 10 years in state prison under terms of his plea deal with prosecutors. The minimum three-year sentence cannot be reduced by converting the year-and-a-half that he has already spent on house arrest applied as time already served.

That means the once-promising wide receiver will go to prison and won't be able to appeal his conviction or sentence. It's a strict punishment, designed to hit first-time offenders harder than most traffic felonies. However, due to the events leading up to the incident, Clark County District Attorney Steve Wolfson pushed for the maximum repercussions.
https://boundingintocomics.com/2023/05/16/arnold-schwarzenegger-says-hes-done-with-terminator-admits-genisys-and-dark-fate-were-just-not-well-written/
In entertainment news…
Terminator actor Arnold Schwarzenegger bluntly stated he's done with the Terminator franchise moving forward while also admitting that both Genisys and Dark Fate "were just not well written."

Schwarzenegger conducted a wide-ranging interview with The Hollywood Reporter discussing everything from the media slaughtering Last Action Hero due to his politics, his own personal growth and belief in God, his divorce, and his upcoming Netflix series FUBAR.
https://dailycaller.com/2023/05/16/sports-illustrated-transgender-male-swimsuit-edition-magazine-cover/
Sports Illustrated Swimsuit Edition has put biological male Kim Petras in a two-piece swimsuit on its Swimsuit Edition magazine cover that was released Monday.

Petras is a singer and songwriter who identifies as transgender. The grammy award winner was among the "28 incredible women" which Sports Illustrated celebrated in its recent Swimsuit Edition of the magazine.