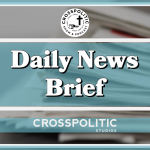 This is the Chocolate Knox with your CrossPolitic Daily News Brief for Thursday, May 20, 2021
If you are looking to send us news stories you can do that to [email protected] that's [email protected]  
Can you do me a favor? Can you post to social media how much you LUV deftwire.com ourt news aggregator? I know how hard it is to but that would be amazing if you could…
Pennsylvania voters impose new limits on governor's powers
apnews.com /article/pennsylvania-health-coronavirus-pandemic-government-and-politics-f5ce447986a26cca310a6639de37b5ce
Pennsylvania voters became the first in the nation to curb their governor's emergency powers, approving constitutional amendments proposed by Republican lawmakers angry over Democratic Gov. Tom Wolf's handling of the COVID-19 outbreak.
The vote on Tuesday's statewide primary ballot came as Republican lawmakers across the country have sought to roll back the emergency powers governors wielded during the COVID-19 pandemic.
The constitutional amendments will give lawmakers much more power over disaster declarations, to apply whether the emergency is another pandemic or natural disaster.
Republicans see the referendum as a victory with strong political overtones, as the state gears up for a wide-open governor's race in 2022 and Wolf leaving office after two terms.
Republicans in the state Legislature and those aiming to replace him in 2023 have made Wolf a top political target, repeatedly attacking his stewardship during the pandemic, including his orders shuttering businesses, sending students home for online schooling and ordering masks worn outside the home.
"Last night, Pennsylvanians voted to reject Democrat Gov. Tom Wolf's overreach of executive powers after his failed COVID response — a clear sign of accountability coming in 2022," Republican National Committee chair Ronna McDaniel tweeted Wednesday.
The state's Republican Party chairman, Lawrence Tabas, said in a statement that Pennsylvanians voted to "put a stop to Gov. Tom Wolf's dictatorship."
Wolf has largely lifted his orders to stem the spread of the coronavirus, with the remaining limitations on crowd capacity lifting after May 30 and a mask-wearing mandate for the unvaccinated that tracks federal guidance, until 70% of adults are vaccinated.
Wolf's office maintained that the disaster declaration does not affect orders designed to prevent COVID-19 from spreading.
Rather, it relaxes regulations for medical professionals, gives the state access to federal emergency aid and streamlines National Guard deployments, among other things, his office said.
In statements Wednesday, the Legislature's top Republicans characterized the vote as a victory for individual rights and freedoms, a move to re-establish checks and balances to ensure a functioning, collaborative government.
The last time voters rejected a ballot question was in 1993, according to information provided by the state.
With votes still being counted Wednesday, support for the two questions led with 53% of the vote, with 89% of precincts reporting. More than 2.1 million ballots were cast, still less than a quarter of the state's 8.7 million registered voters.
The questions asked voters to end a governor's emergency disaster declaration after 21 days and to give lawmakers the sole authority to extend it or end it at any time with a simple majority vote.
Before Tuesday, the constitution required a two-thirds majority vote by lawmakers to end a governor's disaster declaration and, legally, the governor could issue an emergency declaration for up to 90 days and extend it without limit.
I am running for Idaho Governor!
Idahoans have witnessed some serious, egregious actions over this past year. We saw repeated attacks on our constitutional, republican form of government. Fortunately, many of us are aware of what should have happened differently.
Last year, the Governor declared that some of your businesses and your employees were not essential. This proved to be very divisive and destructive and created widespread unemployment. I am here to tell you that every life is essential and every job is essential. God has created each of us in His image and we each have a unique place in life.
Over the last year, we have been tested. Many stood strong in the face of challenges. Unfortunately, some who were entrusted with positions of leadership caved to fear and compromised principles. We cannot forget these violations of our individual rights, our state sovereignty, and our traditional conservative values.
I refuse to stand by and allow these abuses to go unchallenged. That would be a disservice to our state and a violation of my sworn oath to uphold and defend the Constitution of the United States and the Constitution of the state of Idaho.
I can't do that! I won't do that!
She goes on to say…
I am running for Governor to restore the principles that have Made Idaho Great — individual liberty, state sovereignty, and traditional conservative values….Please visit my website at JaniceForIdaho.com to donate and learn about other ways to participate in our historic campaign.
Dr. Ryan Cole, owner and operator of Cole Diagnostics, has been very outspoken against the Covid lockdowns/quarantine and has warned about the mRNA vaccine.
The Idaho doctor on Wednesday said he is not anti-vaccine but he warned against the experimental Covid jabs.
"We've seen more deaths from this shot than all vaccines in the last 20 years combined — and that's just in the first 4 to 5 months,"
during an appearance on Rose UnpluggedThe Talk of Pittsburgh 1320 AM
Dr. Cole said he saw a study that said 3% of injuries from the Covid vaccine will be permanent: "If you figure 100 million people got the shots, that's 3 million with a permanent injury."
Clips
Pop singer Demi Lovato comes out as non-binary
Lovato will use they and them as pronouns, and says they are 'still learning & coming into myself'
https://www.theguardian.com/music/2021/may/19/pop-singer-demi-lovato-comes-out-as-non-binary
Demi Lovato has announced they have a non-binary gender identity.
Announcing the news on Twitter, they said:
This has come after a lot of healing & self-reflective work. I'm still learning & coming into myself, & I don't claim to be an expert or a spokesperson. Sharing this with you now opens another level of vulnerability for me. I'm doing this for those out there that haven't been able to share who they truly are with their loved ones. Please keep living in your truths….I can't nope..
Russell Moore to Join Christianity Today to Lead New Public Theology Project
https://www.christianitytoday.com/ct/2021/may-web-only/russell-moore-to-join-christianity-today.html
Christianity Today is announcing the hiring of Russell Moore to serve as a full-time public theologian for the publication and to lead a new Public Theology Project.
Look if you want to have some public theology let me save you some time. Dr. Moore aint got it for you. Christianity today? Definaitly aint got it for you But I know an institute of public theology wher the found members are Tom Ascol and Jared Longshore and Tom nettle and oh, Did i mention Voddie he don't even need a last name just Voddie…
They didn't even pay me for that one you can thank chrsitianity today and ya boi russ for that…
Democrats defeat Republican attempt to change House mask regulationsThe controversy over masks is the latest salvo in the debate between both parties over pandemic-era protocols
https://www.politico.com/news/2021/05/19/democrats-defeat-republican-attempt-to-change-house-mask-regulations-489685
"If Minority Leader McCarthy wants to be maskless on the Floor of the House of Representatives, he should get to work vaccinating his Members," Pelosi spokesman Drew Hammilll said in a statement.
A recent CNN analysis found that all House Democrats were vaccinated against the coronavirus, but fewer than half of House Republicans had reported getting the vaccine.
While Democrats remained united in their opposition to the resolution, a handful of them had considered crossing party lines and backing the GOP's efforts to ditch the masks, according to multiple sources. Signaling the expected closeness of the vote, Pelosi had to come to the floor to cast her own vote, and Democratic leaders worked members hard to toe the party line ahead of time.
Frustrations over the mask rules have bubbled up in other places. Rep. Bruce Westerman of Arkansas and top House Republicans — including McCarthy and committee ranking members — pressed Pelosi in a new letter on Tuesday to ease proxy voting measures and to lift mask mandates in light of the CDC guidelines released last week, which loosened rules for vaccinated individuals.
"It is time we follow the science, lead by example, and fully return to work to serve the American people," the GOP letter stated.