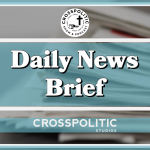 This is Garrison Hardie with your CrossPolitic Daily News Brief for Thursday, May 26th, 2022. Have you signed up for our upcoming conference in Knoxville TN? Early bird pricing will end before you know it, and by the way, if you're a club member, you'll get $100 off, so sign up now, at flfnetwork.com/knoxville2022 I want to start your day off with some positive news… Birth rates, went up last year, for the first time in nearly a decade.
https://nypost.com/2022/05/25/us-birth-rates-increased-in-2021-for-the-first-time-in-7-years/
Couples seemed to have been busy during the pandemic… and it makes sense… what else is there to do when you're forced to stay inside by a tyrannical government?
For the first time in seven years, birth rates in the United States increased – albeit by only 1%.
The Centers for Disease Control and Prevention's National Center for Health Statistics revealed there were 3,659,289 babies born in 2021, the first rise in births since 2014. Past years had seen a steady birth decrease of 2%, according to ABC News.
The data comes after births dropped 4% — dubbed the "baby bust" — in 2020 during the pandemic.
But now that society is bouncing back… if you can call it that… people are once again starting families.
Mothers, ages 35 to 44, gave birth the most of any age group — with a nearly 3% increase — which comes after a trend of women hesitant about having children.
In a state-by-state case, the Northeast region was amongst the boom of births. New Hampshire came out on top, with a 7% yearly birth-rate increase, trailed by Connecticut (6.5%), Vermont (5.2%) and New Jersey (5.09%). While only New Mexico saw a 1.9% percent fall and Hawaii only 1%, no other states saw a birth decrease greater than 1% from 2020 to 2021.
While the CDC doesn't list an explanation for the boom, some respondents in a Pew Research Center poll cited medical issues (19%) or not knowing the "state of the world" (9%) as reasons for not having more or any children. A New York University study released in September 2021 demonstrated a similar trend: Fewer women wanted children, all thanks to the pandemic… I'd also like to add that women this day and age, are being encouraged to pursue careers as opposed to becoming mothers… one of the most incredible miracles we witness in this day and age, is a woman's ability to create life….. But then again, I'm no Biologist.
In 2021, fertility rates were up. The number of live births per 1,000 women between 15 and 44 years of age was 56.6, an increase from 56 the year prior.
While the total fertility rate was 1,663.5 births per 1,000 women, it still isn't enough to reach "replacement levels," or the level the population would need to essentially replace itself. According to ABC News, that number is 2,100 births per 1,000 women.
Some more good news… teen pregnancies were down by 6%. Pregnancies amongst 15- to 17-year-olds decreased by 8% and those amongst ages 18 to 19 fell by 7%.
Speaking of babies… More baby formula is heading to store shelves as early as this weekend
https://www.cnn.com/2022/05/25/health/formula-supply/index.html
From CNN, More baby formula is expected on store shelves as soon as this weekend through a variety of government efforts.
On Wednesday, 60 tons of formula landed at Dulles International Airport in Washington from Ramstein Air Base in Germany, the second shipment from Europe as part of the Biden administration's Operation Fly Formula. That effort was started to address the nationwide shortage that was exacerbated by the closure of formula maker Abbott Nutrition's plant in February after several inspections by the US Food and Drug Administration found "insanitary conditions."
Chris Calamari, who leads Abbott's nutrition division, apologized for his company's role in the shortage Wednesday at a hearing before the House Energy and Commerce Subcommittee on Oversight and Investigation.
"On behalf of everyone at Abbott, I want to express our extraordinary disappointment about the shortage. We are deeply, deeply sorry," Calamari said. Oh that's alright Calamari, while our economy has been floundering, it's good to know that we still have the money to send $40 billion to Ukraine right?
Abbott said Tuesday that it plans to restart work at its Sturgis, Michigan, plant on June 4, with the first batches of new formula expected to be available to consumers on or around June 20. When the plant is up and running, it will be able to increase capacity by 40%, according to Calamari.
On Wednesday, Calamari outlined Abbott's additional plans to boost supply by bringing in more formula on nearly 50 flights a week to 12 airports across the country. Abbott has also converted some of its manufacturing facilities to make formula and is working with US Department of Agriculture WIC agencies to make sure program participants get formula for free, Calamari said.
"By the end of June, we expect we will be supplying more formula to Americans than we were in January, before the recall," he said.
More formula from companies made overseas is scheduled to arrive in the coming days, according to US Health and Human Services Secretary Xavier Becerra. First lady Jill Biden and US Surgeon General Dr. Vivek Murthy were on hand to greet Wednesday's shipment.
Home. It's where you build your legacy. Where traditions are started, seeds are planted, meals are shared, stories are told. Home is where you prepare to go out into the world. Finding the home that's perfect for your family is a big job.
Story Real Estate is Moscow's top real estate team. They give people real estate advice all over the country. Family homes, investments, land, new construction, or commercial— they know real estate.
If you've thought about a move to Moscow or anywhere in the country, reach out to get connected with a Story Real Estate agent. Wherever you're going, they can help guide you Home. Visit storyrealestate.com.
United Airlines fires employee left bloodied after airport brawl with ex-NFL player Brendan Langley
https://www.foxnews.com/sports/united-airlines-fires-employee-airport-brawl-nfl-brendan-langley
The United Airlines worker that was left bloodied after getting into an altercation with former Denver Broncos cornerback Brendan Langley at Newark Liberty International Airport in New Jersey last week has been fired, according to the airline.
A United Airlines rep told the New York Post on Tuesday that the employee, who has not since been identified, was terminated by the company after a video surfaced on social media showing him involved in a physical altercation with Langley on May 19.
A two-minute-long video posted to Twitter shows the two men exchanging blows. The employee appears to fall over a baggage check-in desk before standing up with a bloodied face. He again approaches Langley before other employees step in to separate the two.
Now… I don't know if you guys had seen the video, but I've left a link in the show notes, where you can watch it and decide for yourselves… when I look at it, it looks as though the airport employee is really agging the NFL player on…
Airport fight between United agent and ex-NFL player passenger goes viral
The airline released a statement Monday condemning the incident.
"United Airlines does not tolerate violence of any kind at our airports or on board our planes and we are working with local authorities to further investigate this matter."
United Airlines… if we need the seating, you'll get a beating.
Speaking of fighting, Our Fight Laugh Feast Magazine is a quarterly issue that packs a punch like a 21 year Balvenie, no ice. We don't water down our scotch, why would we water down our theology? Order a yearly subscription for yourself and then send a couple yearly subscriptions to your friends who have been drinking luke-warm evangelical cool-aid. Every quarter we promise quality food for the soul, wine for the heart, and some Red Bull for turning over tables. Our magazine will include cultural commentary, a Psalm of the quarter, recipes for feasting, laughter sprinkled through out the glossy pages, and more. Sign up for your annual subscription at: flfnetwork.com/product/fight-laugh-feast-magazine/
https://thehill.com/news/administration/3501051-biden-approval-rating-at-lowest-point-in-reuters-ipsos-polling/
Biden approval rating at lowest point in Reuters-Ipsos polling
President Biden's approval rating fell to 36 percent in a Reuters-Ipsos poll released Tuesday, marking its lowest point to date in that particular poll.
The poll found Biden's approval rating fell 6 percentage points from a week earlier, and it dropped from 76 percent to 72 percent among Democrats in that same span.
The low point for Biden in the Reuters poll came less than a week after he hit a new low in the Associated Press poll, which found the president's approval rating sat at 39 percent.
Both polls reflect a consistent trend of Biden's approval rating mired in the high 30 percent to low 40 percent range in recent months.
Voters have consistently given Biden poor marks on his handling of the economy, which aides argue is strong despite persistent concerns about inflation. When confronted with bad polls, the White House has insisted its agenda benefits the American people and that officials must do a better job communicating that.
This has been your CrossPolitic Daily News Brief… If you liked the show, share itm as that really helps grow our show… you know what else does? Becoming a club member. For just $10 a month, you could really help us build out a future TV Network, seeking to spread the glory of Jesus Christ abroad. Sign up at flfnetwork.com/membership. And as always, if you want to advertise on CrossPolitic. Email me at garrison@fightlaughfeast.com. For CrossPolitic news, I'm Garrison Hardie. Have a great day, and Lord bless.