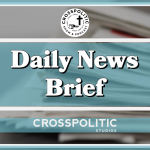 This is Toby Sumpter with your CrossPolitic Daily News Brief for Thursday, May 27, 2021.
Belarus Hijacking to Arrest Dissident Journalist
https://www.wsj.com/articles/european-airline-wizz-air-redirects-flight-to-avoid-belarus-airspace-11621847226
On Sunday, President Alexander Lukashenko of Belarus ordered a jet fighter to force a Ryanair Holdings PLC commercial aircraft to land as it was passing through Belarus airspace. Authorities arrested Mr. Protasevich before allowing the plane to continue its journey.
The incident has raised questions over the legality of the plane's grounding. Mr. Raab condemned the incident as "a shocking assault on civil aviation and an assault on international law," which "represents a danger to civilian flights everywhere."
Since presidential elections last summer that most Western countries considered fraudulent, the EU has imposed three rounds of sanctions on Belarus targeting Mr. Lukashenko and close to 100 officials, business leaders and entities.
On Sunday, a statement on Mr. Lukashenko's official Telegram messenger app said Belarusian authorities received information that a passenger plane over the country's airspace possibly had explosives on board, and Mr. Lukashenko ordered a MiG-29 jet fighter to escort the aircraft to land in Minsk.
On Monday, Belarusian transport authorities said Gaza's governing militant group, Hamas, had sent an email to the Minsk National Airport on May 23 warning that a bomb would explode on the Ryanair flight unless Israel ceased hostilities in the Gaza Strip. Authorities in Gaza didn't immediately respond to a request for comment.
At a summit in Brussels on Monday, German Chancellor Angela Merkel dismissed the Belarusian government's explanation for the forced landing of the plane as "completely implausible."
President Biden on Monday denounced the grounding of the Ryanair flight, called for the release of Mr. Protasevich and said the U.S. is looking at taking some action.
The chief executive of Ryanair on Monday said the airline believes members of Belarus's secret service were aboard when the plane was forced to divert to the country's capital of Minsk on Sunday, calling the incident "a case of state-sponsored hijacking" and further raising global-aviation industry alarm over the rerouting.
Mr. Protasevich had wrapped up a holiday with his girlfriend in Greece, where he also attended an economic forum with Ms. Tikhanovskaya, and was returning home to the Lithuanian capital of Vilnius. Instead, he ended up being detained in Belarus, the homeland he fled more than a year ago.
Around 15 minutes before landing, passengers said they were jolted as the plane made a sharp turn. When the pilot got onto the loudspeaker, they expected him to announce that the aircraft was preparing to land in Vilnius, recalled passenger Janis Zviedris, a Latvian who was seated in the plane's ninth row.
"Instead, I heard the word Minsk," said Mr. Zviedris, 43. "There was shock. The pilot said something about Vilnius airport and security reasons."
On arrival in Minsk, passengers were told to remain in their seats. A Lithuanian lifestyle blogger, who would only agree to use her first name, Raselle, filmed the incident from her seat at the front of the plane and uploaded clips to YouTube. She said a flight attendant told passengers that legal issues had prevented the plane from landing in Lithuania and that it had to divert to Minsk.
Passengers were eventually allowed to deplane in groups of five to six people, said Audre Cek, 34, a Lithuanian medical-device industry worker who was traveling with her mother. They were told to leave their belongings on the ground near the plane as sniffer dogs and security personnel examined them, she said, and then ushered to two different buses.
Belarus, which isn't a member of the EU or the North Atlantic Treaty Organization, has one big regional ally: Russia. Moscow has long viewed Belarus as an important buffer between its western border and the rest of Europe. Belarus was a member of the former Soviet Union, and the two countries are still bound by linguistic, cultural and trade ties.
Kremlin spokesman Dmitry Peskov on Monday declined to comment on the airplane incident, including whether Russian agents were on board the plane or whether Moscow was in any way involved in aiding Mr. Lukashenko's decision to force the plane to land.
Moscow has grown suspicious of EU and U.S. attempts to exert more influence in Belarus in recent years. Mr. Lukashenko, after earlier courting the West, has rushed more recently to strengthen his ties with Russia and President Vladimir Putin. He has accused NATO of building up its forces along Belarus's border.
Mr. Putin offered political and financial support to Mr. Lukashenko amid Western sanctions and warned EU leaders against interfering in a political crisis that engulfed Belarus last year amid protests against its leader.
Ryanair, a budget carrier and one of Europe's largest airlines, said it was assessing whether to continue to fly over Belarus airspace and was awaiting guidance from European aviation regulators. Two other airlines, Wizz Air Holdings PLC and AS Air Baltic Corp., both said they would no longer fly over the country.
AD: "Do you have a guitar at home that's calling out to you? Do you long to discover or rediscover your voice as a guitarist? Maybe you're overwhelmed and you don't know where to start. But there's a way. GuitarSuccess4U is a unique, online membership, founded by David Harsh, a fellow Cross Politic listener who has been touring nationally as a Christian artist, worship leader and guitar workshop clinician for the last 20 years. You can learn at your own pace, from home, alongside a community of guitarists who range from beginner to intermediate, worship leaders, hobbyists, retirees, stay-at-home moms and more. Through a fun, inspiring approach to the guitar, David shares from his decades of experience, and takes you step-by-step towards becoming the musician you were made to be. Learn more and join now at GuitarSuccess4U.com. That's Guitar Success, the number "4" and the letter "U," dot com."
Where Did the Coronavirus Come From?
0:00-1:48
But now this:
1:49-2:02
Wait. One more time:
Before Dr. Fauci said this:
1:34-1:48
And now he says:
1:49-2:02
Right.
Huge thanks to everyone who attended and watched the Fight Laugh Feast Rally in Rapid City, South Dakota: all the talks were archived for Fight Laugh Feast Club Members in the club portal. Become a club member today so you don't miss any of them. And if you see some of the clips from the talks floating around on social media, don't forget to share them. That's a great way to share the love and encourage other folks to join.
We're already gearing up for the next conference back in Nashville: Sep. 9-11: the Politics of Sex. I hope many of you are planning to come. Registration will be opening soon.
Children's Hospital of Colorado Declares State of Emergency
https://www.beckershospitalreview.com/patient-flow/overrun-with-kids-attempting-suicide-children-s-colorado-declares-state-of-emergency.html/
The CEO of Children's Hospital Colorado declared a state of emergency in pediatric mental health May 25, a first for the Aurora-based hospital.
Jena Hausmann, CEO of Children's Colorado, said pediatric emergency departments and inpatient units are being "overrun with kids attempting suicide and suffering from other forms of major mental health illness."
In the last two years, Children's Colorado has seen a 90 percent increase in demand for behavioral health treatment, according to a hospital news release. Isolation and stress amid the pandemic has exacerbated low-level anxiety and depression among pediatric patients into suicide attempts, hospital officials said.
"I've been in practice for over 20 years in pediatrics, and I've never seen anything like the demand for mental health services we've seen at Children's Colorado in the past 15 months," David Brumbaugh, MD, Children's Colorado chief medical officer, said in the hospital's news release. "There have been many weeks in 2021 that the No. 1 reason for presenting to our emergency department is a suicide attempt. Our kids have run out of resilience — their tanks are empty."
Also, in completely unrelated news, all of their parents are stoned.

Psalm of the Day: I Know That My Redeemer Lives – Glory Hallelujah!
I know that my Redeemer lives – glory hallelujah!
What comfort this sweet sentence gives – glory, hallelujah!
Shout on, pray on, we're gaining ground – glory, hallelujah!
The dead's alive and the lost is found – glory, hallelujah!
He lives to crush the fiends of Hell – glory, hallelujah!
He lives and doth within me dwell – glory, hallelujah!
Shout on, pray on, we're gaining ground – glory, hallelujah!
The dead's alive and the lost is found – glory, hallelujah!
Play audio:
This is Toby Sumpter with Crosspolitic News. You can find this and all of our shows at Crosspolitic.com or on our app, which you can download at your favorite app store, just search "Fight Laugh Feast". Support Rowdy Christian media, and share this show or become a Fight Laugh Feast Club Member. You always get a free Fight Laugh Feast t-shirt with a membership and remember if you didn't make it to the Fight Laugh Feast Conference or Rally, club members have access to all the talks and lots more. Join today and have a great day.