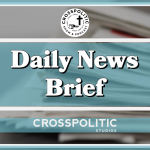 Hi, this is Garrison Hardie subbing in for The Chocolate Knox, for your CrossPolitic Daily News Brief, for Thursday, May 5th, 2022… Happy Cinco De mayo by the way! I wanted to touch on the fact that the last stop of our CrossPolitic Liberty Tour is only 15 days away! We'll be joined in Phoenix Arizona by Pastor Jeff Durbin of Apologia Church, as well as Political analyst Delano Squires. Tickets are only $20, so sign up now at crosspolitic.com/libertytour.
Last night, Comedian Dave Chappelle was wrapping up his set at a show in LA, when a violent thug bum rushed the stage and tackled Dave Chappelle…

https://youtu.be/yy5dQb_2X9I Play 0:20-1:06 -Dave Chappelle
https://youtu.be/3xXczgEyp5M -Play whole clip – Was that Will Smith?
The thug was identified by LAPD as 23-year old Isaiah Lee. Lee was also carrying a knife that looked like a gun… The last report I saw suggested that Lee was being held on $30,000 bond, and is booked on an assault with a deadly weapon charge.
You know, Chris Rock is on to something… When Will Smith walked up on-stage at the Oscars, and physically assaulted Chris Rock, there were no immediate consequences. Will Smith was allowed to remain at the Oscars for the remainder of the show, and then, was even able to receive his oscar to a standing ovation… so this kid, likely viewed that action and thought, what consequences? Well now we know…
But this just seems to be a tactic of leftists in this day and age. Hear a joke, or opinion you don't like? Well, go ahead and respond with violence.
And hey, if you want to be ready to fight like a Christian, then you need a copy of our Fight Laugh Feast magazine! Our Fight Laugh Feast Magazine is a quarterly issue that packs a punch like a 21 year Balvenie, no ice. We don't water down our scotch, why would we water down our theology? Order a yearly subscription for yourself and then send a couple yearly subscriptions to your friends who have been drinking luke-warm evangelical cool-aid. Every quarter we promise quality food for the soul, wine for the heart, and some Red Bull for turning over tables. Our magazine will include cultural commentary, a Psalm of the quarter, recipes for feasting, laughter sprinkled through out the glossy pages, and more. Sign up for your annual subscription at: https://flfnetwork.com/product/fight-laugh-feast-magazine/
https://www.foxnews.com/politics/biden-maga-crowd-most-extreme-political-organization
Biden says 'MAGA crowd' is 'most extreme political organization that's existed' in recent American history
Well, at least our president is trying to bring our country back together… President Biden on Wednesday, reacting to the leaked draft opinion signaling the Supreme Court's intent to overturn Roe v. Wade, slammed Republicans, saying the controversy is "about a lot more than abortion," and warning that the "MAGA crowd" is "the most extreme political organization that's existed in recent American history."
Following remarks from the White House announcing that his administration is "on track" to cut the federal deficit by $1.5 trillion by the end of the fiscal year, the president was asked about the leaked draft opinion authored by Justice Samuel Alito, which indicates the high court's plans to strike down Roe v. Wade, which would leave decisions on abortion restrictions for the states to decide.
As you guys know, a draft Supreme Court opinion on a case that addresses the precedence of Roe v. Wade and Planned Parenthood v. Casey was obtained and made public by Politico in an unprecedented and stunning leak from the high court late Monday.
But Biden on Tuesday declared he is "not prepared" to leave the issue of privacy to "the whims" of the public in "local areas," warning that a draft Supreme Court opinion overturning Roe v. Wade was a "radical decision" that would jeopardize "a whole range of rights."
Now Gabe in his news brief yesterday made the connection that this leak was likely meant to energize the democratic voter base… and boy did they respond… this following clip is from Louder with Crowder.
https://youtu.be/rfVt5rcboig -Play 26:09-27:18
Demonic banshies about sums it up… Our very own Chocolate Knox tweeted out a few days ago, that "Observing the last day of events it's been clear to me why government education is essential to the plan of liberals. Having a general public that cannot define words or follow a logical argument is the only way the left wins. Definitions and logic betray their rhetoric."
Well said Knox, well said. We need to take back the responsibility of educating our kids… and you know who can help you do that? Classical Conversations. Classical Conversations supports homeschooling parents by cultivating the love of learning through a Christian worldview in fellowship with other families. We provide a classical Christ-centered curriculum, local like-minded communities across the United States and in several countries, and we train parents who are striving to be great classical educators in the home. For more information and to get connected, please visit our website at ClassicalConversations.com. Classical. Christian. Get Connected. Get Community at classicalconversations.com/
https://www.fox9.com/news/judge-accepts-derek-chauvin-plea-deal-in-federal-civil-rights-case
Judge accepts Derek Chauvin plea deal in federal civil rights case
The judge overseeing the federal civil rights cases of four former Minneapolis police officers in the killing of George Floyd said Wednesday that he has accepted the terms of Derek Chauvin's plea agreement and will sentence him to 20 to 25 years in prison.
Chauvin pleaded guilty Dec. 15 to violating Floyd's civil rights, admitting for the first time that he kept his knee on Floyd's neck — even after he became unresponsive — resulting in the Floyd's death on May 25, 2020. The former officer admitted he willfully deprived Floyd of his right to be free from unreasonable seizure, including unreasonable force by a police officer.
Under the plea agreement, which Chauvin signed, both sides agreed Chauvin should face a sentence ranging from 20 to 25 years, with prosecutors saying they would seek 25. He could have faced life in prison on the federal count. With credit for good time in the federal system, he would serve from 17 years to 21 years and three months behind bars.
U.S. District Judge Paul Magnuson deferred accepting the agreement pending the completion of a presentence investigation. He said in a one-page order Wednesday that the report had been issued, so it was now appropriate to accept the deal. He has not set a sentencing date for Chauvin.
Chauvin is already serving a 22 1/2 year sentence for his murder conviction in state court last year, though he is appealing that conviction. He would serve the federal sentence concurrently with the state sentence.
https://www.19fortyfive.com/2022/05/ammo-shortage-2022/
The Great Ammo Shortage Of 2022 Isn't Over
The Great Ammo Shortage of 2022 just won't go away. You might struggle to find ammunition for your pistol, rifle, or shotgun this year. Reasons for the shortage range wide, from supply bottlenecks to a copper shortage and the war in Ukraine. The best solution might be to make your own bullets.
People are buying more guns, and there are a lot of new gun owners. In 2020, 20 percent of American gun purchasers had never before bought a firearm. Thirty-nine percent of people recently polled in the United States own at least one pistol, rifle, or shotgun, according to the General Social Survey, and FBI background checks tracked a 41 percent increase in gun ownership from 2019 to 2020. That adds up to 8.4 million new owners. These gun owners need ammunition. So, the demand side of the equation is easy to see.
Supply of ammunition is also a concern. People stocked up on rounds during the Covid-19 pandemic amid panic about the dwindling supply. Imports of ammunition fell 34 percent during the worst days of quarantine in 2020. There were periods during the pandemic when gun and ammo production stopped. Gun owners sensed these shortages and snapped up firearms and ammunition.
There was also a lull in supply when ammunition-maker Remington went bankrupt. The company filed for bankruptcy protection in 2018, and again in 2020. It was hard for Remington to produce enough bullets to keep up with demand until it got its affairs in order and sold itself to Vista Outdoors.
Much less publicized, there is a global shortage of copper, a key input in the production of ammunition. Ammo makers have to compete for the copper supply with electric vehicle manufacturers and the U.S. Mint, among others.
30-30 Winchester rounds can be hard to find for owners of lever-action "Old West" rifles. You might be paying over one dollar per round – maybe even two dollars. There are slim pickings of the .308 Winchester that deer hunters favor. Maddox says it is better to buy .40 Smith & Wesson pistol ammo online, because it is in spare supply at gun shops. AR-15 owners are struggling to find .223 and 5.56mm NATO for their assault weapons. And of course, 9mm pistol rounds fly off the shelves.
Thanks for tuning into this CrossPolitic Daily News Brief. If you liked the show, share it, as that's like currency for us. If you want to come out to our conference in Knoxville TN, sign up today for that early bird pricing, at flfnetwork.com/knoxville2022, and as always, if you want to partner with CrossPolitic, let's talk. Email me, at garrison@fightlaughfeast.com. For CrossPolitic News, I'm Garrison Hardie. Have a great Cinco De Mayo, or revenge of the fifth, and Lord bless.