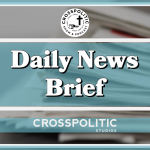 This is Toby Sumpter with your CrossPolitic Daily News Brief for Thursday, May 6, 2021.
Huge thanks to everyone who attended and watched the Fight Laugh Feast Rally in Rapid City, South Dakota: all the talks were archived for Fight Laugh Feast Club Members in the club portal. Become a club member today so you don't miss any of them. And if you see some of the clips from the talks floating around on social media, don't forget to share them. That's a great way to share the love and encourage other folks to join.
We're already gearing up for the next conference back in Nashville: Sep. 9-11: the Politics of Sex. I hope many of you are planning to come. Registration will be opening soon.
Mitch McConnell Says 100% of His Efforts Are Focused on Stopping the Biden Administration:
Play Audio:
World's Most Vaccinated Nation Sees Cases Rise
https://www.bloombergquint.com/politics/world-s-most-vaccinated-nation-reintroduces-curbs-as-cases-surge

Seychelles, which has fully vaccinated more of its population against the coronavirus than any other country, has closed schools and canceled sporting activities for two weeks as infections surge. The measures, which include bans on the intermingling of households and the early closure of bars, come even as the country has fully vaccinated more than 60% of its adult population with two doses of Covid-19 vaccines. The curbs are similar to those last imposed at the end of 2020. "Despite of all the exceptional efforts we are making, the Covid-19 situation in our country is critical right now, with many daily cases reported last week," Peggy Vidot, the nation's health minister, said at a press conference Tuesday.
The Indian Ocean archipelago, which has a population of about 98,000, is dependent on tourism for much of its foreign exchange and acted quickly to begin vaccinations in January using a donation of Chinese vaccines from the United Arab Emirates. It has procured other vaccines since. By April 12, 59% of the doses administered were Sinopharm vaccines and the rest were Covishield, a version of Astra Zeneca Plc's shot made under license in India. To date 62.2% of its population is fully vaccinated, according to the Bloomberg Vaccine Tracker. That compares with 55.9% for Israel, the next most vaccinated nation.
The number of active cases in the nation rose to 1,068 on May 3 from 612 on April 28, according to the health ministry. Of those cases, 84% are Seychellois and the rest are foreigners
Other nations that have vaccinated large portions of their populations have seen Covid cases plunge. In the U.K., where 52% of people have a first dose, cases are down 96% from a recent high in January. In Israel, where 60% have had at least one dose, new cases are down 99%.
New CIA Recruitment Ad Dangerous
https://dailycaller.com/2021/05/05/opinion-via-woke-recruitment-anxiety-disorder/

Play audio: 0:42-1:22
Virginia Cruta writes at the Daily Caller: But then the woman mentioned that she had been diagnosed with generalized anxiety disorder — which, in addition to causing difficulty concentrating and persistent worrying, can cause people to perceive situations as threatening even when they are not.
I wondered then whether a better word for it would be "dangerous."
Five years into my Army career, I went through a second school at what was then Fort Sam Houston, Texas (now it's part of Joint Base Lackland). On the morning of my annual eye exam, I found myself in line at the vision center behind a young private who was loudly extolling the virtues of "low stress Basic Training."
I laughed out loud because the concept was not just foreign, but ridiculous on its face. The entire point of those first weeks of training — regardless of the branch of service — is to strip away the learned bad habits and the self-centered and self-serving defaults so that soldiers, sailors, airmen and marines can then be trained to function as a unit and work as a team.
Training must be high stress — because that is how we determine who can perform the necessary tasks in a high stress environment — in combat or under fire. And if trainees cannot perform under high stress, they should not be put in a position where they'll have to do so.
The same is true of the CIA — where the work that agents do on a daily basis carries the weight of a nation's security. Placing people who may already be predisposed to anxiety in jobs where stress and pressure are already baked into the cake could pose risks to both the individuals and any projects in which they are involved.
Instead of celebrating an anxiety disorder as just one of many facets that comprise today's CIA, we should be considerate of those who battle such disorders — but we must also be allowed to question whether certain conditions should be disqualifiers for positions that could impact the safety and security of others.
Derek Chauvin's Attorney Files for New Trial
https://minnesota.cbslocal.com/2021/05/05/derek-chauvins-attorney-files-motion-for-new-trial/amp/
MINNEAPOLIS (WCCO) — Attorney Eric Nelson has filed a motion for a new trial for former Minneapolis police officer Derek Chauvin, who was convicted of murdering George Floyd last month.
Nelson claims the court violated Chauvin's constitutional rights for several reasons, including not allowing the trial to move outside of Hennepin County, and not sequestering the jury the entire time. He also says the jury committed misconduct, and wants a hearing to throw out the verdict.
Attorney Joe Tamburino, who is not affiliated with Chauvin's case, said the odds of him getting a new trial are "very low."
"It appears that when it comes to this alleged juror misconduct Derek Chauvin is asking for this verdict to be thrown out," Tamburino said. "Obviously the defense is under the gun, they have 14 days to do a motion for a new trial."
A spokesperson from the office of Minnesota Attorney General Keith Ellison released this brief statement late Tuesday afternoon: "The court has already rejected many of these arguments and the State will vigorously oppose them."
On April 20, the jury in Chauvin's trial found him guilty on all three counts of second-degree murder, third-degree murder and second-degree manslaughter.
It took the jury roughly 10 hours of deliberation to reach their verdict, including about four hours on the first day and another six hours on the second day.
Chauvin showed no reaction as the judge read all three unanimous verdicts. He was quickly handcuffed and taken out of the courtroom. He spent his first days of conviction in the Minnesota Correctional Facility in Oak Park Heights.
Since the verdict hearing, Peter Cahill, the judge in the murder trial, has been deliberating the length of sentencing. Cahill must also determine whether any aggravating factors existed during the murder. Aggravating factors will aid in the determination of length in Chauvin's sentencing.
The first possible aggravating factor is whether the victim was "treated with particular cruelty." The second is if a child was present. Witnesses who testified included two teens who were 17 at the time and a 9-year-old.
WCCO spoke with Tamburino about this situation. He is not affiliated with the case.
"If they find aggravating factors the judge could go all the way up to the statutory maximum, which for count one is up to 40 years, count two up to 25 years, and count three up to 10 years," Tamburino said.
Chauvin's sentencing is scheduled for June 25.
Last Thing: Can National Review Be Trusted?
Kevin Williamson writes an article in the National Review asking What About Liz Chaney? His answer is that she should follow the advice of Aleksandr Solzhenitsyn. He then quotes at length from Solzhenitsyn, on the necessity of telling the truth – live not by lies! Always good advice for anyone.
But the irony is that the whole article is headed by a photograph of Liz Chaney with the caption: "Rep. Liz Chaney (R., Wy) attends a tribute ceremony for Capitol Police officer Brian Sicknick who was killed during the riots in Washington, D.C., February 3, 2021.
The irony? Brian Sicknick was officially declared dead of natural causes at least a couple of weeks ago. Maybe the National Review should take Williamson's advice too.
https://www.cbsnews.com/news/brian-sicknick-capitol-riot-died-natural-causes/
Psalm of the Day: Psalm 129
Play audio: 0:08-0:47
Psalm 129 is a lament, crying out to God in the midst of persecution – enemies plowing the backs of God's people seeking to destroying them. But the Psalm asks God to grow a great crop of righteousness in those furrows and that the wicked whither apart from the blessing of God. The Psalms are the war songs of the church. Do you have enemies? Then tell the Lord about them. Do not seek personal vengeance, but leave vengeance to the Lord. He will repay. He will either repay in the justice of the cross and save our enemies, or else He will repay in the justice of Hell. Praise the Lord.
This is Toby Sumpter with Crosspolitic News. You can find this and all of our shows at Crosspolitic.com or on our app, which you can download at your favorite app store, just search "Fight Laugh Feast". Support Rowdy Christian media, and share this show or become a Fight Laugh Feast Club Member. Remember if you didn't make it to the Fight Laugh Feast Rally, club members have access to all the talks. Have a great day.