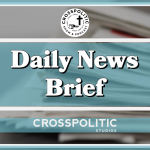 This is Garrison Hardie with your CrossPolitic Daily Newsbrief for Thursday, November 10th, 2022. Happy Thursday everyone.You magazine subscribers should start to receive our most recent copies of our Fight Laugh Feast Magazine! Issue 3.3, the Unwoke Church… speaking of which:
FLF Magazine:
We are on a mission to make magazines great again. So, subscribe to our Fight Laugh Feast magazine. This is a quarterly mini-book like experience, packed full of a variety of authors that includes theologically-driven cultural commentary, a Psalm of the quarter, recipes for feasting, laughter sprinkled throughout the glossy pages, and more. Sign your church up, sign your grumpy uncle up, and while you are at it…sign up the Pope, Elon Musk, and Russel Moore.
Disclaimer: This magazine will guarantee various responses and CrossPolitic is not held liable for any of them. Reading the whole magazine may cause theological maturation, possibly encourage your kids to take the Lord's Supper with you, and will likely cause you to randomly chuckle in joy at God's wondrous world. In addition to all of the above… starting next year, if you're a platinum club member, you'll get a magazine subscription for free! So if you're not a club member yet… Sign up today! Four issues and $60 per year (unless you're a platinum club member), that is it. Go to fightlaughfeast.com right now to sign up!.
https://www.theepochtimes.com/georgia-official-safe-to-say-there-will-be-senate-runoff-next-month_4852696.html?utm_source=partner&utm_campaign=BonginoReport
There Will Be Senate Runoff Next Month in Georgia
A Georgia election official said early Wednesday that it is likely there will be a Senate runoff election slated for December between incumbent Sen. Raphael Warnock (D-Ga.) and GOP challenger and former NFL star Herschel Walker.
Warnock appeared to hold a slim lead over Walker with around 98 percent of the vote counted. Warnock, however, did not reach the 50 percent threshold needed to avoid a runoff in the state. No election forecasters, including The Associated Press, have called the race.
Libertarian candidate Chase Oliver garnered about 2.1 percent of the vote. If the Georgia Senate race heads to a runoff, only Walker and Warnock would remain on the ballot—and Oliver would be removed.
Walker, meanwhile, appeared to be more optimistic. "I don't come to lose," Walker said, according to AP.
A runoff campaign would be a four-week blitz that, depending on the outcomes in other Senate contests, could reprise the 2020 election cycle, when two Senate runoffs in Georgia doubled as a national winner-take-all battle for Senate control. Victories from Warnock and Sen. Jon Ossoff (D-Ga.) left the chamber divided 50–50 between the two major parties, with Vice President Kamala Harris giving Democrats the tie-breaking vote.
Runoff dynamics this year would vary widely depending on the Senate makeup. If the Senate majority already has been settled, it could make it easier for Warnock to frame the race as a localized choice between himself and Walker. But if the Georgia outcome determines which party will hold a majority and set the agenda, Walker could have the upper-hand in his effort to tie Warnock to President Joe Biden and national Democrats.
https://www.foxnews.com/politics/gop-candidate-unseats-house-veteran-historic-upset-dems-took-granted
GOP candidate unseats Democratic leader in historic upset: Dems 'took it for granted'
Democratic Congressional Campaign Committee Chair Sean Patrick Maloney was defeated by GOP nominee and State Assemblyman Mike Lawler in a historic House loss in Tuesday's midterm election.
Lawler, who ran heavily on crime and the economy, will unseat the longtime congressman who was first elected in 2013, The Associated Press projects.
"I think he took it for granted." Lawler said in an interview with Fox News Digital on Wednesday. "As recently as a month ago he was traveling to Paris, London and Geneva to raise money for the DCCC. He did not start campaigning seriously in the district until a couple of weeks ago."
Maloney has come under fire in recent days for suggesting that families struggling with the impacts of inflation eat Chef Boyardee.
These comments come on the heels of Maloney's frequent trips to high-end European cities over the summer to raise money for House Democrats.
Lawler made crime a key focus of his campaign, running in a district where over half of the households have a cop, veteran or first-responder living in them, according to Lawler.
Despite this big-ticket win, the upset was one of only a handful House pickups for Republicans on a night where many political analysts and polls predicted a "red wave." The balance of power in the House is still in play with many races still uncalled.
https://www.foxnews.com/politics/ballot-initiatives-protecting-access-abortion-win-across-five-states-midterms
Ballot initiatives protecting access to abortion win across five states in midterms
Voters across the country backed a series of ballot initiatives on Tuesday protecting access to abortion.
The results were largely uniform from California to Montana to Michigan. Voters backed proposals to enshrine abortion rights into law, while simultaneously striking down efforts by conservatives to restrict the practice.
In Michigan, voters passed a ballot initiative creating a right to abortion within the state's constitution. The initiative, which passed by roughly double digits, according to the Michigan Board of Elections, also strikes down a 1931 law that bans abortion.
Voters backed similar ballot measures in Vermont and California enshrining abortion rights into their respective state constitutions.
In Republican-led Kentucky and Montana, meanwhile, voters struck down ballot initiatives seeking to restrict access to abortion.
Kentucky's citizens opted against amending the state constitution to clarify there is no right to abortion or a requirement for the government to fund the practice. The initiative failed by a 52-47% margin with nearly 90% of votes counted.
Montana's voters, on the other hand, are poised to reject a ballot measure codifying into state law federal protections for infants born after a botched abortion. The initiative would have defined an infant "alive" at any gestational age as a legal person.
It would have also instituted criminal penalties for health care providers that did not provide life-saving care to infants born during an attempted abortion.
While votes are still outstanding and the ballot initiative has not been officially rejected, opponents have a healthy lead.
https://www.breitbart.com/politics/2022/11/08/2022-election-cycle-sets-midterm-spending-record-16-7-billion/
2022 Election Cycle Sets Midterm Spending Record of $16.7 Billion
The 2022 election cycle set a midterm spending record of $16.7 billion, according to OpenSecrets.
The total represents money spent on both federal and state races.
No other midterm election has seen as much money at the state and federal levels as the 2022 elections," Sheila Krumholz, OpenSecrets' executive director, told CNBC. "We're seeing record-breaking totals spent on elections up and down the ballot."
Democrats raised over $1.1 billion from grassroots donors in 2022, double the amount of Republicans' grassroots efforts, according to the WinRed and ActBlue fundraising platforms, the Financial Times reported.
Republican PACs and committees out-raised Democrat committees and PACs by about 50 percent for a total of $1.1 billion.
The Republican donors who greatly contributed to the effort were historically active GOP backers. Half of the GOP committee and PAC money came from about 10 donors, "including $77mn from Richard Uihlein, $67mn from Ken Griffin, $44mn from Jeff Yass and $40mn from Timothy Mellon. Steve Schwarzman, Peter Thiel and Larry Ellison have each given $31mn-$34mn to these groups," the Times reported.
Much of the money was spent on Senate races.
https://dailycaller.com/2022/11/08/zelenskyy-negotiations-russia-economy-midterms/
Ukraine's Zelenskyy Says He's Open To Negotiations With Russia
Ukrainian President Volodymyr Zelenskyy signaled a willingness to consider negotiations with Russia after it was reported Washington has urged Ukraine to ease up on its hard line against negotiations with Russia on Monday, according to The Wall Street Journal.
Speaking ahead of his video address to the global climate summit held in Egypt, Zelenskyy laid out several conditions for returning to the negotiating table with Moscow, including respecting Ukraine's pre-war borders, offering reparations for the damage done to Kyiv and prosecuting those who have committed war crimes, according to the WSJ. The U.S. urged Kyiv to maintain a public appearance of openness to negotiating with Russia, even while acknowledging Russian leaders will not agree to withdrawal from occupied areas of Ukraine, The Washington Post reported Saturday.
U.S. leaders have reiterated that Ukraine has the final word on negotiating terms, according to the WSJ. Kyiv previously insisted no further talks could happen unless new leadership took over at the Kremlin.
Encouragement to keep an open posture toward negotiating with Russia is intended to secure the lasting support of allies, officials familiar with the matter told the Post. Many governments, including the United States, face growing opposition from constituencies concerned that funding the Ukrainian resistance could deepen economic hardships as inflation refuses to let up and food shortages loom.
Zelenskyy also on Monday urged "unwavering unity" in the U.S. until Ukraine sees "peace restored," according to AFP, as the U.S. will see votes cast for midterm elections Tuesday evening.
U.S. support for Ukraine could dip if the GOP achieves a majority in the House and Senate after the elections, a possibility increasingly on the table as Republican favorability rose in pre-election polls. Republicans have been more willing than their Democratic counterparts in Congress to express skepticism about the logic behind weapons transfers, and Republican voters consistently fall lower than Democrats in the opinion polls measuring willingness to support Ukraine.
However, Republican leaders have doubled down on their stance in support for Ukraine.
Gravity Jack:
Gravity Jack is a full service digital agency specializing in the development of Virtual & Augmented Reality experiences, mobile apps, blockchain and Web3 projects. Founded in 2009 as the first American agency to offer augmented reality, they even patented it; Gravity Jack's digital experiences have been a source of innovation for small business, Fortune 500 Companies, and the US Military. Get your vision in motion at gravityjack.com
Now it's time for my favorite topic, sports!
https://www.foxnews.com/sports/celtics-jaylen-brown-disagrees-terms-kyrie-irvings-return-nets-doesnt-think-hes-antisemitic
Celtics' Jaylen Brown disagrees with terms of Kyrie Irving's return to Nets, doesn't think he's antisemitic
Boston Celtics star Jaylen Brown said on Monday the National Basketball Players Association disagreed with the benchmarks set for Kyrie Irving in order for him to return from his Brooklyn Nets suspension.
Irving was suspended for at least five games until he adequately came to terms with the harm he caused when he tweeted a link to a movie that spread antisemitic misinformation. According to The Athletic, the terms included an apology, a donation of the agreed-upon sum of $500,000 to organizations that fight hate, complete sensitivity training, complete antisemitic/anti-hate training, meet with Anti-Defamation League and Jewish leaders in Brooklyn and meet again with Nets officials, including team owner Joe Tsai.
Brown told the Boston Globe on Monday he did not believe Irving was antisemitic.
"I don't believe Kyrie Irving is antisemitic," he told the paper. "I don't think people in our governing bodies think he's antisemitic. He made a mistake. We understand from an outside perspective how important sensitivity is to not condone hate speech and not condone anything of that nature.
"We don't want to stand up for somebody in order to not condemn hate speech, but I don't believe Kyrie Irving is antisemitic. And hopefully the NBA feels the same way."
Brown said the players had "discomfort" with the rules, because the current CBA does not include exact guidelines on punishment regarding social media posts. The Washington Post's Candace Buckner noted that Adam Silver fined J.R. Smith in the past for previous social media posts. Irving tweeted a screenshot of the synopsis of the movie.
"There is an interesting distinction between what somebody says verbally and what somebody posts as a link on a platform with no description behind it," Brown said. "Some people will argue there's no difference and some people will argue there is a difference. There's no language in our CBA. There's no rules against it. This is uncharted territory for everybody.
"The terms in which he has to fulfill to return, I think not just speaking for me, speaking as a vice president from a lot of our players, we didn't agree with the terms that was required for him to come back, and we're waiting for this Tuesday meeting to happen to see what comes of it."
Brown and Irving are vice presidents of the players union. Irving met with NBA commissioner Adam Silver on Tuesday.