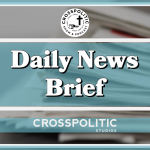 Two things to make you aware of before I get started. First sign up and subscribe to our magazine. Our Christiamas edition will ship out the first week of December, and it is hot! Sign up your church, your methodist parents, your mayor, and while you are at it, sign up your favorite woke pastor or socialist politician.
Secondly, we are slowly ramping up our clothing line over at RowdyChristian.com. And for the first time, men pay attention because I got a great Christmas present recommendation for you, we are selling a cute Fight Laugh Feast bracelet for the misses. So, go to RowdyChristian.com and we are excited for offering more and more in 2022.
If you use Venmo, PayPal or other payment apps this tax rule change may affect you
https://edition.cnn.com/2021/11/09/success/payment-app-tax-reporting-feseries/index.html?utm_content=2021-11-09T23%3A30%3A21&utm_source=fbCNN&utm_medium=social&utm_term=link&fbclid=IwAR3saD3-LZJ3ybv4V1EpmhfeUt1nQbqiqeIPzaHOxcBgtylX2wtODs03k1c
According to CNN:
If you're among the millions of people who use payment apps like PayPal, Venmo, Square, and other third-party electronic payment networks, you could be affected by a tax reporting change that goes into effect in January.
Payment app providers will have to start reporting to the IRS a user's business transactions if, in aggregate, they total $600 or more for the year. A business transaction is defined as payment for a good or service.
Prior to this change, app providers only had to send the IRS a Form 1099-K if an individual account had at least 200 business transactions in a year and if those transactions combined resulted in gross payments of at least $20,000.
The expansion of the reporting rule is the result of a provision in the American Rescue Plan, which was signed into law earlier this year. The ultimate aim of the provision is to clamp down on unreported, taxable income.
The rule change also does not make other transactions suddenly taxable. For instance, your friend sending you money on Venmo to reimburse you for their half of last night's dinner tab will not become taxable.
The biggest change is the increased visibility the IRS will have into business income transactions, both those that have always been reported by the income recipient and those that haven't been.
Florida GOP to OSHA: You're Done Here
https://townhall.com/tipsheet/mattvespa/2021/11/09/heres-how-florida-is-trying-to-circumvent-bidens-covid-vaccine-mandate-n2598768
According to Matt Vespa over at Townhall:
Florida Republicans have a message for OSHA: I want a divorce. There was some good news over the weekend. The courts ruled that the Joe Biden COVID vaccine mandate should be put on hold. Still, President Dementia has told companies to defy the courts and move forward with the protocols needed to satisfy this fascist vaccine demand. So, the Florida GOP is trying to sever ties with OSHA. Will it succeed? It's totally alien legal territory (via KCBY):
Now according to KCBY: https://kcby.com/news/nation-world/can-florida-pull-out-of-osha-to-sidestep-biden-vaccine-mandate
Republican lawmakers in Florida are proposing to pull out of the Occupational Safety and Health Administration (OSHA) in order to sidestep the Biden Administration's new vaccine mandate.
[…]
In response, Florida's Governor Ron DeSantis announced the state would sue the Biden Administration over the mandate and the state GOP lawmakers immediately began accusing President Biden of executive overreach.
"We are not going to let Joe Biden turn our businesses owners who are the backbone of our economy into the vaccine police," Treasure Coast State Rep. John Snyder told CBS 12 news in an interview…
State lawmakers will come back early to Tallahassee in two weeks for a special session, called by DeSantis to outlaw all vaccine mandates in the state. Republican leadership in Florida are proposing the state consider withdrawing from OSHA, so as to not be subject to the federal government's new vaccine requirement.
Top Biden Banking Nominee Wants to Bankrupt Oil, Gas, and Coal Industries
https://bongino.com/top-biden-banking-nominee-wants-to-bankrupt-oil-gas-and-coal-industries/
Roll Clip
Hotdawg DeBlasio
Roll Clip
NFL fines Green Bay Packers, QB Aaron Rodgers and receiver Allen Lazard for not following Covid-19 protocols
https://www.cnn.com/2021/11/09/us/aaron-rodgers-allen-lazard-green-bay-packers-nfl-fine/index.html?utm_term=link&utm_medium=social&utm_content=2021-11-10T03%3A29%3A51&utm_source=fbCNN&fbclid=IwAR3k_XwfIxU8J9HeVbtaSIjWbvI4b4TEgVRYgRC-1l04wWvoHebM0t2iexE
According to CNN:
The NFL issued fines to the Green Bay Packers, quarterback Aaron Rodgers and receiver Allen Lazard after its review found the team and its two players did not follow league Covid-19 protocols, NFL spokesman Brian McCarthy said Tuesday.
The Packers were fined $300,000, while Rodgers and Lazard were each fined $14,650, according to the discipline schedule negotiated by the NFL and the NFL Players Association.
The NFL determined Rodgers and Lazard each attended a Halloween party despite being unvaccinated, a violation of protocols prohibiting unvaccinated players from gathering outside of team facilities in a group of more than three players.
The NFL said while the team did not sanction the party, it was aware of the party after the fact and is being fined for failure to report the violations to the NFL and failure to discipline Rodgers and Lazard.
Packers President and CEO Mark Murphy told CNN, "We respect the League's findings and we recognize the importance of adherence to the COVID protocols to keep our team and organization safe and healthy. We will continue to educate the team regarding the importance of the protocols and
A North Dakota GOP lawmaker helped organize an anti-vaccine rally. Then he got covid and couldn't attend.
https://www.msn.com/en-us/news/us/a-north-dakota-gop-lawmaker-helped-organize-an-anti-vaccine-rally-then-he-got-covid-and-couldn-t-attend/ar-AAQxHvD
According to MSN:
Days ahead of an anti-vaccine rally he helped organize, North Dakota lawmaker Jeff Hoverson, a Republican, urged his social media followers to gather on the steps of the state capitol on Monday to oppose coronavirus vaccine mandates.
"Noon Monday capital steps Bismarck. We The People rally," Hoverson wrote on Facebook. "Extremely important for freedom from mandates legislation."
But he did not make it to the event.
On Sunday, a day before the rally, Hoverson announced he would be skipping the event because he had contracted the coronavirus. He said that he did not need to check into a hospital because he was taking ivermectin — a deworming drug that some people are using to prevent or treat covid, despite several public health agencies advising against it.
Ok I am going to stop right there. The reason why lamestream media is making these kinds of stories headlines, is because they are trying to point out that those who are against force vaccines are hypocrites. This of course is ridiculous. It would be more accurate to say, that those who are for forced vaccinations, and then they themselves get the COVID, they are the problem. It is their view that is the problem, because they believe in the vaccine so much, that they will force you to get it.
Closing
This is Gabriel Rench with Crosspolitic News. Support Rowdy Christian media by joining our club at fightlaughfeast.com, downloading our App, and head to our annual Fight Laugh Feast Events. With your partnership, together we will fight outdated and compromised media, engage news and politics with the gospel, and replace lies and darkness with truth and light. Go to fightlaughfeast.com to take all these actions. Have a great day. Lord bless