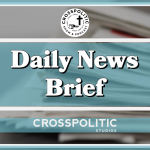 This is Garrison Hardie with your CrossPolitic Daily News Brief for Thursday, November 2nd, 2023.
Redballoon
Not so long ago, the American dream was alive and well. Employees who worked hard were rewarded, and employers looked for people who could do the job, not for people who had the right political views. RedBalloon.work is a job site designed to get us back to what made American businesses successful: free speech, hard work, and having fun. If you are a free speech employer who wants to hire employees who focus on their work and not identity politics, then post a job on RedBalloon. If you are an employee who is being censored at work or is being forced to comply with the current zeitgeist, post your resume on RedBalloon and look for a new job. redballoon.work, the job site where free speech is still alive!
https://thepostmillennial.com/only-3-5-of-americans-opted-to-get-latest-covid-shot-cdc?utm_campaign=64487#google_vignette
Only 3.5% of Americans opted to get latest Covid shot: CDC
New data from the Centers for Disease Control has revealed that just 3.5 percent of Americans opted to receive the latest Covid booster shot despite the Biden administration urging Americans 60 years of age and older, as well as those who are immunocompromised, to vaccinate themselves against a "tripledemic" of the latest Covid strain, the flu, and respiratory syncytial virus (RSV).
The lack of demand for the new vaccine has pharmaceutical giants such as Pfizer recording losses, with much of its stock having to be thrown out.
According to the CDC, just 7 percent of adults and 2 percent of children in the United States got inoculated against the recent strains of Covid, a stark decrease from the initial vaccine rollout.
Polling shows that those numbers aren't likely to get much higher in the coming months and years, with 40 percent of Americans saying they probably or definitely won't get another Covid shot, and a similar percentage saying the same when asked whether they will vaccinate their children.
As PBS reports, despite the fact that Covid deaths and hospitalizations are lower this year than in the previous three years of the virus' existence, an expert called the latest vaccination numbers "abysmal."
In June, the Biden administration called on vaccine manufacturers Pfizer-BioNTech, Moderna, and Novovax to make new Covid vaccines.
In an interview with the New York Times, Boston Children's Hospital vaccine program director and Food and Drug Administration adviser Dr. Ofer Levy called the availability of vaccines against RSV, Covid, and the flu a "godsend" for vulnerable Americans. He noted that tens of thousands die every year as the result of viral infections.
Despite their efforts, fewer Americans have sought a fresh dose of the vaccine due in large part to the prevalence of previous vaccinations and infections, which have led to milder cases for many. Other reasons that may be influencing their decisions include the fact that unlike before, the jabs are no longer free, though they may still be covered under some insurance policies.
https://timcast.com/news/pfizer-hid-nearly-80-of-covid-vaccine-trial-deaths-from-regulators/
Pfizer Hid Nearly 80% of Covid Vaccine Trial Deaths From Regulators
According to new forensic analysis in the International Journal of Vaccine Theory, Practice, and Research, Pfizer failed to disclose evidence of more than a 3.7-fold increase in the number of cardiac deaths among vaccine recipients compared to those who received a placebo.
"This means that 79 percent of relevant deaths were not recorded in time to be included in Pfizer's regulatory paperwork," Angelo DePalma, Ph.D. wrote for Children's Health Defense (CHD) regarding the study. "By not including relevant subject deaths in the case report, Pfizer obscured cardiac adverse event signals, allowing the EUA to proceed unchallenged."
A comparison of the number of deaths per week during the 33 weeks of the study found no significant difference between the number of deaths in vaccinated versus placebo groups for the first 20 weeks, the placebo-controlled portion of the trial.
"After week 20, as subjects in the placebo were vaccinated, deaths among this still unvaccinated cohort of this group slowed and eventually plateaued," researchers found. Deaths in the "vaccinated subjects continued at the same rate," leading the scientists to inconsistencies between the data Pfizer reported and the actual number of deaths reported after vaccination.
According to CHD, Pfizer's clinical trial abandoned standard practices when at week 20 it allowed "unblinding," where the placebo group was allowed to switch to the vaccinated group. Typically, they note, this only occurs when the benefit of the drug is so great that not treating subjects becomes unethical.
"Normally the decision to unblind a vaccine trial would be based on the product's safety and effectiveness in reaching certain endpoints or objectives," CHD explained. "But, perhaps unexpectedly, after 33 weeks the data revealed no significant difference between deaths in the vaccinated and placebo groups for the initial 20-week placebo-controlled portion of the trial."
CHD added, "Had Pfizer-BioNTech met their legal and ethical obligation to report all serious adverse events their data would have shown equal deaths in placebo and vaccine groups — which would have shown no clear benefit for the vaccine."
On Oct. 31, Pfizer reported a net loss of $2.38 billion due to "write-offs of Covid products."
https://fee.org/articles/why-justin-trudeau-is-blaming-grocers-for-surging-food-prices-in-canada/
Why Justin Trudeau Is Blaming Grocers for Surging Food Prices in Canada
New government data emerged this week showing that food prices in Canada continue to climb.
Though year-over-year inflation of consumer prices overall cooled to 3.8% in September, food prices increased 5.8% from a year ago, driven by surging prices of bakery products (up 8%), fresh vegetables (7.6%), pasta products (10.8%), and poultry (6.5%).
Food prices have long been a sore spot for Canadians. Even prior to 2023, statistics showed that some 7 million Canadians, including 1.8 million children, were in households struggling to put food on the table.
As inflation continued to drive food prices upward in 2023, consumer outrage quickly mounted.
"If I'm paying that much, I hope there's gold in that chicken," one user responded to a viral tweet in January showing a $37 price tag on a package of chicken breasts.
The episode prompted accusations of price gouging and a high-profile story in the New York Times — but the paper reported that outrage at grocers was misplaced.
"While it's easy to get angry at the grocer, there's very little evidence that the grocers are actually taking advantage of the situation," said Mike von Massow, a food economics professor at the University of Guelph in Ontario.
Food prices have only gotten worse since then, and Prime Minister Justin Trudeau, apparently not a reader of the New York Times, has found the same scapegoat as many others unversed in basic economics: grocers.
Last month, Trudeau threatened to slap grocery stores with new taxes if they don't find a way to lower food prices.
"Large grocery chains are making record profits. Those profits should not be made on the backs of people who are struggling to feed their families," Trudeau told an Ontario crowd.
By taking aim at grocers and "record profits," Trudeau is parroting the rhetoric of some U.S. politicians, including Sen. Elizabeth Warren (D-MA), who has argued that inflation is being driven by "corporate greed."
The idea that corporations suddenly became greedy in the aftermath of the pandemic never passed the economic smell test, and it was recently rebutted in a Federal Reserve paper.
"Corporate profit margins were not abnormally high in the aftermath of the COVID-19 pandemic, once fiscal and monetary interventions are accounted for," noted Dino Palazzo, senior economist at the Federal Reserve Board.
Yet politicians such as Trudeau, who less than a year ago criticized the idea of using a windfall tax on grocery companies to lower food prices, have repeated the claim over and over again that greedy corporations are the root cause of inflation. Why?
The answer is simple: the true blame for inflation lies with them.
Pierre Poilievre, leader of Canada's Conservative Party, hit the nail on the head in a recent interview when he pointed out that the Canadian government's policies are to blame for inflation — as are those who lead it.
"[Trudeau] prints $600 billion, grows our money supply by 32% in three years," Poilievre said. "That's growing the money eight times faster than the economy. No wonder we have the worst inflation in four decades."
This is the mystery of inflation. (It's not really a mystery.) Politicians and central banks flooded the economy with money, which devalued the currency.
Basic economics teaches that increasing the money supply faster than an economy can provide new goods and services will result in price inflation, and that is precisely what we've witnessed. Indeed, for much of modern history, inflation was defined as expansion of the money supply, not an increase in prices (which is the consequence of expanding the money supply). Henry Hazlitt famously explained the difference in Economics in One Lesson.
"Inflation is an increase in the quantity of money and credit. Its chief consequence is soaring prices," Hazlitt explained. "Therefore inflation — if we misuse the term to mean the rising prices themselves — is caused solely by printing more money."
Politicians such as Trudeau cannot, of course, admit it's their own policies and money printing that are to blame for high food prices. So they hold speeches blaming grocery stores and food producers for the inflation they caused and threaten them with new taxes.
Whether Canadians will see through Trudeau's crude charade is unclear. What is clear is that Canadian grocers are not responsible for the skyrocketing price of food in Canada. Justin Trudeau and the Bank of Canada are.
https://thepostmillennial.com/exclusive-anaheim-high-schools-mandate-courses-in-far-left-activism-political-engagement-and-ethnic-studies?utm_campaign=64487
Anaheim high schools mandate courses in far-left activism, political engagement, and 'ethnic studies'
The American educational system has been intentionally picked apart and deconstructed. Where once the goal of education was to relay cultural knowledge from arts and literature to science and maths, recent decades have seen an intentional shift toward the obliteration of that form of education, and in essence, the erasure of the cultural knowledge that has been imparted.
Critical race and gender theory are also used as part of the furtherence of these goals, which parents have spoken up against in recent years. The intent of this new form of education is the erasure of the culture, history, arts, letters and sciences that elevated American society to the echelons of global dominance.
Nowhere is this more evident than in the classroom. The course selection and the currciculum being offered in the award-winning Anaheim Union High School District, was uncovered by Parents Defending Education (PDE).
Via a public records request, PDE learned that 16 Ethnic Studies courses have been approved for Anaheim high school students. The terminology of "ethnic studies" is a ruse for a course of study that undermines American culture and seeks to turn students from scholars into activists.
"Anaheim Union High School District has peppered its district in so-called 'Ethnic Studies' courses," said Caroline Moore, Vice President of Parents Defending Education. "Unlike what we've seen throughout California, this district purposely inserts race, identity, and racism into classes ranging from Spanish to Dance. Their students would better be served by learning history based in truth and facts, as opposed to dancing out their supposed 'Eurocentric' racism or 'oppressor' mentality."
A course called "Cultural Experiences in America" intends to "provide an emancipatory education." The goal here is to teach students the way that "their identities, including race, ethnicity, culture, and nationality" are "socially constructed."
In short, that means the goal is to teach students the way that American culture has oppressed them. In this course, American culture is the enemy.
Course descriptions use language that, at first glance, sounds harmless enough. But it's essential to get these definitions straight. "Emancipatory education" is a phrase coined by Paulo Freire, author of "Pedagogy of the Oppressed," a core text for those dismantling education.
This is precisely the course of study Anaheim has in mind with courses like "English I: Ethnic Studies," which is required for graduation. The description of the course states as its goal the promotion of political activism. The course "expands on the understanding of each student's social responsibility to their community and the world. By encouraging agency and student voice through the use of present social reform, political movements and social justice topics, students will gain an understanding of the world around them.
"Students will explore the experiences of Indigenous/Native American, Black/African American, Chicanx/Latinx and Asian/Asian American and Pacific Islander in all their complexity and diversity," the course description continues.
A theater course could more accurately be described as an activism course. "Ethnic Studies Theater: The Art of Storytellling" is a course that advocates for students to critique "social constructs that have been conditioned through systems of oppression and underrepresentation as well as misrepresentation to find and develop their own voices through the medium of theater."
A required component are "Project Based Learning Assignments" that are intended to "foster active consciousness, social engagement and agency" through the study of "the histories of race, ancestry, national origin, disapora, racism, hegemony, ethnicity, and culture."
This course is designed to first teach the students that they are oppressed, teach them who to blame for that oppression, and how to become activists who endeavor to free themselves and all of society from the burden of that oppression.
Conservatives in America caught on too late, and despite the recent attempts by parents and education activists to slam on the brakes, the deconstructionist forms of curriculum keep rolling in. What first reared its ugly head in education graduate programs has now been fully disseminated into American education at large.