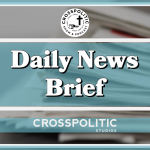 This is Garrison Hardie with your CrossPolitic Daily Newsbrief for Thursday, November 3rd, 2022. Good to be back with you all, let's get right into the news!
https://www.cnbc.com/2022/11/02/fed-hikes-by-another-three-quarters-of-a-point-taking-rates-to-the-highest-level-since-january-2008.html
Fed approves 0.75-point hike to take rates to highest since 2008 and hints at change in policy ahead
The Federal Reserve on Wednesday approved a fourth consecutive three-quarter point interest rate increase and signaled a potential change in how it will approach monetary policy to bring down inflation.
In a well-telegraphed move that markets had been expecting for weeks, the central bank raised its short-term borrowing rate by 0.75 percentage point to a target range of 3.75%-4%, the highest level since January 2008.
The move continued the most aggressive pace of monetary policy tightening since the early 1980s, the last time inflation ran this high.
Along with anticipating the rate hike, markets also had been looking for language indicating that this could be the last 0.75-point, or 75 basis point, move.
The new statement hinted at that policy change, saying when determining future hikes, the Fed "will take into account the cumulative tightening of monetary policy, the lags with which monetary policy affects economic activity and inflation, and economic and financial developments."
Economists are hoping this is the much talked about "step-down" in policy that could see a rate increase of half a point at the December meeting and then a few smaller hikes in 2023.
This week's statement also expanded on previous language simply declaring that "ongoing increases in the target range will be appropriate."
The new language read, "The Committee anticipates that ongoing increases in the target range will be appropriate in order to attain a stance of monetary policy that is sufficiently restrictive to return inflation to 2 percent over time."
Stocks initially rose following the announcement, but turned negative during Chairman Jerome Powell's news conference as the market tried to gauge whether the Fed thinks it can implement a less restrictive policy that would include a slower pace of rate hikes to achieve its inflation goals.
On balance, Powell dismissed the idea that the Fed may be pausing soon though he said he expects a discussion at the next meeting or two about slowing the pace of tightening.
He also reiterated that it may take resolve and patience to get inflation down.
The rate increase comes as recent inflation readings show prices remain near 40-year highs. A historically tight jobs market in which there are nearly two openings for every unemployed worker is pushing up wages, a trend the Fed is seeking to head off as it tightens money supply.
Concerns are rising that the Fed, in its efforts to bring down the cost of living, also will pull the economy into recession. Powell has said he still sees a path to a "soft landing" in which there is not a severe contraction, but the U.S. economy this year has shown virtually no growth even as the full impact from the rate hikes has yet to kick in.
At the same time, the Fed's preferred inflation measure showed the cost of living rose 6.2% in September from a year ago – 5.1% even excluding food and energy costs. GDP declined in both the first and second quarters, meeting a common definition of recession, though it rebounded to 2.6% in the third quarter largely because of an unusual rise in exports. At the same time, housing demand has plunged as 30-year mortgage rates have soared past 7% in recent days.
On Wall Street, markets have been rallying in anticipation that the Fed soon might start to ease back as worries grow over the longer-term impact of higher rates.
The Dow Jones Industrial Average has gained more than 13% over the past month, in part because of an earnings season that wasn't as bad as feared but also due to growing hopes for a recalibration of Fed policy. Treasury yields also have come off their highest levels since the early days of the financial crisis, though they remain elevated. The benchmark 10-year note most recently was around 4.09%.
There is little if any expectation that the rate hikes will halt anytime soon, so the anticipation is just for a slower pace. Futures traders are pricing a near coin-flip chance of a half-point increase in December, against another three-quarter point move.
https://thepostmillennial.com/bidens-cdc-replaces-word-woman-with-pregnant-person-in-flu-vaccine-guidance?utm_campaign=64487
Biden's CDC replaces word 'woman' with 'pregnant person' in flu vaccine guidance
The US Centers for Disease Control (CDC) has removed the word woman from sections of its safety guidance on flu vaccines during pregnancy.
According to the Daily Mail, gendered terms such as woman, women, mother and she/her pronouns were all erased from the Q & A section of the Flu Vaccine Safety and Pregnancy page in August of last year. The words were replaced with gender-neutral language such as "pregnant people" and the gender-neutral pronoun "their."
However, the words woman and mother still appear in other sections of the CDC website, such as the Vaccines During Pregnancy FAQ page.
"Influenza is more likely to cause severe illness in pregnant people," says the CDC. "Flu shots given during pregnancy help protect the 'pregnant parent' and the baby from flu."
Those advocating for the use of gender-neutral language in the healthcare setting argue that the intention is to ensure that everyone feels included.
So for example because a tiny number of females who identify as men may become pregnant, the word woman should be removed from maternity care to include them.
But feminist campaigners have suggested that the so-called inclusive language only appears to go one way. Ovarian cancer apparently now affects "people" not women, but prostate cancer still affects men.
Healthline referred to "men" and "vulva-owners" last year on its HPV information pages.
Meanwhile, MedicineNet.com kept the definition of male as "the sex that produces spermatozoa" but redefined female as being a complicated mix of chromosomal anomalies and gender identity.
This has led some to speculate that this new inclusive language is not so much about being inclusive of everybody and more about ensuring that the word woman is never used in a way that excludes males who identify as women, while at the same time not reminding those males of their biology.
New Saint Andrews:
Today's culture shifts like sand. But New Saint Andrews College is established on Christ, the immovable rock. It is a premier institution that forges evangelical leaders who don't fear or hate the world. Guided by God's Word, they take the world back because they're equipped with the genius of classical liberal arts and God-honoring wisdom, thanks to a faculty dedicated to academic rigor and to God's kingdom.Find out more, at nsa.edu/
https://justthenews.com/nation/economy/facebook-stock-down-70-down-800-billion-market-cap-year-nears-end
Investors reportedly disgruntled as Facebook stock down 70%, company out $800 billion in market cap
Investors in Facebook parent company Meta are reportedly growing dissatisfied with the company's fixation on the "metaverse" as the corporations' stock continues to plunge and its market capitalization continues a long slide.
The company has seen its stock plummet throughout 2022, shedding more than 70% of its value from the start of the year as it fell from over $330 per share in January to nearly $90 per share this week.
The company's market cap has also plunged from its high last year, dropping from just over $1 trillion in August of 2021 to under $250 billion in November.
Investors, meanwhile, are reported to be unhappy with the company's business direction, specifically founder Mark Zuckerberg's fixation on the virtual reality "metaverse," a project that has generated relatively little excitement outside of esoteric tech circles.
Jim Tierney, an investment officer for Meta shareholder AllianceBernstein, told the Financial Times that, had any other company plowed so much money into a strategically dubious project, "you'd have activist investors writing letters, proposing alternative slates of directors, demanding change."
David Older, an asset manager at Carmignac, claimed that Zuckerberg has been "tone-deaf to the investment community, doubling down on everything."
"The timeline for the metaverse is very stretched. I don't think you're going to know if it is the right move for five or 10 years," he told FT.
Meta, meanwhile, told FT that the company "value[s] the opinions of our investors and regularly engage with them to ensure we're aware of their respective perspectives."
https://www.foxnews.com/us/kansas-woman-helmed-female-isis-battalion-sentenced-20-years-prison
Kansas woman who helmed female ISIS battalion sentenced to 20 years in prison
Allison Fluke-Ekren, a 42-year-old woman who grew up on a farm in Overbrook, Kansas, was sentenced to two decades in prison on Tuesday for leading the Khatiba Nusaybah, an all-female ISIS battalion in Raqqa, Syria.
Fluke-Ekren's own children asked the judge to hand down the maximum sentence, 20 years, during victim impact statements at the hearing.
Fluke-Ekren tearfully spoke to the judge before her sentencing. "I deeply regret my choices, but I also deeply sympathize with women abused and raped in Syria."
In a plea deal made with the government, Fluke-Ekren admitted she translated and analyzed documents taken from the U.S. Consulate in Benghazi, Libya, after the terrorist attack on the facility in 2012.
She tried to explain to the court some of her actions during the seven years she spent in Syria. "I was afraid of my conduct in Benghazi. I just didn't see a way out."
Fluke-Ekren also stressed that for most of her time in Syria, she had been just a mother, caring for her several children as well as other children and their mothers.
Federal Judge Leonie Brinkema said she did not find Fluke-Ekren's claims "wholly credible," saying she had "downplayed the impact" of her role in the Benghazi attack.
The judge continued, "There's no question you were providing material support for a terrorist organization," and emphasized several times during the hearing that was the crime for which Fluke-Ekren would be sentenced.
Earlier in the sentencing hearing, two of Fluke-Ekren's adult children gave emotional statements against their mother.
Layla Ekren was visibly trembling in court for nearly an hour before she got her chance to tell Brinkema that her mother abused her as a child. She told the court about one instance in Syria when the family had lice, and her mother held her down on the ground and poured the medicine on her eyes in an apparent attempt to blind her.
First Assistant U.S. Attorney Raj Parekh laid out the allegations against Fluke-Ekren in a sentencing memo, writing that she urged a woman to commit a suicide bombing and told others that her oldest son was born after she was raped by an American soldier as a way to gain favor with other terrorists.
https://justthenews.com/world/middle-east/united-nations-orders-israel-get-rid-nuclear-weapons
United Nations calls on Israel to get rid of nuclear weapons
The United Nations General Assembly has passed a resolution calling on Israel to dispose of all of its alleged nuclear weapons and to put its nuclear sites under the jurisdiction of the International Atomic Energy Agency.
The resolution, led by the UN's First Committee, which deals with nuclear disarmament, passed 152-5 over the weekend.
Egypt submitted the resolution to the General Assembly in New York with sponsors including the Palestinian Authority and 19 countries including Morocco and the United Arab Emirates, the Jerusalem Post reported.
The five countries that opposed the resolution were Canada, Israel, Micronesia, Palau and the United States. Twenty-four countries including European Union members, abstained from the vote.
Israel has never admitted to having nuclear weapons but is widely believed to have them.
Israel is one of the few U.N. member states that has not signed the Non-Proliferation of Nuclear Weapons Treaty.
Iran is a signatory on the treaty, but international authorities believe that Tehran may already possess nuclear weapons.
The resolution, on the "risk of nuclear proliferation in the Middle East," did not include Iran.
The resolution calls on Israel "to accede to the Treaty without further delay, not to develop, produce, test or otherwise acquire nuclear weapons, to renounce possession of nuclear weapons and to place all its unsafe guarded nuclear facilities under the full scope of Agency safeguards as an important confidence-building measure among all States of the region and as a step toward enhancing peace and security."
https://news.yahoo.com/dwyane-wades-ex-wife-fears-175220499.html
Dwyane Wade's Ex-Wife Fears He's 'Pressuring' Zaya Into Name And Gender Change For Financial Gain
Dwyane Wade's ex-wife, Siohvaughn Funches-Wade, the star's first wife and mother of his two oldest children, filed paperwork this week asking a judge to postpone their daughter Zaya's sex change until she's 18. In Funches-Wade plea to the judge, she claims the NBA star is exploiting their daughter for financial income.
According to The Blast, Funches-Wade has sentiments about Zaya being pressured into the permanent change by Dwayne.
"I have concerns that (Dwyane) may be pressuring our child to move forward with the name and gender change in order to capitalize on the financial opportunities that he has received from companies," she said in her legal filing.
The filing was in response to an August petition by Dwayne asking permission for Zaya to legally change her name from Zion Malachi Airamis Wade to Zaya Malachi Airamis Wade.
Zaya came out as transgender in 2020 at the age of 12. Dwayne's argument concerning his ex-wife's petition was acknowledging that he is the legal guardian of their children and has the legal right to make decisions on his daughter's behalf.
Funch-Wade says during a conversation in April, Dwayne told her "a lot of money had been already made, and that additional money will be made in relation to our child's name and gender issue."
Funch-Wade alleges her ex-husband only informs her of their children's life choices out of 'courtesy' but states she wants to be hands-on in all decisions affecting the children. She also claims he is legally required to consult her on "major decisions affecting care, welfare, activities, health, education and religious upbringing."
Funch-Wade and Dwayne will have a hearing in December to determine whether Zaya can change her name and sex without her agreement.