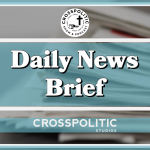 Close race for governor in NJ, GOP's Youngkin takes Virginia
https://apnews.com/article/election-2021-virginia-governor-glenn-youngkin-mcaulife-6cdbf77acf9a966e216ab2a297601baa
Werkz:
It is said that "Carrying a gun is not supposed to be comfortable, it's supposed to be comforting." Shan and his team at Werkz believe a holster should be pleasant, concealable, and accessible. Werkz's light-bearing holsters are designed to work with a range of different attachments so you can find the optimal carry style that suits you. <Interject Experiences Here> Use their holster finder at Werkz.com/CrossPolitic <http://werkz.com/CrossPolitic> so you can carry comfortably and be prepared to defend yourself day and night.
First black woman elected to statewide office in Virginia is Republican Winsome Sears
CWWI:
Did you know that more than 75% of those raised in evangelical, Presbyterian, and Reformed churches don't pursue any kind of Christian higher education? Surprising isn't it. Cornerstone Work & Worldview Institute is seeking to provide a new, exciting, and affordable option for Christians.
Their mission is to build Kingdom culture in the workplace by equipping their students in a Trinitarian worldview and vocational competencies. Their low-cost full-time program offers integrative course modules, internships, and mentoring so their students can finish debt-free with vocational preparation, a robust faith, and financial potential to build strong godly families and homes rooted in their communities and churches long-term.
The program is offered face-to-face in beautiful Southern Illinois or remotely, anywhere you are.
Visit our website at www.cornerstonework.org <http://www.cornerstonework.org/> to find out more about enrolling.
Paper ball…
A little sports news…
https://www.theblaze.com/news/aaron-rodgers-secretly-unvaccinated-covid-positive
The Ford government announced today that it will not mandate the COVID-19 vaccine for health care workers.
https://thepostmillennial.com/breaking-ford-says-ontario-will-not-mandate-vaccine-for-healthcare-workers/