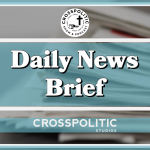 Hi this is Garrison Hardie with your CrossPolitic Daily News Brief for Thursday, October 20th, 2022.
FLF Magazine:
We are on a mission to make magazines great again. So, subscribe to our Fight Laugh Feast magazine. This is a quarterly mini-book like experience, packed full of a variety of authors that includes theologically-driven cultural commentary, a Psalm of the quarter, recipes for feasting, laughter sprinkled throughout the glossy pages, and more. Sign your church up, sign your grumpy uncle up, and while you are at it…sign up the Pope, Elon Musks, and Russel Moore.
Disclaimer: This magazine will guarantee various responses and CrossPolitic is not held liable for any of them. Reading the whole magazine may cause theological maturation, possibly encourage your kids to take the Lord's Supper with you, and will likely cause you to randomly chuckle in joy at God's wondrous world. Sign up today! Four issues and $60 per year, that is it. Go to fightlaughfeast.com right now to sign up!
https://thepostmillennial.com/breaking-cdc-moves-to-add-covid-vaccine-to-child-immunization-schedule-for-federal-programs?utm_campaign=64487
CDC moves to add Covid vaccine to child immunization schedule for federal programs
On Thursday, the Center for Disease Control (CDC) is set to vote on whether or not to include the Covid vaccine in their recommended schedule of shots for children and teens.
The CDC's Advisory Committee on Immunization Practices (ACIP) is scheduled to meet on Wednesday and Thursday to discuss, amongst other topics, whether to include the Covid vaccines and other vaccinations into their child and adolescent immunization schedule.
According to WBOY, the CDC is considering adding the vaccine to their schedule in order for it to be covered under the federally-funded Vaccines for Children (VFC) Program and other programs.
In order for vaccines to be covered under health plans, shots must be approved by the CDC director, and appear on the CDC's immunization schedule, according to a document from the CDC.
According to the CDC, VFC is a federally funded program that provides vaccines to children at no cost to families.
The CDC's immunization schedule for kids is seen as a recommendation for parents and physicians on when certain vaccines should be administered. The schedule also serves as a building block for school districts nationwide, many of whom chose to follow these guidelines as requirements for children to enter public schools.
The inclusion of the Covid-19 vaccine on this schedule could give the green signal for school districts to enforce mandates on their students, with some schools across the country pausing their mandates over low vaccination numbers in minors.
Many European nations have said that Covid vaccines are not necessary for children.
https://thepostmillennial.com/abc-news-investigative-producer-disappears-after-fbi-raid?utm_campaign=64487
ABC News investigative producer disappears after FBI raid, was working on book about Biden's Afghanistan withdrawal
An award-winning ABC News national security investigative producer has seemingly gone missing following an FBI raid on his home in April for unclear reasons. James Gordon Meek was in the process of writing a book on the Biden administration's controversial withdrawal from Afghanistan when his neighbors spotted armored vehicles outside of his home, and he hasn't been heard from since.
Meek, 52, was best known for his breaking news stories on high levels of corruption within the US military. His bombshell report of the Army's coverup of the fratricidal death of Pfc. Dave Sharrett II in Iraq landed Meek a meeting with then-President Obama. He seemed to be at the height of his career, with nine years at ABC, a newly-released documentary on Hulu, and a book on the way. That's why so many are baffled at his mysterious and uncharacteristically abrupt disappearance.
It was on April 27 of this year when police cruisers and unmarked utility vehicles were spotted blocking the street outside of Meek's Arlington, Virginia apartment building, according to a Rolling Stone report. That was around the time of his last online activity, with one last "like" being sent from his Twitter account on May 2. Since then, he's been silent.
An FBI representative confirmed that agents were present that morning "at the 2300 block of Columbia Pike, Arlington, Virginia, conducting court-authorized law-enforcement activity."
"The FBI cannot comment further due to an ongoing investigation," they said.
A federal magistrate judge signed off on the search warrant the day before the raid. In accordance with a new policy enacted last year, federal prosecutors are not allowed to seize journalists' documents without approval from the Deputy Attorney General, meaning that Biden-appointed Lisa Monaco had to have given her blessing if that's what the raid was for.
Despite the bureau's involvement, Meek has not been charged with any crime.
Anonymous sources claimed to Rolling Stone that federal agents found classified information on Meek's laptop, but the contents of said information are unknown at this time. His lawyer, Eugene Gorokhov, responded to the claims.
"Mr. Meek is unaware of what allegations anonymous sources are making about his possession of classified documents. If such documents exist, as claimed, this would be within the scope of his long career as an investigative journalist covering government wrongdoing. The allegations in your inquiry are troubling for a different reason: they appear to come from a source inside the government. It is highly inappropriate, and illegal, for individuals in the government to leak information about an ongoing investigation. We hope that the DOJ [Department of Justice] promptly investigates the source of this leak."
Still, no comment on where exactly his client is.
https://hotair.com/ed-morrissey/2022/10/19/abrams-you-can-fight-inflation-by-aborting-more-babies-you-know-n504398
Stacey Abrams suggests having an abortion as solution to inflation: 'Economic realities of having a child'
Democratic Georgia gubernatorial candidate Stacey Abrams was criticized on Wednesday after suggesting that having an abortion could be a solution to high inflation and claiming that "having children" is why people are worried about the price of gas and groceries.
https://twitter.com/i/status/1582726622859624449 – Play Video 0:00-1:32
Abrams made her remarks a day after President Biden pledged that if Democrats keep control of Congress, he will codify in January the federal right to abortion once granted by the recently overturned Roe v. Wade Supreme Court decision.
At no point during the speech did the president, who was a freshman senator nearly 50 years ago when Roe v. Wade was decided in January 1973, mention inflation or the economy.
The same day, House Speaker Nancy Pelosi (D-Calif.) rejected a New York Times poll that found voters believe the economy and inflation are the top two issues facing the nation, calling it an "outlier."
Abrams said at the end of September that there was "no such thing" as a fetal heartbeat at 6-weeks.
https://thepoliticalinsider.com/fake-news-zelenskys-famous-quote-of-need-ammunition-not-a-ride-never-happened/
Fake News: Zelensky's Famous Quote of 'Need Ammunition, Not a Ride' Never Happened
A senior official claims that a famous quote by Ukrainian president Volodymyr Zelensky appears to be fake news, war propaganda.
The quote about needing ammunition helped catapult his credentials as a defiant wartime leader.
The revelation came amidst a sprawling report by the New Yorker on the Biden administration's support for Ukraine, which is far more extensive than previously known and includes operational planning at the highest levels.
But Zelensky's famous line – "I need ammunition, not a ride" – and the fact that it may have been completely fabricated and promoted by the media ad nauseam casts a further pall on a war narrative that has at times seemed crafted by the heavy hand of a former actor.
From the New Yorker:
Two days into the invasion, the Associated Press reported that Zelensky had rejected a U.S. offer to evacuate him from Kyiv, saying, "I need ammunition, not a ride." A senior U.S. official said, "To the best of my knowledge, that never happened." The official added, "But hats off to Zelensky and the people around him. It was a great line."
If you're searching for evidence that the American media are perfectly fine with helping to perpetuate falsehoods in the war effort in Ukraine, you need look no further than the Washington Post and fact-checker Glenn Kessler.
Kessler analyzed the claim that Zelensky had uttered the quote: "I need ammunition, not a ride."
Though he admitted the claim was not easily verifiable, he concluded using Zelensky's press secretary that "the quote, even if not accurate, reflects the moment."
At least he tried. The rest of the media simply ran with it.
This isn't the first time stories coming out of Ukraine had proven to be completely orchestrated in an effort to drum up emotional support from the United States.
Around the same time as the Zelensky 'ammunition' quote, a story was developing about a defiant group of 13 Ukrainian border guards defending Snake Island in the Black Sea who reportedly told a Russian warship to "go f*** yourself" after being ordered to surrender.
The 13 Ukrainian border guards were initially widely reported as killed as the Russian warship opened fire with barreled guns and aircraft bombing Snake Island.
Zelenskyy said during a press briefing that the guards died "heroes" and even said the 13 would be posthumously awarded the title of Hero of Ukraine.
It was later reported they were still alive and in Russian captivity.
Then, of course, there is the infamous 'Ghost of Kyiv' propaganda promoted by some prominent figures here in the United States. Some, like Rep. Adam Kinzinger, were so willing to believe the story they promoted fake images of a meme-character known as Samuel Hyde.
It's breathtaking the number of stories like the Zelensky ammunition fairytale that have been thrust upon the American people as a means to justify the absurd level of financial and military support being offered to Ukraine at our expense.
Fox News host Tucker Carlson has seemingly had enough, eviscerating Zelensky for making further outrageous demands for financial aid while the United States economy, and the American people, are suffering.
https://twitter.com/i/status/1580717198703611904 – Play Video
"Zelenskyy is now shaking down our cowardly Congress for more cash at the very moment our own economy and our own borders are collapsing," Carlson added.
New Saint Andrews:
Today's culture shifts like sand. But New Saint Andrews College is established on Christ, the immovable rock. It is a premier institution that forges evangelical leaders who don't fear or hate the world. Guided by God's Word, they take the world back because they're equipped with the genius of classical liberal arts and God-honoring wisdom, thanks to a faculty dedicated to academic rigor and to God's kingdom.Find out more, at nsa.edu/
Now it's time for my favorite topic… sports!
https://www.boundingintosports.com/2022/10/la-chargers-kicker-dustin-hopkins-gives-glory-to-jesus-christ-after-powering-team-to-overtime-victory-over-denver-broncos/
LA Chargers Kicker Dustin Hopkins Gives Glory To Jesus Christ After Powering Team To Overtime Victory Over Denver Broncos
With less than three minutes left in overtime, Hopkins hit a 39-yard field goal to give the Chargers the 19-16 win.
https://twitter.com/i/status/1582213865101672448 – Play Video
Not only did he hit the game winning field goal, but he did while playing with a hamstring injury that he suffered after hitting the first extra point of the game.
Following the game winning field goal, Hopkins spoke with ESPN's Lisa Salters, where he gave all glory to Jesus Christ.
https://twitter.com/i/status/1582288626876317696 – Play 0:28