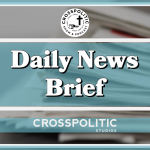 This is Garrison Hardie with your CrossPolitic Daily News Brief for Thursday, October 26th, 2023.
Alps Precious Metals:
IN GENESIS CHAPTER 2, VERSES 10 THROUGH 12, GOD TELLS OF THE GOLD IN THE LAND OF HAVILAH, AND THAT THE GOLD OF THAT LAND IS GOOD. EVER SINCE THE DAWN OF OUR FATHER'S WORLD, GOLD HAS BEEN UNIVERSALLY RECOGNIZED AS TRUE MONEY AND, THEREFORE, THE MOST RELIABLE STORE OF SAVINGS.
CROSS POLITIC'S CORPORATE PARTNER, ALPS PRECIOUS METALS, ENABLES THEIR CLIENTS TO PROTECT THEIR GOD-GIVEN, HARD-EARNED WEALTH FROM THE SERIOUS FINANCIAL PROBLEMS THAT ARE UPON US. ALPS PROVIDES THE CROSSPOLITIC FAMILY WITH THE BEST STRATEGIES AND SOLUTIONS FOR INVESTING IN PHYSICAL PRECIOUS METALS. AS A RESULT, YOU CAN ENJOY A PEACE OF MIND THAT CAN BE HAD WITH FEW OTHER INVESTMENTS.
CALL JAMES HUNTER OF ALPS AT 251-377-2197, AND VISIT OUR WEBSITE AT WWW.ALPSPMG.COM
https://www.foxnews.com/live-news/speaker-of-the-house-race-october-25
Johnson secures speaker's gavel as Republicans rally behind nominee
Rep. Mike Johnson was elected by the House to become the next speaker as Republicans rallied behind their fourth nominee to replace former Speaker Kevin McCarthy.
Johnson could afford only a handful of defections from his fellow Republicans in the chamber-wide vote, but unlike prior candidates, there were no defections to his candidacy from his party.
He won 220 votes, needing around 217 to become speaker.
Democrats meanwhile continued to vote for Minority Leader Hakeem Jeffries. He picked up 209 votes from his fellow Democrats.
Johnson scored his party's nomination late Tuesday, with several members absent and three voting present. In just the hours from Tuesday, though, Johnson has shored up support from the three Republicans who voted present in Tuesday's late nomination vote.
Johnson also got support from President Trump, who gave his support for the GOP nominee, urging Republicans to "get it done, fast" ahead of a potential House speaker vote.
DNC says House GOP will 'have to answer' for electing 'MAGA' Mike Johnson as speaker
The Democratic National Committee (DNC) took aim at newly-elected House Speaker Mike Johnson, R-La., Wednesday just before he won a House-wide vote to replace former Speaker Kevin McCarthy, R-Calif., saying Republicans would "have to answer" to voters in 2024 for supporting him.
"Many Americans are waking up this morning wondering — who is Mike Johnson? We're here to help: MAGA Republicans' new speaker-designate supports extreme nationwide abortion bans," DNC National Press Secretary Sarafina Chitika said in a statement.
"He led the charge for Donald Trump denying President Biden's legitimate election win and tried to overthrow the votes of 81 million Americans. He's a leading proponent of slashing Social Security and Medicare," she said.
Chitika called Johnson a "carbon-copy" of "MAGA extremism," and predicted House Republicans would have to answer for supporting him when voters head to the polls in 2024.
"Make no mistake: The American people will hold them accountable for this choice," she added.
Republicans celebrate newly minted House Speaker Mike Johnson's gavel ascension
Republicans celebrated the election of House Speaker Mike Johnson, R-La., after he ascended to the gavel on Wednesday.
Johnson was elected speaker via a vote of 220-209, taking over the gavel from Speaker pro-tempore Patrick McHenry, R-N.C.
Republicans were ecstatic about the election of Johnson, with House Majority Whip Tom Emmer — who secured the GOP's speaker nomination on Tuesday before bowing out — writing his congratulations to the new speaker.
"Congratulations to my friend and colleague, [Johnson], on being elected Speaker of the House!" Emmer posted.
"His strong convictions and commitment to conservatism will serve this body and the American people well," Emmer added.
Rep. Byron Donalds, R-Fla., who also ran for House speaker, wrote "servant leadership," with a picture of the new speaker's nameplate
"God bless America," Donalds wrote.
https://www.foxnews.com/politics/new-report-unmasks-true-costs-electric-vehicle-mandates-remain-expensive
New report unmasks true costs of electric vehicle mandates: 'Remain more expensive'
A sweeping first-of-its-kind analysis published by think tank Texas Public Policy Foundation (TPPF) concludes that electric vehicles (EV) would cost tens of thousands of dollars more if not for generous taxpayer-funded incentives.
According to the TPPF report — authored by energy experts Jason Isaac and Brent Bennett — the average model year 2021 EV would cost approximately $48,698 more to own over a 10-year period without the staggering $22 billion in taxpayer-funded handouts that the government provides to electric car manufacturers and owners. The analysis factors in federal fuel efficiency programs, electric grid strain, and direct state and federal subsidies.
"It is not an overstatement to say that the federal government is subsidizing EVs to a greater degree than even wind and solar electricity generation and embarking on an unprecedented endeavor to remake the entire American auto industry," the report states. "Despite these massive incentives, EVs are receiving a tepid response from the majority of Americans who cannot shoulder their higher cost."
"It's time for federal and state governments to stop driving the American auto industry off an economic cliff and allow markets to drive further improvements in cost and efficiency," it continues.
The report determined that, thanks to a special multiplier that has existed for more than two decades, EVs receive roughly seven times more credits under federal fuel efficiency programs than they provide in actual fuel economy benefits. That figure, the total regulatory credits from federal and state fuel efficiency and greenhouse gas emissions standards, amounts to an average of $27,881 per vehicle for EV makers.
Further, the analysis calculated the socialized cost of EV charging stations' strain on the U.S. electric grid amounts to an average of $11,833 per EV over 10 years. Such costs are shouldered by utility ratepayers and taxpayers, many of whom may not own an EV.
And, finally, state governments and the federal government provide an average of $8,984 per EV over 10 years in direct taxpayer-funded subsidies.
"The stark reality for proponents of EVs and for the dreamers in the federal government, who are using fuel economy regulations to force manufacturers to produce ever more EVs, is that the true cost of an EV is in no way close to a comparable [internal combustion engine vehicle (ICEV)]," the report concludes.
"Without increased and sustained government favors, EVs will remain more expensive than ICEVs for many years to come," it states. "Hence why, even with these subsidies, EVs have been challenging for dealers to sell and why basic economic realities indicate that the Biden administration's dream of achieving 100% EVs by 2040 will never become a reality."
The TPPF report, meanwhile, comes as lawmakers at the federal and state level continue to take aim at traditional gas-powered vehicles while boosting EVs. President Biden has set a goal of ensuring 50% of all car sales are zero-emissions by 2030 and his administration has pursued rigorous restrictions on gas-powered vehicles.
In December 2022, the Environmental Protection Agency (EPA) finalized rules, which targeted heavy-duty trucks, that it said at the time were the "strongest-ever national clean air standards to cut smog- and soot-forming emissions" from such vehicles. The new standards went into effect on March 27 and will be implemented for new trucks sold after 2027.
Then, in April, the EPA proposed the most aggressive federal tailpipe emissions rules on light- and medium-duty emissions ever crafted. If finalized and implemented, 67% of new sedan, crossover, SUV and light truck purchases, up to 50% of bus and garbage truck purchases, 35% of short-haul freight tractor purchases, and 25% of long-haul freight tractor purchases could be electric by 2032, the White House projected.
Months later, in July, the Department of Transportation's National Highway Traffic Safety Administration issued its most aggressive fuel economy standards ever, an action critics say would increase consumer costs.
And last year, the EPA also reinstated California's authority under the Clean Air Act to implement its own emission standards and electric vehicle sales mandates, allowing other states to also adopt California's rules. The state then approved regulations that mandated all car purchases in the state — which leads the country in annual car sales — be electric by 2035.
https://redstate.com/wardclark/2023/10/24/chinese-scientists-discover-8-new-viruses-on-tropical-island-what-could-possibly-go-wrong-n2165509
Chinese Scientists Discover 8 New Viruses on Tropical Island – What Could Possibly Go Wrong?
Chinese scientists working on tropical Hainan Island off China's southern coast have discovered eight new viruses in that island's rodent population, and have not ruled out the capability of those viruses to species-jump to humans. One of the viruses has been confirmed to have been a coronavirus; the COVID-19 virus was also a coronavirus, as are several of the viruses that can cause the syndrome we call "the common cold," although rhinoviruses are more common in those cases.
Researchers tasked with preparing the world for future pandemic took almost 700 samples from rodents living in Hainan, just off China's southern coast.
Eight novel viruses — including one belonging to the same family as Covid — were uncovered in the project, funded by the Chinese Government.
Experts said the discovered pathogens had a 'high probability' of infecting humans should they ever cross the species barrier.
As a result, they called for further experiments on the viruses to determine exactly what their effects on humans could be.
Lots of people from lots of governments as well as academic institutions and private-sector organizations do these kinds of surveys, of course. That's how we learn about viruses, or about anything else in the natural world — by going out, taking samples, and examining things. But there's a different wrinkle in this case.
The findings were shared in the journal Virologica Sinica, the publishing arm of the Chinese Society for Microbiology (CSM).
CSM is linked to the state-affiliated China Association of Science and Technology, which 'accepts administrative supervision' from the Chinese Government's 'Ministry of Civil Affairs'.
Virologica Sinica is also edited by Dr Shi Zhengli, an influential scientist described as China's 'bat woman' who works inside the Wuhan Institute of Virology – considered to be the source of the Covid pandemic in some corners.
The journal's editorial board also features over a dozen other academics linked to the WIV.
The last sentence of that article's conclusion might raise some concerns:
The pathogenicity and associated impact of these novel viruses on humans and animals should be evaluated in further studies.
This is, yes, the same Wuhan virology lab that set off alarms about their safety practices at the outbreak of the COVID-19 panic. (There, the Wuhan lab isn't alone.) This is also the same Wuhan virology lab where $2 million in U.S. taxpayer funds were used to conduct research, including gain-of-function research.
If that doesn't set some alarm bells ringing, it's not at all clear what would.
Coming as it does, hot on the heels of the impeccably coiffed Governor Newsom flying to the Middle Kingdom to stump for Chinese electric cars, and at a time when the American public is growing good and tired of the whole COVID scare, the timing of the discovery is interesting as well. Granted, these kinds of expeditions go on all the time, and granted as well that China doesn't have an unlimited pool of virologists out there looking for work.