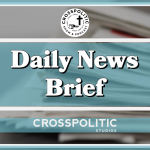 This is Garrison Hardie with your CrossPolitic Daily News Brief for Thursday, October 5th, 2023.
Redballoon
Not so long ago, the American dream was alive and well. Employees who worked hard were rewarded, and employers looked for people who could do the job, not for people who had the right political views. RedBalloon.work is a job site designed to get us back to what made American businesses successful: free speech, hard work, and having fun. If you are a free speech employer who wants to hire employees who focus on their work and not identity politics, then post a job on RedBalloon. If you are an employee who is being censored at work or is being forced to comply with the current zeitgeist, post your resume on RedBalloon and look for a new job. redballoon.work, the job site where free speech is still alive!
https://www.breitbart.com/environment/2023/10/03/the-guardian-climate-change-has-made-rainstorms-20-wetter/
The Guardian: Climate Change Has Made Rainstorms '20% Wetter'
The UK-based Guardian newspaper has made the remarkable assertion that rainstorms are now 20 percent "wetter" than they used to be, thanks to climate change.
New York City's recent storm and accompanying flooding show the "unmistakable influence of the climate crisis," the Guardian contended Monday, warning the city may not be "prepared for severe climate shocks."
The type of storm seen on Friday "is now 10-20% wetter than it would have been in the previous century, because of climate change," the Guardian alleged, citing a new "rapid attribution study."
The Guardian said that such a pounding rainfall is "a symptom of a warming planet" because a hotter atmosphere is "able to hold more moisture." Curiously, at this time last year, the Guardian declared that droughts are "at least 20 times more likely" than without "human-caused global heating."
In Monday's article, the newspaper cited climate expert Tommaso Alberti, who said the rainstorm that hit New York was predictable and "aligns with climate change projections."
Human-driven climate change is the "primary driver" of major storms, which underscores "the urgent need for climate mitigation and adaptation efforts," Alberti argued.
Michael Mann, who invented the thoroughly debunked hockey stick graph and has falsely presented himself as a Nobel Prizewinner, agreed that the New York storm was clearly attributable to global warming.
"New York is experiencing a very clear increase in these extreme – more than 2in per hour – rainfall events, and that's clearly tied to a warming atmosphere," he said.
Rohit Aggarwala, the New York City commissioner of environmental protection, has also blamed the city's reprehensible response to the storm on climate change, a convenient, if mendacious, dog-ate-my-homework excuse.
"The sad reality is our climate is changing faster than our infrastructure can respond," he said.
Daniel Zarrilli, the former chief climate policy adviser to New York City, uttered similar lamentations.
"It's clear that our cities and our aging infrastructure were built for a climate that no longer exists, particularly as a warmed atmosphere holds and releases more water," he said.
Reuters joined in the climate change blame game as well, suggesting that New York City's flooding is just part of the "new normal" ushered in by global warming.
https://thepostmillennial.com/trudeaus-internet-censorship-plan-kicks-off-with-government-operated-streaming-registry?utm_campaign=64487
Trudeau's internet censorship plan kicks off with government-operated streaming registry
Friday's announcement from the Canadian Radio-television and Telecommunications Commission (CRTC) that online streaming services in Canada must register with the government agency has sent a chill throughout independent media.
Critics say it is the beginning of a broad registry of all online news media, even if the CRTC is currently maintaining that a $10 million threshold exists for broadcasters before they must register.
Previous CRTC vice-chairman and former editor of the Calgary Herald posted Monday on X: "Essentially and eventually, @crtceng intends to regulate everything on the Internet pretty much the way it regulates TV, radio and cable. Say g'bye to a free and open internet in Canada."
Noted journalist Glenn Greenwald posted on X: "The Canadian government, armed with one of the world's most repressive online censorship schemes, announces that all "online streaming services that offer podcasts" must formally register with the government to permit regulatory controls."
In a news release, the CRTC announced that it is setting out which online streaming services need to provide information about their activities in Canada. Online streaming services that operate in Canada, offer broadcasting content, and earn $10 million or more in annual revenues will need to complete a registration form by November 28, 2023."
The declaration is part of the Trudeau government's Online Streaming Act, or Bill C-11, which was called a "dangerous first step towards government control of the internet" by Justice Centre for Constitution Freedoms President John Carpay, who wrote that "In the long run, the CRTC could end up regulating much of the content posted on major social media, even where the content is generated or uploaded by religious, political, and charitable non-profits."
However, reading further down in the news release, the CRTC uses ambiguous language and apparently contradicts its own guidelines by stating, "online services that offer podcasts must register; however, individuals who use social media to share podcasts do not."
The CRTC has previously stated that: "individuals that host podcasts on their own websites or make them available on a subscription service platform other than a social media service are not explicitly excluded from the Broadcasting Act under subsection 2(2.1)"
University of Ottawa law professor Michael Geist was quick to comprehensively comment on the CRTC announcement in an essay.
Geist suggested the government's plans are "not as bad as critics would suggest, but not nearly as benign as the CRTC would have you believe."
But Geist says the real danger of the CRTC's announcement is that it is "the thin edge of the wedge with the registration requirement being the first step toward a far broader regulatory framework."
"In fact, the rationale for the CRTC to include many of the services is that without such information it is not well positioned to regulate. This creates an obvious contradiction: the Commission claims that the registration requirement is de minimis requiring the disclosure of only limited information but then also argues that such information is important to future decision making on compliance with the Broadcasting Act objectives," he writes.
The CRTC hints that a broad registry is in the works: that "exempting online undertakings that provide news services from the requirement to register would prevent the Commission from having an adequate understanding of the players providing such services. Without information about the online broadcasting undertakings involved in the Canadian broadcasting system, it would be much harder for the Commission to develop policies aimed at implementing the above-noted policy objectives of the Broadcasting Act and conform to the proposed direction."
The CRTC says "[a] third consultation is ongoing. It considers contributions traditional broadcasters and online streaming services will need to make to support Canadian and Indigenous content. The CRTC will hold a three-week public proceeding starting on November 20, 2023, and will hear from 129 intervenors representing a broad range of interests."
https://www.foxnews.com/world/swiss-writer-called-journalist-fat-lesbian-sentenced-60-days-prison-lgbtq-groups-applaud-decision
Swiss writer who called journalist 'fat lesbian' sentenced to 60 days in prison, LGBTQ groups applaud decision
A court in Switzerland sentenced a writer and commentator to 60 days in jail for calling a journalist a "fat lesbian," and the decision is being lauded by LGBTQ+ groups.
On Monday, French-Swiss polemicist Alain Bonnet, who goes by Alain Soral, was sentenced by the Lausanne court for the crimes of defamation, discrimination and incitement to hatred after he criticized Catherine Macherel, a journalist for Swiss newspapers Tribune de Geneve and 24 Heures, in a Facebook video two years ago.
"This court decision is an important moment for justice and rights of LGBTQI people in Switzerland," said Murial Waeger, co-director of a lesbian activist group. "The conviction of Alain Soral is a strong signal that homophobic hatred cannot be tolerated in our society."
In addition to the prison time, Soral was subsequently ordered to pay legal fees and fines totaling thousands of Swiss francs.
Soral's sentencing came after he called Macherel a "fat lesbian," criticized her work as a "queer activist" and said she was "unhinged" in a social media video, according to Swiss public broadcaster RTS.
Pascal Junod, a lawyer for Soral, mockingly blasted the conviction for a "crime of opinion" in an email to The Associated Press. He said the case aimed to probe whether a person had "sinned against the dogmas of single thought."
Soral will appeal to Swiss federal court and "if necessary" to the European Court of Human Rights, his lawyer added.
In 2020, Swiss voters approved a measure that made it illegal to discriminate against people on the basis of sexual orientation.
This conviction was not the first time Soral has gotten into trouble over his words as he was previously and repeatedly convicted in France for denying the Holocaust, which is a crime in France. He was sentenced to jail time in 2019 over the denials.
https://dailycaller.com/2023/10/03/sports-governing-body-scraps-open-category-trans-athletes-no-one-signs-up/
Sports Governing Body Scraps 'Open' Category For Trans Athletes After No One Signs Up
World Aquatics (WA), the international water sports governing body, announced in a press release Tuesday that it is getting rid of its transgender "open" category for the 2023 World Cup since no athletes had decided to sign up.
WA said in August that it was opening a category for athletes to swim the 50-meter and 100-meter distances regardless of gender. After athletes failed to show, WA decided to scrap the category for the World Cup in Berlin, Germany, from Oct. 6 to Oct. 8 but noted that the "Open Category Working Group" would still consider reopening the division if demand increased in the future, according to the press release.
"The World Aquatics Open Category Working Group will continue its work and engagement with the aquatics community on Open Category events," the announcement reads. "Even if there is no current demand at the elite level, the working group is planning to look at the possibility of including Open Category races at Masters events in the future."
WA originally planned to debut the open category in July in Fukuoka, Japan, during its congressional meeting but later decided against it. The organization announced its new "gender inclusion policy" in 2022, which made it possible to create the "open category" for future competitions and required male athletes looking to compete in the female division to have transitioned and experienced no puberty symptoms before the age of 12, as well maintaining regular testosterone levels below 2.5 nanomoles per liter.
"When World Aquatics instituted its Policy on Eligibility for the Men's and Women's Competition Categories, we committed to exploring the creation of an open category," World Aquatics President Husain Al-Musallam said, according to the press release. "True to our word, a team of experts has diligently worked to make this a reality. I would like to thank all those who have helped World Aquatics to deliver this opportunity."
Other sport governing bodies have opted to not allow transgender athletes to compete in divisions outside of their biological sex, such as the International Cycling Union, which announced in July that males who had transitioned after puberty could not compete in the female category. The International Angling Sports Federation made a similar decision on Sept. 29 after England's team said that it would boycott the world championship if men were allowed to compete with women.