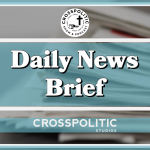 This is Garrison Hardie with your CrossPolitic Daily News Brief for Thursday, September 15th, 2022. Hope you guys have a great Thursday today, and before we jump into the news, let's do a quick on this day in history!
On this day in history, Sept. 15th:
1835 HMS Beagle with Charles Darwin on board reaches the Galapagos Islands

1916 first use of tanks in warfare, "Little Willies" at Battle of Flers-Courcelette, part of the Battle of the Somme

1928 Scottish bacteriologist Alexander Fleming discovers penicillin while studying influenza

1940 Battle of Britain Day: climax of the Battle of Britain, tide begins to turn as the Royal Air Force repulses a major Luftwaffe attack, losing 29 aircraft to the Germans' 57-61

1949 "Lone Ranger" premieres on ABC-TV. Hi-yo, Silver! Away!
Famous Sept. 15th birthdays – Marco Polo, William Howard Taft, Agatha Christie, Ashley Cooper, Dan Marino, and Prince Harry… womp womp.
And that was on this day in history!
Now, question for ya…
Do you have a podcast, or thinking about starting one? Does your church have a podcast feed for sermons? The Dropwave.io is for you. Cancel culture is like walking on a thin glass bridge over the Grand Canyon. Every step you take could get you killed, I mean canceled. Since the beginning CrossPolitic has been working on being antifragile, so no matter what happens, our content can still be delivered to your tv and to your podcast. This past year, the Waterboy and his friend Jeremi, have been working on building a podcast hosting solution for rowdy platforms like CrossPolitic, so that you can be confident your podcast will never fall through that glass bridge. Dropwave offers seamless onboarding for shows that have been around for years to easy to use solutions for starting your own podcast. Dropwave will track all your show's downloads by city, state, and country, and it offers network and enterprise packages for solutions like the Fight Laugh Feast Network. Free to speak, Free to podcast, free to start your journey now at www.Dropwave.io.
https://www.theblaze.com/news/mike-lindell-fbi-seizes-cellphone
Mike Lindell says the FBI confiscated his cell phone at drive-thru of a Hardee's
Pillow entrepreneur Mike Lindell claimed that the Federal Bureau of Investigation confiscated his cell phone while he was at a Hardee's restaurant.
Lindell made the revelation in a video posted to social media.
https://twitter.com/i/status/1569847934849634306 – Play Video
Lindell further elaborated about the incident on his show, "The Lindell Report." He said he was going through the Hardee's drive-thru when FBI agents approached him and demanded he hand over his phone.
He said that he eventually handed over his phone after consulting his lawyer.
Lindell said that the search warrant was likely related to his claims about voting machines manufactured by the Dominion company. He has been one of the foremost proponents of the conspiracy theory that the election was stolen from former President Donald Trump through the use of fraudulent voting machines.
The search warrant was likely a part of a dozens of subpoenas reportedly issued by the Department of Justice in connection to the probe into efforts to overturn the official results of the election.
Dominion filed a $1.3 billion lawsuit in February 2021 over Lindell's accusations. He issued a defiant response over the lawsuit in January.
"I want Dominion to put up their lawsuit because we have 100% evidence that China and other countries used their machines to steal the election," Lindell said.
https://www.dailywire.com/news/white-house-grapples-to-avoid-nationwide-railroad-strike-that-could-send-gas-prices-soaring-hamstring-supply-chain
White House Grapples To Avoid Nationwide Railroad Strike That Could Send Gas Prices Soaring, Hamstring Supply Chain
The White House is seeking to prevent a nationwide railroad strike that could worsen supply chain bottlenecks and increase gas prices.
BNSF, CSX, Norfolk Southern, and Union Pacific announced embargoes on certain shipments earlier this week as negotiations continue with two of the nation's largest rail unions — the Brotherhood of Locomotive Engineers and Trainmen and SMART Transportation Division. The Biden administration created a Presidential Emergency Board via executive order two months ago to facilitate the negotiations.
"We have made crystal clear to the interested parties the harm that American families, businesses and farmers, and communities would experience if they were not to reach a resolution," White House Press Secretary Karine Jean-Pierre told reporters on Tuesday, adding that the administration is working with shipping, trucking, and air freight companies to "see how they can step in and keep goods moving in case of this rail shutdown."
Labor Secretary Marty Walsh is slated to host union leaders and rail company executives on Wednesday morning, according to a statement from a Department of Labor spokesperson.
Supply chain bottlenecks driven by widespread labor shortages and lockdowns in Asian manufacturing hubs have impacted the American economy over the past two years, contributing to higher inflation as consumer goods fail to reach shelves.
The daily cost of a nationwide rail shutdown could amount to $2 billion, according to a report from the Association of American Railroads. Moving shipments to truckers would require the equivalent of 467,000 additional long-haul trucks per day — growth that would take "years of concerted effort" to achieve, especially amid a shortage of more than 80,000 truck drivers.
The Retail Industry Leaders Association explained in a July letter to the Biden administration that freight rail accounts for 40% of long-distance shipping volume — "more than any other mode of transportation."
Last month, the White House suggested increasing railroad employee pay by 24% over the next two years — a measure that would lead to an average raise of $11,000 per employee. "An agreement based on these terms would lead to the largest general wage increase in nearly 40 years," Association of American Railroads CEO Ian Jefferies said in a statement.
Gas prices could increase between $0.35 and $0.75 per gallon if a railroad strike continued for multiple days, warned GasBuddy analyst Patrick De Haan. "Since ethanol primarily moves via rail, and much of the nation blends ethanol into all grades, it would be a big challenge," he remarked on social media.
The national average price of gasoline was $2.38 per gallon when Biden assumed office and increased to $3.53 per gallon by the start of the Russian invasion. After surpassing $5.00 per gallon in early June, prices have subsided to $3.70 per gallon as of Wednesday, according to data from AAA.
https://dailycaller.com/2022/09/14/cpac-letter-republican-offices-support-bill-banning-gender-surgeries-minors-marjorie-taylor-greene/
CPAC Pressuring Every GOP Office To Support Bill Banning Gender Surgeries On Minors
The Conservative Political Action Coalition (CPAC) sent a letter Tuesday to every Republican in the House of Representatives, calling on them to cosponsor a bill that would ban gender surgeries on minors.
The letter, which was first obtained by the Daily Caller, was sent to every House Republican Chief of Staff, Deputy Chief of Staff and Legislative Director and urges them to back Republican Georgia Rep. Marjorie Taylor Greene's "Protect Children's Innocence Act." The bill charges any person who knowingly performed gender-affirming care on a minor with a Class C Felony, which could put them in prison for 10 to 25 years or require a maximum $250,000 fine.
The legislation, originally introduced on Aug. 19, also prohibits all taxpayer-funded gender-affirming care, prohibits institutions of higher education from providing instruction on gender-affirming care, and more.
"Across the country we have seen the radical gender politics of the Woke Left infiltrate all facets of our lives. As a result, the Conservative Political Action Coalition (CPAC) has undertaken an effort to drive legislation throughout the country to protect children from the Left's radical gender theory in schools, sports, and medicine," the letter reads.
"As such, we view Rep. Taylor Greene's Protect Children's Innocence Act as common-sense legislation meant to protect children. Accordingly, CPAC supports the Protect Children's Innocence Act and urges you to co-sponsor the legislation," the letter continues.
The Daily Caller reported Tuesday that the Wisconsin Department of Public Instruction promotes transgender video and reading resources explicitly aimed at preschoolers, according to a guide titled "Resources for Gender Expansive Preschoolers."
https://www.breitbart.com/crime/2022/09/14/almost-half-san-francisco-residents-say-were-victims-of-crime-in-past-5-years/
Nearly half of all San Francisco, California, residents say that they have been victims of crime in the past five years, according to a survey conducted by the San Francisco Chronicle.
The Chronicle reported Tuesday:
A sweeping poll commissioned by The Chronicle drew sobering results: Nearly half of respondents said they were victims of theft in the last five years, while roughly a quarter were physically attacked or threatened. The majority had negative impressions of law enforcement.
The SFNext poll asked a random sample of 1,653 city residents more than 90 questions about numerous aspects of life in San Francisco. It was conducted in late June and July, and respondents reflect the city's demographics.
Forty-five percent of people surveyed for the poll said they had an item stolen within the last five years. Proportionally, Black and mixed-race respondents felt a more severe impact than other groups, with a majority — 54% of Black respondents and 55% of mixed-race respondents — reporting they had suffered theft. Property crime rates were lower for white residents, 43% of whom had a possession swiped within the time period.
Critics of the poll suggest that it may have underreported crimes against Asian-American residents, who feel vulnerable lately.
The Chronicle also reported that two-thirds (65%) of residents said life in the city had declined since they had moved there: "[T]he greatest unhappiness stems from frustration with the city's biggest, seemingly intractable problems — particularly homelessness, public safety and housing affordability — as well as with the politicians who haven't solved them yet."
Dime Payments
Dime Payments is a Christian owned processing payment business. Every business needs a payment process system, so please go to https://dimepayments.com/flf and sign your business up. Working with them supports us. They wont cancel you, like Stripe canceled President Trump. They wont cancel you, like Mailchimp canceled the Babylon Bee. Check them out. At least have a phone call and tell them that CrossPolitic sent you. Go to https://dimepayments.com/flf.
https://www.breitbart.com/sports/2022/09/13/boston-marathon-creates-nonbinary-category-for-2023-race/
Boston Marathon Creates 'Nonbinary' Category for 2023 Race
The Boston Marathon has succumbed to the next radical LGBTQ agenda by creating a "nonbinary" category for runners who claim to be neither male nor female.
The Boston Athletic Association confirmed on Monday that the new category would be included in all its races, including the 5K, 10K, and the half marathon going forward, according to the Daily Mail.
The new category was seen in the registration information released Monday for the Marathon's 127th run set to be held on April 17, 2023.
Officials have not yet finished crafting its qualifying standards for so-called "nonbinary" runners, but the online applications will include nonbinary as a gender option.
"'Discussions are ongoing with nonbinary athletes in an effort to further promote inclusion at all BAA events. We view this first year as an opportunity to learn and grow together," the BAA said in a statement.
The Boston Marathon is not the first race to add such a category. Race organizations in Philadelphia and Brooklyn have already set up nonbinary categories for sponsored races.
Some on social media worried that allowing nonbinary runners will lower standards for entrants. One social media user, for instance, noted that if they don't make the standards hew toward the higher male standards, slower runners will abuse the category just to get qualified in a race for which it is notoriously hard to win entry.
This has been Garrison Hardie with your CrossPolitic Daily NewsBrief… if you liked the show, hit that share button down below. If you wanted to sign up for a club membership, sign up for our conference with that club discount, then sign up for a magazine subscription… you could do all of that at fightlaughfeast.com. And as always, if you want to email me a news story, about our conference, or to become a corporate partner with CrossPolitic, email me, at garrison@fightlaughfeast.com. For CrossPolitic News, I'm Garrison Hardie. Have a great day, and Lord bless.