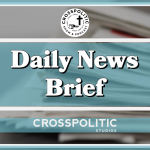 This is Garrison Hardie with your CrossPolitic Daily Newsbrief for Thursday, September 1st, 2022. Man time really flies doesn't it? Which means our fight laugh feast conference will be here before ya know it!
FLF Conference Plug:
Our upcoming Fight Laugh Feast Conference is just about 5 weeks away from happening in Knoxville TN, October 6-8! Don't miss beer & psalms, our amazing lineup of speakers which includes George Gilder, Jared Longshore, Pastor Wilson, Dr. Ben Merkle, Pastor Toby, and we can't say yet…also dont miss our awesome vendors, meeting new friends, and stuff for the kids too…like jumpy castles and accidental infant baptisms! Also, did you know, you can save money, by signing up for a Club Membership. So, go to FightLaughFeast.com and sign up for a club membership and then register for the conference with that club discount. We can't wait to fellowship, sing Psalms, and celebrate God's goodness in Knoxville October 6-8.
Without further adieu, let's get to the news… what's going on in California?
https://www.washingtonexaminer.com/policy/energy-environment/californians-asked-keep-ac-at-78-nix-electric-vehicle-charges-spare-grid
Californians asked to keep AC at 78 and nix electric vehicle charges to spare grid
California grid operators warned residents to prepare for voluntary energy cuts and other emergency measures, such as turning down the air conditioning and forgoing electric vehicle charges, as the state braces for a period of excessive heat expected to last through Tuesday.
The California Independent System Operator said in a statement it is taking measures to bring "all available resources" online ahead of the heat wave, which is expected to be the longest and most severe high-heat period to hit the state so far this year.
An excessive heat warning is in effect through much of Southern California, with the National Weather Service warning of "dangerously hot" conditions that could climb as high as 115 degrees in some parts of the state.
Meanwhile, temperatures in Northern California are expected to be 10-18 degrees warmer than usual.
This could include asking residents to set thermostats to 78 degrees or higher, avoid large appliance use and EV charging, and turn off unnecessary lights between 4 p.m. and 9 p.m, when the grid is the most stressed.
Lowering power usage during that time will ease the strain on the grid, officials said, and prevent "more drastic measures, including rotating power outages."
https://thepostmillennial.com/fbi-employees-have-lost-confidence-in-christopher-wray-call-for-him-to-resign?utm_campaign=64487
FBI employees have 'lost confidence' in Christopher Wray, call for him to resign
Federal Bureau of Investigation personnel have lost confidence in Trump-nominated Director Christopher Wray and are calling for his resignation, a former agent has revealed.
Kurt Siuzdak, an ex-FBI agent who now works as a lawyer representing whistleblowers at the bureau, claimed that current agents are saying that Wray has lost control of the agency and that they do not see how he can continue in his position.
"I'm hearing from [FBI personnel] that they feel like the director has lost control of the bureau," Siuzdak told the Washington Times.
Former President Donald Trump nominated Wray in 2017, after firing then-director James Comey who was investigating his links to Russia.
Siuzdak left the FBI after nearly 25 years working as an agent last March, due to what he sees as politicized leaders who were not being held accountable, reported the Daily Mail.
According to the Daily Mail report, FBI agents claimed in disclosures to Congress that Wray would be made aware of problems within the bureau but never attempted to solve them.
Some of the reported problems that Wray allegedly ignored were agents being forced or coerced into signing false affidavits, claims of sexual harassment and stalking, and the fabrication of terrorism cases to elevate performance statistics.
In response to Siuzdak's allegations, the FBI said in a statement to the Washington Times, "The men and women of the FBI work hard every day to protect the American people and uphold the Constitution. All employees are held to the highest standards of professional and ethical conduct, and we expect them to focus on process, rigor, and objectivity in performance of their duties.
"Allegations of misconduct are taken seriously and referred to the Inspection Division or appropriate investigative body. In reality, the FBI is comprised of 37,000 employees who do it the right way on a daily basis to keep our nation safe by fighting violent crime, preventing terrorist attacks and defending America from espionage and cyber threats," the statement continued.
Siuzdak's claims came soon after the resignation of Timothy Thibault, the FBI Assistant Special Agent in charge of the Hunter Biden laptop investigation, over accusations of political bias. Thibault reportedly retired from the bureau last Friday and was escorted out of the building.
https://newsbusters.org/blogs/nb/nicholas-fondacaro/2022/08/30/cnner-claims-gun-ownership-america-homeland-security-problem
CNNer Claims Gun Ownership in America a 'Homeland Security Problem'
During an appearance on CNN's Don Lemon Tonight on Monday, CNN national security Analyst Juliette Kayyem made the Orwellian suggestion that guns in America were a "homeland security problem." But the craziness didn't stop there as she claimed "responsible gun ownership" means you don't own semi-automatic rifles and that gun manufacturers have made mass shootings "very sexy."
Kayyem's Orwellian declaration against guns came in her opening comments when she was speaking with Lemon about a shooting at a grocery store in Oregon.
https://cdn.mrctv.org/videos/101973/101973-480p.mp4 – Play Video 0:00-1:57
In either a brief moment of lucidity or playing Devil's advocate, Lemon made the logical point that it's "people's actions" that are "responsible" for mass shootings. "There are people who have access to guns who don't go off and just shoot people and rob stores," he noted.
Avoiding Lemon's point, Kayyem opined about how the narrative for pushing gun control is changing and suggested those against taking away guns are for police getting murdered and were "often" the victims of mass shootings:
As they were nearing the end of the segment, Lemon chided those who "think they're a badass when they're holding a gun," and Kayyem took the opportunity to lash out at the National Rifle Association.
Ignoring the fact that the NRA funds and organizes gun safety and training courses, she accused the organization of abandoning advocacy for "responsible gun ownership." She then explained that her definition of "responsible gun ownership" meant people who "don't have weaponry … unnecessary in civilian society."
Hey, speaking of guns…
https://www.theblaze.com/news/new-york-lawmakers-credit-card-companies-gun-sales
New York lawmakers ask Mastercard and American Express to flag gun store purchases
New York lawmakers believe they have found a way to reduce firearm trafficking and mass shootings. Approximately 50 legislators penned a letter to Mastercard and American Express, requesting that the companies flag purchases made at gun stores.
Democratic state Senator Zellnor Myrie shared the letter with Gothamist and spoke about leading the effort. Myrie explained that he believed the public would agree with the lawmakers' request.
While credit card companies do not track specific items purchased, they do use merchant category codes designated by retailer type. Mastercard's quick reference booklet notes that purchases made at a gun store fall under the "miscellaneous" or "durable goods" retailer codes. Those two MCCs also include vendors of gas lighting fixtures, musical instruments, fireworks, party supplies, and luggage, to name a few.
The letter drafted to Mastercard and American Express requested that gun retailers have their own merchant category code instead of sharing it with other non-firearm-related vendors. This modification would allow credit card companies – and, consequently, the government – to closely track firearm and ammunition purchases.
New York legislators argued that plenty of other retailers have a unique code, such as pawn shops, aquariums, and antique shops. They also noted that credit card companies have already been required to report suspicious activity to law enforcement since 1970.
Myrie argued that a one-of-a-kind code would help authorities to spot suspicious purchasing activity, which could prevent mass shootings and gun trafficking. Further, he stated that law-abiding citizens have "absolutely nothing to worry about."
Story Real Estate:
Home. It's where you build your legacy. Where traditions are started, seeds are planted, meals are shared, and stories are told. Home is where you prepare to go out into the world. Finding the home that's perfect for your family is a big job.
Story Real Estate is Moscow's top real estate team. They give people real estate advice all over the country. Family homes, investments, land, new construction, or commercial— they know real estate.
If you've thought about a move to Moscow or anywhere in the country, reach out to get connected with a Story Real Estate agent. Wherever you're going, they can help guide you Home. Visit storyrealestate.com.
https://thepostmillennial.com/trudeau-liberals-to-spend-100-million-on-2slgbtqi-action-plan-so-canadians-can-be-their-authentic-selves?utm_campaign=64487
Trudeau Liberals to spend $100 million on 2SLGBTQI+ Action Plan so Canadians can be their 'authentic selves'
On Sunday, Canadian Prime Minister Justin Trudeau and Minister for Women and Gender Equality and Youth Marci Ien unveiled the Liberals' federal "2SLGBTQI+ Action Plan."
The plan, put in place to build a "more inclusive future," is set to cost $100 million over the next five years.
According to the Liberals, the plan will "prioritize and sustain 2SLGBTQI+ community action by supporting 2SLGBTQI+ community organizations in advocating for and serving the communities they represent."
Goals of the plan include advancing 2SLGBTQI+ rights both in Canada and around the world via laws such as the recently passed criminalization of conversion therapy, as well as using data and investing in awareness campaigns to "improve understanding of 2SLGBTQI+ communities and issues."
The cost of the action plan was accounted for in the 2022 federal budget, and on Sunday, Trudeau unveiled exactly where the money would be going.
The bulk of the funding, $75 million, was set aside for 2SLGBTQI+ community organizations, with prioritization given to those "experiencing additional marginalization," such as "Black, racialized, and Indigenous 2SLGBTQI+ communities," as well as those "with disabilities, seniors, youth, official language minority communities, and those living in rural communities."
Defence Minister Anita Anand applauded the plan, saying it would "help us build a Canada where everyone is free and welcome to be their true, authentic selves."
The government justified their choice to use the acronym 2SLGBTQI+ noting that is it "more inclusive and places the experiences of Indigenous 2SLGBTQI+ communities at the foreground as the first 2SLGBTQI+ peoples in North America."
https://www.theepochtimes.com/illegal-immigrant-children-being-placed-with-strangers-says-whistleblower_4701389.html?utm_source=partner&utm_campaign=BonginoReport
Illegal Immigrant Children Being Placed With Strangers, Says Whistleblower
Unaccompanied children who cross the U.S. border alone are potentially being placed in dangerous situations due to the lax vetting of the adults they're being handed off to, says a whistleblower who works with a company that transports the minors around the United States.
An unaccompanied child who crossed the U.S. border illegally without a parent or guardian is processed by Border Patrol and then transferred to Health and Human Services (HHS). HHS's Office of Refugee Resettlement is responsible for placing the child with a vetted sponsor in the United States—usually a parent or relative, but not always, says the whistleblower.
"There's no proper vetting right now saying, 'Hey, these kids are really related to this person.' No. That could be a child offender, sex offender wanting to take one of these kids into their homes—and the government will let it happen," the whistleblower told Savanah Hernandez, a Texas-based reporter who runs a podcast called Rapid Fire.
The whistleblower alleges in the interview that he works for MVM, Inc., a Virginia-based private security company that contracts with the federal government to escort children throughout the United States from border regions.
He estimates the company is currently transporting between 2,000 and 5,000 children every week from Texas to sponsors around the country. They often travel at night and to small, regional airports.
HHS started releasing data on the number of unaccompanied minors it was housing in March 2021 as the volume overwhelmed border facilities, which aren't designed as shelters for children.
By April last year more than 20,000 children were in HHS custody at one time, waiting for sponsor placement—at a taxpayer cost of at least $60 million per week.
And finally, it's time for my favorite topic… sports!
Joe Rogan Says 'Vote Republican,' Cites 'Serious Errors' During Pandemic
But Garrison, is this really a sports story? Well I'm counting it, because not only does Joe Rogan cover the UFC, but this was also his episode with Green Bay Packers QB Aaron Rodgers.
Podcast king Joe Rogan urged his 11 million listeners to "vote Republican" to address the "serious errors" made by government officials during the coronavirus panic starting in 2020 during Saturday's show.
https://twitter.com/i/status/1563983626307518468 – Play video
Sounds like some people are waking up…
This has been Garrison Hardie with your CrossPolitic Daily News Brief. If you liked the show, hit that share button down below. If you want to sign up for a club membership, then sign up for our conference with that club discount, and THEN sign up for a magazine, you can do all of that at fightlaughfeast.com. And as always, if you'd like to email me a news story, ask about our conference, or become a corporate partner of CrossPolitic, email me, at garrison@fightlaughfeast.com. For CrossPolitic News… I'm Garrison Hardie. Have a great day, and Lord bless!