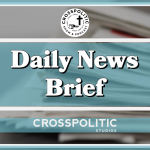 This is Garrison Hardie with your CrossPolitic Daily News Brief for Thursday, September 21st, 2023.
Olive Tree Biblical Software:
Discover why more than a million people use the free Olive Tree Bible App as their go-to for reading, studying, and listening to the God's Word.
Start by downloading one of many free Bibles and start taking notes, highlighting verses, and bookmarking your favorite passages. You can read at your own pace, or choose from a large selection of Reading Plans, including the Bible Reading Challenge. When you are ready to go deeper into your studies, Olive Tree is right there with a large selection of study Bibles, commentaries, and other helpful study resources available for purchase. There's also an extensive bookstore that allows you to build your digital library one book at a time and Olive Tree's sync technology lets you pick up where you left off on your tablet, pc or phone and get right to studying on another supported device.
Now here's the best part – You can start with the Olive Tree Essentials Bundle for FREE. Visit www.olivetree.com/FLF and download it today! 
https://thepostmillennial.com/nyc-may-remove-george-washington-statues-as-part-of-new-reparations-plan?utm_campaign=64487
NYC may REMOVE George Washington statues as part of new 'reparations' plan
While New York City continues to grapple with a crisis of illegal immigrants flooding the city as well as a consequential need for budget cuts, members of its city council have been plotting some new changes that seek to, among other things, delete monuments dedicated to important American figures such as George Washington.
Also on the agenda for New York City's council is to launch a reparations task force, according to Fox News.
President Trump famously predicted that leftists would go after the monuments of America's first president back in August 2017.
"Robert E Lee, Stonewall Jackson – who's next, Washington, Jefferson? So foolish!" Trump said at the time.
The city council's Cultural Affairs Committee is reportedly set to host a public hearing on an initiative to nix any type of city property that "depict[s] a person who owned enslaved persons or directly benefited economically from slavery, or who participated in systemic crimes against indigenous peoples or other crimes against humanity."
This set of standards would of course mean that figures such as European explorer Christopher Columbus and America's first president, George Washington would promptly have their statues removed throughout the city.
In cases where a work of art is not decided to be removed, the Public Design Commission (PDC) will be made to oversee the installation of an "explanatory plaque" beside the object. The initiative also instructs the PDC to correspond with the Department of Education regarding placing plaques on sidewalks or other public spaces near schools that are named after a historical figure that meets the standards.
Tuesday's agenda also lists a proposal for the formation of a task force that will "consider the impact of slavery and past injustices for African Americans in New York City and reparations for such injustices."
Fox News reported that other proposals include a call for human services contractors as well as city employees to be subjected to anti-racism training, and mandating that a sign be put up around the intersection of Wall and Pearl Streets "to mark the site of New York's first slave market."
https://www.breitbart.com/education/2023/09/20/federal-judge-blocks-newsom-policy-barring-parental-notification-for-trans-kids/
Federal Judge Blocks Newsom Policy Barring Parental Notification for 'Trans Kids'
U.S. District Court Judge Roger Benitez of San Diego ruled last week that a California state policy barring schools from notifying parents when their children want to change genders violates the constitutional rights of parents.
The ruling comes as Gov. Gavin Newsom (D) and his administration are cracking down on school districts that pass parental notification policies, which are favored by 84% of California voters, according to a recent Rasmussen poll.
"A parent's right to make decisions concerning the care, custody, control and medical care of their children is one of the oldest of the fundamental liberty interests that Americans enjoy," U.S. District Judge Roger Benitez of San Diego said in a ruling Sept. 14. That means, he said, that when a school learns that a student has questioned his or her birth gender, or identified as transgender, it must notify the parents, even if the student objects.
It's no different, Benitez wrote, than a school's obligation to inform parents if a child suffers a life-threatening concussion during soccer practice, is the victim of a sexual assault or has suicidal thoughts — the parents must be informed, even if the student objects.
And in this case, he said, the Escondido Union School District in San Diego County, and the state whose regulations the district is enforcing, are also violating the rights of teachers to speak to their students, parents and the religious freedom of two teachers who said the policy conflicts with their faith.
The judge's ruling conflicts with that of U.S. District Judge John Mendez in Sacramento, who tossed a lawsuit in July against the Chico Unified School District for a policy against notifying parents of children's gender transitions, saying that the proper venue for the issue to be resolved was the state legislature, and not the judicial system.
That logic was lost on Newsom and California Attorney General Rob Bonta (D), who sued the Chino Valley Unified School District last month over a parental notification policy, claiming that "outing" students violated their rights.
Chino Valley school board president Sonja Shaw noted at the time that there was no state law barring parental notification, and argued that it was a parent's fundamental right to know about life-altering treatments for children.
https://townhall.com/tipsheet/madelineleesman/2023/09/18/cash-bail-illinois-n2628569#google_vignette
One State Just Did Away With Cash Bail
Illinois became the first state to abolish cash bail as a piece of legislation called the Pre-Trial Fairness Act took effect on Monday.
The Pre-Trial Fairness Act is part of the SAFE-T Act, a broader piece of legislation that "enacts extensive reform impacting many areas of the criminal justice system," according to the Illinois Criminal Justice Information Authority.
According to the Chicago Sun-Times, going forward, people charged with the state's lowest level offenses will most likely never set foot in a jail cell, including at a police station, after their arrest. These people will likely be released with a citation and a court date without being processed at the police station. Law enforcement will be allowed to take certain individuals into custody if they cannot be properly identified or if they believe the person is a danger to the community. Police will be required to explain why the person was held.
Judges will decide if a defendant poses a public safety threat. If they do not, they will be released without being required to post any money. Those arrested for violent crimes will likely be detained by a judge.
Fox 32 Chicago noted that opponents of the legislation are concerned that it will allow dangerous criminals to "slip through the cracks" and commit crimes.
"We feel very strongly that it is a serious public safety issue," Will County State's Attorney James Glasgow told ABC 7 Chicago.
Cook County State's Attorney Office's Kim Foxx told the outlet that it "stands ready to implement the Pre-Trial Fairness Act."
In addition, Cook County Board President Toni Preckwinkle claimed that they are "focused on effective equitable and sustainable solutions that address the root causes of crime and violence not just now but for future generations."
"The full implementation of the Pretrial Fairness Act and the end of money bond is a critical milestone on the path toward economic and racial justice in Cook County and Illinois. This important reform is long overdue. Today, we finally end the harmful practice of wealth-based pretrial incarceration and welcome a new system that centers community safety to better guarantee equal justice for all," Preckwinkle added.
https://www.washingtonexaminer.com/policy/defense-national-security/air-force-hourslong-search-missing-stealth-jet
How the Air Force spent 25 hours hunting for missing $80 million stealth jet after in-air 'mishap'
The hunt for an F-35 fighter jet that went missing due to a "mishap" was finally discovered on Monday afternoon, bringing an end to the almost 25-hour search for the aircraft.
The pilot had ejected from the stealth fighter jet but the jet was unable to be located, prompting an hourslong investigation into its disappearance.
Here is what is known about the missing F-35 jet and what comes next.
What happened?
On Sunday at 5:26 p.m., Joint Base Charleston released a notice on social media that personnel from the base and the Marine Corps Air Station Beaufort were responding to a "mishap" involving an F-35 jet.
The Marine Corps had confirmed to the Washington Examiner that the aircraft was an F-35B Lightning II jet and that "search-and-recovery efforts for the aircraft" were ongoing.
The pilot ejected safely and the base confirmed on Facebook the pilot was taken to a local medical center in stable condition. The plane was last located north of the air base around Lake Moultrie and Lake Marion.
Almost 25 hours later, a debris field was located in South Carolina, two hours northeast of Joint Base Charleston, the base announced at 6:25 p.m. No other additional details have been provided at this time.
"The mishap is currently under investigation, and we are unable to provide additional details to preserve the integrity of the investigative process," the joint base said in a post on Monday evening. "We would like to thank all of our mission partners, as well as local, county, and state authorities, for their dedication and support throughout the search and as we transition to the recovery phase."
Members of the community in Williamsburg County were urged on Monday night to avoid the debris field area while recovery efforts continue.
What is a "mishap"?
The U.S. Air Force will typically use the term "mishap" to refer to several possible scenarios, such as "any unintended occurrence in the Air or Space Force that results in death, injury, illness or property damage," according to the Air Force Safety Center website.
Have there been similar crashes before?
There have been several F-35 crashes since the jets started flying in 2012, including one caused by a software glitch in October 2022 and one caused by pilot error in January 2022.
What we know about the jet
The F-35 had been left in autopilot mode when its operator ejected from the plane, leaving open the possibility that the F-35 could have been airborne. The transponder on the plane was also not working, and it had stealth technology turned on, making it harder to track.
Lockheed Martin manufactures the jets, which are described by the company as the world's most advanced stealth aircraft. Each F-35 jet costs roughly $80 million.
The military aircraft is known for its low observable stealth, with reduced engine signatures, edges, and an internal carriage of weapons designed to make it hard to see. It can travel more than 1,000 miles without refueling.
The jet belonged to the 2nd Marine Aircraft Wing, the training squadron confirmed.
All Marine Corps aircraft within and outside the United States were required to be grounded following the incident, following a Monday order from acting Marines Corps Commandant Gen. Eric Smith.
Some aircraft abroad or with upcoming missions were able to briefly delay the order, but they will now be expected to stand down for two days, with the order ending Thursday.
The suspension is aimed at allowing units to "discuss aviation safety matters and best practices" after "three Class-A aviation mishaps over the last six weeks," a press release from the Pentagon stated.