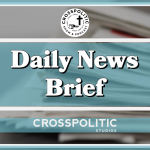 This is Garrison Hardie with your CrossPolitic Daily News Brief for Thursday, September 22nd, 2022. Happy Thursday everyone! Let's go ahead and just start this off with another dose of on this day in history!
On this day in history, September 22nd, 1692 Last people hanged for witchcraft (8) in the US, 19 hanged overall, with six other deaths during Salem witch trials.

1699 People of Rotterdam strike over high cost of butter

1761 Coronation of King George III of the United Kingdom and Queen Charlotte

1862 US President Abraham Lincoln issues preliminary Emancipation Proclamation, threatening to free all enslaved people in the rebel southern states if those states fail to re-join the Union by January 1, 1863

1937 Date celebrated as the first International Hobbit Day and the birthdays of Bilbo and Frodo Baggins

1970 US President Richard Nixon requests 1,000 new FBI agents for college campuses

1994 "Friends" TV sitcom created by David Crane and Marta Kauffman debuts on NBC, starring Jennifer Aniston, Courteney Cox, Lisa Kudrow, Matt LeBlanc, Matthew Perry and David Schwimmer

1997 American sportcaster Marv Albert pleads not guilty to sexual assault charges

1999 "The West Wing" created by Alan Sorkin and starring Martin Sheen, Rob Lowe and Richard Schiff, debuts on NBC

2004 "Lost" created by J.J. Abrams and starring Matthew Fox and Evangeline Lilly debuts on ABC in the US

2004 SF Giants outfielder Barry Bonds was intentionally walked 4 times in a 9-inning game (MLB record) for the second time (1 May 2004)
And that… was on this day in history for September 22nd. Before I get to the news today, I want to talk to you about club membership!
Club Membership Plug:
By joining the Fight Laugh Feast Army, not only will you be aiding in our fight to take down secular & legacy media; but you'll also get access to content placed in our Club Portal, such as past shows, all of our conference talks, and EXCLUSIVE content for club members that you won't be able to find anywhere else. Lastly, you'll also get discounts for our conferences… so if you've got $10 bucks a month to kick over our way, you can sign up now at fightlaughfeast.com.
https://americanmilitarynews.com/2022/09/putin-mobilizing-300000-new-troops-veiled-threat-of-nuclear-war/
Let's start with some world news: Putin on video saying he's mobilizing 300,000 more troops; veiled threat of nuclear war
Russian President Vladimir Putin ordered a partial military mobilization of 300,000 reserve troops, in a major sign of escalation in the ongoing war in Ukraine. The Russian leader also made veiled threats to use nuclear weapons if Russian territorial integrity is threatened.
Putin announced the mobilization on Wednesday morning, stating "only military reservists, primarily those who served in the armed forces and have specific military occupational specialties and corresponding experience, will be called up."
Russian Defense Minister Sergey Shoigu said 300,000 people will be called up for service in the partial mobilization. Putin's order falls short of a full mobilization of the Russian military, with a full-scale draft.
France 24 reported that in an interview with Russian state television, Shoigu said students and those who already served as conscripts would not be called up and the majority of Russia's reserve forces would not be drafted.
During his announcement, Putin said western nations "have even resorted to the nuclear blackmail." Putin said he referred to "the statements made by some high-ranking representatives of the leading NATO countries on the possibility and admissibility of using weapons of mass destruction – nuclear weapons – against Russia."
"I would like to remind those who make such statements regarding Russia that our country has different types of weapons as well, and some of them are more modern than the weapons NATO countries have." he said. "In the event of a threat to the territorial integrity of our country and to defend Russia and our people, we will certainly make use of all weapon systems available to us. This is not a bluff."
The mobilization comes as Russia has seen setbacks in its war in Ukraine. Ukrainian forces have begun to retake territory captured by Russian forces earlier in the year. Last week, Ukrainian forces claimed they retook around 1,000 square miles in a matter of days.
The mobilization of 300,000 reservists suggests a Russian effort to fend off the Ukrainian offensive and prolong the fighting in Ukraine.
In an apparent prelude to Putin's decision, Russian lawmakers pushed through new legislation on Tuesday that would increase the penalties for crimes committed during a period of military mobilization. Reuters reported the bill passed in its second and third readings in the lower house of the Russian legislature, the Duma, on Tuesday. The bill increases criminal penalties for acts of desertion, damage to military property and insubordination during a military mobilization period.
https://thepoliticalinsider.com/southern-border-crossings-hit-all-time-record-this-is-a-national-security-crisis/
Southern Border Crossings Hit All Time Record. This Is A National Security Crisis
We seem to be breaking all sorts of records lately, although perhaps not the ones we wish to be breaking. From crime rates to homelessness, we keep aiming for higher and higher numbers.
The southern border is no exception to this phenomenon, with illegal crossing encounters surpassing two million for the first time, with one more month left in the fiscal year to go.
But as the Vice President said, the border is secure, so why do we keep talking about it?
As much as the Biden administration would like to make us believe that there is nothing to see at the border other than cruel Republican politicians and tumbleweed, we are facing an untenable crisis down Mexico way.
The longer we ignore it, the more dangerous it becomes. Before diving into the dangers that lurk down south, let's take a closer look at the numbers.
Customs and Border Patrol (CBP) reported that last month there were 203,598 illegal immigrant "encounters" at the southern border – in other words, people trying to cross the border illegally and coming into contact with U.S. officials. But, unfortunately, that's just the number they know of; there isn't a mechanism to capture the number of 'gotaways.'
Gotaways are those that, just as the name entails, got away clean. Over the border and into the interior of the country.
Last month's numbers bring the total number of encounters for Fiscal Year 2022 to an unthinkable 2,150,370, with one more month to go.
The last time that we broke the record on encounters at the southern border was just the previous Fiscal Year when we surpassed 1.7 million. That's an increase of 450,000 more migrants or the equivalent of two months worth of migrants that came in this year.
There have been some months where the CBP has recorded 8,000 illegal immigrants in one day apprehended at the border. If that were to be the daily standard, that would mean each week, 56,000 would be taken in at the border.
So let's see here, in the 11 months of this fiscal year, we have had 2,150,370 encounters. So let's compare that to some other numbers.
Population of Chicago = 2.7 million
Population of Houston = 2.3 million
Populations of Phoenix, Philadelphia, San Antonio, San Diego, Dallas, and San Jose = about 1 million
Estimated amount of Russian troops deployed to Ukraine = 150,000
Total U.S. military troops to include reservists = 2.2 million
Total active duty Chinese military = 2.2 million
Total active duty Russian military = 1 million
Think of it this way, we have the equivalent of the city of Houston pouring into our southern border. The world condemned, and rightfully so, the invasion of Russia into Ukraine.
We have 14 times the amount of people invading our southern border. Or, to put it another way, the equivalent of the Chinese active duty military has bombarded the border.
The number of people who have attempted to cross is greater than the total populations of 15 entire states: New Mexico, Nebraska, Idaho, West Virginia, Hawaii, New Hampshire, Maine, Montana, Rhode Island, Delaware, South Dakota, North Dakota, Alaska, Vermont, and Wyoming.
Did anyone vote for this? Do the American people get a say in it? Something to think about folks…
https://www.foxnews.com/us/las-vegas-dem-accused-murdering-journalist-faces-removal-job
Las Vegas Dem accused of murdering journalist faces removal from job
A Las Vegas Democratic official charged with the stabbing death of a local journalist who was investigating him is facing removal from his elected position.
Local prosecutors filed a lawsuit Tuesday in civil court to have Robert Telles booted from his role as Clark County public administrator, which handles the assets of people who die without wills.
Since Telles' arrest Sept. 7 for the alleged murder of Las Vegas Review-Journal reporter Jeff German, he has been held without bail.
"Defendant Telles has neglected to perform the official duties of the Clark County Public Administrator," according to the motion requesting that he be "deprived of and removed from his office."
Telles, 45, was elected Jan. 1, 2019, then lost the Democratic Party primary in June – after German wrote stories accusing Telles of having an affair with a married underling and running a toxic work environment.
German, 69, was working on follow-up reports when he was killed.
Telles shut off his cellphone Sept. 2 and then attacked German in his home before allegedly fleeing wearing an orange shirt and a wide-brim straw hat, according to police.
At a prior court appearance, a judge described the killing as "chilling" and said German was "fighting for his life" in his final moments.
If a judge does not strip Telles of his position, he is entitled to continue raking in his $120,000 a year salary, with another $50,000 in benefits, until his term is up Dec. 31, 2022.
The politician-turned-criminal defendant was assigned a court-appointed attorney Tuesday at his arraignment on one count of murder with use of a deadly weapon on a victim 60 years of age or older. He did not enter a plea.
Clark County District Attorney Robert Wolfson said he would determine in the coming weeks whether Telles will face the death penalty.
Redballoon
Not so long ago, the American dream was alive and well. Employees who worked hard were rewarded, and employers looked for people who could do the job, not for people who had the right political views. RedBalloon.work is a job site designed to get us back to what made American businesses successful: free speech, hard work, and having fun. If you are a free speech employer who wants to hire employees who focus on their work and not identity politics, then post a job on RedBalloon. If you are an employee who is being censored at work or is being forced to comply with the current zeitgeist, post your resume on RedBalloon and look for a new job. redballoon.work, the job site where free speech is still alive!
Now it's time for my favorite topic… sports!
https://nypost.com/2022/09/20/kyrie-irving-rips-eric-adams-latest-vaccine-mandate-decision/
Kyrie Irving rips Eric Adams' latest vaccine mandate decision
Nets star Kyrie Irving, who missed nearly two-thirds of last season due to his refusal to get a COVID-19 vaccine, ripped New York's latest vaccine mandate decision.
After New York mayor Eric Adams announced Tuesday that he's ending the private employer vaccine mandate but keeping it for city workers, Irving took to social media to label it a human rights violation of historic proportions.
"If I can work and be unvaccinated, then all of my brothers and sisters who are also unvaccinated should be able to do the same, without being discriminated against, vilified, or fired," Irving wrote. "This enforced Vaccine/Pandemic is one the biggest violations of HUMAN RIGHTS in history."
Some might suggest that is slight hyperbole, but New York's COVID vaccine requirements have been arguably the strictest in the country. Irving's steadfast refusal to adhere to them saw him limited to just 29 games last regular season and only six home tilts at Barclays Center, once the city loosened rules for unvaccinated athletes and entertainers in March.
A City Hall rep had no comment when asked by The Post about Irving's critique.
Irving should be available for this upcoming season. That, plus Ben Simmons' Nets debut and the likes of Joe Harris returning from surgery, should give Brooklyn a healthier roster.
"That's all that matters. That's all that matters," Irving said Sunday on the Boyz Night Out podcast. "All the hypotheticals that come when nobody is healthy and when you're not 100%."
Irving added that his vaccine stance was larger than the missed games.
"I played 29 games, I barely played home games. It wasn't a typical season I would have wanted. But things happen," Irving said. "I had to stand on a whole bunch of bigger stuff than just that."
Now Irving will continue to stand on his belief that the municipal workers should be free to be unvaccinated, as the private sector employees now are.
"Our vaccinated workforce kept the city open and operating, with over 300,000 employees it was crucial to put it in place and we're keeping it in place," Adams said while getting his booster at City Hall. "Our vaccinated workers have carried out their jobs and stepped up when the city needed them the most and we think it's imperative to send the right message and lead by example."
Mayor Adams added that 89 percent of New Yorkers, including children, have been vaccinated. As such, the vaccine requirements for New York City schoolchildren to play sports and other higher-risk extracurricular activities are also being dropped. The city was still encouraging vaccines and boosters.
"The rollout has been important and crucial and because we've been so successful, it's time to move on to the next level of fortifying our city," Adams said. "This puts the choice in the hands of New Yorkers. It's imperative we're asking them to continue to encourage their employees to get their vaccines and booster shots."
When asked about the municipal mandate – which led to over 1,500 city employees being terminated – Adams said no end date was imminent.
Irving – who donated money out of his own pocket to help support WNBA players when the league was shut down due to COVID-19 – had also said he planned to help the municipal workers who had lost their jobs.
This has been your CrossPolitic Daily News Brief. If you liked today's show, go ahead and click that share button down below. If you want to sign up for a club membership, sign up for our conference with that club discount, and then sign up for our FLF magazine, you can do all of that at fightlaughfeast.com. And as always, if you want to email me a news story, ask about our conference, or sign on as a corporate partner for CrossPolitic, email me, at [email protected]. For CrossPolitic News, I'm Garrison Hardie. Have a great day, and Lord bless.