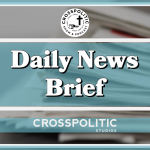 This is Garrison Hardie with your CrossPolitic Daily News Brief for Thursday, September 29th, 2022. Happy Friday Jr. everyone! 5 weeks until a very special day for me, but for you guys let's start with this…
On this day in history: Sept. 29th…
48 BC Pompey the Great is assassinated on orders of King Ptolemy of Egypt after landing in Egypt… in other news Epstein didn't kill himself.

1066 William the Conqueror, then Duke of Normandy, lands at Pevensey Bay in Sussex, beginning the Norman conquest of England.

1781 9,000 American and 7,000 French troops begin the siege of Yorktown

1785 Napoléon Bonaparte, aged 16, graduates from the elite École Militaire in Paris (42nd in a class of 51)

1850 US Navy abolishes flogging as punishment

1924 2 US Army planes end around-world flight, Seattle to Seattle, 57 stops

1928 Prussia forbids speech from Adolf Hitler

1944 Theodore Roosevelt Jr., son of President Theodore Roosevelt, is posthumously awarded the Medal of Honor for directing troops at Utah Beach during the D-Day landings

1974 "Ain't Nothing Like The Real Thing" by Aretha Franklin peaks at #47

1976 Muhammad Ali beats Ken Norton in 15 for heavyweight boxing title
How about some birthdays?!
551 BC Confucius, Chinese philosopher and founder of Confucianism, born in Zou, Lu state, China (d. ~479 BC)

1919 Tom Harmon, American College Football Hall of Fame halfback (Heisman Trophy 1940, Michigan; LA Rams) and broadcaster (CBS 1950-62), born in Rennselaer, Indiana (d. 1990)
Dropwave
Do you have a podcast, or thinking about starting one? Does your church have a podcast feed for sermons? The Dropwave.io is for you. Cancel culture is like walking on a thin glass bridge over the Grand Canyon. Every step you take could get you killed, I mean canceled. Since the beginning CrossPolitic has been working on being antifragile, so no matter what happens, our content can still be delivered to your tv and to your podcast. This past year, the Waterboy and his friend Jeremi, have been working on building a podcast hosting solution for rowdy platforms like CrossPolitic, so that you can be confident your podcast will never fall through that glass bridge. Dropwave offers seamless onboarding for shows that have been around for years to easy to use solutions for starting your own podcast. Dropwave will track all your show's downloads by city, state, and country, and it offers network and enterprise packages for solutions like the Fight Laugh Feast Network. Free to speak, Free to podcast, free to start your journey now at www.Dropwave.io.
https://www.dailywire.com/news/still-no-charges-for-man-who-admits-to-shooting-84-year-old-pro-life-canvasser
Still No Charges For Man Who Admits To Shooting 84-Year-Old Pro-Life Canvasser
A man who has admitted to shooting a pro-life canvasser earlier this month is still not facing charges and remains under investigation.
Richard Harvey, 74, admitted during a news interview that he fired off a "warning shot" from his .22 caliber rifle when he heard his wife allegedly arguing with the elderly pro-life activist. He then claims he tried to push away her clipboard and accidentally shot her in the front of her shoulder. Notably, the activist, who has not been named, claims she was shot in the back while leaving the residence.
"I came out and she is screaming and having a great old time, and being told, I'm sure I heard at least a dozen times, 'You're trespassing, get off the property,'" Harvey told WoodTV's News 8.
He "fired a warning shot into a pine tree out front" and then went to "club away" the 84-year-old woman's clipboard and the rifle "went off," he said.
Asked if he's afraid of facing charges, the man told News 8, "It's always possible, I mean I shot someone."
But Harvey remains in the clear as of Wednesday. The Michigan State Police are reportedly still looking into the matter and will forward the findings to the Ionia County Prosecuting Attorney's Office, where a decision will be made on potential charges.
The activist was canvassing against a radical ballot proposal concerning abortion in Michigan, The Daily Wire reported.
Right to Life Michigan said in a statement on Saturday that the woman was canvassing in her community of Lake Odessa, Michigan, when she was shot in the back while leaving a residence during a "heated conversation."
The woman the victim was speaking to before the shooting was Harvey's wife, Sharon Harvey, according to the admitted shooter.
The story is gaining attention in light of the Department of Justice's targeting of a pro-life activist and Catholic father of seven Mark Houck, who was arrested at his home in Pennsylvania on Friday by armed FBI argents over an alleged simple assault outside a Planned Parenthood clinic.
The DOJ has also been sleeping on the dozens of attacks against pro-life pregnancy centers and churches by abortion extremists following the overturning of Roe v. Wade.
https://thenationalpulse.com/2022/09/27/study-finds-mrna-vaccines-taint-breast-milk/
STUDY: COVID Vaccines Detected In 45% Of Breast Milk.
Trace amounts of Moderna and Pfizer's COVID-19 vaccines were detected in new mothers' breast milk, according to a study conducted by researchers at New York University.
The report – "Detection of Messenger RNA COVID-19 Vaccines in Human Breast Milk" – was uploaded to JAMA Network Open, which is a project of the American Medical Association, on September 26th.
Noting that "the initial messenger RNA (mRNA) vaccine clinical trials excluded several vulnerable groups, including young children and lactating individuals," the New York University Long Island School of Medicine's study attempted to address the research gap by tracking levels of the vaccine in a cohort of breastfeeding women.
The study analyzed the breastmilk of 11 healthy women, with five study participants receiving a Moderna COVID-19 shot and the remaining six receiving Pfizer's COVID-19 vaccine. Researchers sampled breast milk for five days post vaccination, and trace amounts were detected in seven samples belonging to five different participants.
Forty-five percent of study participants, therefore, saw COVID-19 vaccines taint their breastmilk.
Of the samples containing trace amounts of COVID-19 vaccine mRNA, two participants received a Moderna vaccine and three participants received a Pfizer vaccine.
The study follows the British government's Department of Health and Social Care recommending against COVID-19 vaccines in pregnant and breastfeeding women, admitting that "sufficient reassurance of safe use of the vaccine" for the demographic "cannot be provided at the present time."
The U.S. Centers for Disease Control and Prevention, however, still recommends offering COVID-19 mRNA vaccines to breastfeeding individuals at the time of this study's publication. Other federal agencies have authorized the use of COVID-19 vaccines following a massive lobbying campaign launched by the pharmaceutical companies responsible for manufacturing the products.
Additional studies into the vaccine have shown adverse effects on the health of its recipients, including altered menstrual cycles in women, lowered sperm count in men, and cardiovascular problems in children and young adults.
https://dailycaller.com/2022/09/28/house-republicans-claudia-tenney-legislation-redirect-funds-irs-border-patrol/
House Republicans Introduce Legislation To Redirect Funds From IRS To Border Patrol
House Republicans led by New York Rep. Claudia Tenney introduced legislation Wednesday to redirect funds intended for the Internal Revenue Service (IRS) to U.S. Customs and Border Protection (CBP) as the border crisis worsens.
The legislation, first obtained by the Daily Caller, would rescind all of the unobligated funds under the Inflation Reduction Act, which Biden signed in July, for new IRS enforcement activities. These funds would be reappropriated for the CBP to hire additional agents to secure the Southern Border.
Republicans have expressed particular concern about the more than $80 billion in new funding for the IRS, which will allow the agency to hire up to 87,000 new employees. Although Democrats claim the increased funding will increase federal revenue and allow Congress to pay down the federal debt, GOP officials argue that middle-class and poorer Americans will face more audits.
"The Biden administration's failure to secure the border and enforce our immigration laws has created an unmitigated disaster at our Southern Border that is impacting communities across the country. Meanwhile, President Biden and Democrats in Congress are ignoring the problem and instead giving tens of billions of dollars to the IRS so that they can audit an additional 700,000 working class Americans," Tenney told the Caller before introducing the legislation.
Armored Republic
The Mission of Armored Republic is to Honor Christ by equipping Free Men with Tools of Liberty necessary to preserve God-given rights. In the Armored Republic there is no King but Christ. We are Free Craftsmen. Body Armor is a Tool of Liberty. We create Tools of Liberty. Free men must remain ever vigilant against tyranny wherever it appears. God has given us the tools of liberty needed to defend the rights He bestowed to us. Armored Republic is honored to offer you those Tools. Visit them, at ar500armor.com
https://thepostmillennial.com/breaking-elon-musk-expresses-interest-in-doing-business-with-rumble?utm_campaign=64487
Elon Musk expresses interest in doing business with Rumble
Elon Musk responded to Rumble founder and CEO Chris Pavlovski on Twitter late Tuesday, suggesting that the two should perhaps meet up. "Maybe worth talking at some point," Musk said to Pavlovski.
It all began when Russell Brand was censored by YouTube, which led to Brand moving to the rival platform. Brand released a video talking about that censorship, which was over Covid vaccine information, and how YouTube leaves up videos that claim Covid vaccines are super effective, while taking down those that question it.
https://twitter.com/i/status/1574861160502927385 – Play Video
That piqued Musk's interest. "Maybe worth talking at some point," he said.
Rumble is a rival to YouTube, and promises a censorship-free, open platform dedicated to free speech, in stark contrast to their primary competitor.
Now everyone… it's time for my favorite topic!!! Sports!
https://www.boundingintosports.com/2022/09/kyrie-irving-reveals-he-gave-up-4-year-over-100-million-contract-to-remain-unvaccinated/
Kyrie Irving Reveals He Gave Up 4-Year Over $100 Million Contract To Remain Unvaccinated
Brooklyn Nets point guard Kyrie Irving recently addressed the media regarding uncertainty he had coming back to the Nets in the off season and revealed he turned down a 4-year $100 million contract to remain unvaccinated despite Nets' demand he get vaccinated.
Back in June it was announced that Irving opted into the final year of his contract with the Brooklyn Nets that will earn him $36.5 million.
Irving made the announcement through The Athletic's Shams Charania telling him, "Normal people keep the world going, but those who dare to be different lead us into tomorrow. I've made my decision to opt in. See you in the fall. A11even."
During the Nets' media day, Irving was asked about his decision and whether or not he had any doubt about the Nets.
https://youtu.be/3uFrnBBiZI4 – Play 6:07- 8:20
This has been your CrossPolitic Daily News Brief. If you liked the show, hit that share button for me down below. If you want to come to our conference next week, if you want to sign up for a club membership, or sign up for a magazine subscription, you can do all of that at fightlaughfeast.com. As always, if you'd like to email me a news story, ask about our conference, or become a corporate partner of CrossPolitic, email me, at garrison@fightlaughfeast.com. For CrossPolitic News, I'm Garrison Hardie. Have a great day, and Lord bless.