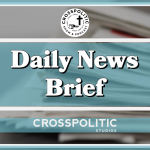 The workers who keep global supply chains moving are warning of a 'system collapse'
https://amp.cnn.com/cnn/2021/09/29/business/supply-chain-workers/index.html
Ad:
Did you know that more than 75% of those raised in evangelical, Presbyterian, and Reformed churches don't pursue any kind of Christian higher education? Surprising isn't it. Cornerstone Work & Worldview Institute is seeking to provide a new, exciting, and affordable option for Christians. Their mission is to build Kingdom culture in the workplace by equipping students in a Trinitarian worldview and vocational competencies. Their low-cost full-time program offers integrative course modules, internships, and mentoring so students can finish debt-free with vocational preparation, a robust faith, and financial potential to build strong godly families and homes rooted in their communities and churches long-term.
Their program is offered face-to-face in beautiful Southern Illinois or remotely, anywhere you are.
Visit our website at www.cornerstonework.org to find out more about enrolling.
FedEx rerouting more than 600K packages a day because of labor shortages
https://www.foxbusiness.com/lifestyle/fedex-rerouting-packages-daily-labor-shortage
A Florida BBQ restaurant shut down after being left with just 4 employees. 'No one wants to work,' its owner said.
https://www.businessinsider.com/labor-shortage-staff-florida-restaurant-winter-park-closed-jobs-economy-2021-9
Massachusetts State Police troopers will resign over mandatory COVID vaccine mandate, union says
https://www.cbsnews.com/news/covid-vaccine-mandate-massachusetts-state-police-resign/
Home prices surge 19.7% annually in July, book fourth straight month of record gains
Prices are 43.7% above 2006 peak
https://www.foxbusiness.com/economy/case-shiller-home-price-index-july-2021