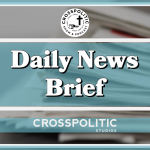 This is Garrison Hardie with your CrossPolitic Daily News Brief for Thursday, September 7th, 2023.
Olive Tree Biblical Software:
Discover why more than a million people use the free Olive Tree Bible App as their go-to for reading, studying, and listening to the God's Word.
Start by downloading one of many free Bibles and start taking notes, highlighting verses, and bookmarking your favorite passages. You can read at your own pace, or choose from a large selection of Reading Plans, including the Bible Reading Challenge. When you are ready to go deeper into your studies, Olive Tree is right there with a large selection of study Bibles, commentaries, and other helpful study resources available for purchase. There's also an extensive bookstore allows you to build your digital library one book at a time and Olive Tree's sync technology lets you pick up where you left off on your tablet, pc or phone and get right to studying on another supported device.
Now here's the best part – You can start with the Olive Tree Essentials Bundle for FREE. Visit www.olivetree.com/FLF and download it today! 
https://www.foxbusiness.com/economy/us-federal-budget-deficit-projected-double-year
US federal budget deficit projected to double this year
The U.S. federal deficit is projected to nearly double this year as a result of higher interest rates and lower tax revenue.
The gap between what the government spends and what it collects is expected to grow from about $1 trillion last year to $2 trillion for the 2023 fiscal year that ends Sept. 30, according to the latest projections from the Committee for a Responsible Federal Budget (CRFB), a nonpartisan group that advocates for reducing the federal deficit.
"This would be the highest deficit we've ever had outside of a recession or national emergency," Marc Goldwein, a senior policy director at CRFB, told FOX Business.
The sizable increase stems from a number of factors, including high inflation, more expensive interest payments and a drop in tax receipts. It comes on the heels of a record drop in the budget shortfall last year, as the deficit dropped from close to $3 trillion to roughly $1 trillion after the government's record spending during the COVID-19 pandemic in 2020 and 2021.
In 2022, the government enjoyed a surge in capital gains revenue after Americans capitalized on the booming market the previous year, sold more stock and recorded large gains. The market has not fared as well since then, leading to a sharp drop in capital gains tax revenue compared with last year.
The Treasury Department likewise benefited from a spike in general tax collection, because surging inflation essentially pushed up nominal income for millions of households. Although the IRS indexes the tax code to inflation, it does so on a lag. Higher federal income tax brackets and standard deductions took effect at the beginning of 2023, essentially allowing more Americans to shield their income from the IRS.
Social Security and Medicare are also indexed to inflation, meaning the government is spending more money on those programs than it did in fiscal year 2022.
"But mostly what's happening is it's coming to the new normal, from an unusually low 2022 deficit," Goldwein said. "That's pretty scary, because normal before the pandemic was $1 trillion. And in 2015, it was $500 billion. So we went from $500 billion is the normal, to $1 trillion is the normal, to $2 trillion is the normal in less than a decade."
The figures exclude President Biden's $400 billion student loan cancellation plan, which was counted in the official 2022 deficit numbers but never implemented because the Supreme Court struck the policy down.
Such massive spending imbalances highlight the toll that high and rising debt can take on everyday Americans. High deficits can fuel inflation, and high debt can push up interest rates.
"Mortgage rates are as high as they've been since well before the financial crisis," Goldwein said. "Car loan rates, student loan rates, credit card rates, they're all really high."
The deficit surge comes as lawmakers rush to avert a government shutdown. The White House has urged Congress to pass a short-term funding measure, known as a continuing resolution, in order to keep the government solvent while lawmakers continue negotiations over longer-term funding bills.
Senate Majority Leader Chuck Schumer, D-N.Y., and House Speaker Kevin McCarthy, R-Calif., have both said they want to pass a short-term deal to keep the government running.
However, a group of House Republicans — the House Freedom Caucus — is demanding a number of concessions as part of the continuing resolution, raising the risk of more down-to-the-wire drama on Capitol Hill.
https://www.washingtonexaminer.com/news/white-house/biden-mask-indoors-jill-biden-covid
Biden to wear mask indoors after COVID-19 exposure
President Joe Biden will don a mask indoors after he was exposed to COVID-19 through his wife, first lady Jill Biden, according to the White House.
https://twitter.com/i/status/1699269260260823345 – Play Video
Now, Studies have repeatedly shown masks don't prevent Covid transmission and might even have health consequences to wearers. – But I digress.
Biden, who awarded the Medal of Honor to Army Capt. Larry Taylor for conspicuous gallantry on Tuesday, is expected to depart Thursday for India and the Group of 20 leaders summit. During the Medal of Honor ceremony, Biden took off his mask for his remarks and did not put it back on to hang the trinket around Taylor's neck or to leave the East Room.
National security adviser Jake Sullivan downplayed the prospect that a presidential COVID-19 diagnosis would disrupt his foreign trip based on leaders' past experience social distancing during the pandemic.
https://www.theblaze.com/news/75000-sia-illegal-border-crossings
75,000 illegal immigrants flagged as having possible ties to terrorism in the last year, according to CBP data
U.S. Customs and Border Protection flagged approximately 75,000 illegal immigrants as being possible national security threats or having terroristic ties in the previous 10 months leading up to August 2023, the Daily Caller reported.
CBP data showed that between October 2022 and August 2023, 74,904 illegal aliens were labeled as "SIA Encounters," which stands for "Special Interest Alien."
According to a Department of Homeland Security article, an SIA is a "non-U.S. person" who potentially "poses a national security risk to the United States or its interests."
"Often such individuals or groups are employing travel patterns known or evaluated to possibly have a nexus to terrorism. DHS analysis includes an examination of travel patterns, points of origin, and/or travel segments that are tied to current assessments of national and international threat environments," the DHS stated.
"This does not mean that all SIAs are 'terrorists,'" the government report added. However, the travel and behavior of certain individuals "indicates a possible nexus to nefarious activity (including terrorism) and, at a minimum, provides indicators that necessitate heightened screening and further investigation."
The unearthed numbers were a massive increase from the reported 25,627 special interest encounters from fiscal year 2022, and the comparably miniscule 3,675 from fiscal year 2021.
Illegal immigrants can automatically be deemed SIAs based on their country of origin, such as Turkey or Uzbekistan, due to such countries' status as a "source and transit country."
DHS didn't respond to a request for comment from the Daily Caller regarding the SIA figures.
CBP and the DHS are under heightened scrutiny as a result of the shocking increase in border crossing encounters under the Biden administration.
A former immigration judge claimed in late August 2023 that the DHS was deliberately not disclosing the number of illegal immigrants who have been released into the United States each month.
"The only reason why ICE and OFO [Office of Field Operations] would refuse to disclose that information is to hide the fact that it is releasing more than 100,000 aliens per month into the United States and to conceal the effects of those migrant releases on communities across the United States," Andrew Arthur said.
Border encounters in fiscal year 2023 are on pace to match the near 2.4 million that were seen in 2022. There were just over 1.7 million encounters in 2021, while in 2020, President Trump's administration saw a little more than 450,000.
https://townhall.com/tipsheet/leahbarkoukis/2023/09/05/ev-florida-n2627949#google_vignette
Electric Vehicles Are Causing Issues After Hurricane Idalia
Electric vehicles are catching on fire after Hurricane Idalia made landfall in Florida last week.
According to local reports, at least two Tesla EVs ignited after saltwater from the storm surge damaged their batteries and other electrical components. One vehicle lit up in Pinellas Park and another car fire occurred in Palm Harbor.
"Carfax says owners need to understand the fire risk doesn't go away after their EV dries out," ABC Actions News told viewers.
"The salt water that is flooding can get into the battery and dry there and once it dries it creates what federal safety officials call bridges between cells and that can lead to fires and those fires can come anywhere from days to weeks later and once an EV catches fire it is incredible difficult to put it out," said Patrick Olsen of Carfax.
After Hurricane Ian, 21 electric vehicles caught fire in the state, prompting officials to warn residents ahead of Idalia's approach.
"We saw a number of fires associated with EVs from Hurricane Ian. We know that the saltwater from storm surge can compromise these batteries, causing fires which cannot be easily suppressed," Florida Chief Financial Officer Jimmy Patronis said at the time.
"The best fire teams can do is keep water on the battery until the fuel burns out. If you're evacuating and leaving an EV, or other lithium ion powered devices like scooters or golf carts in your garage, you're creating a real fire threat for your home, your communities, and first responders," he added. "Take this threat seriously. If there's even a small risk of your EV being impacted by storm surge, move it to higher ground before it's too late."
One home that managed to survive Ian ended up burning to the ground because of a saltwater-damaged EV.
EV vehicle owners are being advised to park affected cars at least 50 feet away from any structures that could catch fire.