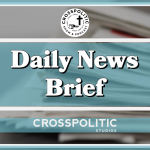 This is Garrison Hardie with your CrossPolitic Daily NewsBrief for Thursday, September 8th, 2022. Happy Friday Jr. everyone! Before we jump into the news today:
Fight Laugh Feast Magazine
Our Fight Laugh Feast Magazine is a quarterly issue that packs a punch like a 21 year Balvenie, no ice. We don't water down our scotch, why would we water down our theology? Order a yearly subscription for yourself and then send a couple yearly subscriptions to your friends who have been drinking luke-warm evangelical cool-aid. Every quarter we promise quality food for the soul, wine for the heart, and some Red Bull for turning over tables. Our magazine will include cultural commentary, a Psalm of the quarter, recipes for feasting, laughter sprinkled through out the glossy pages, and more. Sign up today, at fightlaughfeast.com.
https://www.washingtonexaminer.com/policy/courts/fauci-jean-pierre-to-turn-over-emails-sent-to-social-media
Fauci and Jean-Pierre ordered to turn over emails sent to social media companies:
A Louisiana-based federal judge ruled that White House press secretary Karine Jean-Pierre and Dr. Anthony Fauci will have to turn over emails sent to social media companies on the subject of censorship and misinformation of online content.
Louisiana Attorney General Jeff Landry and Missouri Attorney General Eric Schmitt, who are both Republicans, filed a lawsuit in May accusing President Joe Biden's administration of working in tandem with social media companies to suppress free speech, with specific allegations tied to information regarding elections and COVID-19.
The attorneys general have been deliberating for months with the White House over which documents need to be shown in the lawsuit. On Tuesday, U.S. District Court Judge Terry Doughty ruled the Biden administration must hand over Fauci's and Jean-Pierre's relevant emails within 21 days despite objections from the Justice Department, which cited executive privilege and presidential communications privilege.
The crux of the lawsuit focuses on how social media companies handled claims about the origins of COVID-19, as well as how Big Tech platforms limited the reach of a New York Post article in November 2020 about information found on a laptop that once belonged to the president's son, Hunter Biden.
In their initial filing, Landry and Schmitt argue that "having threatened and cajoled social-media platforms for years to censor viewpoints and speakers disfavored by the Left, senior government officials in the Executive Branch have moved into a phase of open collusion with social-media platforms under the Orwellian guise of halting so-called 'disinformation,' 'misinformation,' and 'malinformation.'"
The pair of Republican attorneys general already obtained records earlier this month showing multiple federal agencies' officials contacted social media companies to develop content moderation strategies. One of the emails revealed the Department of Health and Human Services and Facebook personnel worked together to take down groups on the platform.
https://www.washingtonexaminer.com/policy/education/american-federation-of-teachers-political-expenses-tax-form
Legal group asks IRS to audit AFT teachers union's political spending
EXCLUSIVE — A conservative legal group is accusing the American Federation of Teachers, the nation's second-largest teachers union, of misreporting funds used on political causes to the IRS and is requesting an audit of the organization.
In a Wednesday letter to the IRS, a copy of which was provided exclusively to the Washington Examiner, the Landmark Legal Foundation requested the tax collection agency investigate the teachers union for allegedly failing to report its expenses related to political advocacy properly on its annual tax forms.
The union, led by President Randi Weingarten, has been a fixture of Democratic Party politics for years. Weingarten often appears with Democratic political candidates at campaign rallies, and the union has a long and well-documented history of supporting liberal causes, along with Democratic politicians and political action committees.
As a 501(c)5 tax-exempt organization, the AFT must annually submit Form 990 to the IRS. The form asks organizations if they have "engage[d] in direct or indirect political campaign activities on behalf of or in opposition to candidates for public office" with a yes or no answer box.
The union checked "no" in response to the form's question from 2016 to 2019, according to 990 forms reviewed by the legal group.
The complaint to the IRS alleges that Weingarten and the AFT used funds from the "general treasury" to pay for various political activities, including campaigning on behalf of Democratic presidential candidate Hillary Clinton in 2016, as well as sponsoring an "AFT Votes" bus tour during the 2020 campaign that "mobilized the public to vote for identified candidates for public office."
The filed complaint comes just weeks after President Joe Biden signed into law the Inflation Reduction Act, which includes funding for the IRS to hire an additional 87,000 agents, a fact that Landmark Legal noted in its complaint in urging the agency to investigate.
In June, the Washington Examiner reported that the AFT raked in a record $196 million in 2021 membership fees based on a report from Americans for Fair Treatment, a public sector union watchdog group.
https://www.theepochtimes.com/adults-aged-35-44-died-at-twice-the-expected-rate-last-summer-life-insurance-data-suggests_4711510.html?utm_source=partner&utm_campaign=BonginoReport
Death claims for working-age adults under group life insurance policies spiked well beyond expected levels last summer and fall, according to data from 20 of the top 21 life insurance companies in the United States.
Death claims for adults aged 35 to 44 were 100 percent higher than expected in July, August, and September 2021, according to a report by the Society of Actuaries, which analyzed 2.3 million death claims submitted to life insurance firms.
The report looked at death claims filed under group life insurance policies during the 24 months of the COVID-19 pandemic, from April 2020 to March 2022. The researchers used data from the three years before the pandemic to set a baseline for the expected deaths.
While COVID-19 played some role in the majority of the excess deaths for adults over the age of 34 during the two pandemic years, the opposite was true for younger people. For people 34 and younger, the number of excess non-COVID deaths was higher than those related to COVID, the data show.
During the third quarter of last year, deaths in the 25-to-34 age bracket were 78 percent above the expected level and, for people aged 45 to 54, 80 percent higher than expected. Excess mortality was 53 percent above the baseline for adults aged 55 to 64.
One life insurance company stated that it recorded COVID-19 as the cause of death only when it could be determined to be the primary cause of death on a death certificate.
The report also notes that white-collar workers had the highest number of excess deaths during the two years studied. The group, which includes accountants, lawyers, computer programmers, and most other jobs done in an office setting, had 23 percent more deaths than expected.
The sharp increase of deaths among working-age people was first brought to light by Scott Davison, CEO of the Indianapolis-based life insurance company OneAmerica, who said in a virtual press conference on Dec. 30, 2021, that his company and the life insurance industry as a whole was seeing a 40 percent increase in deaths among people ages 18 to 64.
President Joe Biden on Sept. 9, 2021, mandated COVID-19 vaccines for federal employees and health care workers in facilities certified by Medicare and Medicaid. The same day, the president tasked the Occupational Safety and Health Administration (OSHA) with implementing a nationwide vaccine mandate on private businesses with 100 or more employees.
The campaign to vaccinate the majority of the population against COVID-19 is the largest vaccination campaign in the history of the world.
As of Aug. 31, about 90 percent of Americans 18 or older had gotten at least the first dose of one of the COVID-19 vaccines, and 77 percent had gotten both a first and a second dose.
Dr. Robert Malone, a physician and research scientist credited with the invention of the mRNA technology for use in vaccines, says excess mortality must always be studied to determine whether a vaccine or medicine really is safe.
"Excess mortality should be a signal, a trigger," he told The Epoch Times. "When we see excess mortality like that—basically if you're running a clinical trial and you see this kind of excess mortality, you stop the trial. And you investigate the cause before you proceed. And if you're marketing a drug, generally, with this kind of data, you stop the distribution of the drug until you have sorted it out."
Malone mentioned what he calls the "classic example" of thalidomide, a morning sickness medication prescribed to a small number of pregnant women in the United States in the late 1950s and early '60s that was effective in treating morning sickness, but caused severe deformities in their unborn children.
The drug maker had pressured the U.S. Food and Drug Administration to approve the drug, but the FDA refused, based on the deformities that had been reported.
Cholesterol medication is another example, he added, saying cardiologists were convinced in the 1990s that cholesterol was the "bad actor" and that heart disease numbers would drop if it could be brought down.
"So they came out with some really good drugs for dropping cholesterol, and they ran the trials," he said, "and it clearly showed that they were effective in dropping cholesterol in humans, to a remarkable level, very, very effective. And everything was on track for approval, at those doses. And then the all-cause mortality data started coming in."
"And paradoxically, people were dying, but they weren't dying of heart attacks. Their heart attack death rate was better. They were committing suicide, because when you pull cholesterol out of the brain, you trigger depression."
Malone was a professor of pathology at the University of California–Davis and at the University of Maryland, where he had a lab.
In the case of COVID-19, he said, the CDC and FDA have been in denial about what all-cause mortality data show, in particular on the Vaccine Adverse Event Reporting System (VAERS), where the government has only considered deaths that occur within 2 to 3 weeks of vaccination, based on the belief that the mRNA doesn't stay in the body for longer.
Now, he says, studies clearly show that this isn't true and the mRNA stays in the body for at least 60 days.
The government is required to study all-cause mortality for any drug or vaccine, says Malone, usually for a period of at least one year following approval. But there's no indication, he says, that they've done this for the COVID-19 vaccines.
"The FDA basically threw away the rulebook, and let Fauci do whatever he wanted to do," he says.
Accountable2You
Is your smartphone a tool in the service of Christ, or a minefield of distractions and temptations?
With soul-killing seductions just a few taps away, our families and churches must embrace biblical accountability on our digital devices.
Accountable2You makes transparency easy on all your family's devices, by sharing app usage and detailed browsing history—including "Incognito" mode—with your spouse, parent, or chosen accountability partner.
Accountable2You helps your family to proactively guard against temptation, so you can live with integrity for God's glory! Learn more and try it for free at Accountable2You.com/FLF
https://dailycaller.com/2022/09/06/teacher-jailed-student-pronouns-transgender-ireland/
Enoch Burke, a school teacher in Ireland, was banned from his school over his refusal to use the pronoun "they" for a student, then arrested for returning Monday, according to the Irish news website RTE.
Wilson's Hospital School suspended Burke from teaching while he underwent a disciplinary process for refusing to use the preferred pronouns of a student who identifies as transgender, which he said would violate his Christian beliefs, and a court issued an injunction temporarily barring him from teaching, according to RTE. Burke returned to the school anyways, and he was arrested and taken to prison.
"I am a teacher and I don't want to go to prison," Burke said, according to the New York Post. "I want to be in my classroom today, that's where I was this morning when I was arrested … I love my school, with its motto Res Non Verba, 'Actions not words,' but I am here today because I said I would not call a boy a girl."
He was initially suspended Aug. 24, and the court order came down Friday after he continued attending school anyways, according to RTE. He defied the court order blocking him from teaching Monday and told the court that it would violate his conscience to obey it.
Burke said in court that he loves his students and the subjects he teaches and that he didn't want to go to prison, but he couldn't violate his conscience by participating in the child's gender transition process, according to RTE.
"To be clear, this teacher was jailed for breaching a court order, not for 'misgendering'. But that court order barring him from the school because he refused to use 'they' for a male student, should never have been granted IMO," author and commentator on transgender issues Helen Joyce wrote. "Sinister and absurd."
Wilson's Hospital School did not respond to the Daily Caller News Foundation's request for comment.
This has been Garrison Hardie with your CrossPolitic Daily News Brief. If you liked the show, hit that share button down below. If you want to sign up for a club membership, then sign up for our conference with that club discount, and THEN sign up for a magazine, you can do all of that at fightlaughfeast.com. And as always, if you'd like to email me a news story, ask about our conference, or become a corporate partner of CrossPolitic, email me, at garrison@fightlaughfeast.com. For CrossPolitic News… I'm Garrison Hardie. Have a great day, and Lord bless!