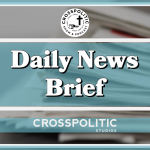 Refused to use unconstitutional powers?… We were just in South Dakota on our liberty tour, and I think there's more to South Dakota politics than meets the eye… and more on today's CrossPolitic Daily News Brief. This is Toby Sumpter. Today is Tuesday, April 12, 2022.
South Dakota has a supermajority of Republicans, but abortion is still not illegal in South Dakota and there are lots of RINOs.
https://www.facebook.com/CrossPolitic/videos/3073083182914390
Play: 19:18-20:41
Kristi Noem tried to shut down South Dakota, but her legislature killed the bills that would have given powers to do that:
Play: 21:09-22:48
Here's What Kristi Noem said at CPAC back in February of this year:
https://www.youtube.com/watch?v=WSLcCY2fZpA
Play: 8:32-8:55
Fight Laugh Feast Magazine
Our Fight Laugh Feast Magazine is a quarterly issue that packs a punch like a 21 year Balvenie, no ice. We don't water down our scotch, why would we water down our theology? Order a yearly subscription for yourself and then send a couple yearly subscriptions to your friends who have been drinking luke-warm evangelical cool-aid. Every quarter we promise quality food for the soul, wine for the heart, and some Red Bull for turning over tables. Our magazine will include cultural commentary, a Psalm of the quarter, recipes for feasting, laughter sprinkled through out the glossy pages, and more. Subscribe today, at flfnetwork.com/product/fight-laugh-feast-magazine/.
Philadelphia is Re-Enstating Mask Mandates
https://www.outkick.com/from-freedom-to-fear-philadelphia-reinstating-indoor-mask-mandates/
From OutKick: Despite the fact there's no hard evidence that masks keep viruses at bay — or for that matter, that COVID cases are actually on the rise — Philadelphia is re-imposing its indoor mandate, starting April 18.
City officials made the announcement on Monday, indicating that Philadelphia had reached the "Level 2: Mask Precautions stage" of a four-tiered COVID response system.
"We hope by having folks whenever they're in public, indoor spaces we can get ahead of the wave and keep it from reaching a peak like we saw in January with the omicron variant," Philadelphia heath commissioner Cheryl Bettigole said. "If we can do that, we can literally save the lives of vulnerable Philadelphians. At this level of transmission, we do not believe that there is any reason to panic or enjoy any activities that we enjoy and are important to use. Our city remains open."
Bettigole added that the city will offer businesses a week-long "educational period" on masks before the mandate takes effect.
Mask mandates across the world have proven ineffective at slowing reports of virus cases, as repeatedly relayed by Ian Miller, author of Unmasked: The Global Failure of COVID Mask Mandates.
Philadelphia, which lifted the indoor mask mandate a little more than a month ago, becomes the first major U.S. city to reinstitute it.
This comes after Bettigole revealed that those hospitalized with COVID symptoms in Philadelphia remains extremely low, just 46 people.
"Recently, we've been watching COVID-19 cases and hospitalizations rise in several European countries and in some places, in the U.S, and now we're starting to see cases here in Philadelphia rise," Bettigole said. "This looks like we may be at the start of a new COVID wave like Europe just saw."
Boniface Woodworking DNB:
Boniface Woodworking exists for those who enjoy shopping with integrity; who want to buy handmade wooden furniture, gifts, and heirloom items that will last for generations. From dining tables and church pulpits to cigar humidors and everything in between; quality pieces that you can give your children's children tie them to their roots and transcend the basic function of whatever they are, becoming gifts!
So, start voting with your dollars, and stop buying cheap crap from people who hate you! Visit www.bonifacewoodworking.com to see our gallery, learn our story, and submit your order for heirloom quality wood items.
Biden Announced Monday New Executive Orders on Ghost Guns
https://www.nationalreview.com/corner/bidens-tired-gun-act-is-back/
https://twitter.com/newsmax/status/1513599915561263104?s=20&t=0IxFmQ9smBVc-KChiokmVw
Play: 0:00-0:33
"ghost guns," which Biden claims "are the weapons of choice for many criminals." And by "many," he means "incredibly few." Biden also promised to fight for "universal" background checks and "assault-weapons" bans, two other policies that would do almost nothing to lower the crime rate and everything to do with making life more difficult for peaceful gun owners.
"By the way — it's going to sound bizarre — I support the Second Amendment," the president noted. Indeed, it does. Biden went on to argue that people on "the terrorist list," despite any due process, should lose their right to buy a gun (no), once again claimed that Americans couldn't buy a cannon during Founding era (they could), and made a dumb joke about deer in Kevlar for what has to be thousandth time.
Biden, again, maintained that gun manufacturers "have more immunity than any other American industry" (they do not). Biden then announced that he would nominate another anti-gun zealot, Steve Dettelbach, a former U.S. attorney in Ohio, to head up the Bureau of Alcohol, Tobacco, Firearms and Explosives. Less hyperbolic and prone to fabulism than failed nominee David Chipman, Dettelbach, who Biden claimed was a "noncontroversial candidate," holds virtually indistinguishable policy positions on the Second Amendment from the last nominee. There is no reason why he should be confirmed, either.
Psalm of the Day: Psalm 119x: Before Thee Let My Cry Come Near
https://www.christkirk.com/wp-content/uploads/2016/06/13-Psalm-119-Before-Thee-Let-My-Cr.mp3
Play: 0:00-1:09
Amen.
This is Toby Sumpter with CrossPolitic News. Remember you can always find the links to our news stories and these psalms at crosspolitic dot com – just click on the daily news brief and follow the links. Or find them on our App: just search "Fight Laugh Feast" in your favorite app store and never miss a show. If this content is helpful to you, would you please consider becoming a Fight Laugh Feast Club Member? We are trying to build a cancel-proof media platform, and we need your help. Join today and get a discount at the Fight Laugh Feast conference in Knoxville, TN and have a great day.